Boeing's 'blank check,' Alaska Air contract, R.I.P. Eleanor and Jan…
Friday, October 10, 2014
---
BOEING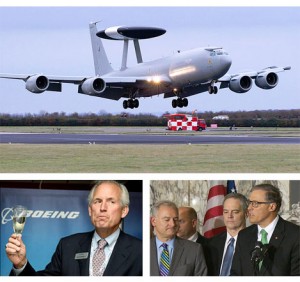 ► In the Washington Post — After huge tax incentive package, Boeing still ships jobs out of Washington — "We essentially gave them a blank check," said one Olympia insider close to Gov. Inslee's office. "We didn't leave ourselves any bargaining chips with respect to these engineering jobs."
ALSO at The Stand — Tax-subsidized Boeing Co. snubs Washington state again (Sept. 30, 2014)
► In today's (Everett) Herald — Boeing non-union employees offered new health care model — Three major local health organizations are trying a new model that creates an incentive to keep people healthy. And Boeing is the first employer to sign up. Nonunion employees in the Puget Sound area and some union-represented employees and retirees can choose this new option during the annual enrollment for benefits in November. Coverage would begin in January 2015.
---
LOCAL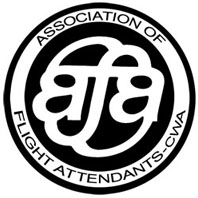 ► In today's Seattle Times — Alaska Airlines, flight attendants agree on proposed contract — After more than two years of contract talks, Alaska Airlines and the Association of Flight Attendants (AFA) union said Thursday negotiating teams have reached tentative agreement on a new five-year contract for the carrier's 3,300 flight attendants. The agreement was reached with the assistance of the National Mediation Board. Terms were not disclosed.
► From the Public News Service — PSE feels heat from Olympia about coal power — Puget Sound Energy was presented Wednesday with more than 10,000 petitions asking it step up the use of clean energy and energy efficiency. Says Bob Guenther of IBEW Local 77: "This is not a threat against Puget Sound Energy. From my perspective, it is saying, 'Wake up!' We can develop new and creative ways to generate electricity that will pay good wages and keep the communities whole."
► In today's Olympian — Tumwater School District workers picket over contract — About 50 school bus drivers, janitors, groundskeepers, food service and maintenance workers carried signs and waved at motorists Thursday night in front of Tumwater School District headquarters. Their message: The district's latest contract offer to Tumwater United Public School Employees is unacceptable.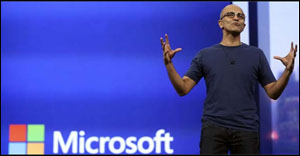 ► In today's Seattle Times — Nadella's advice to women on raises comes back to bite him — Microsoft CEO Satya Nadella, speaking Thursday at one of the world's largest gatherings of women in technology, angered many when he said women needn't ask for raises but should trust in the system and good karma to get them the salaries they deserve. Nadella's comments come at a time when the tech industry is facing criticism for its wide gender gap.
► In the Seattle Times — Nation listing from our income imbalance (by Jerry Large) — In this country, we sit at a dinner table loaded with food, too much for us to tolerate one person at the end of the table with piles in front of him, while folks at the other end are salivating over toast. The people at the table don't have to have exactly the same amount; that wouldn't work. But at some point the distribution becomes so unequal as to be morally obscene… Most working people don't want to eat the wealthy, just more than another piece of toast.
---
ELECTIONS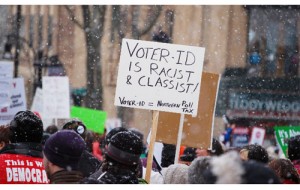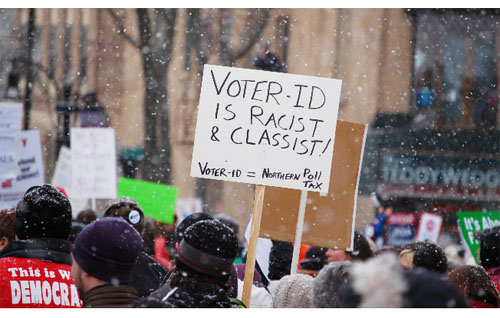 ► In today's NY Times — Courts strike down Voter ID laws in Wisconsin and Texas — The Supreme Court on Thursday evening stopped officials in Wisconsin from requiring voters there to provide photo identification before casting their ballots in the coming election. Three of the court's more conservative members dissented, saying they would have allowed officials to require identification. Around the same time, a federal trial court in Texas struck down that state's ID law, saying it put a disproportionate burden on minority voters.
► At AFL-CIO Now — Horrible: Supreme Court allows North Carolina's voting restrictions to go forward — The U.S. Supreme Court allowed key parts of one of the most restrictive voting rights laws in the nation to go forward.
► A MUST-READ in today's NY Times — Why do we re-elect them? (by Timothy Egan) — The message is: We hate you for your inaction, your partisanship, your nut-job conspiracy theories; now do more of the same. Of course, November's election will be a protest vote against the man who isn't on the ballot, a way to make a lame duck president even lamer in his final two years. But before buyer's remorse sets in, voters should consider exactly what Republicans believe, and what they've promised to do. It ranges from howl-at-the-moon crazy talk and half-truths to policies that will keep wages down and kill job growth.
---
NATIONAL

► At Huffington Post — Labor Department says system for protecting workers from deadly chemicals is 'broken' — The country's top workplace safety official said Thursday that the regulatory system protecting workers from chemical exposure is "broken," and called for a new dialogue with employers and worker safety experts about how it might be improved.
► In today's Washington Post — How workers lost the power struggle — and their pay raises (by Harold Meyerson) — While macroeconomic conditions surely explain some of the problems that have befallen U.S. workers, the institutional changes to American business — above all, the rise of investor power and the decline of worker power — are central to the tale. The case of the vanishing American raise can't be solved without them.
---
T.G.I.F.

► This day in 1939, the real Eleanor Rigby passed away in her sleep, 27 years before Paul McCartney wrote the song that made her famous. She was a scullery maid at Liverpool City Hospital and died, not in a church, but in the same home where she was born. She was, however, buried along with her name in the St. Peter's Church cemetery, where her tombstone is a landmark for visiting Beatles fans. At that church's garden party in July 1957, John Lennon's skiffle band The Quarrymen performed — see the famous photo — on the day he first met McCartney. They subsequently spent days sunbathing in the church cemetery and McCartney later conceded that he must have come up with the name "Eleanor Rigby" by subconsciously remembering her tombstone there.
So this one goes out to all the lonely people — you know who you are — from The Entire Staff at The Stand.™ (If you don't like this presidential version, try the cartoon version.
---
R.I.P.

► Rest in peace, Saturday Night Live alum Jan Hooks. Her "Brenda the Waitress" sketch — though not funny on paper — is hilarious thanks to her brilliant performance and those of Alec Baldwin, the late Phil Hartman, and others. She was a true talent.
---
The Stand posts links to Washington state and national news of interest every weekday morning by 10 a.m.
Short URL: https://www.thestand.org/?p=34934
Posted by
David Groves
on Oct 10 2014. Filed under
DAILY LINKS
. You can follow any responses to this entry through the
RSS 2.0
. Both comments and pings are currently closed.