By DAVID GROVES
The Stand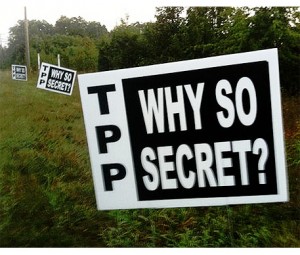 (Oct. 28, 2015) –It's been 23 days since a deal was reached to reshape the rules governing roughly 40 percent of the global economy, but the public still isn't allowed to see it. The Trans-Pacific Partnership (TPP), in fact, is still being kept secret from the members of Congress who will soon vote on whether to approve it.
Before the TPP agreement was announced, the U.S. Trade Representative (USTR) and the White House argued that secrecy was necessary so America's bargaining position in the negotiations wouldn't be weakened. A group from Yale University sued the federal government under the Freedom of Information Act to release drafts of the TPP text, but last month it was ruled that the confidentiality agreements the U.S. government signed with foreign governments can be used by the Obama administration to block such requests under U.S. open records laws.
Back in April, President Obama promised to "increase transparency" by making the deal public once TPP negotiations concluded, telling The Wall Street Journal:
There are going to be many months in which people will be able to look at every comma and period and semicolon in this deal. And I feel very confident that when people evaluate the actual deal that is done, that they will see that, in fact, it is the most progressive trade deal in history.
So, especially if it's as great as advertised, why is it still a secret?
Weeks ago, AFL-CIO President Trumka wrote Obama urging the release of the TPP and pointed out:
In my experience, when there is such good news to share, there is no need for secrecy. If TPP will do for the American middle class all that USTR claims, releasing the text would be the single best way to prove that.
Members of Congress are also frustrated. After suffering through many months of extreme secrecy, classified briefings and restricted basement readings of TPP draft documents, some elected officials are angry they still can't see the final product. Fearing what he called a "massive sellout of American workers," Sen. Sherrod Brown (D-Ohio) started a petition urging the White House to release the text.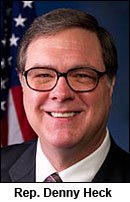 Meanwhile, USTR Michael Froman is making the rounds at the Capitol lobbying key members of Congress to support the TPP they can't read. Rep. Denny Heck (D-WA) told Politico that he was scheduled to meet with Froman on Tuesday. A spokeswoman from Heck's office later confirmed to The Stand that they spoke Tuesday, but said the USTR told Heck the TPP text is still not available.
"He's making the rounds. I'm in the crosshairs," Heck said. "I voted no on TPA (Fast Track), so I think he's going to try extra hard to see if there's a way to get me."
Heck added: "I'm kind of old school. I actually want to see it. I want to read it. I want to have all the discussion with people on both sides. I think frankly it's absurd to make your mind up before you see a copy."
---
PREVIOUSLY at The Stand:
The top 10 unknown things about the Trans-Pacific Partnership (Oct. 12)
Currency manipulation kills jobs, but does Congress even care? (Aug. 19)
WSLC censures Fast Track supporters in state delegation (Aug. 7)