Paid sick leave, taxing health care, The New Furor…
Wednesday, December 9, 2015
---
STATE GOVERNMENT
► In today's Bellingham Herald — Bellingham tells state lawmakers to pass paid sick leave — City Council will ask the state Legislature to require paid sick and safe leave rather than look to pass a rule locally. By a 5-2 vote Monday night, Dec. 7, the council passed a resolution calling on state legislators to require employers to provide their workers paid sick and safe leave.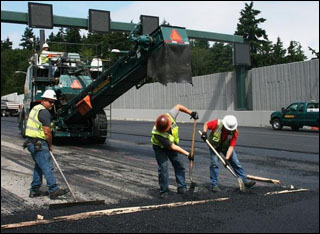 ► In today's (Everett) Herald — Gas tax is running on empty (editorial) — Washington state legislators, apparently made of stronger stuff than their D.C. counterparts, earlier this year passed a gas tax increase that will fund the state's own $16 billion, 16-year transportation spending plan. The state is now collecting 44.5 cents per gallon and will tack on another nickle next summer. But it's dawning on many that the gas tax has lost its ability to adequately fund the maintenance and further development that our state's transportation infrastructure will need over the next 25 years.
► In today's Seattle Times — I-405 express tolls higher than expected, near $10 — Tolls approaching the $10 limit were forecast to be rare occasions for the new Interstate 405 Express Toll Lanes, but this week, they're the new normal.
► In today's (Everett) Herald — Indicted Washington state auditor returns to work — Indicted state Auditor Troy Kelley returned to work, ending seven months of self-imposed exile. He hadn't intended to come back until his legal fight was done but changed his mind when four state lawmakers said Monday they would try to impeach him for dereliction of duty.
EDITOR'S NOTE — That'll teach 'em, Troy!
---
LOCAL
► In today's Seattle Times — King County OKs paid parental leave for some employees — The county council approved a one-year pilot program giving paid parental leave to certain county employees with new children. Eligible employees will be offered up to 12 weeks off at their normal wage or salary.
---
BOEING

► In today's Seattle Times — Boeing unveils the first 737 MAX — and its new production line — The first Boeing 737 MAX rolled off a spanking-new assembly line in Renton last week, and on Tuesday morning it emerged in a teal-colored livery from the paint hangar for a celebratory unveiling before up to 8,000 first-shift employees.
► In today's Seattle Times — Ex-Im Bank back open, but Boeing, GE deals left out for now — Until all five board seats are filled, Ex-Im Bank can approve only small export deals, not the big orders for aircraft, satellites and major manufacturing equipment the bank is best known for.
---
FEDERAL GOVERNMENT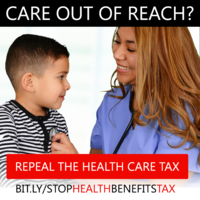 ► From AFL-CIO Now — 10 reasons why you should sign petition urging repeal of health care tax — A new tax on health care plans is threatening to hurt working people and their families. The 40% tax on many health care plans will lead to increased out-of-pocket costs for workers. You can go right now and add your name to a petition to members of Congress asking them to keep the Affordable Care Act affordable by supporting a repeal of the health care benefits tax. Here are 10 reasons the health care benefits tax should be repealed…
► From The Hill — Hopes rise for major tax package — Negotiations ramped up Monday evening on a deal that could balloon to $800 billion. Both sides are expressing optimism, though buy-in from the White House is still needed… Republicans and Democrats are close to agreeing on delaying two major taxes, the "Cadillac tax" on high-benefit plans and the medical device tax. But those proposals have run into opposition from the White House.
► From The Hill — House seeks to break stalemate over long-term federal funding — Large parts of the federal government will shut down if Congress doesn't act before Saturday, and the bipartisan talks over an omnibus spending bill appeared to break down this week over policy amendments, also known as riders.
► In today's Washington Post — Who gets sent home if government shuts down
► In today's — Business groups target financial adviser rule — As lawmakers work to craft an omnibus funding bill before a Dec. 11 deadline, the industry is pushing to include an amendment that could halt, or at least slow down, a reviled rule imposing a "fiduciary duty" on retirement investment advisers.
EDITOR'S NOTE — Wall Street is putting the squeeze on Democrats to support them on this, but at least three of Washington's House Democrats are probably already on their side.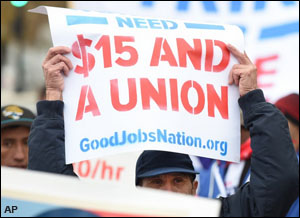 ► From Think Progress — Striking Capitol workers take their fight to Ted Cruz — The people who work at the U.S. Capitol and Senate went on strike on Tuesday to protest their latest contract. The contractors, who work in the cafeterias and clean the buildings, say they were shut out of talks between Republican Senators and federal contractor organizations handling the renewal process. The new contract went into effect on Monday, according to their group's press release, and failed to include the living wage of $15 an hour or union rights that they have been demanding for years.
---
CAMPAIGN 2016

► In today's Washington Post — Trump's call to bar Muslims draws bipartisan anger — Republican and Democratic leaders leveled their most forceful criticism yet against Donald Trump on Tuesday, widely denouncing the GOP presidential front-runner's call to bar Muslims from entering the United States and signaling that Trump's anti-immigrant and anti-Islamic rhetoric has agitated both parties more than ever.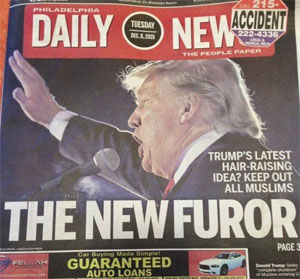 ► In today's NY Times — Trump's plan to bar Muslims widely condemned abroad — A day after Donald Trump called for a ban on the entry of Muslims into the United States, much of the rest of the world on Tuesday looked at the American presidential election with a mix of befuddlement and despair. His remarks ignited widespread condemnation that crossed ideological and social lines in many countries.
► From Huffington Post — Trump's Islamophobia is bad, but his rivals aren't much better
---
NATIONAL
► In today's NY Times — Walmart's imports from China displaced 400,000 jobs, study says — The jobs, mostly in manufacturing, represent about 13 percent of the 3.2 million jobs displaced over those same years that the study attributes to the United States' goods trade deficit with China. Walmart's Chinese imports amounted to at least $49 billion in 2013, according to the Economic Policy Institute study, which was based on trade and labor data. Over all, the United States' trade deficit with China hit $324 billion that year.
► From Think Progress — How a $15 minimum wage took over the Democratic Party — The seeds were first sown by the Great Recession, when millions lost their jobs and many ended up in work paying closer to the minimum wage. But it was fast food workers who really put $15 on the map… Change started to happen on the city and state level. A majority of states have now raised their wages above the federal level. And in May of 2014, Seattle passed a $15 minimum wage, with other cities joining in later on.
► In today's NY Times — If it owns a well or a mine, it's probably in trouble — The pain among energy and mining producers worsened again on Tuesday, as one of the industry's largest players cut its work force by nearly two-thirds and Chinese trade data amplified concerns about the country's appetite for commodities.
EDITOR'S NOTE — Although this displacement is caused by a glut of commodities — as opposed to motivated by efforts to cut greenhouse gases — the effect is the same, widespread layoffs in the carbon energy sector. This is why we need Just Transition language in the Paris climate agreement.
---
The Stand posts links to Washington state and national news of interest every weekday morning by 10 a.m.
Short URL: https://www.thestand.org/?p=45518
Posted by
David Groves
on Dec 9 2015. Filed under
DAILY LINKS
. You can follow any responses to this entry through the
RSS 2.0
. Both comments and pings are currently closed.