We're No. 1, Dennis less menace, no PTT, Starman…
Friday, January 15, 2016
---
STATE GOVERNMENT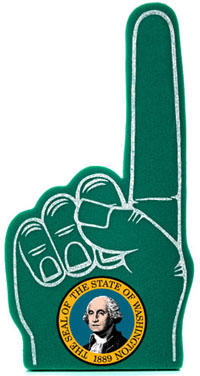 ► From Business Insider — The economies of all U.S. states ranked — Business Insider ranked the economies of all the states and D.C. on seven measures: unemployment rates; GDP per capita; average weekly wages; recent growth rates for nonfarm payroll jobs; GDP; house prices; and wages. Washington ranks #1.
EDITOR'S NOTE — Meanwhile within the echo chamber, our state's corporate lobbying groups — plus the think tanks and political sycophants they fund — continue to insist that our state's regulatory "burdens," our safety nets for injured and laid-off workers, and our relatively high unionization rate make Washington less competitive. The truth is, higher wages pump money into the economy, creating a virtuous cycle that benefits working people and businesses.
► TAKE THIS POLL from the P.S. Business Journal — Do you think Boeing should have to keep jobs in state in exchange for tax credits?
► Meanwhile, in today's Seattle Times — Bezos' Blue Origin seeks tax incentives to build rocket engines here — Rob Meyerson, president of Blue Origin, said Thursday the space company will decide soon on the location where it will manufacture its forthcoming large rocket engine, the BE-4. But he said the company, founded by Amazon boss Jeff Bezos (net worth: more than $50 billion), is seeking new tax incentives to locate the facility in Washington state. He called for the passage of HB 2226 in the current legislative session, which would extend to manufacturers of spacecraft the same aerospace-industry incentives available to Boeing and its suppliers.
EDITOR'S NOTE — Unlike the aerospace tax breaks, which have no accountability for actually creating jobs, HB 2226 does include some accountability language, but it's weak:
"If the JLARC (Joint Legislative Audit and Review Committee) finds that the number of jobs in the spacecraft industry has increased by 10 percent during the term of the tax preferences, then the Legislature intends for JLARC to recommend extending the expiration date of the tax preferences."
JLARC recommendations on ending unproductive and counter-productive tax breaks are not necessarily followed by the Legislature. Real accountability standards — like those that exist in other states — assign a number of jobs and say, if you don't create/maintain that number of jobs, you don't get the tax break. Simple. Why can't Washington do that?
► In today's Oregonian — Kate Brown's minimum wage plan: $15.52 for Portland area — $13.50 everywhere else — Gov. Kate Brown on Thursday unveiled a compromise plan that could leave Portland and Oregon with some of the highest rates in the nation — and potentially keep the issue from reaching what could be a crowded fall ballot.
---
BOEING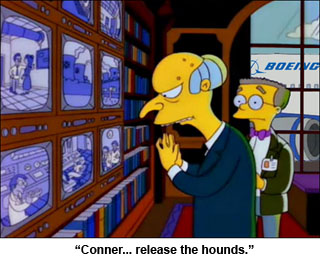 ► In today's P.S. Business Journal — New Boeing CEO's Puget Sound roots, cooperative tone, may have helped speed SPEEA contract resolution — Boeing CEO Dennis Muilenburg's predecessor, Jim McNerney (pictured at right), had a reputation for being antagonistic in his negotiations and aggressively competitive. Muilenburg on the other hand, seems to have a quieter demeanor and is more welcoming of other viewpoints.
In the Yakima H-R — Ex-Im Bank
 earned profit 
of $432 million last year, even 
with shutdown — The federal Export-Import Bank, which helps U.S. companies sell their products abroad, said Thursday it earned a profit of $432 million for taxpayers last year despite a lengthy shutdown after congressional critics allowed its authorization to lapse.
---
LOCAL
► In today's Spokesman-Review — Proposed oil terminal brings only risk for Spokane, critics say — However, the project received support from local carpenters and boilermakers. "As an oil-consuming nation, we need a steady, reliable supply of oil," said Lance Fritze, a Spokane resident who represents a carpenters union. Oil-by-rail shipments are "safer than using a pipeline and more efficient than trucking it," he said.
► In today's Seattle Times — Inslee orders tunnel dig halted as soil sinks above Bertha — Gov. Jay Inslee's order to stop follows the report of a sinkhole opening up this week. The state invoked a contract clause that allows it to suspend work based on a "failure to correct conditions unsafe for Project personnel or the general public."
---
IMMIGRATION RAIDS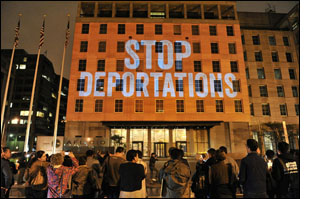 ► From KUOW — Fear of deportation ratchets up as rumors about 'raids' in Seattle spread — Immigrant advocates have scheduled several workshops in the Seattle area due to concerns about immigration raids. It comes on the heels of a federal operation to deport families from Central America.
FROM the Calendar at The Stand — A "Know Your Rights" Community Forum will be held TONIGHT (Friday, Jan. 15) from 6 to 8 p.m. at Casa Latina, 317 17th Ave. S. in Seattle. The focus will be on answering questions and providing resources and advice to community members concerned and fearful about what immigration raids may mean for them and their families. Get details.
► From Think Progress — As feds launch new deportation raids, churches vow to take in immigrants — Churches across the country are gearing up to defy the federal government's deportation efforts, preparing to offer Central American asylum-seekers sanctuary in their churches and protect them from an aggressive new wave of federal raids.
---
CAMPAIGN 2016

► From The Hill — AFL-CIO bashes Trump — The nation's largest labor group bashed Donald Trump on Thursday, accusing the GOP front-runner of injecting xenophobia into the presidential race.
► From The Hill — Kasich hails 'PTT' trade deal — "I'm a free-trader. I supported NAFTA, I believe in the PTT."
---
NATIONAL
► From AP — Walmart to shutter 269 stores, 154 of them in the U.S. — The stores being shuttered account for a fraction of the company's 11,000 stores worldwide. More than 95 percent of the stores set to be closed in the U.S. are within 10 miles of another Walmart.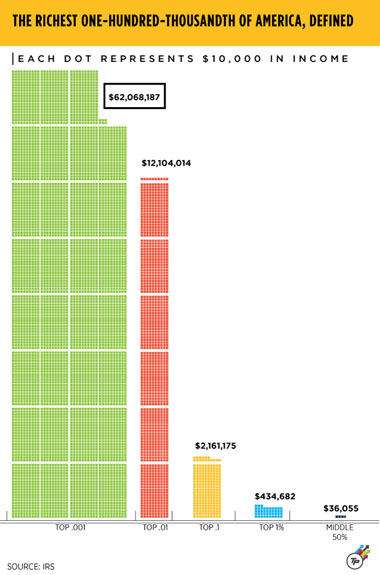 ► MUST-READ in today's NY Times — Is vast inequality really necessary? (by Paul Krugman) — How rich do we need the rich to be? That's not an idle question. It is, arguably, what U.S. politics are substantively about. Liberals want to raise taxes on high incomes and use the proceeds to strengthen the social safety net; conservatives want to do the reverse, claiming that tax-the-rich policies hurt everyone by reducing the incentives to create wealth… The real question is whether we can redistribute some of the income currently going to the elite few to other purposes without crippling economic progress… There's no reason to believe that it would. Historically, America achieved its most rapid growth and technological progress ever during the 1950s and 1960s, despite much higher top tax rates and much lower inequality than it has today.
► From Huffington Post — Conservative myths on minimum wage have dangerous implications (by Duncan Hosie) — There are real consequences to letting wages stagnate for the working poor. Millions will be left in poverty. Thousands of small businesses will face debilitating job turnover costs. As the next President prepares his or her agenda, we shouldn't let extreme rhetoric and outdated thinking distract from the economic and moral imperatives of raising the minimum wage.
► In the Washington Post — With public sector unions on the rocks, middle class may take another hit — For all his talk about "middle class economics" in recent years, it might have seemed odd that President Obama didn't mention the "middle class" once during his nearly hour-long speech to Congress last night. Instead, he talked about "working families." Those phrases aren't interchangeable anymore — so many working people have exited the middle class that it's no longer the demographic majority.
► From On Labor — Friedrichs and the private sector — Justice Scalia's statement portends very bad things for agency fees in the public sector. But it's also an argument as to why Friedrichs' damage is unlikely to extend to the private sector.
► From Think Progress — Groups sue over North Carolina's 'ag gag' law, saying it violates Constitution — Last year, North Carolina made it nearly impossible for citizens to legally gather evidence on and report instances of wrongdoing, such as animals being mistreated or pollution being dumped into a stream. Now, a group of organizations is suing over the law.
EDITOR'S NOTE — State Rep. Joe Schmick (R-Colfax) introduced an "ag gag" bill last year to less than rave reviews and it died a deserved death. Idaho's ag-gag law has already been tossed by a federal judge. But as long as corporate-funded bill mills like ALEC keep pushing them, they'll find Schmicks ready to sponsor them.
---
T.G.I.F.
► Last Friday, The Entire Staff of The Stand opted not to post a David Bowie video on his 69th birthday. On Sunday, two days after the release of his final album, the Thin White Duke passed away after an 18-month battle with cancer. In his honor, we present the song that launched the persona, from our favorite Bowie album, The Rise and Fall of Ziggy Stardust and the Spiders From Mars. "Look out your window I can see his li-i-ight…"
---
The Stand posts links to Washington state and national news of interest every weekday morning by 10 a.m.
WASHINGTON IS A UNION STATE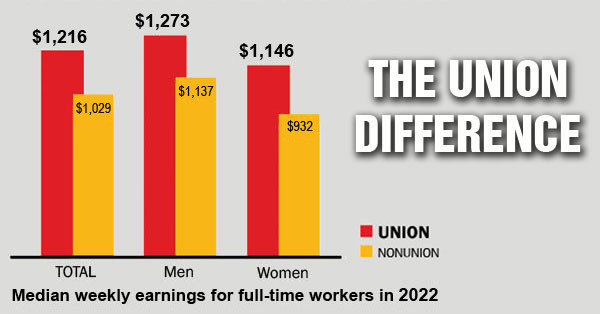 CHECK OUT THE UNION DIFFERENCE in Washington state: higher wages, affordable health and dental care, job and retirement security.
FIND OUT HOW TO JOIN TOGETHER with your co-workers to negotiate for better working conditions and respect on the job. Or go ahead and contact a union organizer today!