Dairy workers ask legislators for better farm safety, training
OLYMPIA (Jan. 19, 2016) — Dairy workers, the United Farm Workers and state labor and faith groups gathered at the State Capitol on Monday to announce introduction of House Bill 2484, a landmark dairy safety bill targeting deaths and rising injury rates on Washington state dairies.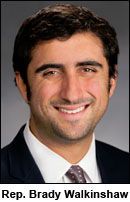 A vigil by dairy workers was conducted outside the Capitol, followed by a briefing on the measure by HB 2484 prime sponsor Rep. Brady Walkinshaw (D-Seattle), and a public hearing on HB 2484 before the House Labor and Workplace Standards. (Watch the hearing on TVW.) Those testifying in support of the bill included dairy workers, UFW National Vice President Erik Nicholson, Washington State Labor Council President Jeff Johnson, plus other union leaders and clergy.
"My hope is that, with this legislation, we can initiate a conversation around farmworker safety in dairies," Rep. Walkinshaw said. "I really believe that… we're not accounting for the full cost of our food system, and a lot of those costs are borne by workers who face very challenging work environments."
Alberto Garcia, who worked in the dairy industry for 20 years, described being trampled by a bull for 30 minutes with no one around to help him. He ended up in a coma in a Seattle hospital with severe internal injuries and barely survived. Since then, he has suffered physically and psychologically, and his family has suffered financially.
"I don't want that to happen to other families because there is no safety and training for the workers," Garcia told the House committee. "Hopefully, you can do something about that."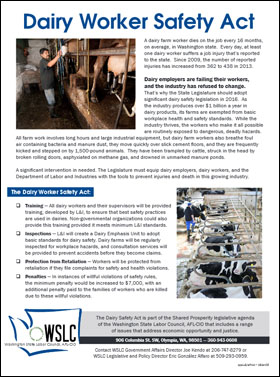 HB 2484 would:
■  Require the state Department of Labor & Industries to ensure every dairy is inspected at least once every three years for compliance with standards the agency would adopt to address specific health and safety issues and hazards. Currently, inspections are only required after a fatality.
■  Demand certification of health and safety training at all dairies, and would require at least one supervisor who has completed the training be present on site. Prior to his death, Randy Vasquez, 27, was last seen driving a front loader at 9 p.m. on Feb. 24, 2015, at a rural Mabton dairy associated with the Darigold marketing cooperative. His body was found at 4:30 a.m. the next day, strapped to the machine six feet deep in a manure lagoon, where he drowned, that was neither fenced nor posted in violation of state requirements. There had been no safety training, and no one had searched for Vasquez when he didn't return from his duties.
■  Ban discrimination or retaliation against dairy workers for reporting health and safety violations, and it would hike minimum penalties for willful violations of safety standards to $7,000, plus an additional $10,000 for willful violations resulting in a dairy employee's death. Vasquez's employer's fine of $6,800 for multiple violations involving his death was reduced to $2,200 after the dairy appealed.
One person is killed, on average, every 16 months at a Washington state dairy and an average of more than one dairy worker is injured per day, an injury rate nearly 40 percent higher than most private industries. The number of injuries has been rising. According to state data, 362 dairy workers were injured in 2009, 438 were hurt in 2013, and 444 were injured in 2014.
Dairy and farm industry lobbyists testified against HB 2484 on Monday, saying they believed the bill is unnecessary and that the dairy industry is not that dangerous.
Short URL: https://www.thestand.org/?p=46201
Posted by
David Groves
on Jan 19 2016. Filed under
STATE GOVERNMENT
. You can follow any responses to this entry through the
RSS 2.0
. Both comments and pings are currently closed.