Familias Unidas leaders return from Sakuma boycott tour
MOUNT VERNON (April 18, 2016) — Leadership of Familias Unidas por la Justicia (FUJ) and community members met at the Sakuma Bros. Berry Farm processing plant on Friday to celebrate the return of FUJ leaders from a monthlong tour of the West Coast. Members of FUJ are demanding a union contract with Sakuma Brothers Berry Farms and is working in solidarity with 80,000 workers in San Quintín, Mexico.
Union organizers reached out to Sakuma Management before embarking on the tour. Sakuma management refused to meet with the union leaders. FUJ then embarked on their West Coast tour, rallying supporters in more than 16 cities. Now they have returned and invited community members concerned with labor rights and an ethical food system to join them in this final action of the West Coast Tour.
Leadership of FUJ, labor leaders, Brown Berets leader Leah Resendez from Watsonville, CA, and community members from Tacoma, Olympia, Seattle, and Bellingham were outside the Sakuma Brothers processing plant on Cook Road demanding negotiations with Sakuma management. After not being allowed to go in and meet with Sakuma management, a negotiation table was placed outside the processing plant with an empty chair signaling the lack of will on Sakuma's side to fulfill a negotiation meeting after almost three years of farmworker struggle and repeated demand to negotiate.
The small fledgling union has organized more than 40 Driscoll boycott committees throughout the nation and garnered endorsements from more than 50 endorsements from local and national labor, church, community and consumer groups.
"We are willing to go where we need and sacrifice until we, the farm workers are assured fairness through a union contract at Sakuma Bros. Berry Farms and we are more powerful when we are joined by allies like Leah Resendez," said FUJ President Ramon Torres.
The tour marks a turning point from a localized fight in Washington state to an international effort of two independent farmworker unions taking on the corporate food regime and putting farmworker justice and transformation of the food system back into the minds and actions of U.S consumers.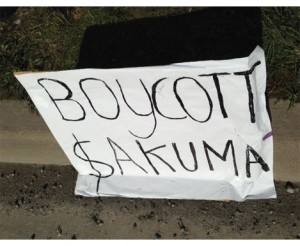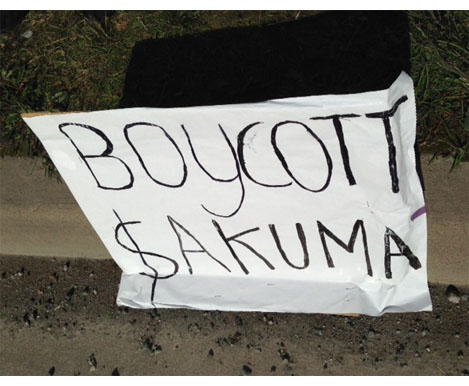 In March 2015, international grassroots interest in the boycott of Driscoll's berries exploded when farmworkers in San Quintin, Mexico, launched a general strike; formed an independent union, Sindicato Independiente Nacional Democrático de Jornaleros Agrícolas; and endorsed the consumer boycott of Driscoll's. Since then the two independent unions have announced that neither will sign union contracts with their respective Driscoll's suppliers unless the other union is signing a contract as well.
"We are well positioned with legacy and experience to pressure Driscoll's at the front door of their corporate headquarters until they force Sakuma management to negotiate and sign a union contract with Familias Unidas por la Justicia" said Leah Resendez, boycott committee member and Brown Beret leader based in Watsonville, CA.
FUJ is an independent farmworker union in Burlington, Wash., with 500 members fighting for a union contract with Sakuma Farms to ensure living wage salaries, fair treatment, respect and dignity of farmworkers. The FUJ is affiliated with the Washington State Labor Council, AFL-CIO.
Short URL: https://www.thestand.org/?p=48381
Posted by
David Groves
on Apr 18 2016. Filed under
LOCAL
. You can follow any responses to this entry through the
RSS 2.0
. Both comments and pings are currently closed.