State employees urge Inslee: Close public service pay gap
OLYMPIA (Sept. 1, 2016) — More than one thousand Washington state employees represented by several unions negotiating new contracts with the governor's office rallied Wednesday inside the State Capitol Rotunda. They heated things up in the sweltering building, urging Gov. Jay Inslee to fund real raises that begin to close the growing pay gap between them and their counterparts both in the private sector and in city and county governments.
Washington state's recent salary survey showed that 99 percent of state employees are paid below market rate, an alarming trend because the State of Washington is the largest employer — public or private — in the state.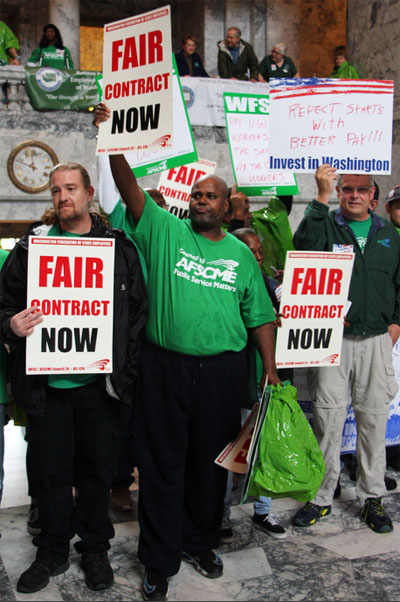 The state employees' coalition calling for competitive pay, safe staffing and workload relief includes American Federation of Teachers Washington; International Brotherhood of Electrical Workers; Professional and Technical Employees Local 17; Retired Public Employees Council of Washington/AFSCME; SEIU Local 775; SEIU Local 925; Teamsters Local 117; the Washington Education Association; the Washington Federation of State Employees/AFSCME; the Washington Public Employees Association; and the Washington State Labor Council, AFL-CIO. They are joined by coalition partners including OneAmerica and WashingtonCAN.
The following rally coverage was posted by Washington Federation of State Employees, AFSCME Council 28:
More than 1,000 WFSE members joined with allies from other unions, community groups and businesses today (Aug. 31) to pack the Capitol rotunda in Olympia to call on Gov. Jay Inslee to get real in contract negotiations.
See the full gallery of photos at http://wfse.org/invest-in-wa
"This rotunda is filled from the bottom to the top and we need to continue this," Federation President Sue Henricksen told the packed dome as tense negotiations on a new contract continue at the General Government and Higher Education tables.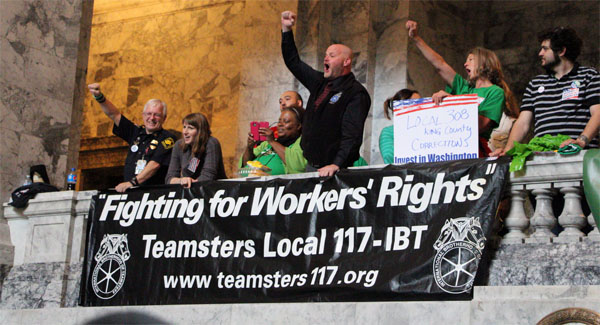 A delegation of Federation and other union bargainers then delivered their message to the governor's office. This state – the largest employer in Washington – can't get ahead when 99 percent of its employees are behind market rates of pay, they told the governor's chief of staff David Postman.
"There are fast food establishments such as Burger King that pay more than many entry-level jobs in Community Colleges," Tracy Stanley, a Local 1400 member at Lower Columbia College, told Postman.
"First of all, I have to ask, 'Really?' Is this how we treat those who are educating our next generation?"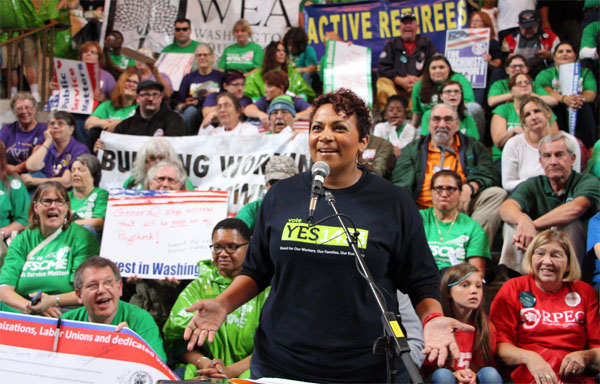 Federation Executive Director Greg Devereux told Postman that while the General Government team has so far "negotiated a lot of good things…last night we got a proposal that was incredibly insulting.
"I know it (bargaining) ebbs and flows, but there are some tough things ahead of us that we have to work out in the next week or two.
"So I hope that message is getting through (to the governor)."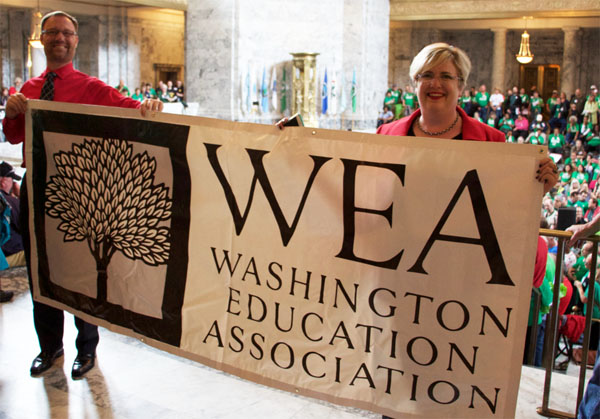 Back at the rotunda rally, Henricksen applauded the 1,000-plus members who came from all across they state. They put a human face on all the facts and figures thrown across the bargaining tables.
"You are (all a) part of the bargaining team…," she said. "Our voice matters."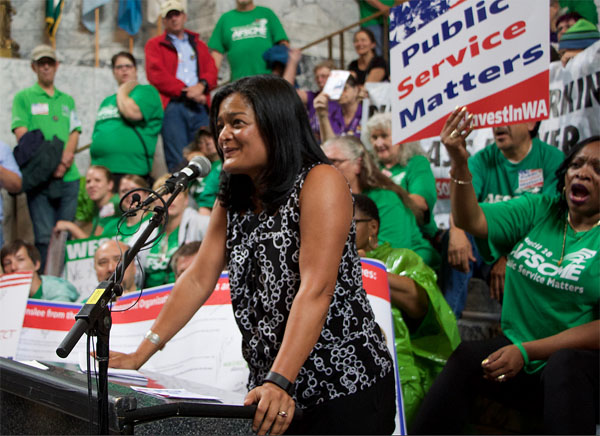 General Government bargaining resumes Sept. 7 and 8. The Community Coalition Bargaining team is at the table today and tomorrow. Other teams in bargaining this week: the University of Washington, UW Police Management, and Washington State University.
---
Here is some of the news coverage from Wednesday's rally:
► From KIRO — 99% of Wash. state employees paid less than their counterparts
► In today's Olympian — State workers rally at Capitol as negotiations continue — The state has reached tentative collective bargaining agreements with more than a dozen unions, but negotiations continue with eight more, and another six are in arbitration.
► In today's Spokesman-Review — State workers rally at Capitol — Some signs called on Gov. Jay Inslee — whose office is one floor down from the Rotunda — to give workers a raise and one speaker led the crowd in a chant of "Jay Inslee get in line. Public employees are way behind."
Short URL: https://www.thestand.org/?p=51656
Posted by
David Groves
on Sep 1 2016. Filed under
STATE GOVERNMENT
. You can follow any responses to this entry through the
RSS 2.0
. Both comments and pings are currently closed.