Heck: NO on TPP, time to rethink trade deals
UPDATED (Oct. 24, 2016) — Updated to includes comment from WSLC President Jeff Johnson.
---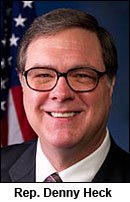 OLYMPIA (Oct. 21, 2016) — U.S. Rep. Denny Heck (D-10th) announced Friday that he intends to vote "no" on the Trans-Pacific Partnership (TPP) if it is brought up during the lame-duck session of Congress or thereafter until his concerns are addressed regarding the "means and the will" to enforce it and "meaningfully help" needed for America's working families whose jobs and livelihoods are lost due to trade policy.
The congressman added, "I think it is time to hit both the pause and the reset buttons on trade agreements and to truly rethink how we approach this."
Jeff Johnson, President of the Washington State Labor Council, AFL-CIO, released the following statement: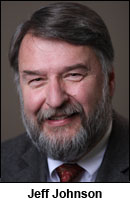 "Last Friday, Congressman Denny Heck called together labor leaders and told us that he would not be voting for the TPP. He also handed out a five-page explanation for his reasons. Congressman Heck's journey to come to this decision reflects a political leader who took the time and painstaking effort to deliberate all sides of the issue, but ultimately came down on the side that recognizes that underlying any economic transition lies a set of rules which are either fundamentally fair to workers, their communities, employers and the environment, or they are not.
"Unfortunately, free trade agreements have thus far not been grounded in values or are enforced so that workers and communities are not left behind. Congressman Heck believes deeply in the advantages to free trade and has faith that trade agreements can be negotiated that are fair, can be enforced, and that allow economies to grow and workers and communities to thrive and not be sacrificed or left behind.
"On behalf of the Washington State Labor Council, AFL-CIO and our 450,000 members, I want to thank Congressman Heck for taking such a principled position."
Heck announced his opposition in a lengthy essay that described his journey through the deliberative process. He concluded:
I will not vote in support of TPP until I have more satisfactory answers to what have become my two paramount concerns.
First, to win my support, TPP or any trade agreement will also have to contain not just appropriate standards but the means and the will to ensure their enforcement. I will know that we have reached this point when U.S. success in challenging foreign trade practices results in industries returning to American towns. There are some early signs that the Obama Administration's aggressiveness is starting to produce these results, but it's too soon to say for sure. We need to see more. Frankly, the burden is on the trade negotiators to come up with a solution.
Second, I think it is time we took some of the gains from trade, globalization and technological advancement and used them to make investments both to grow our economy faster and construct a material effort to meaningfully help the workers whose jobs and families are being sacrificed and largely ignored.
Until my two concerns are met, I will not vote for TPP either in the lame duck session or later.
In fact, I think it is time to hit both the pause and the reset buttons on trade agreements and to truly rethink how we approach this.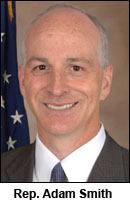 Heck joins Rep. Adam Smith (D-9th), who previously announced his opposition to the TPP, as the first two members of Washington's congressional delegation to oppose the controversial 12-nation "free trade" agreement. Last year, Smith and Heck also voted against "Fast Track" Trade Negotiating Authority for the TPP and other similar deals, as did Rep. Jim McDermott (D-7th), who is not seeking re-election.
Democratic Reps. Rick Larsen (D-2nd), Derek Kilmer (D-6th), and Suzan DelBene (D-1st) have not revealed how they intend to vote on the TPP, saying they are still analyzing the agreement that was made public nearly one year ago. All three voted in favor of Fast Track.
All of Washington's four Republican members of the U.S. House voted for Fast Track. As for the TPP, Rep. Dave Reichert (R-8th), who serves as chairman of the House Ways and Means Trade Subcommittee, strongly supports it and is actively advocating for its passage. Rep. Cathy McMorris Rodgers (R-5th), a member of the House Republican leadership team, has said the TPP "needs a lot of work" before it can pass — a message echoed by Speaker Paul Ryan — without elaborating on what exactly needs to change, and how that is possible after the TPP has already been signed by the Obama administration and other member nations. Reps. Jaime Herrera Beutler (R-3rd) and Dan Newhouse (R-4th) are keeping their support for TPP under wraps on the campaign trail.
Short URL: https://www.thestand.org/?p=52798
Posted by
David Groves
on Oct 21 2016. Filed under
NATIONAL
,
TAKE A STAND!
. You can follow any responses to this entry through the
RSS 2.0
. Both comments and pings are currently closed.