'Get someone up here. We're all dying.'
As Tesoro continues to appeal fines and deny responsibility for the 2010 Anacortes refinery explosion, the victims' families say "it still hurts deeply."
(Dec. 15, 2016) — This week, the Center for Public Integrity published a detailed investigation of the April 2, 2010, explosion and fire at the Tesoro Anacortes Refinery that killed seven workers. It is a painful but necessary reminder that the safety of refinery workers and the surrounding community are intertwined, and much work remains to protect both. Here are some excerpts of the Center's report by Jim Morris: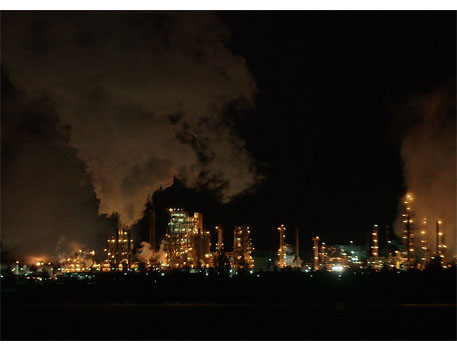 ANACORTES — From 500 yards away, John Moore felt the concussion before he heard it.
Moore was midway through a 6 p.m.-to-6 a.m. shift as an operator at the Tesoro Corporation's oil refinery in Anacortes, an island town 80 miles north of Seattle. It was 35 minutes after midnight on April 2, 2010.
Up the hill from Moore, in the Naphtha Hydrotreater unit, seven workers were restoring to service a bank of heat exchangers — radiator-like devices, containing flammable hydrocarbons, that had been gummed up by residue and cleaned. Most of the workers didn't need to be there; it was, for them, a training exercise.
Moore was monitoring the job by radio. "They were maybe two-thirds of the way to putting the bank online when I heard a noise from outside," he said. "I felt a tremendous vibration in my feet," followed by the whooshing sound of "a match hitting a barbecue."
Exchanger E-6600E, part of a bank that had kept running while the other one was down, had come apart and disgorged hydrogen and a component of crude oil called naphtha, which ignited. Moore called each of the seven workers on the radio and got no response. Thirty or 40 seconds later he heard the strained voice of the crew's foreman, Lew Janz. "Lew said, 'Get someone up here. We're all dying.' "
---
Al Jazeera America produced the following film version of this report as part of its "Fault Lines" documentary series.
---
The state's investigation took six months, the maximum allowed by law. On Oct. 1, 2010, the Department of Labor & Industries cited Tesoro for 44 violations — 39 classified as "willful," five as "serious" — and proposed a fine of just under $2.4 million. Tesoro gave notice of appeal three weeks later and subsequently filed a series of legal motions that sent the case into limbo for more than 4½ years. Finally, in July 2015, what would turn out to be a yearlong proceeding began before the state Board of Industrial Insurance Appeals. Over the course of that year, 102 witnesses gave testimony.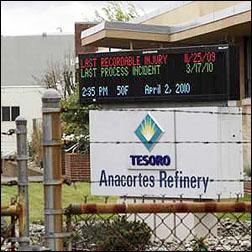 In his opening statement in Mount Vernon, a small city southeast of Anacortes, on July 21 of last year, Assistant Attorney General Brian Dew, representing the Department of Labor & Industries, outlined the state's case. "Tesoro is in a high-risk, high-reward business, but with a twist," he said. "They take the higher reward, but it's the employees that are put at risk." …
The following 12 months brought a parade of witnesses, including the CEO of Tesoro, Gregory Goff, and his predecessor, Bruce Smith.
In a deposition, Smith, who retired on April 30, 2010, described how he helped turn a $250 million company that was near bankruptcy into a $7 billion powerhouse, a company that went from owning one refinery to seven. Smith recalled being awakened by a phone call the morning of the blast and driving to a crisis center that had been established at Tesoro headquarters in San Antonio. He and his wife arrived in Anacortes that evening and "immediately went to the hospital to meet with families," he said.
Dew: "As far as you know, was anyone at Tesoro responsible for the April 2, 2010, explosion and fire?"
Smith: "No." …
In his closing argument on July 21 of this year, Dew said that from the time it acquired the Anacortes refinery until the night of the accident, Tesoro showed "systemic apathy" toward safety. Violating its own policy, it never performed internal inspections of the E and B heat exchangers to see if they were being weakened by HTHA, Dew said. It seemed uninterested in learning about the refinery's idiosyncrasies before closing the purchase with Shell in 1998. "If you are buying a car, are you not going to look under the hood?" Dew asked. "Well, apparently that's how Tesoro operates."
Judge Jaffe has weighed the evidence against Tesoro for nearly five months. It's unclear when he will rule. Either side can appeal his decision.
Steve Garey, who retired from the Anacortes refinery in 2015 after almost 25 years and served as president of the United Steelworkers local, said that while some positive changes were made after the 2010 accident, upper management at Tesoro remains "contemptuous" of its work force and is "hiding behind incredibly permissive process safety regulations."
---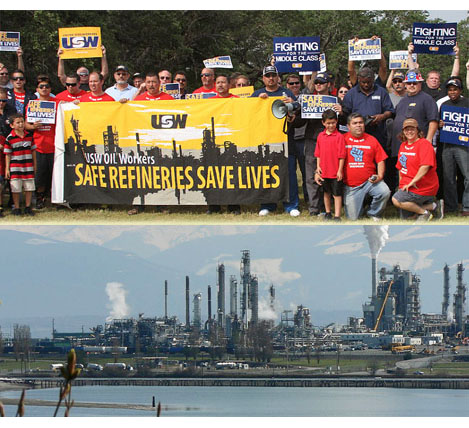 April 2010 was a ghastly month for American workers. The Tesoro accident on the 2nd was followed on the 5th by the Upper Big Branch coal mine cave-in, which killed 29 miners in West Virginia, and on the 20th by the immolation of the Deepwater Horizon drilling rig in the Gulf of Mexico, which killed 11 workers and put 5 million barrels of crude into the sea.
The families of the seven who died in Anacortes settled civil lawsuits against Tesoro and Shell for a collective $39 million in 2014. But Tesoro's appeal of the state fine — which amounts to less than two-tenths of one percent of the $1.54 billion in profits the company reported for 2015, or slightly more than 10 percent of the $23 million CEO Goff received in total compensation that year — has left an open wound.
"It's disgusting," said Estus "Ken" Powell, a retired farm-equipment salesman who lives in Mount Vernon. His daughter, Kathryn Denise, known as K.D., was 28 the day she died. Mechanically inclined and unintimidated by the dangerous, male-dominated environment, K.D. had gone to work at Tesoro in 2008. She'd volunteered to help restart the bank of heat exchangers on the night of the accident.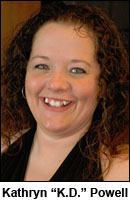 A 1:15 a.m. phone call from K.D.'s boyfriend, whose father worked at the refinery, sent her parents on a panicked excursion. They drove first to Island Hospital in Anacortes — where K.D., swelling rapidly from her burns, was wrapped in bandages from head to foot and induced into a coma — then to Harborview Medical Center in Seattle, a Level I trauma and burn center to which she was to be airlifted. Her parents got there before the helicopter.
K.D. died at 8:05 a.m. Her father was able to recognize her only by her painted toenails.
"It still hurts," Powell said, sitting at his dining room table. "It hurts deeply."
---
Read the entire report by Jim Morris of The Center for Public Integrity.
Short URL: https://www.thestand.org/?p=54122
Posted by
David Groves
on Dec 15 2016. Filed under
NATIONAL
. You can follow any responses to this entry through the
RSS 2.0
. Both comments and pings are currently closed.