In this Washington, keep moving forward with paid family leave
By JOHN BURBANK
---
(Jan. 26, 2017) — Nobody likes broken promises. And for the last year, there's been a lot of promises about lifting up working families and building a better economy.
Now, it's too early to call promises broken. But it's not too early to say that the first few moves from the new Trump administration don't bode well. In just a week, Trump has already issued executive orders that threaten working families, from taking the first steps towards unraveling affordable health care to cancelling a reduction of mortgage rates for first-time homebuyers.
I can only hope that these are just the opening moves, and that working families will ultimately win the game. But we can't sit back and watch, hoping. That sort of passivity invites despair.
What we can do is uphold our promises to working families in our own neck of the woods.
One way we can make significant progress is by passing paid family and medical leave for Washington workers and families. Life is unexpected — whether it's a new child, a personal medical emergency or an unexpected diagnosis in the family, at some point all of us face one of those life events for which a few paid sick days just aren't enough.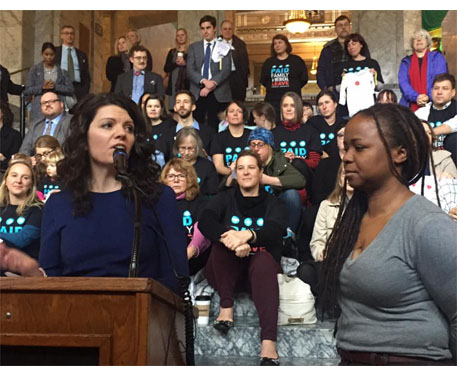 This year's paid family and medical leave proposal, sponsored by Rep. June Robinson (D-Everett), will help ensure that no one has to choose between taking care of themselves or their family and losing a job. (This photo is from a press conference the day the legislation was introduced.)
Despite the fact that pediatricians recommend at least six months of family leave for the health of babies and new parents, one in four women go back to work within two weeks of childbirth. Paid family leave would allow new parents to take up to six months to care for, bond with, nurse, and parent their infant.
If you yourself are injured or seriously ill, for example, if you must be on early bed rest to protect your own health and the health of your baby in utero, or say you "simply" break your leg in an accident, you would also be able to take up to 12 weeks of paid medical leave.
The beauty of paid family and medical leave is, if done right, it's incredibly simple and affordable. Workers and employers would share the costs, each contributing about $2 per week at the typical wage level. When you need to take leave, compensation comes from a fund like unemployment insurance, rather than from your employer.
At some point in our working lives, we all need help and assistance to care for a newborn, overcome cancer, or recover from a broken leg. No one is invincible. And because employers do not pay wages to workers on family and medical leave, they actually save money and can rechannel it to extend hours for other workers or to hire temporary help. It's affordable, predictable and good for everyone.
This is such a common-sense policy, it's hard to see why there would be any opposition. We don't need to look to Canada or Europe for an example of how this policy works. It has already been proven to work in California, New Jersey, New York, and Rhode Island. Now it is our turn.
We know we are not going to make any progress in Washington, D.C. But we can in our state. That's why we're proud to stand with Robinson and others in supporting this policy. Last Monday, the House Labor Committee approved Robinson's bill, which means it's made it over one hurdle. So now it winds its way through the discussions and strategy in the Legislature, propelled by the simple notion of doing the right thing!
---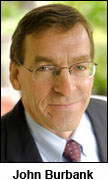 John Burbank is the executive director and founder of the Economic Opportunity Institute in Seattle. John can be reached at john@eoionline.org.
Short URL: https://www.thestand.org/?p=54852
Posted by
David Groves
on Jan 26 2017. Filed under
OPINION
. You can follow any responses to this entry through the
RSS 2.0
. Both comments and pings are currently closed.