SEATTLE (Jan. 26, 2017) — Jeff Johnson, President of the Washington State Labor Council, AFL-CIO, issued the following statement in response to President Trump's Executive Orders signed Wednesday on building a U.S.-Mexico border wall and threatening to withhold funds from "sanctuary cities" who do not enforce new, stricter immigration/deportation laws, plus leaked drafts of impending Executive Orders that would implement dramatic restrictions on refugee admissions and temporarily ban all entrance into the U.S. and suspend the issuance of visas from several Muslim-majority nations.
"The Washington State Labor Council, AFL-CIO, representing more than 400,000 union members in this state, strongly condemns the Executive Orders on immigration signed and proposed by President Donald Trump. He has taken his horribly divisive campaign rhetoric and turned it into a policy that's an embarrassment to our nation.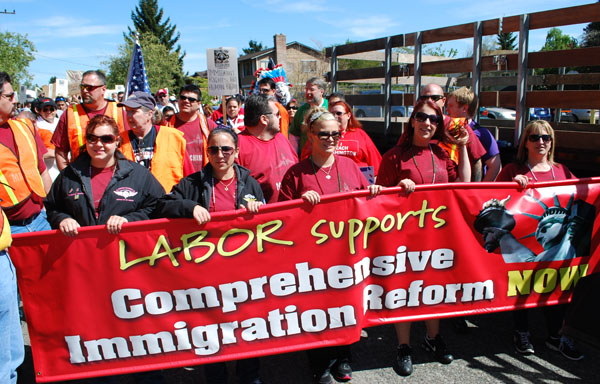 "For many years, the WSLC has fought for comprehensive immigration reform that includes a path to citizenship for the millions of undocumented immigrants living, working, paying taxes and contributing to our economy and communities. That's the kind of immigration reform overwhelmingly supported by the American people. That's not what Donald Trump is doing. He's building a pointless, expensive wall when Americans want to build highways and bridges. He's rejecting refugees fleeing terrorism and genocide in their homelands. He's targeting people based on their religion, and it's hard to imagine something more un-American than that. Donald Trump's executive orders bring shame to the United States, our nation of immigrants.
"We will not abandon immigrant and refugee workers and their families. We'll stand with them, and we'll stand with our sanctuary cities. We will stand by our principles."
For more information about the WSLC's positions on immigration issues, see the following resolutions approved by delegates representing the WSLC's 600-plus affiliated unions:
Resolution to Oppose Honoring Detainer Requests Under the "Secure Communities" Program (2014)
Support for Immigrant Workers and Comprehensive Immigration Reform & Implementation (2013)
On Comprehensive Immigration Reform (2010)
Please share the following graphics on social media: