Bill seeks prescription drug price transparency to manage costs
UPDATE (March 6, 2017) –Today, the House voted, 52-46, to approve 2SHB 1541, largely on party lines with Democrats voting "yes" and Republicans "no." It now advances to the Senate.
---
OLYMPIA (March 6, 2017) — As Washington state legislators struggle this year to write a budget that fully funds public education while maintaining other essential state services, one of the biggest challenges they face is the skyrocketing and unpredictable cost of prescription drugs.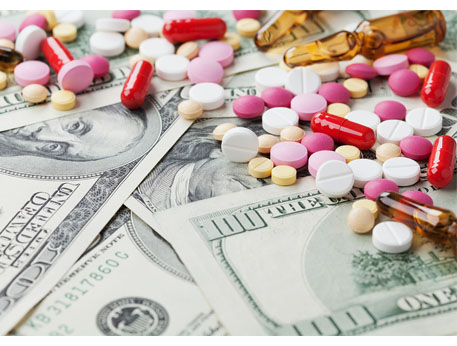 The Health Care Authority, which purchases health care for more than two million state residents through Washington Apple Health (Medicaid) and the Public Employees Benefits Board program, spent $1.2 billion on state prescription drug purchasing in 2015. That's a 14 percent increase over prior year and a 45 percent increase over what HCA spent on prescription drugs in 2013.
The true costs of prescription drugs are largely hidden, hard to understand, and nearly impossible to predict. That's why prescription drug pricing transparency legislation has been proposed this year: to help lawmakers understand what is driving drug prices and address the root causes of rising healthcare costs.
2SHB 1541, sponsored by Rep. June Robinson (D-Everett) and 38 other state representatives, would improve regulation, transparency and accountability on prescription drug pricing. The bill is supported by the Healthy Washington Coalition of community organizations, labor unions, health plans, faith based groups, patient groups, and provider associations. It has passed both the House Health Care & Wellness and the Appropriations committees and is now in the House Rules Committee. It has been pulled from Rules committee and awaits House floor action by this Wednesday, March 8. (See update above.)
The challenge is even more urgent in 2017 than in years past. Just as legislators are under court order to come up with billions in additional funding for public schools, the HCA must increase its spending by $242 million to accommodate a 2016 Hepatitis C coverage mandate from a federal judge. Prescription drug prices and coverage demands are both increasing.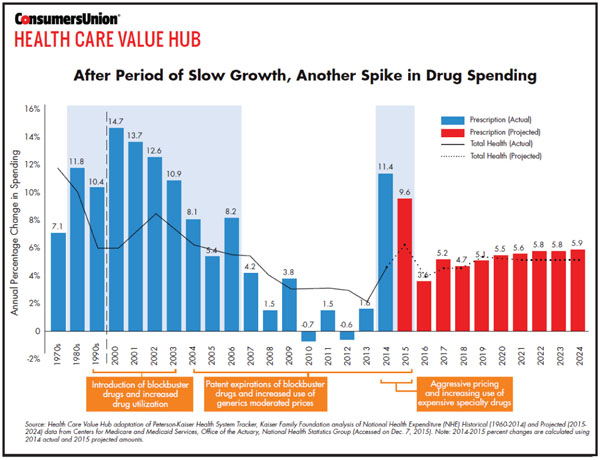 There is evidence that the recent spike in prescription drug costs has been driven by profit motives, not increased production costs or research & development expenditures. Drug corporations set a list price (Wholesale Acquisition Cost) that is the starting point for negotiations with "middlemen" across the prescription drug supply chain. High list prices drive profits for pharmaceutical corporations. A Credit Suisse review showed that in 2014, among the top 20 global drug corporations, price increases in the U.S. account for 80% of increases in net profit.
In 2016, unregulated prescription drug pricing prompted Washington to join 19 states in a price-fixing lawsuit against pharmaceutical corporations. The lawsuit asserts pharmaceutical corporations dramatically raised the price for two generic drugs, limiting competition.
Now Washington state has an opportunity to take a next step by bringing much-needed transparency to prescription pricing. Under 2SHB 1541:
►  Drug corporations would have to justify prices when they dramatically increase the price for a prescription drug.
►  Health plan purchasers would report how drug spending contributes to overall healthcare spending and premiums.
►  An annual report would be submitted to the Legislature summarizing these data on the highest-price prescription drugs and their impact on healthcare spending.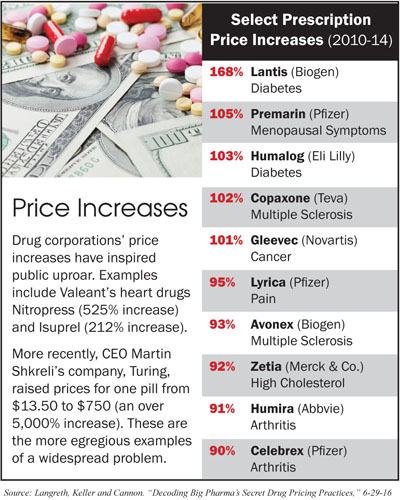 At the public hearing on 2SHB 1541, pharmaceutical industry lobbyists argued that drug companies shouldn't have to disclose "proprietary information" about how they price drugs and that increasing transparency will interfere with the competitive market. But there are numerous examples of that competitive market failing consumers and inexplicable spikes in drug prices (see chart at right).
The Washington State Labor Council, AFL-CIO joins the rest of the Healthy Washington Coalition in calling for the House to approve 2SHB 1541. Washington state needs some disclosure and transparency so it can effectively manage these extraordinary prescription drug costs.
Click here to download a one-page summary on this issue.
Short URL: https://www.thestand.org/?p=55902
Posted by
David Groves
on Mar 6 2017. Filed under
STATE GOVERNMENT
. You can follow any responses to this entry through the
RSS 2.0
. Both comments and pings are currently closed.