Justice for Janitors march this Friday at noon in Seattle
Support SIS employees by joining march to Amazon HQ
The following is from SEIU Local 6:
SEATTLE (June 13, 2017) — Justice for Janitors Day celebrates the historic struggle of janitors who clean buildings in major cities and suburbs to achieve social and economic justice through a decades-long labor campaign. This year on Friday, June 16, Seattle's union janitors will stand beside another group of contracted workers who serve high-value buildings on Amazon's campus: the security officers contracted by Security Industry Specialists (SIS), who are engaged in a struggle for better jobs and a path to form a union.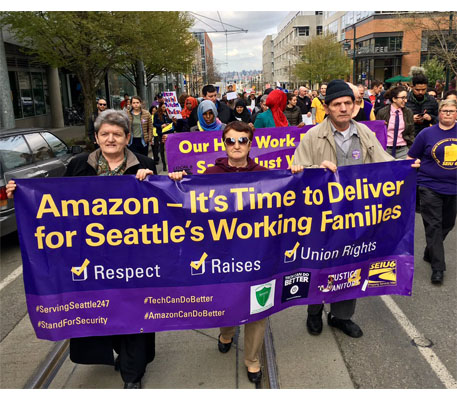 "I'm a janitor and I'm in the union, so I have benefits, including sick pay and medical," said janitor Ifrah Elmi. "I work in the same building at Amazon as some SIS security guards. I know they don't have a union, so they don't have protections from unfair supervisors and can be fired easily. I choose to speak out for them because I believe in speaking up for other people's rights."
TAKE A STAND — Join SEIU6 union janitors, SIS security officers, Seattle city councilmembers, faith leaders, labor supporters and community supporters at a Justice for Janitors march and media event at noon on Friday, June 16 from Westlake Park to Amazon's Doppler Building. ALSO, labor organizations are asked to sign this letter to Amazon CEO Jeff Bezos urging him to "hold (SIS) to your high standards and take responsibility for treatment of all employees who are part of the Amazon community."
The J4J movement gained national attention in Los Angeles in 1990, after a group of 400 janitors rallying for better wages and working conditions were met with baton-wielding police, resulting in dozens of injuries and arrests. Soon after this galvanizing moment, the janitors were able to secure a contract which included a $2/hour raise (to $6.80/hour) and from no health benefits to full family coverage. In Seattle, the J4J movement has bolstered the voices of janitors as they continually seek justice through better jobs.
This year, SEIU6 union janitors will celebrate the wins of the contract they negotiated in 2016, in which they secured a path to pay raises above $15/hour, the continuation of full family health benefits, and a process through which to protect themselves from overwork. Janitors must continually organize to address workload abuses in an industry that seeks to cut costs by demanding more square footage per worker. Janitors remain in the top 10 for accepted workers' compensation claims; women janitors are twice as likely to be injured on the job as their male counterparts.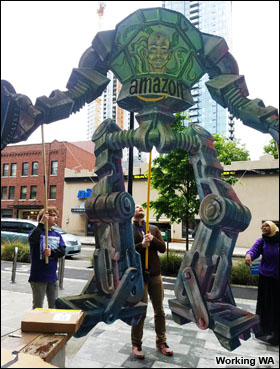 At the media event, janitors will renew the collective power of their voices in fighting for and upholding their rights. Janitors will also call on Amazon to hold SIS responsible as its workers fight for a clear path to form a union. In recent months, several SIS officers who have spoken out on issues such as cost-of-living pay raises, unfair religious practices, and respect, have faced retaliation.
"I feel that union activity makes you a target for things that are normally accepted," said SIS Officer Mohamed Mohamed.
"I want Amazon to know their contractor (SIS) treats us like second-class citizens," said SIS Officer Andrea Ball, a U.S. Army veteran who was asked to voluntarily resign when she requested a schedule accommodation to meet her military commitments. "We need fairness. We need protection, and we need these problems solved," said Ball.
On J4J Day, this united coalition of contracted workers and supporters will demand that Amazon use its power to ensure SIS officers do not face retaliation when they speak up, and that SIS respects its officers who seek better jobs for all workers in tech.
SEIU6 Property Services NW is part of the largest union in the country, Service Employees International Union, which represents over 2 million service workers in North America. SEIU6 represents more than 6,000 janitors, security officers, and allied industries workers in Washington State.
Short URL: https://www.thestand.org/?p=58537
Posted by
David Groves
on Jun 13 2017. Filed under
LOCAL
. You can follow any responses to this entry through the
RSS 2.0
. Both comments and pings are currently closed.