Ryan coming to Everett, Dem trifecta, Medicaid buy-in
Tuesday, August 22, 2017
---
LOCAL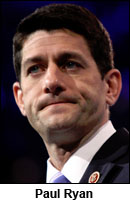 ► In today's (Everett) Herald — House speaker to visit Boeing in Everett to talk tax reform — U.S. House Speaker Paul Ryan will tour the Boeing plant in Everett on Thursday and chat with workers about his plan to slash the amount of federal taxes paid by the (job-shedding Chicago) plane-builder and other businesses in order to spur economic growth. Ryan's visit is scheduled to begin at 8 a.m. with a tour of various production lines. He will then hold a "town hall" with employees that will be streamed live online. Neither event is open to the public… In Washington, Boeing already gets a hefty break on its state tax bill. That tax break, which runs through 2040, enabled Boeing to save $262 million on its tax bill in 2016 and $305 million in 2015. Even with a tax break, the company is shedding jobs. It shaved 6,344 jobs in 2016 and is down roughly 4,000 in 2017.
EDITOR'S NOTE — Already skating on its obligation to pay its fair share for state government, apparently federal tax reform has now become an issue of interest for Boeing because it actually had to pay some in recent years. In nine of the past 15 years, Boeing has had a negative tax rate and got refunds from the U.S. government.
► In the Spokesman-Review — Man charged with felony harassment for alleged threats against postal workers — The man whose alleged threats against postal workers led to a two-month-long mail stoppage for three blocks of West Wabash Avenue was charged with harassment and then released from custody without having to post bail. He will be tried on the felony charges in November.
► in the Spokesman-Review — Hanford becomes comical punching bag for HBO's John Oliver — Just days after Energy Secretary Rick Perry made his first trip to the Hanford Nuclear Reservation, HBO's John Oliver used the polluted nuclear site as a satirical punching bag for the nation's decades of failure to find a permanent storage solution for the millions of gallons of nuclear waste.
---
THIS WASHINGTON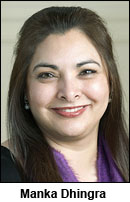 ► From PubliCola — Is the Democratic 'trifecta' coming? — Primary results for the race to be the next state legislator for the 45th District came as a surprise even to Manka Dhingra.  The Democratic candidate and King County deputy prosecuting attorney received 51.5 percent of votes — 10 percentage points ahead of Jingyoung Lee Englund, the Republican candidate — in a race that will determine control over the state Senate.
► In the Chronicle — Local lawmakers say capital budget could be approved in November — The best case scenario would involve approval of the budget in September, but Sen. John Braun (R-Centralia) said he expects it will happen later than that, possibly sometime in November.
► In today's Spokesman-Review — Spokane City Council to consider jumping in to Washington state construction budget fight — The Spokane City Council will consider a resolution next week urging the Legislature to pass a two-year, $4 billion capital budget before tackling the so-called Hirst decision. The stalemate at the state level is preventing construction of new facilities at the city's community colleges, new park projects and the expansion of dental services to low-income residents, as well as costing the city $31 million worth of construction jobs.
---
THAT WASHINGTON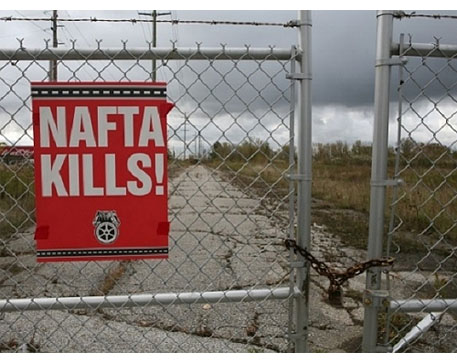 ► From Working Minnesota — Unions wary as new NAFTA talks start — Union presidents in the United States and Canada are casting a wary, skeptical eye on U.S. and Canadian negotiators as talks on crafting a "new NAFTA" opened in Washington, D.C.. And while Mexican unions, all but one government-aligned, are silent on the new NAFTA, Mexican workers are not: Up to 10,000 took to the streets of Mexico City to protest the pact.
ALSO at The Stand:
No more trickle-down 'free trade' deals (by Leo W. Gerard)
NAFTA 2.0: Take action to make it work for working people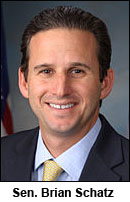 ► from Vox — Sen. Schatz's new health care idea could be the Democratic Party's future — Sen. Brian Schatz (D-HI) is preparing a new bill that could grant more Americans the opportunity to enroll in Medicaid by giving states the option to offer a "buy-in" to the government program on Obamacare's exchanges. His proposal would expand the public health insurance program from one that covers only low-income Americans to one open to anyone seeking coverage, depending on what each state does. The idea is similar to the government-run "public option" that some Democrats advocated for during the battle over the Affordable Care Act's passage.
► In today's NY Times — Why is the Fed so scared of inflation? (editorial) — When workers still need help, the Fed is focusing on the wrong problem.
► From CBS — Secret Service asking Congress to raise overtime cap — In the first seven months of the Trump administration, the Secret Service has been so busy that hundreds of agents will hit their maximum pay and not be eligible for overtime. Trump's presidency has also stretched the Secret Service's budget because of travel and more protectees.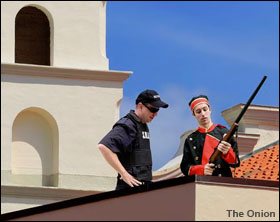 ► From The Onion — 'There's nothing to it,' Secret Service agent assures Mar-A-Lago bellhop assigned rooftop sniper duty — "So you hold the gun like this, look through this scope right here, and just pull this trigger when you want to shoot—you'll get the hang of it pretty quick," said agent Gregory Shaw, assuring the 19-year-old part-time resort employee that he could always use the walkie-talkie if he had any questions about operating the SR-25 semi-automatic sniper rifle.
---
NATIONAL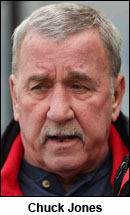 ► From The Hill — America's working poor can't survive on just $7.25 (by Chuck Jones) — I'm not looking to pick another fight with Donald Trump. I did plenty of that before I recently retired as president of the local union that fought to save Carrier jobs in Indiana. But Carrier just delivered a new round of layoff notices to hundreds of workers — and President Trump could have stopped it. And that just ticks me off… Despite signing 93 executive actions so far, he has yet to sign anything to stop offshoring or deliver better wages for America's workers. In fact, United Technologies just got another half a billion in taxpayer-funded contracts this year… Now all that's left are low-wage McDonald's and Walmart jobs. Who can survive on $7.25? America's working people deserve better. The truth is that Trump won't make good on his promises unless we make him do it.
► From The Atlantic — Dolores Huerta's life of activism — "If we don't engage, we have only ourselves to blame," says Dolores Huerta, co-founder of the United Farm Workers of America, in this short interview from the 2017 Aspen Ideas Festival. Huerta argues that if new protest movements want to change policy, old organizing methods are still the most effective.
---
TODAY'S MUST-READ
► From Cosmopolitan — Why I served on Trump's Manufacturing Council — and why I left (by Thea Lee) — I don't regret joining the president's council. To this day, I will raise my voice if there is a way to take on moneyed special interests and fight for working people — even in unfriendly venues. But as a proud child of immigrants — a Chinese railroad worker on my father's side and Eastern European Jews fleeing oppression on my mother's side — there is no way I could remain silent when the president of the United States glorified and excused Nazis and bigots. Sometimes doing your job means walking away. This was one of those times.
---
The Stand posts links to Washington state and national news of interest every weekday morning by 10 a.m.
Short URL: https://www.thestand.org/?p=59881
Posted by
David Groves
on Aug 22 2017. Filed under
DAILY LINKS
. You can follow any responses to this entry through the
RSS 2.0
. Both comments and pings are currently closed.