WSLC's Mosqueda to AFL-CIO: Elect more of our own to office
ST LOUIS (Oct. 23, 2017) — Following are the remarks delivered by Teresa Mosqueda on Sunday at the AFL-CIO 2017 Convention in St. Louis. (Also see Teresa's guest blog post at the AFL-CIO website — "Running for office: Have you ever thought about it?")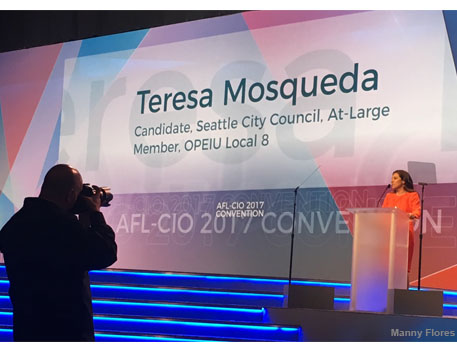 Good afternoon!
I bring a message of solidarity and resistance from the over 500 local unions, and almost half a million affiliated members in Washington state.
My name is Teresa Mosqueda, and I am the Political and Strategic Campaign Director for the Washington State Labor Council, AFL-CIO. I am a proud union member with OPEIU Local 8. And also this year — I am blazing a Path to Power by running to be the next citywide Seattle City Council member.  I am a third-generation Mexican-American/Chicana, woman, fighter in the labor movement, daughter of a WEA, AFT and United Steelworkers union member. My parents taught me to stand up for the most vulnerable and fight for justice.
And now, instead of asking someone else to vote the right way, I am running for office to take back that power. When I win in two weeks, I won't be leaving the labor movement, I will be bringing the labor movement in to the Seattle City Council!
We are at a critical time in our country's history.
A fresh wave of leaders is rising and resisting and running for office for the first time ever — record numbers of women and people of color. I am one of them. Our place as union members is among them.
To all international affiliates, state federations, central labor councils, to workers across our movement, I urge us to make sure that no candidate or elected official ever gets the working people's support unless they swear to stand with us in the labor movement.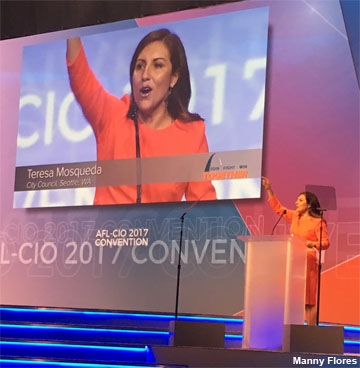 And the best way to protect workers in the labor movement — is to elect more of us to office!
Who better to protect workers' right to organize, than those of us who have organized in the face of fear and intimidation?
Who better to penalize employers who violate the law, than those of us who have fought wage theft and held greedy CEOs accountable?
Who better to protect immigrant workers from exploitation and retaliation, then those of us who have stood in the fields, smelled the pesticides and had our immigration status used against us?
Who better than us: workers in the labor movement, women, people of color, the LGBTQ community, immigrants — to stand up for our rights.
Winning my race in Seattle is only possible because of our local CLC, state federation (thank you, President Jeff Johnson and Secretary Treasurer Lynne Dodson), the AFL-CIO, and because I've earned the support of every single local union in Seattle.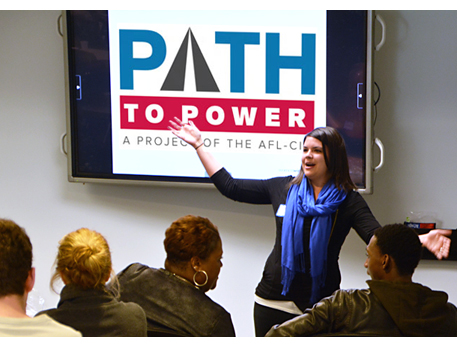 In Washington state, with the support of the AFL-CIO, we've trained almost 100 candidates to run for office. Half of this year's class is running. We can do this!
Let's bring more of our progressive voices and union values to the halls of power.
Let's encourage our union members to run for office, stand up for our communities, fight for the labor movement, and lift-up working families.
There is no one more qualified than us!
And this — we, the labor movement — this is what democracy looks like.
Short URL: https://www.thestand.org/?p=61252
Posted by
David Groves
on Oct 23 2017. Filed under
W.S.L.C.
. You can follow any responses to this entry through the
RSS 2.0
. Both comments and pings are currently closed.