Initiate conversations about attacks on unions, WSLC urges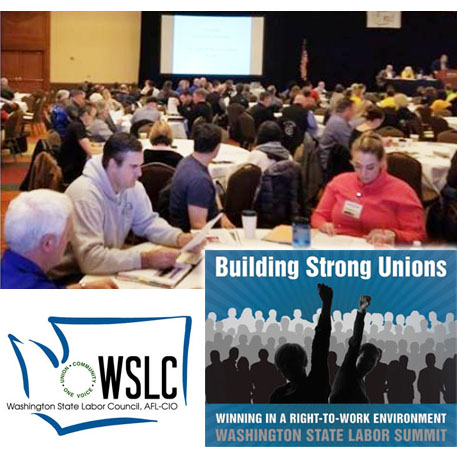 The following is a message from Washington State Labor Council, AFL-CIO President Jeff Johnson and Secretary Treasurer Lynne Dodson sent last week to the hundred of union members, stewards, staffers and leaders who attended the WSLC's "Building Strong Unions" Labor Summit in February.
---
Sisters and Brothers,
On February 5th, we came together as labor and community leaders and vowed to stand together against anti-worker attacks and protect the freedom to join together in unions. At the Building Strong Unions Summit, the Washington State Labor Council, AFL-CIO and its affiliated unions highlighted our collective power and how that power makes the American Dream possible for everyone. We committed to a comprehensive program of one-on-one conversations about how we win in a "right-to-work" environment and build even stronger unions. When we plan, have conversations, recruit and train others to have conversations, and hold ourselves accountable to this at our worksites — we win. Worksite conversations are our secret weapon; listening to our members and working together is how we will grow stronger unions and a stronger labor movement.
Today, we are asking each of you to take the time this week to "Strive for Five" worksite conversations about right to work (for less), the conservative billionaires and anti-labor politicians behind these attacks, and court cases like Janus v. AFSCME that are intended to take away our freedom to join together and negotiate a fair return on our work. At our Summit we spent some time talking about the best ways to have those conversations. The three key points when talking about right to work are 1) Call out the extremists pushing RTW; 2) Describe the effect of RTW and make it personal; and 3) Explain our vision and values.
This is the first in a series of weekly emails that will give updates about the status of the Janus case that threatens to impose right to work on all public employees, talking points, and actions you can take as activists. All of materials distributed in these weekly emails, the contents of the Summit Toolkit binder, and additional materials submitted by WSLC affiliates since the Summit can be found at the WSLC website on a password-protected page. (Click here to request the link/password.) If your union is willing to share your internal organizing plans, training materials, message and talking points, membership/recommitment forms, or other materials related to this effort, please send them to David Groves at dgroves@wslc.org and he will add them to this password-protected site.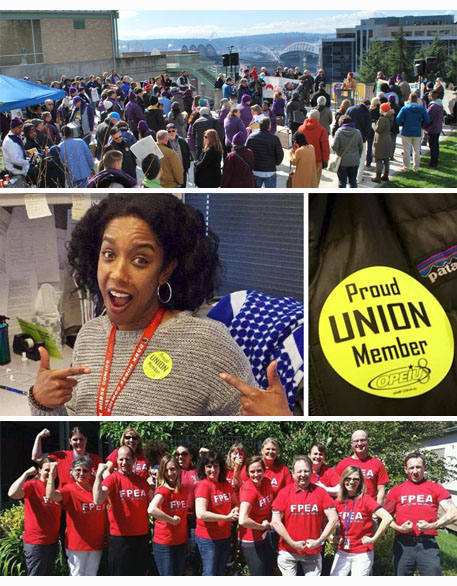 On Feb. 26, the Supreme Court heard oral arguments in Janus v AFSCME. We know Janus is a blatant attempt by right-wing individuals and corporations to take away the freedoms of working people to join together in strong unions, but we will not be deterred. Here are some important articles from The Stand with more background on the case, the threat to unions, and how we can stick together and win:
State's union members vow to stick together as Janus is heard
Janus (Part 1): The fix is in at the Supreme Court
Janus (Part 2): Get ready to defend your freedom
As many of us remember the life and legacy of Dr. Martin Luther King Jr. this week, we must remember what he said, "In our glorious fight for civil rights, we must guard against being fooled by false slogans, such as 'right to work.' It is a law to rob us of our civil rights and job rights. Its purpose is to destroy labor unions and collective bargaining…"
In Solidarity,
Jeffrey Johnson
President
Lynne Dodson
Secretary Treasurer
Short URL: https://www.thestand.org/?p=65548
Posted by
David Groves
on Apr 9 2018. Filed under
W.S.L.C.
. You can follow any responses to this entry through the
RSS 2.0
. Both comments and pings are currently closed.