Washington ranked as best state to work in new report
Paid family leave, higher minimum wage, other protections boost our state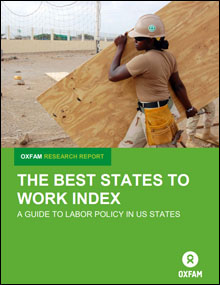 OLYMPIA (Aug. 31, 2018) — Washington is the best state for workers, according to a ranking released Thursday by Oxfam America. The organization based its findings on wages, worker protections and workers' rights in all 50 states and the nation's capital — and only the District of Columbia had the Evergreen State beat.
The state's new paid family and medical leave program played an important part in securing Washington's spot in the Best States to Work Index.
Last year, Washington passed the landmark bipartisan legislation, becoming the fifth state in the nation to get a paid family leave program, providing some of the most progressive benefits in the nation. Washington's Family and Medical Leave Insurance Program will provide everyone in the workforce with up to 12 weeks of paid medical leave to care for their own serious health condition and up to 12 weeks of paid time off to care for a new child or an ailing family member.
Oxfam, an organization that aims to end poverty, also gave high marks to Washington state for not having a so-called "right to work" law similar to those that have weakened unions in other states. And the organization noted that Washington has rules to ensure equal pay, accommodations for pregnant workers, and sexual harassment protections, as well as laws that prohibit pay secrecy in the workplace.
According to the report, a correlation exists between top states for workers and states with better economic and social indicators, including higher median incomes, lower infant mortality rates and longer life expectancies.
"Washington state is busting the myth that policymakers have to choose between promoting a strong economy or protecting and supporting our workers," Gov. Jay Inslee said of the ranking. "We consistently rank as having one of the best economies in the nation, and that's because businesses thrive when we invest in our people and in making our state a beautiful and healthy place to live."
Washington consistently appears at the top of favorable rankings, especially those related to economic opportunity.
Last year, CNBC named Washington the Top State for Business. This year, WalletHub listed Washington as the state with the best economy. And, Washington is in the top 10 of U.S. News & World Report's Best States ranking.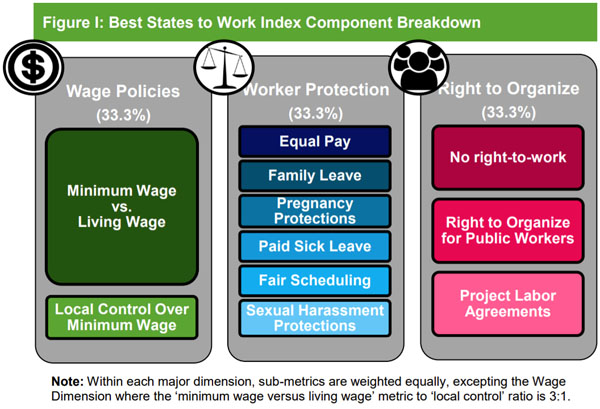 "While Washington has enacted ground-breaking policies related to wages and benefits for workers, there's still more to do to ensure all worker share in our state's economic prosperity and that we put economic security within reach for every Washingtonian," Inslee said.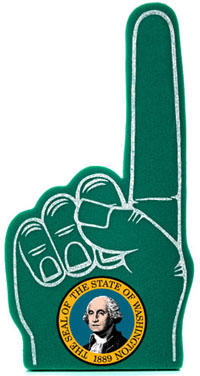 The Oxfam report highlighted areas for improvement for Washington, including passing laws to accommodate breastfeeding mothers at work, regulating split-shift pay, restricting access to salary history during hiring, and further increasing the state's minimum wage.
Across the nation, no state has a "minimum wage that exceeds even half of a living wage for a family of four," according to the report. "The federal minimum wage has been stuck at the poverty level of $7.25 for nearly 10 years. In this eroding climate, states are making moves to keep workers and their families out of poverty, and to give them a decent chance."
The minimum wage in Washington is $11.50 an hour, but it will rise to $13.50 an hour by 2020. Starting in 2021, the minimum wage will increase along with the rate of inflation. Local governments also can pass higher minimum wages, such as Seattle's $15 an hour ordinance.
---
This report from Governor Jay Inslee's office was originally posted at Medium.
Short URL: https://www.thestand.org/?p=69555
Posted by
David Groves
on Aug 31 2018. Filed under
STATE GOVERNMENT
. You can follow any responses to this entry through the
RSS 2.0
. Both comments and pings are currently closed.