Alaska Air employees, their supporters rally in SeaTac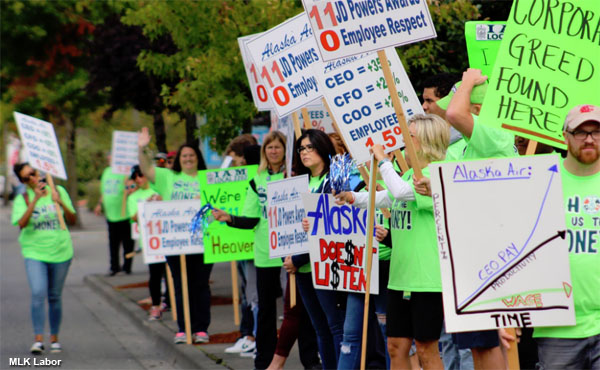 UPDATE (Sept. 11, 2018) — Dozens of Alaska Air employees and their supporters rallied Monday outside the company's headquarters in SeaTac to call on the company to negotiate for…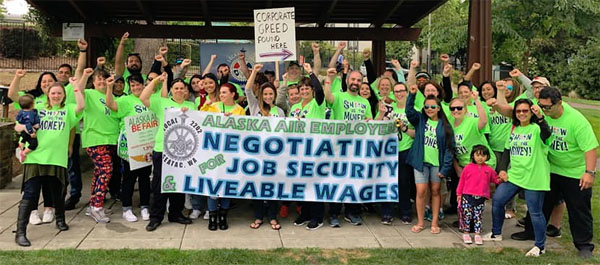 ---
The following is from IAM Air Transport Local 2202: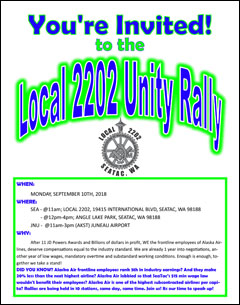 SEATAC (Sept. 10, 2018) — Today at Angle Lake Park in SeaTac, employees of Alaska Airlines will hold a rally to call attention to our ongoing negotiations with Alaska Air Group. We are customer service agents, ramp service agents, reservation sales agents, accounting specialists, mailroom specialists, stores agents, and many others totaling about 5,000 employees in all. We are represented under two collective bargaining agreements with Alaska. These workgroups represent the frontlines of the airline industry but have been historically neglected by Alaska time and time again.
TAKE A STAND — All union members and community supporters are invited to support Alaska Air employees at today's actions: 11 a.m. at Alaska Air HW, 19415 International Blvd. in SeaTac, rally noon to 4 p.m. at Angle Lake Park, 19408 International Blvd in SeaTac. Download this flier for details.
Over the durations of our contracts, employees under these agreements have seen the quality and safety of the workplace decline, the cost of housing and goods skyrocket, the value of an actual dollar go down, and indifference from the Alaska Air Group to address these challenges.
Alaska Air Group opposed and lobbied against and sued to prevent Proposition 1, Seatac's minimum wage law from affecting their workforce. Five years later, they still do not pay $15 an hour to employees starting under either contract because of an exemption in the law that they supported.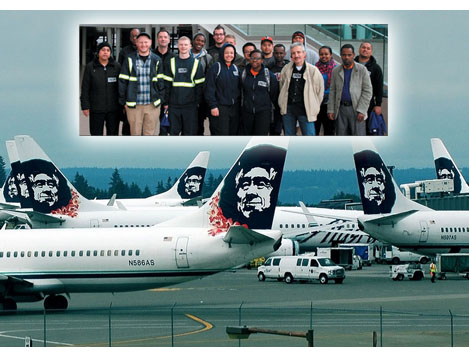 Alaska Air Group has a history of outsourcing jobs. Until 2005, there were Seattle ramp agents represented under the Ramp Service and Stores Agents contract. When Alaska began its tremendous growth, stockholders were ecstatic, but for every new station opened, Alaska would install outsourced employees at sharply reduced pay and benefits. Alaska would then use the threat of outsourcing to leverage lower benefits and pay system wide, as they know the threat of outsourcing instills a potent fear in any workforce.
Alaska Air Group refuses to address dangerously high turnover rates that lead to rushed training and therefore compromised safety protocols. If you were to walk up to any Alaska customer service agent at the SeaTac Airport, the chance of them being an employee hired within the last two years is now greater than 50%. Many are not able to handle the stress of the job, combined with the inadequate pay, and leave. The ones who stay are often overworked on constant mandatory overtime.
This rally is the membership stepping up to try to reverse these trends. We want safety at the workplace, we want job security so that we can say with confidence and pride that we work and will retire with Alaska, and we want pay in line with the 11 straight JD Power Awards that would not have been possible without this frontline. As long as Alaska views our workgroups as liabilities over assets, nothing will change. This rally is a reminder to the public, and to our employer, that we are indeed assets and we are indeed worth the investment.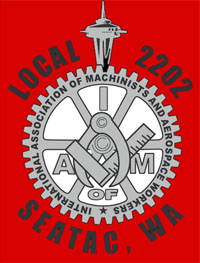 For more information, visit the IAM Air Transport Local 2202 website.
Short URL: https://www.thestand.org/?p=69787
Posted by
David Groves
on Sep 10 2018. Filed under
LOCAL
. You can follow any responses to this entry through the
RSS 2.0
. Both comments and pings are currently closed.