Western State attacks ● WA for NMA in 2019! ● Victory at Marriott
Tuesday, December 4, 2018
---
THIS WASHINGTON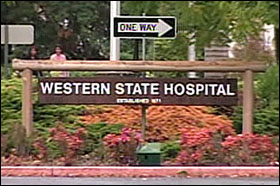 ► From AP — Washington mental hospital sees rise in attacks — Thousands of nurses, mental health technicians and security guards have been punched, kicked, knocked unconscious, and bitten during patient assaults that resulted in hospitalizations and time off work in recent years, according to interviews and public records obtained by the AP. Disability claims by injured staff topped $5 million in less than three years, and the number of days missed due to injuries has more than doubled since 2016, the records show. The number of patients has remained relatively steady during that period.
► In today's Spokesman-Review — Lawmakers question safety conditions at exotic dance clubs — Some dancers who have been in the industry for years told a House committee Monday that L&I would find problems with safety and cleanliness if they look. During the past 18 years, 17 exotic dancing "clubs" have had 68 workers' comp claims, mostly from muscle strains, slips and falls. A few have been from other things like broken glass, fights or falling tables.
► In today's Yakima H-R — Some Yakima Valley school districts 
may have to begin cuts to make budget — As 2019 draws closer and the local property tax levy cap imposed by the Legislature looms, administrators need to decide on cuts to keep budgets sustainable during the coming years. And because the levy cap affects districts differently, those cuts will be more drastic in some districts than in others.
► In today's Seattle Times — GOP opposition may stall probe into rape claim against state Sen. Joe Fain — Two GOP lawmakers Monday are asking that the state Senate investigation into rape allegations against Sen. Joe Fain should be dropped now that he's lost re-election. Any review now would be a "partisan witch-hunt," according to Sen. Randi Becker (R-Eatonville).
---
BOEING
► From Leeham News — More hints NMA is a "go" — Safran, the French company that is a 50% partner in CFM International, believes Boeing will launch the New Midmarket Airplane next year.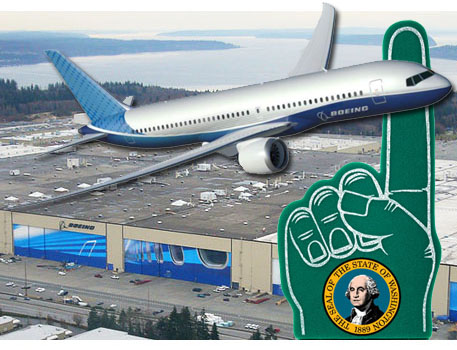 PREVIOUSLY at The Stand — Washington ranked #1 (again) for aerospace manufacturing (Sept. 13, 2018) — In June, an internationally respected aerospace analyst released the most comprehensive data-driven aerospace competitiveness study ever performed. It found that Washington state is — by far — the best location in the United States to design, manufacture and ensure a successful launch of Boeing's next airplane. But some officials from other states competing for the New Middle-Market Airplane (NMA) scoffed at the study's conclusion because it was funded by Washington state. This month, a new analysis released by PricewaterhouseCoopers (PwC), a multinational business and tax consulting firm based in London, finds that Washington state is the best location in the world for aerospace manufacturing. Its analysis of "aerospace manufacturing attractiveness" found the United States to be the best nation and Washington to be the best state.
► In today's Seattle Times — Lion Air leader talks of slashing Boeing jet orders — The co-founder of Indonesian low-cost carrier Lion Air is "very upset" at Boeing for what he sees as an effort to deflect blame toward the airline for the Oct. 29 crash that took 189 lives. He is talking privately about whether he should cancel some of the airline's large order for 737 MAX airplanes.
---
LOCAL
► In today's Spokesman-Review — Spokane City Council considers $5.8 million property tax increase for police, firefighters — The city of Spokane may ask voters to approve a $5.8 million increase in property taxes to pay 30 firefighters and hire 20 new police officers in a special election in February.
► In the Skagit Valley Herald — Dakota Creek Industries' employees celebrate waiver — After nearly two years of sitting in the Dakota Creek Industries shipyard, the fishing vessel America's Finest is heading out on a test sail this week. The test is in anticipation that a waiver will be signed by President Trump, allowing the $75 million ship to sail in U.S. waters.
► In the Seattle Times — Tacoma News Tribune to lay off dozens of printing employees — The Tacoma News Tribune said it will lay off dozens of employees next year, a result of its decision to shut down its 45-year-old printing press and as its parent company copes with falling revenue.
---
THAT WASHINGTON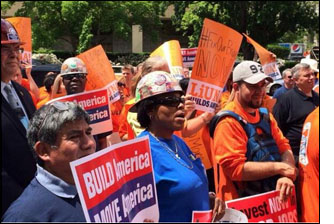 ► From the AFL-CIO — Infrastructure matters. It's time to get serious about funding it — For our roads and bridges alone, we're facing a backlog of $836 billion. Transit likely needs another $100 billion, passenger rail around $28 billion, and let's not forget our aging air and sea ports. You would expect that someone in Congress has been tasked with figuring out how to pay for all of this, right? Well, not so fast
► From The Hill — Clock ticks down on GOP Congress — Lawmakers are facing an end-of-the-year traffic jam with legislation piling up and a tight schedule that leaves them little wiggle room.
► From The Hill — Lawmakers buy more time for spending deal — Republican and Democratic leaders on Monday agreed to a two-week stopgap spending measure that would put to rest fears of a partial government shutdown later this week.
► From Bloomberg — Anecdotal evidence for 'joint employment' rule may not be enough — The NLRB could run into problems in court if it relies on anecdotal evidence to support its plan to change the legal test for "joint employment" liability under federal labor law, legal scholars told Bloomberg Law.
► In today's Seattle Times — Forget 'Trumpcare,' time to shore up Affordable Care Act (editorial) — The Affordable Care Act is a popular program that is here to stay. Congress should focus its political energies on making Obamacare stronger.
► From TPM — Freshmen Dems call for prioritizing bills over Trump investigations — Forty-six newly elected House Democrats pressed party leaders Monday to focus next year on legislative priorities like health care and infrastructure.
---
RUSSIA INVESTIGATION
► From HuffPost — Mueller preparing endgame for Russia investigation — Special counsel Robert Mueller's prosecutors have told defense lawyers in recent weeks that they are "tying up loose ends" in their investigation, providing the clearest clues yet that the long-running probe into Russia's interference in the 2016 election may be coming to its climax, potentially in the next few weeks.
► In today's Washington Post — Trump's latest tweets cross clear lines, experts say: Obstruction of justice and witness tampering — Legal experts are calling Monday's missives a newsworthy development that amounts to evidence of obstructing justice.
---
GEORGE H.W. BUSH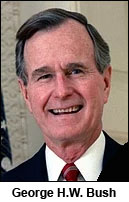 ► In today's Washington Post — Families, federal workers and CIA directors join crowds paying their respects to George H.W. Bush — They came to the Capitol to honor George H.W. Bush, who died last week in Texas and will lie in state until Wednesday morning.
► In today's NY Times — Bush made Willie Horton an issue in 1988, and the racial scars are still fresh 
► In the Washington Post — How Bush pushed the United States to embrace free trade
---
NATIONAL
► From HuffPost — Huge Marriott Hotel strike ends with San Francisco workers winning better pay — A nine-week, multi-city strike involving thousands of workers at the Marriott hotel chain came to an end Monday as employees in San Francisco reached a settlement with the company.
ALSO TODAY at The Stand — With SF contract win, historic multi-city Marriott strike ends.
► In today's Detroit News — UAW challenges GM plan to idle four U.S. plants — "Characterizing these plants as 'unallocated' — rather than closed or idled — does nothing to relieve the company of its obligation to comply with the Plant Closing Moratorium," the head of the UAW's GM department, Terry Dittes, wrote. "We expect the company to honor its commitments and we will use all of our resources to enforce our agreements."
PREVIOUSLY at The Stand — 'We didn't bail out GM so it could hoard profits, close plants' (statement from UAW Vice President Terry Dittes)
► From The Guardian — Chicago charter school teachers plan to walk out in first major strike — Chicago teachers are planning to walk out on Tuesday in what's believed to be the country's first major charter school teacher strike. Teachers and their union argue the independent schools are overcrowded and underfunded and have been used to create a "second tier in the teaching profession."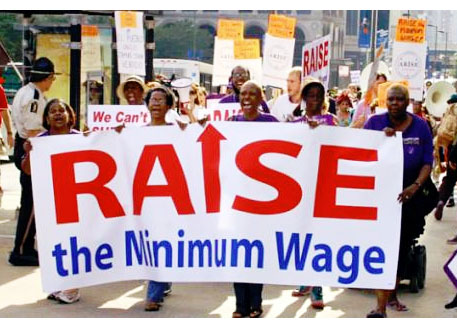 ► In the Washington Post — In every state, the minimum wage is lower than what residents want, study says — In a nationally representative survey, the researchers told state residents what their state's minimum wage was and followed up with an open-ended question about what respondents thought the minimum wage should be. The findings: in every state in the union, the minimum wage is well below what that state's residents say they prefer. "On average, state minimum wages are set at a level approximately two dollars per hour lower than the wage state residents would prefer," the researchers found.
► From HuffPost — Midwestern Republicans are trying to kneecap new Democratic governors — Lame-duck Republican legislatures in Wisconsin and Michigan, where Democrats seized key state offices in November, are trying to kneecap the incoming leaders and change election rules, aiming to consolidate GOP power despite the election results.
► In today's Washington Post — NC election-fraud investigation centers on operative with criminal history who worked for GOP congressional candidate — A burgeoning fraud investigation has delayed the certification of GOP Rep. Mark Harris's narrow election victory and could prompt officials to call for a new election between him and Democrat Dan McCready, who are separated by 905 votes.
---
TODAY'S MUST-READ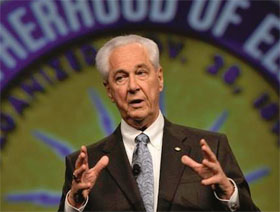 ► In the Times — 'Legendary' local labor leader dies — Beaver County, Penn., has more than a handful of famous native sons and daughters, with people like Tony Dorsett, Mike Ditka and Henry Mancini topping the list. But as far as Frank Snyder is concerned, Edwin D. Hill belongs right next to them. Hill, 81, died Saturday after a lifetime spent climbing the ranks in organized labor. What started as a career as a construction wireman in 1956 ended with Hill serving for 14 years as the international president of the International Brotherhood of Electrical Workers. In that post, Hill served as the leader of about a million union workers across the world.
---
The Stand posts links to Washington state and national news of interest every weekday morning by 10 a.m.
Short URL: https://www.thestand.org/?p=71817
Posted by
David Groves
on Dec 4 2018. Filed under
DAILY LINKS
. You can follow any responses to this entry through the
RSS 2.0
. Both comments and pings are currently closed.