UFCW 555 calls for Fred Meyer boycott in Oregon, SW Wash.

TIGARD, Ore. (Sept. 23, 2019) — Following 15-plus months of tense labor negotiations in which Fred Meyer/Kroger continually refused to respond to reasonable pleas to fix gross inequity in pay and thereafter committed unfair labor practices to coerce employees to settle for less, United Food and Commercial Workers (UFCW) Local 555 is calling on consumers to boycott, effective immediately, all Fred Meyer departments in Oregon and SW Washington where employees are now working without a labor contract. (Click here for departmental details.)
The union is NOT calling for a boycott of Fred Meyer throughout Washington. Some 30,000 grocery workers in 12 counties around the Puget Sound who are represented by UFCW 21 are in separate negotiations for a fair contract agreement. The stores in Washington state that are affected by UFCW 555's call for a boycott are:
BATTLE GROUND — Grocery, Meat, CCK, and Non-Food — 401 NW 12th Ave, Battle Ground, WA 98604
FISHER'S LANDING — Grocery, Meat, CCK, and Non-Food — 16600 SE McGillivray Blvd, Vancouver, WA 98683
GRAND CENTRAL — Grocery, Meat, CCK, and Non-Food — 2500 Columbia House Blvd, Vancouver, WA 98661
HAZEL DELL — Grocery, Meat, CCK, and Non-Food — 7700 NE Highway 99, Vancouver, WA 98665
LONGVIEW — Grocery, Meat, CCK — 3184 Ocean Beach Hwy, Longview, WA 98632
MILL PLAIN — Grocery, Meat, CCK, and Non-Food — 11325 SE Mill PLain Blvd, Vancouver, WA 98684

 

ORCHARDS — Grocery, Meat, CCK, and Non-Food — 741 1 NE 117th Ave, Vancouver, WA 98662
SALMON CREEK — Grocery, Meat, CCK, and Non-Food — 800 NE Tenney Road, Vancouver, WA 98685
"If Fred Meyer won't listen to workers' voices, perhaps they will listen to the sound of departments devoid of shoppers," said Jeff Anderson, Secretary-Treasurer of UFCW 555.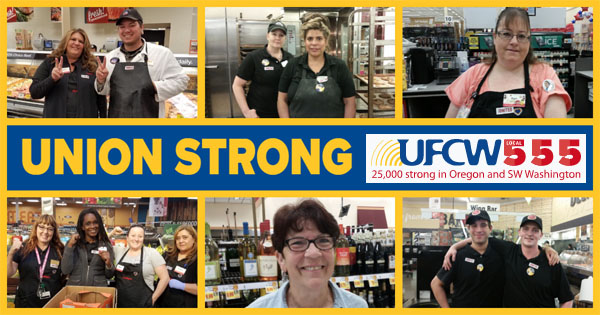 The union's call for a consumer boycott is the first economic action taken by the union in response to Fred Meyer's unfair labor practices, as well as an effort to highlight Fred Meyer's refusal to address livable wages for its workers, and its disinterest in closing the gender equity gap by more than a dime a year.
Until Fred Meyer ceases its unfair practices against its unionized employees and reaches reasonable contract settlements with their union, UFCW 555 asks shoppers to actively demonstrate their support for fair negotiations and for livable wages and gender equity in their communities by boycotting these Fred Meyer store departments.
"We call on our communities to make sure Kroger and Fred Meyer understand our Northwest values of decency, dignity, and respect by shopping elsewhere until our members are treated in accordance with those values," said UFCW 555 President Dan Clay.
Next steps and further updates on the boycott will follow on Sept. 28, after completion of the next round of bargaining scheduled for Sept. 26-27. Check out UFCW 555's website for the latest news.
---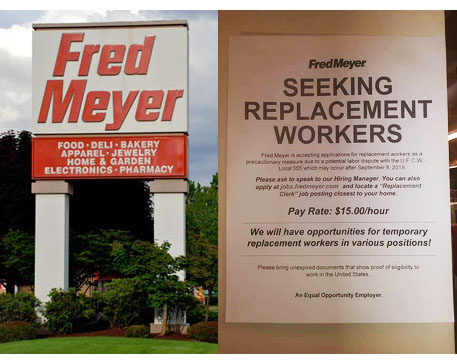 ALSO at The Stand — Fred Meyer goes to war against employees in Oregon, southwest WA (Sept. 12, 2019) — Following 15 months of tense negotiations in which the employers' continually refused to provide reasonable proposals, United Food and Commercial Workers (UFCW) Local 555 had, at the end of August, cancelled contract extensions for CCK departments across Oregon and southwest Washington. In response, Fred Meyer chose to intimidate, threaten, and demean their employees (many of whom have given this company their life's work) by misrepresenting Union intentions and attempting to coerce workers into taking drastic measures. In addition, Fred Meyer immediately began "SEEKING REPLACEMENT WORKERS" at a pay rate of $15 an hour, more than many current employees make, and significantly more than the employer has offered in bargaining.
Short URL: https://www.thestand.org/?p=80218
Posted by
David Groves
on Sep 23 2019. Filed under
LOCAL
. You can follow any responses to this entry through the
RSS 2.0
. Both comments and pings are currently closed.