'Impractical' cockpit alerts ● Pelosi: Let's make a trade deal ● Trump Boys' serum
Thursday, October 3, 2019
---
BOEING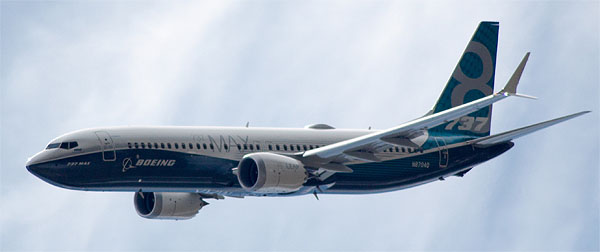 ► In today's Seattle Times — Boeing pushed FAA to relax 737 MAX certification requirements for crew alerts — In 2014, Boeing convinced the Federal Aviation Administration to relax the safety standards for the new 737 MAX related to cockpit alerts that would warn pilots if something went wrong during flight, according to documents reviewed by the Seattle Times. Seeking an exception, Boeing relied on a special FAA rule to successfully argue that full compliance with the latest federal requirements would be "impractical" for the MAX and would cost too much.
► In today's Washington Post — FAA orders urgent inspections on some Boeing 737s for wing-related cracks — The FAA is ordering airlines to inspect key structural components on more than 1,900 Boeing airplanes to look for cracks that could endanger the aircraft. Southwest, United, and American are among the U.S. airlines that fly the Next-Generation 737 jets covered under the urgent order, which will be formally issued Thursday.
---
ELECTION

► In today's Columbian — Contractors' group opposes Initiative 976 — The Southwest Washington Contractors Association has joined several other Clark County-area business groups in opposing Tim Eyman's Initiative 976, a November ballot initiative that would cap licensing fees for vehicle tabs at $30. The group says I-976 would negatively impact infrastructure and transportation development in Southwest Washington.
---
THIS WASHINGTON

► In today's (Everett) Herald — Everett passenger terminal has new investors: public workers — The state board that manages retirement funds for firefighters, teachers, police and other public employees has invested in Paine Field's new passenger terminal through its operator, Everett-based Propeller Airports.
ALSO at The Stand — Learn about pension investments in affordable housing TODAY — All are invited to a AFL-CIO Housing Investment Trust presentation, "Pension Fund Investment in Affordable Housing: Can It Work in Washington State?" from 2 to 4 p.m. TODAY (Thursday, Oct. 3) at the Seattle Labor Temple, Hall 8. Get details.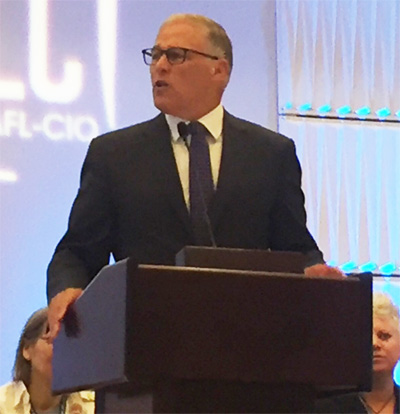 ► In today's (Everett) Herald — Lawmakers to governor: How dare you mess with our budget! (by Jerry Cornfield) — Gov. Jay Inslee is taking steps to divert $175 million from ongoing highway projects to remove and replace culverts that impede the passage of salmon to spawning grounds and fish to the ocean. "Never before has this tool been used by a Governor to try to increase funding beyond legislatively provided levels established in law, circumventing the Legislature's authority to write a budget," wrote the Democratic and Republican leaders of the House and Senate transportation committees in a Sept. 27 letter.
► From Crosscut — Searching for airports to host deportation flights, ICE gets rejected in Everett and Bellingham — Yakima officials say they have to cooperate with ICE, fearing loss of federal funding for the city-run airport. Cities to the north don't seem to have those fears.
---
LOCAL
► From The Stranger — Caffé Vita employees say they're getting fired for giving old pastries to homeless people — Supporters of Caffé Vita baristas gathered outside the local coffee chain's Capitol Hill location Wednesday to protest a slew of firings and resignations that followed what they call the "sudden, harsh enforcement" of a company policy against giving homeless people old pastries and coffee.
EDITOR'S NOTE — Want a grievance procedure where employees can work with management to resolve such issues? Want respect at work? Form a union! Find out more information about how you can join together with co-workers and negotiate a fair return for your hard work — and protect your rights. Or just go ahead and contact a union organizer today!
---
IMPEACHMENT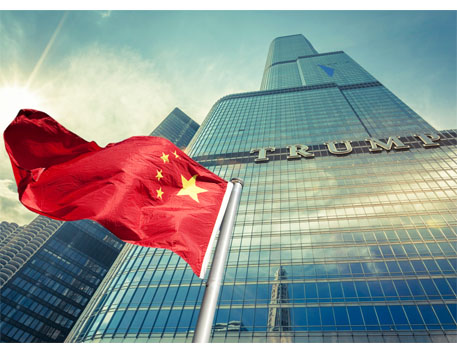 ► BREAKING from the AP — Trump calls for China to investigate Bidens — Ensnarled in an impeachment investigation over his request for Ukraine to investigate a chief political rival, President Donald Trump on Thursday called on another nation to probe former Vice President Joe Biden: China. "China should start an investigation into the Bidens," Trump said in remarks to reporters outside the White House. Trump and personal lawyer Rudy Giuliani have also tried to raise suspicions about Hunter Biden's business dealings in China.
► From the AP on Jan. 21, 2019 — China grants Ivanka Trump 5 trademarks amid trade talks — Ivanka Trump's expanding intellectual property holdings have long raised ethical concerns, particularly in China, where the courts and bureaucracy tend to reflect the will of the ruling Communist Party.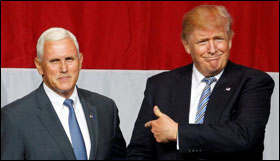 ► In today's Washington Post — Trump involved Pence in efforts to pressure Ukraine's leader — President Trump repeatedly involved Vice President Pence in efforts to exert pressure on the leader of Ukraine at a time when the president was using other channels to solicit information that he hoped would be damaging to a Democratic rival.
► In today's Washington Post — Odd markings fuel doubts about rough transcript of Trump-Ukraine call — Current and former U.S. officials studying the document say some of its elements indicate it may have been handled unusually.
► In today's Washington Post — Live updates: Former Ukraine envoy arrives on Capitol Hill; Pelosi knocks Republican colleagues — House Speaker Nancy Pelosi accused Republicans of being loyal to Trump and not the Constitution .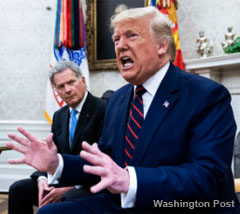 ► In today's Washington Post — Trump rides a roller coaster of grievance, victimhood and braggadocio as Finland's leader looks on — The combustible mix of Trump's emotions has only become more potent as he faces a growing impeachment threat.
► In today's Washington Post — Pompeo's Four-Pinocchio spin on Trump and Ukraine
---
THAT WASHINGTON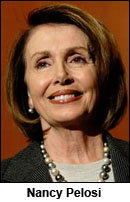 ► From The Hill — Pelosi, Trump may reach trade deal despite impeachment — "They have nothing to do with each other," Pelosi said, adding that she hoped Trump would find a way to work with Democrats despite the impeachment fight. "The president has said he wants this U.S.-Mexico-Canada trade agreement to go forward, and we are awaiting the language on enforceability. Does it mean he can't do that? That's really up to him."
ALSO at The Stand — Without fixes, AFL-CIO must oppose the new NAFTA (USMCA)
► In today's Tri-City Herald — Senators question possible award of $3 billion Hanford contract to firm accused of fraud — Three senators are questioning the proposed award of a multi-billion dollar Hanford contract to a company that is being sued for false claims and submitting false bills to the Department of Energy. The letter sent by Sen. Dianne Feinstein (D-Calif.) with Sen. Patty Murray (D-Wash) and Sen. Jeff Merkley (D-Ore.) to Energy Secretary Rick Perry on Sept. 27 did not name the company. But they appear to be referring to a Department of Justice lawsuit filed against current contractor Mission Support Alliance and its previous owner, Lockheed Martin Services.
► In today's Washington Post — Government has dramatically expanded exposure to risky mortgages, echoing concerns before Great Recession — The increased risk is the direct result of pressure from the lending industry, consumer groups and political appointees, who clamored for the government to intervene when homeownership rates fell several years ago.
► In today's Washington Post — Trump to expand private-sector version of Medicare — Trump is scheduled to issue an order Thursday that expands Medicare Advantage, the private-sector version of Medicare, as he slams some Democratic presidential candidates' plans to build the program into a government-financed health system.
---
NATIONAL
► In today's Chicago Sun-Times — 35,000 Chicago teachers, school support staff and park district workers set joint strike date — Chicago's teachers, school support staff and park district workers have set a joint Oct. 17 strike deadline, giving the city and 35,000 public employees less than 15 days to hammer out deals and avoid leaving nearly 300,000 students out of school with the city's parks shut down. Though an actual work stoppage could still be averted if City Hall and the unions come to an agreement in the coming days, the strike date likely guarantees the tense negotiations will come to a head this month.
► In the Philadelphia Inquirer — Workers at Philly's public media station, WHYY, decide to unionize — Journalists and other employees at public media station WHYY-FM have decided to unionize. More than 80 percent of the nearly 100 workers in their proposed bargaining unit have signed cards to join SAG-AFTRA, the union that represents National Public Radio and many of its local member stations around the country, the WHYY union said.
► From KABC TV — Hundreds of workers march near LAX, calling on elected officials to support unionization — Hundreds of Southland workers marched in the streets near Los Angeles International Airport, calling on elected officials to support unionization and snarling traffic Wednesday. Airport employees and rideshare drivers started the march around 11 a.m., supporting the "Unions for All" movement.
► From Slate — How to get away with gerrymandering — Five of the Republican Party's most seasoned redistricting minds and über-lawyers taught state legislators at the American Legislative Exchange Council's 2019 meeting the finer points of tilting maps and drawing districts that would allow them to retain such spoils for another decade.
EDITOR'S NOTE — The ALEC panel is moderated by "influential Republican lawyer Cleta Mitchell," who has helped raise funds for the Freedom Foundation, which somehow retains its status as a non-political 501(c)3 tax-exempt organization.
---
BREAKING NEWS
► From The Onion — 'Are you the whistleblower?' Trump Boys ask White House janitor after giving him serum of all the sodas mixed together — "Well, well, well, Mr. Janitor, good luck keeping secrets from our awesome dad now that you've taken a sip of our super-powerful CIA brain juice," said Eric Trump, prompting Don Jr. to give the White House employee some more of the "truth sermon [sic]," which included a mixture of Diet Coke, Fanta, Sprite, Powerade, Minute Maid, and Mr. Pibb, after the custodian refused to talk. "Who was it, toilet man? Was it one of our daddy's friends? Or was it a pretty spy lady? Or was it you the whole time who whistleblew [sic] our dad all over the TV just for being the bestest president in the whole wide world?"
---
The Stand posts links to Washington state and national news of interest every weekday morning by 10 a.m.
WASHINGTON IS A UNION STATE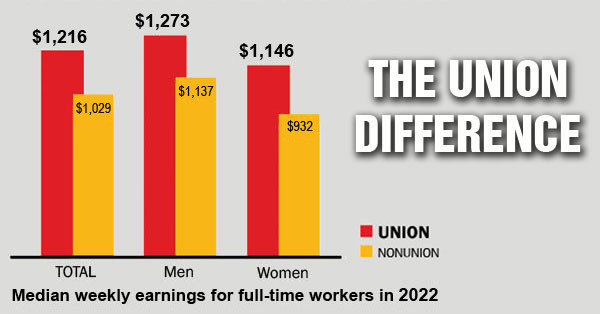 CHECK OUT THE UNION DIFFERENCE in Washington state: higher wages, affordable health and dental care, job and retirement security.
FIND OUT HOW TO JOIN TOGETHER with your co-workers to negotiate for better working conditions and respect on the job. Or go ahead and contact a union organizer today!