Here's how you can support Swedish strikers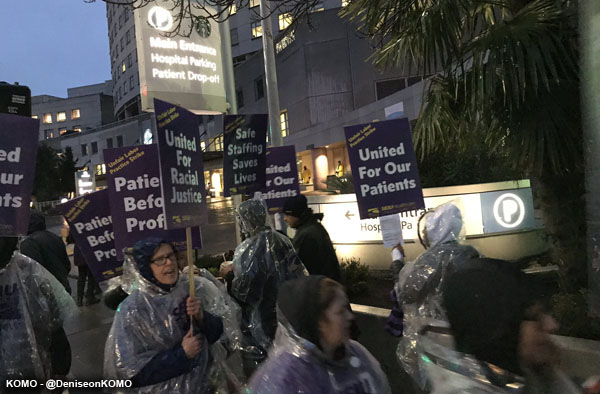 UPDATE (Jan. 28, 2020) — The strike at seven Swedish-Providence medical centers began at 7 a.m. this morning. Join the picket lines below and make sure you show your solidarity at Wednesday's march and rally in downtown Seattle!
At these five locations, picketing is 24 hours until 7:30 a.m. on Friday, Jan. 31.
First Hill – 747 Broadway, Seattle
Cherry Hill – 500 17th Ave, Seattle
Ballard – 5300 Tallman Ave NW, Seattle,
Edmonds – 21601 76th Ave W, Edmonds
Issaquah – 751 NE Blakely Dr, Issaquah
At these two locations, pickets will be up from 7 a.m. to 7 p.m. daily.
Redmond – 18100 NE Union Hill Rd, Redmond
Mill Creek – 13020 Meridian Ave S, Everett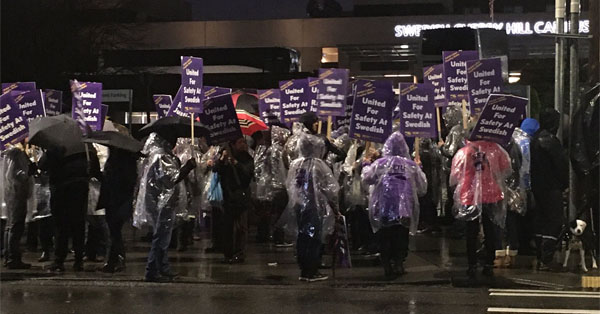 Get the latest at SEIU Healthcare 1199NW's Twitter and Facebook pages.
---
Management refuses to negotiate, so 8,000 SEIU Healthcare 1199NW workers will conduct ULP strike on Jan. 28-30
(Jan. 24, 2020) — Reports indicate that Swedish-Providence management is hiring scab workers and security guards — at a cost of more than $11 million! — rather than continue negotiations with its 8,000 nurses and frontline caregivers, represented by SEIU Healthcare 1199NW, who are demanding improvements in patient care and safety.
So it looks like it's on.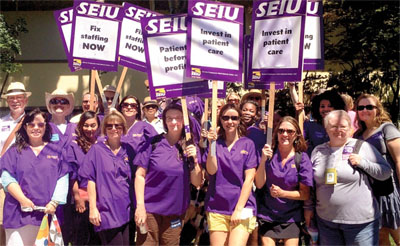 Swedish-Providence workers intend to conduct an Unfair Labor Practice Strike from Tuesday, Jan. 28 through Thursday, Jan. 30. The union gave management 10-day notice of the strike and urged them to return to the bargaining table and submit proposals to adequately address patient safety and staffing levels. Management has refused and instead is preparing for the strike.
The Washington State Labor Council, AFL-CIO is calling on all union members and community supporters to show their solidarity with the Providence-Swedish workers. Here's how: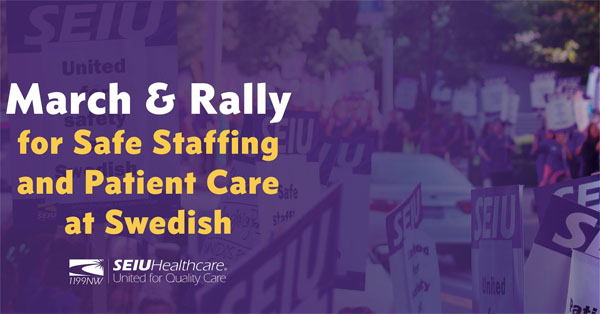 ATTEND WEDNESDAY'S MARCH AND RALLY — Stand with Swedish-Providence strikers in their fight for safe staffing, safe patient care and justice for our communities on Wednesday, Jan. 29 from 3:30 to 6 p.m. in Seattle. Participants will be marching from the Swedish First Hill campus at 747 Broadway at 3:30 p.m. toward Westlake Park, 401 Pine St. At 4:30 p.m., participants will be joined by elected officials, representatives from local organizations, and community supporters at a rally. Together, all will be urging Swedish-Providence to sign a fair contract that addresses severe understaffing and prioritizes patient safety! RSVP at the Facebook event page.

CONTRIBUTE TO THE SWEDISH SOLIDARITY FUND — SEIU Healthcare 1199NW has set up a Swedish Solidarity Fund fund — swedishsolidarityfund.org — so fellow union members, community allies, friends and neighbors can distribute funds to striking members and their families who are experiencing hardship and in need. Your contribution ensures that striking workers can continue their fight for quality patient care, safe staffing and racial equity for themselves and their patients.
SIGN THE PETITION OF SUPPORT — If you haven't already, please sign this petition of solidarity telling Swedish-Providence management that you demand that they make safe staffing a priority and put patients before profits.
STAY INFORMED — Get the latest information about the strike at SEIU Healthcare 1199NW website and right here at The Stand.
The 8,000 SEIU Healthcare 1199NW members at Swedish-Providence, including nurses, techs, dietary and environmental services, and social workers and counselors, voted Nov. 15 to authorize a strike. A supermajority of members on every Swedish campus voted in favor of the strike.
They plan to walk out together are start picket lines at 7 a.m. on Tuesday, Jan. 28 at seven Swedish locations:
First Hill – 747 Broadway, Seattle
Cherry Hill – 500 17th Ave, Seattle
Ballard – 5300 Tallman Ave NW, Seattle,
Edmonds – 21601 76th Ave W, Edmonds
Issaquah – 751 NE Blakely Dr, Issaquah
Redmond – 18100 NE Union Hill Rd, Redmond
Mill Creek – 13020 Meridian Ave S, Everett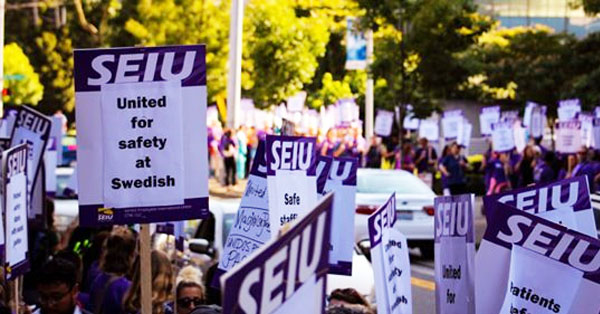 "I didn't become a nurse to provide minimal care," said Carol Lightle, a charge nurse in a Medical Oncology unit at Swedish Issaquah. "Every healthcare worker could tell you that, and all of us face the same issues. The short staffing is the same in Environmental Services, our coworkers who disinfect patient's rooms; it's the same in Materials Services where our coworkers resupply our units; it's the same in nutrition services. We work together as a team to deliver patient care. And when a part of our team is short-staffed our patients feel it."
Staff shortages caused by layoffs and wages and benefits that do no recruit and retain staff can create safety concerns for patients and for staff.
"Caregivers give so much of ourselves and can no longer keep ignoring the fact that safety is an issue on every campus," said Valarie Howard, a telesitter in the electronic ICU at Swedish First Hill. "Feeling like we can't do everything our patients need from us has even led to the mental health issues that we are now facing. This has really gotten to me, and it can make our job extremely dangerous."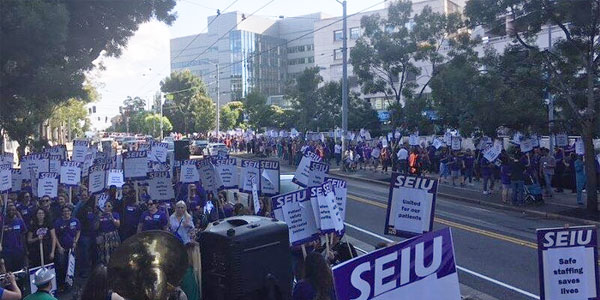 In addition to concerns about their employer's commitment to safe care, caregivers at Swedish-Providence believe management has committed multiple Unfair Labor Practices. ULPs are commonly used to weaken the solidarity of union members and are a violation of federal law.
"Where I work, workers have suffered unfair labor practices including termination for union activity, retaliation for protected union activity, and a failure to provide information necessary for bargaining," said Howard.
News reports indicate that, in addition to hiring scab replacements and hundreds of security guards, Swedish management is trying to intimidate employees into crossing the picket lines:
Delores Prescott, a surgical nurse who has worked at Swedish-First Hill for 18 years, says… she and others have felt intimidated by Swedish managers.
Prescott said managers have been "pulling staff into offices and telling them they need to sign a document asking if they're going to strike or not." Prescott, who received an email late last week asking her for the same information, said the hospital is looking to collect "data" on caregivers who choose to strike.
Short URL: https://www.thestand.org/?p=83390
Posted by
David Groves
on Jan 24 2020. Filed under
LOCAL
,
TAKE A STAND!
. You can follow any responses to this entry through the
RSS 2.0
. Both comments and pings are currently closed.