On May Day, caravan to Olympia for immigrant workers' rights
Drive from Seattle to the State Capitol to demonstrate support of essential but excluded workers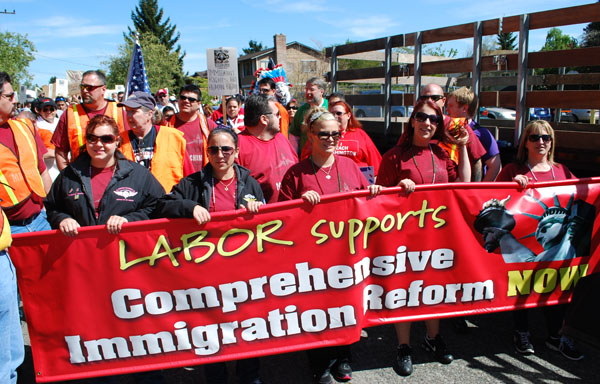 SEATTLE — For more than 20 years, organized labor has joined immigrant rights and community activists for the May Day march through downtown Seattle to bring the plight of the undocumented to light.
Given the necessary restrictions to slow the spread of the coronavirus, the march won't be happening this year at a time when immigrant workers are even more marginalized. This is particularly true for undocumented workers — many of whom are considered "essential" to the economy and are risking their health to remain at work — and yet they are denied relief funds, unemployment benefits and other assistance available to all other workers. Plus, they are often afraid to speak out about unsafe working conditions when they lack basic protections from the virus at work.
So this year instead of marching, trade unionists will be joining El Comité and the May 1st Action Coalition in a vehicle caravan to the State Capitol to collectively demand that our state's most socially and economically marginalized workers and their families are afforded protection amidst these extraordinary circumstances.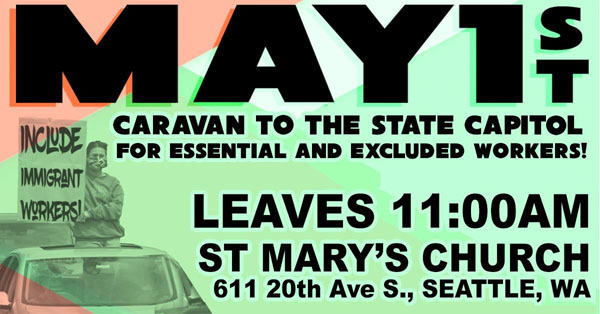 TAKE A STAND — Join the caravan! It will depart at 11 a.m. this Friday, May 1 from St. Mary's Church, 611 20th Ave. South in Seattle. Register here in advance to bring your car and you'll receive additional details. All participants are being urged to follow best practices with social distancing to be mindful of others' health concerns.
BACKGROUND — Undocumented families understand the insecurity and fear that everyone is feeling due to the COVID-19 coronavirus, because they live with those same feelings every single day: going to work and not knowing if that will be the day that ICE is going to stop them; fear of not knowing what will happen to their children if they are detained in the street; taking whatever kind of work, no matter how hard, exploitative or underpaid one can get in order to be able to pay the rent or provide food for themselves and families. Today, the government's refusal to provide any type of aid for undocumented families has added further to their suffering. This is occurring even though most immigrants pay 100 percent of their taxes owed — every type of tax, property, income, sales, business. So, on top of all these daily struggles, they are also living with the coronavirus.
May Day is an opportunity for everyone to be in solidarity, to be the ones who open our windows to applaud or play music, to share love and appreciation for the immigrant community. All are invited to stand together and demand that all essential and excluded workers are afforded dignity as members of the larger community who feed, care, and provide services that are essential to everyday life.
For more information, contact El Comité and the May 1st Action Coalition at 206-650-2106 or 425-287-3321, or via email at elcomite.seattle@gmail.com.
---
ALSO at The Stand (April 27) — Inslee urged to create relief fund for undocumented workers — Many working families in Washington state are suffering economic hardship due to the necessary restrictions in place to keep the coronavirus from overwhelming our health care system. But the more than 250,000 undocumented immigrants in this state have no access to unemployment insurance, federal CARES Act payments, or other forms of temporary assistance that all other workers have.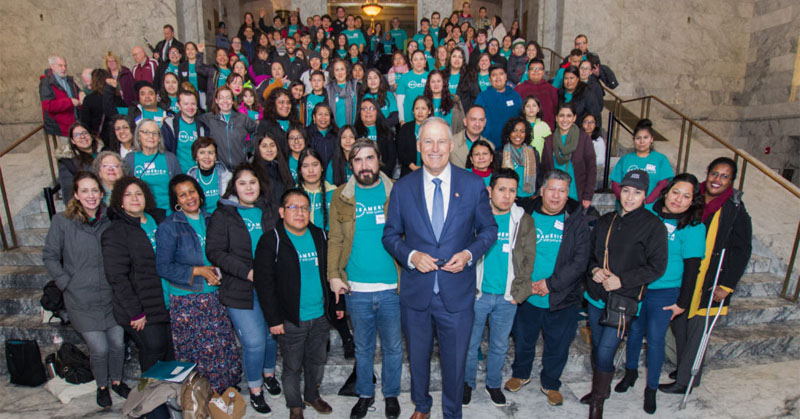 That's why the Washington State Labor Council, AFL-CIO and many of its affiliated unions have joined OneAmerica and a broad coalition of more than 430 organizations that signed a letter to Gov. Jay Inslee and legislative leaders last week urging them to include undocumented immigrants in emergency COVID-19 relief funds.
TAKE A STAND — You can add your name to this call to make sure we are all safe. Please click here to send your legislators a message urging them to support the creation of a Washington Worker Relief Fund that provides economic assistance to undocumented Washingtonians and a permanent system that gives undocumented immigrants access to unemployment insurance.
Short URL: https://www.thestand.org/?p=87070
Posted by
David Groves
on Apr 28 2020. Filed under
LOCAL
. You can follow any responses to this entry through the
RSS 2.0
. Both comments and pings are currently closed.