Spokane rejects cops' contract ● Trump's dangerous calls ● Treat us like heroes
Tuesday, June 30, 2020
---
LOCAL
► From the Spokesman-Review — Spokane City Council rejects police union contract — Amid public outcry over police accountability and racial injustice in Spokane and across the nation, the Spokane City Council unanimously voted down a proposed labor agreement with the Spokane Police Guild that council members felt failed to properly implement civilian oversight of the Spokane Police Department. "Without that, we can't get where we need to go," said City Council President Breean Beggs.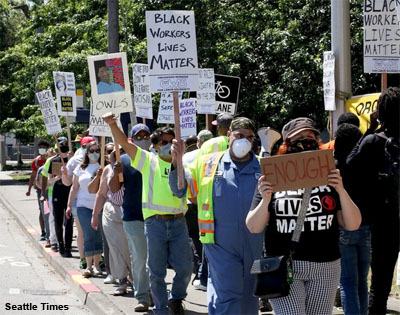 ► From the Seattle Times — 'We're just tired of what's going on:' Metro employees protest racial bias at transit agency — Bus drivers, mechanics and other workers called on King County Metro Thursday to do more to address racism in the workplace after a small statue of a Black person was found near a flagpole on Metro property. The incident, which happened in early June and is under investigation by Metro, motivated some employees to speak about racism they see in their daily work at the county transit agency.
---
COVID-19
► LIVE from the Seattle Times — Coronavirus daily news update, June 30 — The latest count of COVID-19 cases in Washington totals 32,253 infections (7-day average of new infections per day: 435) and 1,320 deaths (7-day average of deaths per day: 7).
► From the Columbian — United Grain halts operations due to COVID-19 cases — Vancouver-based United Grain Corporation has suspended operations at its grain export terminal at the Port of Vancouver after two of its on-site staff tested positive for COVID-19. Both of the COVID-positive workers are United Grain employees, rather than longshoremen or contractors. The company is working with Clark County Public Health and says it will rely on the agency's guidance to determine when it is safe to restart operations.
EDITOR'S NOTE — Compare this to, say, Tyson Foods which didn't suspend operations at its Wallula plant until 90 employees tested positive, or at multiple fruit-packing warehouses in the Yakima Valley where dozens of employees got COVID-19 and the plants never shut down.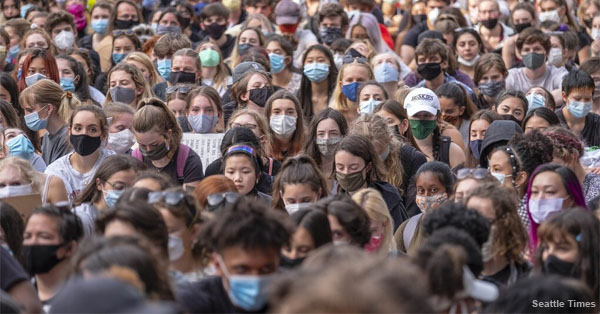 ► From the Seattle Times — Protests in Seattle and elsewhere don't appear to be driving coronavirus surge, researchers say — This helps bolster the case that the coronavirus generally does not transmit as easily outdoors, where even a gentle breeze can help diffuse the virus, compared to confined indoor spaces.
EDITOR'S NOTE — …and the effectiveness of masks (see photo).
► From the Tri-City Herald — 'Freedom Rodeo' and parade north of Pasco to buck the WA coronavirus order — A group of Tri-Citians are ignoring government orders against large gatherings and organizing a two-day Independence Day event with a rodeo, parade and dance parties… Franklin County remains in Phase 1 of Inslee's four-phase reopening plan because it continues to have a high number of new COVID-19 cases.

► LIVE from the Washington Post — At least 124,000 people have died from coronavirus in the U.S. — The states shown above have the largest case increases over last week (7-day rolling average of daily new reported cases per 100,000 residents). Washington ranks 29th.

► From MarketWatch — Las Vegas workers sue, saying casinos failed to protect them from coronavirus — Las Vegas Strip hospitality workers filed a lawsuit against casino operators on Monday, accusing the companies of failing to protect employees from COVID-19, one of the first efforts to hold employers legally responsible for infections as cases in the U.S. surge.
► From the Washington Post — Paycheck Protection Program nears end with $130 billion left unused — The stimulus program that has both infuriated and sustained small-business owners since its launch in April is now set to close with more than $130 billion left unused, prompting lawmakers to consider how to repurpose the money for the still-ailing economy.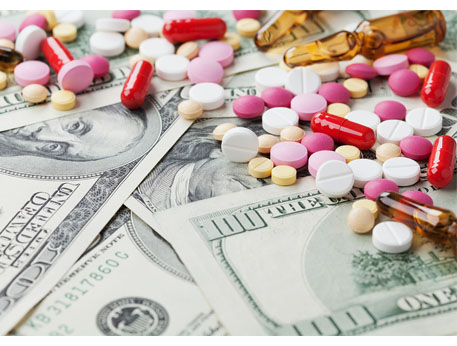 ► From the Washington Post — Gilead sets price of coronavirus drug remdesivir at $3,120 — Gilead Sciences, the maker of the first COVID-19 treatment found to have worked in clinical trials, remdesivir, said Monday it will charge U.S. hospitals $3,120 for the typical patient with private insurance. Other developed countries will pay 25 percent less than the United States. The company has licensed generic manufacturers to produce the drug for developing countries, which will receive the treatment "at a substantially lower cost." A clinical trial sponsored by the government showed the drug — invented by Gilead but developed largely by taxpayer-funded agencies — sped up hospital recoveries by four days. It had no statistically significant impact on survival for COVID-19 patients.
► From the NY Times — The invisible essential workers (by E. Tammy Kim) — Even as states reopen, Covid-19 continues to lay waste to the elderly and those who care for them. This country has a long tradition of banishing ailing seniors, and this neglect extends to the workers who help them eat and dress and nourish their minds and souls.
---
BOEING
► From Bloomberg — Norwegian scraps $10.6 billion deal for Boeing MAX, 787 jets — Norwegian Air Shuttle ASA has notified Boeing that it is terminating purchase agreements for all 97 of its remaining jets on order, citing the prolonged grounding of the 737 Max and engine problems with the 787 Dreamliner. The airline said it also filed a legal claim seeking the return of pre-delivery payments for the jets plus compensation tied to the MAX's 15-month idling. The termination roils Boeing's relationship with one of its largest customers in Europe.
► From the AP — Re-certification flights begin in Seattle for Boeing 737 MAX — The FAA test flights over the next three days will evaluate Boeing's proposed changes to the automated flight control system on the MAX.
---
THIS WASHINGTON


► From the Seattle Times — State may need federal loans to cover unemployment claims by year's end — Washington state may need to borrow federal funds to cover claims for jobless benefits after a new forecast shows a likely shortfall in the state's unemployment insurance trust fund. The state's unemployment trust fund, which stood at $4.7 billion on March 1, is now at $2.8 billion and is expected to be depleted by late 2020 or early 2021, ESD officials said. The agency was quick to emphasize that the availability of no- and low-interest federal loans, which 12 states or territories have already sought, ensures that benefits won't run out.
► From the Bellingham Herald — DSHS, DOR say offices will temporarily close one day a week to comply with furloughs — The state Department of Social and Health Services said that its offices will be closed each Monday through July 20. Then they will be closed one day a month through November. The Department of Revenue said that it will close its offices: July 2, 10, 17, and 24.
► From the (Everett) Herald — Lawmakers thought Inslee's veto went too far; they were right — A Thurston County judge has invalidated Inslee's vetoes of single sentences in the transportation budget in 2019, concluding those actions exceeded his authority as the state's chief executive.
---
THAT WASHINGTON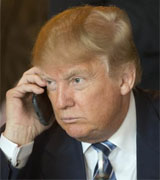 ► BREAKING from CNN — From pandering to Putin to abusing allies and ignoring his own advisers, Trump's phone calls alarm U.S. officials — In hundreds of highly classified phone calls with foreign heads of state, Trump was so consistently unprepared for discussion of serious issues, so often outplayed in his conversations with powerful leaders like Russian President Vladimir Putin and Turkish President Recep Erdogan, and so abusive to leaders of America's principal allies, that the calls helped convince some senior U.S. officials — including his former secretaries of state and defense, two national security advisers and his longest-serving chief of staff — that the president himself posed a danger to the national security of the United States, according to White House and intelligence officials intimately familiar with the contents of the conversations.
► From the NY Times — Trump got written briefing in February on possible Russian bounties, officials say — American officials provided a written briefing in late February to Trump laying out their conclusion that a Russian military intelligence unit offered and paid bounties to Taliban-linked militants to kill U.S. and coalition troops in Afghanistan, two officials familiar with the matter said. The investigation into the suspected Russian covert operation to incentivize such killings has focused in part on an April 2019 car bombing that killed three Marines as one such potential attack. The new information emerged as the White House tried on Monday to play down the intelligence assessment that Russia sought to encourage and reward killings — including reiterating a claim that Trump was never briefed about the matter and portraying the conclusion as disputed and dubious.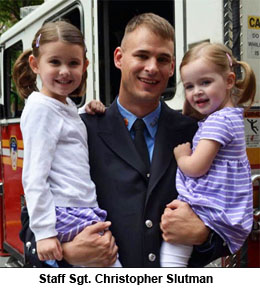 EDITOR'S NOTE — The White House claims neither Trump nor Pence was briefed on this because the intelligence hadn't been verified. And yet, it was solid enough that it was shared with the British. In fact, White House press secretary Kayleigh McEnany suggested, Trump still hadn't been briefed on the Russian bounties by Monday afternoon, even though administration officials were, at that hour, briefing lawmakers and America has already read about it in The New York Times. After being briefed, lawmakers in his own party are calling for action. But instead of doing anything, the White House is focused on covering for Trump's inaction. Among the three U.S. Marine reservists killed in the April 2019 car bombing potentially tied to the Russian bounties was Staff Sgt. Christopher Slutman, 43, a New York City firefighter and a 15-year member of the IAFF. He was survived by his wife and three children.
► From Vox — How Trump gave insurance companies free rein to sell bad health plans — In a lawsuit filed on behalf of multiple patients in May, insurers were accused of selling policies that "left patients with little or no insurance for comprehensive care, excluding coverage for preexisting conditions and prescription drugs and imposing very low dollar limits on other services." These policies were the kind of skimpy, low-grade plans that Obamacare had sought to marginalize, if not outright eliminate. And for a time, the law did just that. Then Trump became president.
► From The Hill — House fires back at Trump by passing ObamaCare expansion — The legislation, which passed in a largely party-line vote of 234 to 179, would increase the 2010 health law's subsidies that help people afford their premiums and add more federal funding for Medicaid expansion.
EDITOR'S NOTE — Washington's congressional delegation voted on party lines with all Democrats voting "yes" and all Republicans voting "no," except for Rep. Cathy McMorris Rodgers (R-WA, 5th). She was among the 18 members — all Republicans — who did not vote.
► From the Washington Post — The outcome of the Louisiana abortion case was a victory for the rule of law (editorial) — The decision is a triumph for adherence to precedent, without which the judicial process degenerates into a raw exercise of power. The Louisiana law was, for all intents and purposes, identical to a Texas law the Supreme Court had struck down just four years ago. For a court newly stocked with two appointees of Trump to have overturned such a fresh and clearly applicable precedent, on the most controversial of issues, would have implied that judicial personnel matters more than judicial precedent, undermining public confidence in the rule of law just when the country needs it most.
EDITOR'S NOTE — Four of the nine justices — including both men who were appointed by Trump — voted to do exactly that: overturn fresh precedent and become judicial activists on women's rights.
---
NATIONAL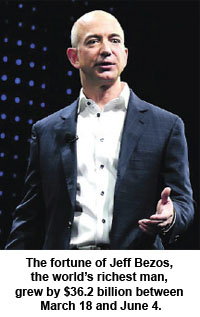 ► From the Seattle Times — Amazon thanks hourly employees for work during the coronavirus pandemic with one-time bonus — Amazon employees and contractors who worked in the company's operations business throughout June will receive a one-time bonus — $500 for full-time hourly employees — as thanks for their work during the pandemic, the company announced Monday. "Our front-line operations teams have been on an incredible journey over the last few months, and we want to show our appreciation with a special one-time Thank You bonus," said Dave Clark, Amazon senior vice president in charge of worldwide operations.
EDITOR'S NOTE — At press time, it wasn't clear whether Amazon employees who were fired for speaking out about lack of COVID-19 protections or the company's insufficient climate policies (or Climate Pledge, if you will) will get any one-time bonus. And in a related story…
► From BC News — 'Extreme inequality was the preexisting condition': How COVID-19 widened America's wealth gap — The novel coronavirus pandemic has only exacerbated income inequality, experts say, stretching the racial wealth gap in the United States and making the richest wealthier while leaving many of the poorest without jobs.
---
TODAY'S MUST-READ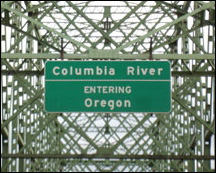 ► From the Salem Statesman-Journal — You call us heroes. It's time to treat us like heroes. (by Oregon AFL-CIO President Graham Trainor) — Employers and businesses that have exercised extreme caution to ensure a safe workplace, instituted and maintained hazard pay for their essential workers, and done everything they can to keep workers on payroll with healthcare coverage deserve to be commended. Unfortunately, these good actors in Oregon's business community weren't front and center during the Oregon Legislature's first Special Session. A policy recently proposed by Oregon businesses granting immunity from all COVID-related liability would leave workers less safe and with fewer remedies for protecting themselves. If our economy is to reopen successfully, workers will need to feel safe coming back to work. They need more protections, not less… To proclaim that essential workers are heroes when it is convenient and popular, but then to treat them as expendable by granting blanket immunity to businesses is not the Oregon way.
---
The Stand posts links to Washington state and national news of interest every weekday morning by 10 a.m.
Short URL: https://www.thestand.org/?p=89448
Posted by
David Groves
on Jun 30 2020. Filed under
DAILY LINKS
. You can follow any responses to this entry through the
RSS 2.0
. Both comments and pings are currently closed.