Boeing's charade ● Tax the rich ● Draft dodger calls fallen soldiers 'losers'
Friday, September 4, 2020
---
COVID-19
► LIVE from the Seattle Times — Coronavirus daily news update, Sept. 4 — The latest count of COVID-19 cases in Washington totals 75,856 infections (7-day average of new infections per day: 462) and 1,945 deaths (7-day average of deaths per day: 8)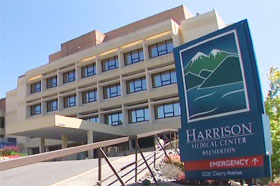 ► From SEIU HealthCare 1199NW — Health care unions statement on COVID-19 outbreak at St. Michael Hospital — The leaders of the Washington State Nurses Association and SEIU Healthcare 1199NW today called on state officials to address the serious shortcomings in oversight and transparency that we believe contributed to the severe outbreak of COVID-19 among staff and patients at St. Michael Hospital in Bremerton.
► From the Seattle Times — COVID-19 outbreak at Bremerton hospital possibly traced to aerosol-generating procedures, report says — "Some staff present for (aerosol generating procedures) were not wearing N95s, only surgical masks and eye protection," the report said. "Shorter than recommended room turnover may have exposed patients and staff. The rooms were left empty for < two hours and (aerosol generating procedures) were performed in rooms without negative air pressure, which conflicts with (hospital) policy."
► From the Seattle Times — Virginia Mason Medical Center dealing with COVID-19 outbreak — Four employees and a patient at Virginia Mason Medical Center in Seattle have tested positive for the coronavirus that causes COVID-19.
► From The Hill — Fauci: U.S. has 'unacceptably high' level of COVID-19 cases going into fall — Fauci, the nation's top infectious disease expert, pushed for people to exercise caution heading into the Labor Day weekend to prevent further surges.
► From The Hill — Key model predicts 400,000 coronavirus deaths in U.S. by January — A key forecasting model often cited by experts and used by the White House has revised its prediction of COVID-19 deaths in the U.S., now estimating a peak of 410,451 by Jan. 1. The model says that as many as 122,000 of those deaths could be avoided with safety measures, including near-universal mask use, but it warns that easing restrictions could cause the death toll to be more than 620,000.
► From The Onion — 'Tell the world I also had asthma,' conservative begs doctor before dying of coronavirus — "Promise me—goddammit, promise that you'll tell everyone it was a pre-existing condition and coronavirus had nothing to do with it."
---
BOEING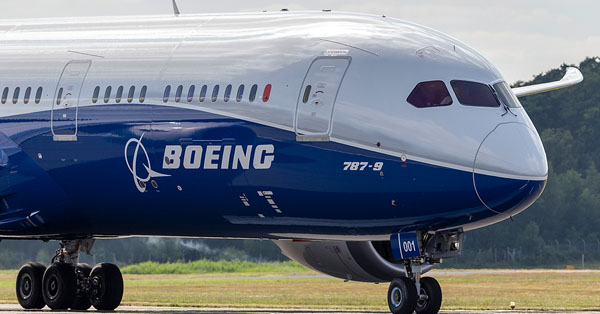 ► From the PS Business Journal — Boeing's Dreamliner consolidation study leaves Machinists union angry, uncertain — Jon Holden, the president of the International Association of Machinists District 751, is upset that Boeing launched the study without consulting the union's leadership. He blasted Boeing in a lengthy front page commentary essay, published in this week's Aero Mechanic union newspaper for Machinists. "In typical Boeing fashion, Boeing is talking to everyone else but the union. It is what they do in these situations. They are attempting to align the politicians and the media in order to exert maximum pressure," Holden told IAM members, adding "the charade of a 787 consolidation study may simply be masking a decision that is already made."
The Stand (Aug. 24) — Déjà vu: Boeing seeks concessions from Machinists indirectly — IAM 751's Holden urges members to "stand together" as the company floats the idea of mid-contract concessions via politicians and the media.
---
LOCAL
► From the Seattle Times — Amazon to grow Bellevue presence to 25,000 employees in a few years, with large new leases and tower plan — Amazon outlined a plan Friday to accommodate 25,000 employees in Bellevue by 2025, the same number it's expected to employ at its second headquarters in Virginia by 2030.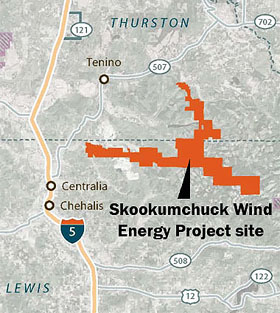 ► From the (Centralia) Daily Chronicle — Injured worker says leaders of Skookumchuck project fostered culture of recklessness — An injured worker with the Skookumchuck Wind Project is alleging that leading contractors are fostering and promoting an unsafe work culture that is resulting in preventable work injuries and incidents on the remote site where a 24-year-old Chehalis man died earlier this year. Blake Bennett, a safety and health manager with Mountain Crane Services, told the Nisqually Valley News that certain incidents were "swept under the carpet" by Renewable Energy Systems Americas Inc. (RES-Americas) contractors and that project leaders attempted to curtail public reporting of work-related incidents throughout his five-month tenure on the project.
EDITOR'S NOTE — In response to this report, the Laborers union has issued this response:
"The Laborers' International Union of North America Northwest Region (LIUNA NW) is calling on owners and developers to hire contractors who value high safety standards and the safety of their workers. The Skookumchuck Wind Farm project, being built by RES Americas-Inc.,  has already led to one death and multiple injuries, raising concerns about workplace safety. In the article from the Daily Chronicle, allegations continue to surface from workers who are bearing the brunt of these unsafe working conditions. In June of 2019, LIUNA came out in full force in opposition of RES Americas Inc. being approved for this $235 million dollar project. LIUNA shall continue to strive to ensure that renewable projects are built with a local high-skilled workforce, family wages with benefits and performed by contractors who value the safety of their workers."
The Stand (Oct. 1, 2019) — An economic boost… gone with the wind? — Unions say RES Americas is not delivering on the promise of good local clean-energy jobs at Skookumchuck Wind Energy Project.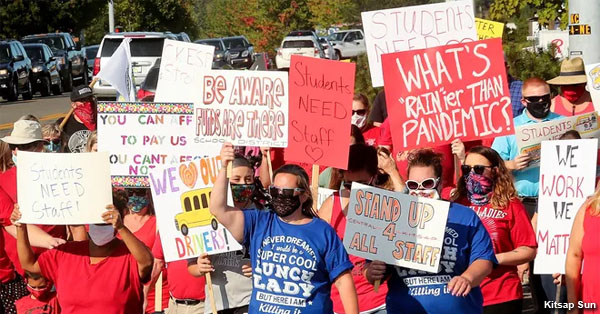 ► From the Kitsap Sun — Furloughed bus drivers, other support staff protest in Central Kitsap — Bus drivers, food service workers, secretaries and other school support staff banded together Thursday to protest furloughs of 118 positions. They marched from Kitsap Mall along Silverdale Way waving signs. "We just feel the district was really quick to make cuts that are impacting not just ourselves but our students," said Lisa Danskin, a bus driver who is current president of the Central Kitsap Educational Support Professionals union. "We'd like to see the district be more creative in finding ways to use us until we find out what this looks like. We feel we are essential workers."
► From KING 5 — Edmonds School District bus drivers rally demanding benefits after layoffs — The school bus drivers were laid off in August, and now they are left without medical benefits during the COVID-19 pandemic.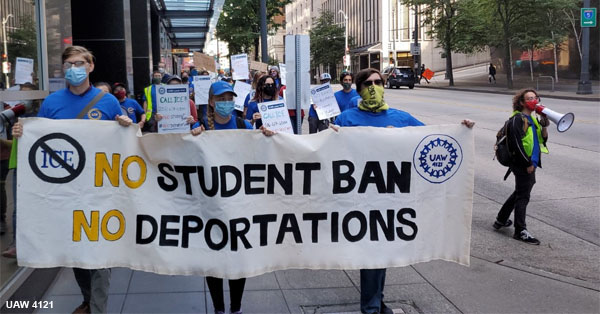 ► From The Stranger — Life has been hell for Seattle's incoming international scholars — After months of sending mixed messages, and under plenty of pressure from the UAW Local 4121 International Solidarity Work Group (ISW), on Wednesday the University of Washington finally "committed to honoring…funding agreements" with incoming scholars currently living outside the country.
The Stand (July 15) — 'A huge victory' for international students on deportation threats
► From the News Tribune — Dammeier's attack on whistleblower reveals unstable side of Pierce County Exec (by Matt Driscoll) — Bruce Dammeier often portrays himself as a moderate, reasonable leader, but preemptively lashing out on Twitter against a Black woman with an open whistleblower complaint against the county — and weakly attempting to link her to the partisan national debate over police funding — contradicts any such image.
► From the Bellingham Herald — Advisory board votes to declare racism a public health crisis in Whatcom County — The advisory board's decision comes as dozens of other cities and counties across the United States declare racism a public health issue. In Washington state, both King and Pierce counties have declared racism a public health crisis.
► From the NW Labor Press — Southwest Washington Central Labor Council launches new podcast — "Hello working people of southwest Washington!" So says Southwest Washington Central Labor Council President Shannon Myers in the teaser for a new podcast. "… And the world," adds co-host Harold Phillips, a Vancouver resident and member of SAG-AFTRA. The podcast, sponsored by the labor council, will launch Sept. 5, Labor Day weekend.
► From the NW Labor Press — Study says Oregon employers are skirting landmark law aimed at curbing abusive scheduling practices — It was the first in the nation: A statewide law to halt a growing trend of abusive scheduling practices by large retail, food service and hotel employers. But two years in, Oregon employers have found ways to dodge the law's intent, according to a study published in July by researchers at the University of Oregon.
---
THIS WASHINGTON

► From the Olympian — Inslee says Trump 'cannot and will not defund us' — Gov. Jay Inslee and other leaders responded to a White House memo that said it would cut federal funding to Seattle and other cities and states that have seen ongoing protests. "This illegal memorandum is a sham. It is just the latest baseless, petty and divisive move by President Trump to distract from his abject failure to protect Americans from COVID-19," Inslee said Wednesday night. "With more than 185,000 lives lost on his watch, we won't forget."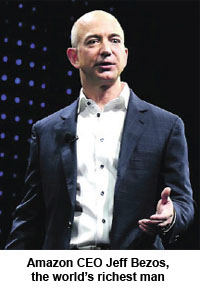 ► From the NY Times — Doesn't feel like a recession? You should be paying more in taxes. (by Kitty Richards and Joseph Stiglitz) — Regardless of whether Congress acts, states and localities can bolster their local economies and support their residents by raising taxes on those who have not been hard hit by the recession. This is not only the right thing to do from a humanitarian standpoint, it is sound economics. Spending cuts are enormously harmful to the people who rely on government services and the public workers who lose their jobs. In a recession, cuts also damage the broader economy, causing layoffs to ripple through the community. Americans are living through a catastrophe. They cannot afford for their state and local leaders to abdicate responsibility. States, cities and school districts must require their wealthiest residents to pay higher taxes right now. The alternative is unacceptable: cutbacks in basic services that will weaken our social fabric and harm our potential for years to come, and a grinding recession that may last for years after the pandemic is brought under control.
► From the Columbian — Draft study: Kalama methanol plant could curb rise of global emissions — Proponents of the project say they are pleased with the nearly 200-page draft study because it confirms that the plant will have a net positive effect on the environment, even if the numbers are more conservative than earlier studies.
---
ELECTION



► From the Washington Post — Trump said U.S. soldiers injured and killed in war were 'losers,' magazine reports — The report, published by the Atlantic, cites four unnamed people with firsthand knowledge of Trump's comments. It says Trump disparaged the military service of the late former president George H.W. Bush, objected to wounded veterans being involved in a military parade, and canceled a visit to Aisne-Marne American Cemetery near Paris in 2018 because he didn't care about honoring those killed in war. The White House released a sharply worded statement defending Trump — who has insulted POWs, traded barbs with grieving families of the dead and said before he was president that avoiding sexually transmitted diseases was his own "personal Vietnam" — against accusations that he doesn't respect the military.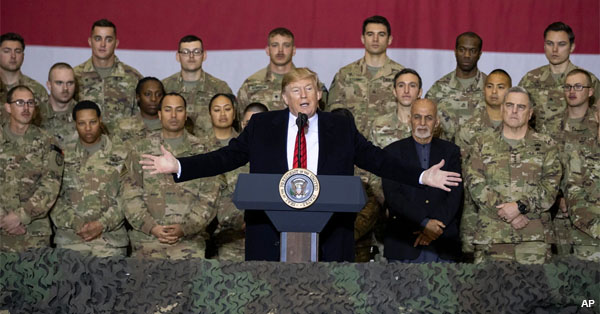 ► From the Washington Post — 'The last full measure of his disgrace': Veterans scorn Trump over report that he calls fallen soldiers 'losers' — The president — who received a medical deferment from Vietnam — also repeatedly questioned why anyone would join the armed forces, including one time to his then-chief of staff John F. Kelly, per the Atlantic. "I don't get it. What was in it for them?" he asked on Memorial Day 2017, standing beside the grave of Kelly's son, who was killed in Afghanistan at age 29, the Atlantic reported.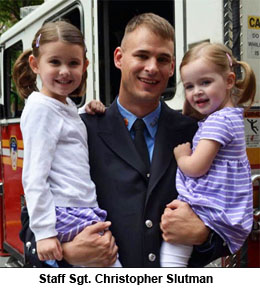 EDITOR'S NOTE — Meanwhile, it's been 68 days since U.S. intelligence officials confirmed that Russia was paying bounties for the murder of U.S. soldiers, something Trump was briefed about for months prior to its public revelation. To date, Trump has done nothing about it and has refused to even mention it in conversations with Russian President Vladimir Putin. Pictured here is one of the three U.S. Marine reservists killed in the April 2019 car bombing linked to the Russian bounties. Staff Sgt. Christopher Slutman, 43, a New York City firefighter and a 15-year member of the IAFF. He was survived by his wife and three children.
► From the NY Times — The head of the AFL-CIO says Trump broke his promise on manufacturing jobs — AFL-CIO President Richard Trumka on Thursday accused Trump of breaking his promises to bring more manufacturing and infrastructure jobs to working Americans. "The jobs he said were coming never came," Trumka said. "Instead of rebuilding America, he's torn it apart."
► From HuffPost — Labor unions plan to turn out an army of poll workers for the election — Facing an alarming shortage of poll workers due to the pandemic, unions have begun recruiting their members to help keep precincts open.
► From The Hill — More than 175 current, former law enforcement officials endorse Biden, call Trump is 'lawless' — A group of more than 175 current and formal law enforcement officials, which includes dozens of former local police chiefs and sheriffs, have endorsed Democratic presidential nominee Joe Biden.
---
THAT WASHINGTON
► From the Washington Post — Senate GOP struggles to unify behind coronavirus relief bill amid dispute over DeVos education policy — A fight over Education Secretary Betsy DeVos's plan to subsidize private school tuition is threatening to derail a Senate GOP effort to write a slimmed-down coronavirus relief bill, people involved in the talks said this week. The bill is meant to be a negotiating tool with Democrats, though a previous measure with a similar goal went nowhere last month. Senate Republicans are seeking to pass a targeted bill as a way of countering a bill recently passed by House Democrats that sought to boost funding for the U.S. Postal Service.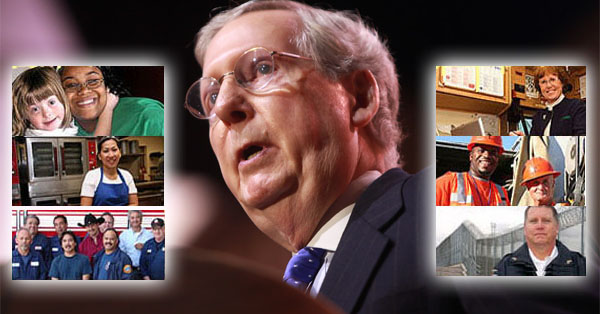 EDITOR'S NOTE — Yes, you read that right. It's been nearly four months since the House passed the HEROES Act, a comprehensive second round of COVID-19 relief for the unemployed, struggling hospitals, schools, the USPS, and state and local governments. Senate Majority Leader Mitch McConnell (R-Ky.) has refused to allow a vote on it, likely because he's afraid it would pass. But Senate Republicans can't agree on any alternative measure. They can't even agree on this bill that's not intended to pass, but is merely meant to be a political message. Meanwhile, millions of Americans continue to lose their jobs and state and local governments may be forced to cut services and lay off essential public employees due to their inaction.
► From Reuters — U.S. labor market slowing as fiscal stimulus boost ebbs — U.S. job growth slowed further in August as financial assistance from the government ran out, threatening the economy's recovery from the COVID-19 recession.
► From Forbes — United Airlines to cut 16,000 jobs when federal aid dries up this fall — United Airlines on Wednesday announced it will join American Airlines in cutting thousands of jobs in October due to ongoing low demand and the impending end of federal aid under the CARES Act.
The Stand (July 27) — Aviation unions urge extension of Payroll Support Program
► From the NY Times — Amtrak will furlough over 2,000 workers because of the coronavirus — The job cuts come as the rail agency's response to fiscal challenges receives scrutiny from rail advocates and federal lawmakers.
► From CNBC — Nearly half of people collecting unemployment benefits may not qualify for aid in 2021 — Nearly half of all workers currently receiving unemployment benefits are supported by Pandemic Unemployment Assistance, which covers individuals not traditionally eligible for aid, including self-employed, freelance, gig and part-time workers.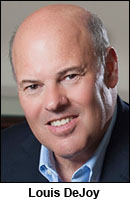 ► From The Hill — Records show Postal Service paid millions to DeJoy's former company — The U.S. Postal Service has made millions of dollars in payments to Postmaster General Louis DeJoy's former company in recent weeks. A public records request determined that the Postal Service has paid XPO and its subsidiaries about $14 million in the past 10 weeks. The Postal Service had paid $3.4 million during the same period in 2019 and $4.7 million during the same period in 2018.
► From Politico — Why veterans want money for the Postal Service — In 2018, veterans made up 16 percent of the Postal Service workforce, nearly three times their 5.8 percent representation in the workforce overall.
► From The Hill — Mnuchin, Pelosi reach informal deal to avoid government shutdown — Treasury Secretary Steven Mnuchin and Speaker Nancy Pelosi (D-Calif.) have informally agreed to pursue a clean, short-term stopgap measure to avert a government shutdown at the end of the month.
EDITOR'S NOTE — Oh, gee. Thanks!
---
NATIONAL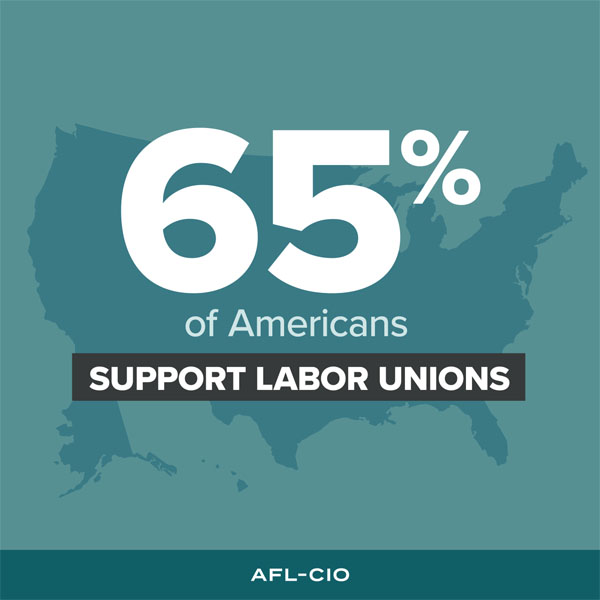 ► From Gallup — At 65%, approval of labor unions in U.S. remains high — As Labor Day approaches and economic conditions in the U.S. remain tenuous, Americans' 65% approval of labor unions is once again the highest it has been since 2003. Public support for labor unions has been generally rising since hitting its lowest point of 48% in 2009, during the Great Recession. While the latest reading, from a July 30-Aug. 12 poll, comes at a time of severe economic upheaval, this has so far not had a negative impact on the public's view of unions, as it is little changed from last year's reading.
EDITOR'S NOTE — Find out more information about how you can join together with co-workers and negotiate a fair return for your hard work. Or go ahead and contact a union organizer today!
► From The Hill — Trumka hits corporate reform efforts as mere talk — AFL-CIO President Richard Trumka on Thursday said an effort by major corporations to include the well-being of workers in their goals was more talk than substance. "We haven't seen a significant change in their attitude," he said. "If you try to unionize, a lot of places, they still employ part of the billion-dollar union-busting industry. They try to keep their workers from having a voice."
► From the Seattle Times — America still needs unions in this digital gilded age (by Jon Talton) — As we mark Labor Day 2020, organized labor has enjoyed successes in the public sector, and some limited gains in the service sector. But unions are no longer the essential counterweight to big business that once made America so successful and lowered inequality. Many Americans realize this. Mindful of the loss of workers' rights and equality in the digital gilded age, many want that counterweight.
► From the NY Times — Uber is hurting drivers like me in its legal fight in California (by Derrick Baker) — We're in limbo as the ride-hailing company spends millions fighting a new state law.
---
T.G.I.F.
► Today, The Entire Staff of The Stand wishes a very happy 39th birthday to singer, songwriter, record producer, dancer, actress and filmmaker Beyoncé Giselle Knowles-Carter. Already famous for her work with Destiny's Child and solo albums, her career hit the stratosphere with her third album 2008's I Am… Sasha Fierce, which won a record-setting six Grammy Awards. This track from that album represented a new sound for Beyoncé. She told Essence magazine: "It's broad. But I had to try it, because I remember Aretha Franklin said a great singer can sing anything and make it her own." Beyoncé added that she was influenced by her recent role playing Etta James in Cadillac Records. She decided to follow the example of the blues and R&B singer and broadened her horizons. "Etta expressed herself; she was bold. That inspired me to do a lot of things musically that no one else is doing." Here's Beyoncé being bold.
---
The Stand posts links to Washington state and national news of interest every weekday morning by 10 a.m.
WASHINGTON IS A UNION STATE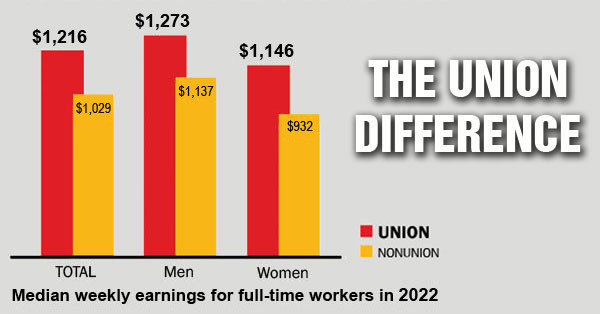 CHECK OUT THE UNION DIFFERENCE in Washington state: higher wages, affordable health and dental care, job and retirement security.
FIND OUT HOW TO JOIN TOGETHER with your co-workers to negotiate for better working conditions and respect on the job. Or go ahead and contact a union organizer today!