AFT: Demand Safe Schools, urge Congress to invest now
Join a National Day of Action for Safe School Re-Opening
The following is from AFT Washington:
(Wednesday, Sept. 2) — It's that time of the year – the beginning of a new school year! The stores are full of sales on school supplies and the promise of fall is in the air every cold morning. But this year it's just a little different.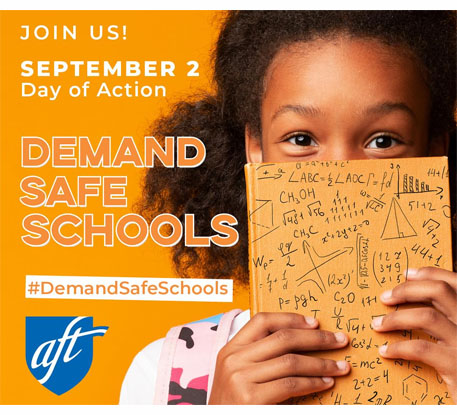 Many of you are balancing your work schedules with your efforts to support your kids, grandkids, nieces and nephews, and kids in your life, as they navigate remote learning. Many of you are advocating to ensure that your child who needs one-on-one support gets that support. Many of you are working to address the public health crisis that is racism. And we are all coping with a pandemic that has been exacerbated by a failure of leadership from the White House and the Republican Party.
The House passed the HEROES Act more than 100 days ago; it includes robust funding to fill the revenue chasm we face at the state and local level, along with funding for early learning, K-12 and Post-High School education. The Senate has passed nothing and is on vacation! Their own proposal is in limbo, with no one at work to build a final bill!
But schools are expected to be educating students – at home, without sufficient devices, broadband, personnel, meals, safety, or academic supports – in order to bolster corporate profits, and so Americans can pretend the pandemic is over. Schools are reopening so that elected leaders at all levels can pretend that more relief isn't needed.
Failure to pass meaningful relief and the push to reopen schools have converged to make September 2nd a National Day of Action for AFT, education allies and other unions. It is time to shine the light on what students, families, workers and communities need right now – investment from the federal government.
TAKE A STAND! — AFT Washington invites you to join us in a social media campaign on Sept. 2 to amplify what is needed so that kids get the education they deserve. making your voice heard requires just three steps:
1. Make a sign with one of the following messages (or write your own):
► Invest in Schools NOW because the digital divide is a digital Grand Canyon!
► Invest in Schools NOW because Racism is a Public Health Crisis!
► Invest in Schools NOW because Kids with IEPS deserve support!
► Invest in Schools NOW because Safe Schools means Healthy Buildings!
2. Take a selfie holding the sign; include family members if you like.
3. Post the photo on social media and tag @AFTWA on Twitter, Facebook, and Instagram, and use #DemandSafeSchools!
We'll be sharing graphics and posts on our social media channels all day long, as well, if you'd like to amplify the message that way.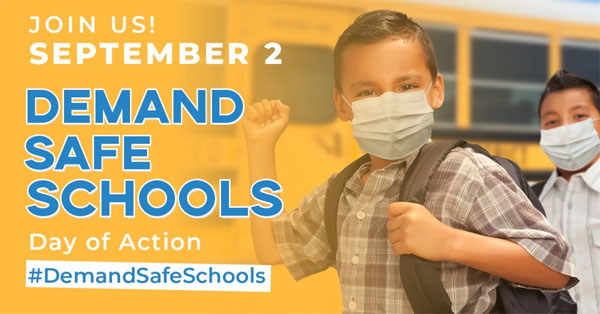 If you're curious what kind of money is in the HEROES Act for Washington and for your hometown, see this breakdown of dollars allocated. For more information about the HEROES Act, visit the AFT website.
Today — Wednesday, Sept. 2 — AFT affiliates and community partners are raising their voices throughout the country. Please join the chorus and send a message to Congress and the President:
Put SAFETY first; learning and economic recovery will follow!
Short URL: https://www.thestand.org/?p=91285
Posted by
David Groves
on Sep 2 2020. Filed under
NATIONAL
. You can follow any responses to this entry through the
RSS 2.0
. Both comments and pings are currently closed.