Slow to get their shots | Identifying farm workers | What Kroger invests in
Monday, April 19, 2021
---
COVID-19
► LIVE from the Seattle Times — Coronavirus daily news update, April 19 — The latest count of COVID-19 cases in Washington totals 385,549 infections (7-day average of new infections per day: 1,236) and 5,380 deaths.
► From the Seattle Times — Why some health care workers in Washington state were reluctant to get COVID shots — Despite being first in the nation to qualify for COVID-19 vaccination, health care workers in hospitals, long-term care facilities and other settings haven't uniformly rushed to take advantage of their position in the queue… Informal reports from hospitals across Washington over the past two months suggest an uptake rate of 60% to 70%, with the highest levels among physicians and among staff who cared for COVID-19 patients, according to the Washington State Hospital Association.
► From NBC News — Half of U.S. adults have received at least one COVID-19 vaccine shot — The U.S. cleared the 50 percent mark just a day after the reported global death toll from the coronavirus topped a staggering 3 million.
---
LOCAL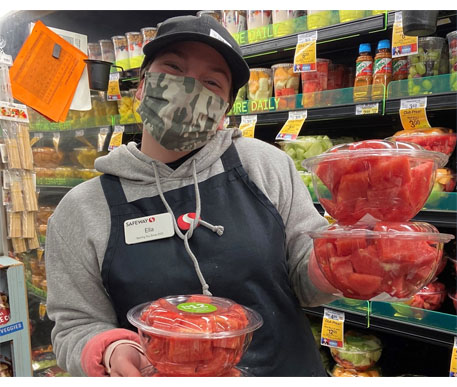 ► From the Olympian — Olympia to require large grocery stores to provide hazard pay during pandemic — Olympia will require large grocery stores to pay their employees $4 more per hour in hazard pay beginning next month. The ordinance, which city council passed unanimously on Tuesday, is intended to recognize the risks faced by grocery workers during the COVID-19 pandemic. "Olympia residents want Olympia to be a leader in wage equity and a leader in workplace safety, and this is a small ask in my opinion," said council member Jim Cooper, who estimated it could affect about 450 workers citywide.
TODAY at The Stand — Olympia's grocery workers win hazard pay
► From the Bellingham Herald — New pandemic relief considered in Bellingham for these 'essential' workers — Front-line grocery workers at large stores in Bellingham would get $4 per hour hazard pay, if the Bellingham City Council approves a proposed measure. Councilwoman Lisa Anderson introduced the measure as an emergency order to start immediately, but she changed it to a regular ordinance and council members decided 4-2 to have a public hearing and further discuss the proposal at its April 26 meeting.
► From the Columbian — Aerospace company coming to Port of Camas-Washougal — United Precision Corp., a Chatsworth, Calif., company that assembles machined metal seals, precision burst discs and check and relief valves for critical applications, has reached an agreement with the port to purchase 4.5 acres of land in the Steigerwald Commerce Center, where it will construct two large manufacturing buildings over the course of the next five to 10 years.
► From the Yakima H-R — Newly digitized photos of Yakima Valley farm workers bringing people together — Recently digitized Irwin Nash photos of the Yakima Valley have already brought people together. Nash, a Seattle photographer, documented life of farmworkers in the Yakima Valley from 1967 to 1976. Efforts are now underway to digitize his photos at Washington State University. Laura Solis, who grew up in Granger and lives in Seattle, was amazed when she started going through the 100 photographs the university first digitized. "Everything about them was so familiar to me. I felt like I should know the people in them. I almost felt like I should know this person's name and it should come to me," Solis said. "But then I thought, maybe they're related to me. I had a lot of relatives I don't really know about."
► From the Yakima H-R — Curators need help identifying more than 10,000 photos taken in 1960s and '70s featuring Yakima Valley farm workers — The collection of more than 10,000 Nash images also shows demonstrations and labor activists leading and supporting farm workers in their fight for better pay and working conditions, adequate housing and more. Cesar Chavez visited the Valley and Nash was there, on one occasion photographing Chavez arriving and speaking at the packed Escuelita in Granger. The emotion of the meeting comes across clearly in an intense Chavez and the somber faces of a priest and others crowded near him.
EDITOR'S NOTE — You can browse the Irwin Nash collection here.
► From the Oregonian — 20% of Oregon State Hospital nurses on leave as staff shortage intensifies: 'Morale is very low' — Employees have since reported increasingly dangerous working conditions as they have sustained frequent and severe injuries from patients and suffered exhaustion and burnout from working overtime. They've also started pressuring hospital leaders to take immediate action to ease the strain.
► From the NW Labor Press — Staff at the Oregon Legislature can unionize, board rules — Legislative assistants who work for individual Oregon lawmakers could soon be the first such workers in the nation to unionize.
---
THIS WASHINGTON

► From the (Everett) Herald — Is the 'grand bargain' crumbling? Is a drug-law fix coming? (by Jerry Cornfield) — It's the final Monday of regular session. When the clock reaches 8 a.m., lawmakers will have 160 hours until Sine Die (on Sunday, June 25). Here's where things stand in two dramas which will occupy the spotlight today.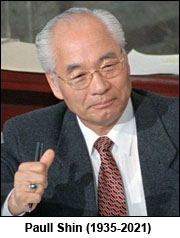 ► From the (Everett) Herald — Paull Shin went from Seoul streets to Senate leadership — Paull Shin, who grew up on the streets in Korea and later strolled the corridors of power at the state Capitol, died peacefully in his Edmonds home this week. He was 85. Shin became the first Korean-American member of the Legislature when he won a House seat in 1992. The Democrat was in the final year of his fourth term in the Senate when an Alzheimer's diagnosis forced him to resign in 2014.
► From Crosscut — Washington now recognizes Juneteenth, but there's more to the story — The history behind the holiday is long and troubling, with echoes that persist today.
► From the News Tribune — New Black history holiday good for Washington. But don't slight this minority group. (editorial) — Establishing Juneteenth as an official holiday was a commendable move by the Washington Legislature to memorialize a pivotal date in Black history. But a less complicated, less expensive historical recognition for Chinese Americans stalled in the Senate before a cut-off deadline last month.
► From the (Everett) Herald — Judge orders Tim Eyman to pay state's $2.9M legal tab — On Friday, a Thurston County judge ordered Eyman to pay the state $2.9 million to cover the cost of its legal pursuit of the anti-tax activist for multiple violations of Washington campaign finance laws. That amount is on top of a $2.6 million civil penalty Dixon levied against Eyman in February.
---
AMAZON



► From Reuters — Union files objections to Amazon election results, alleging layoffs were threatened — The Retail, Wholesale and Department Store Union submitted nearly two dozen objections to Amazon's conduct during the election, which it said prevented employees from a "free and uncoerced exercise of choice" on whether to create the company's first-ever U.S. union. Among its allegations is that the online retailer threatened to lay off staff.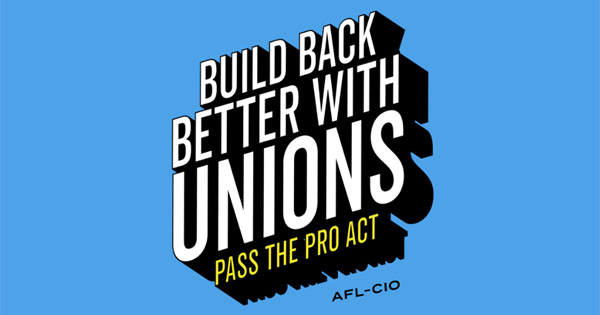 ► From the USA Today — Here's what Amazon got away with in union battle. Here's how to change that. (by Rep. Andy Levin) — We can best honor these workers' fight for economic justice and personal dignity in a 21st century economy by updating labor laws that were written for the economy of the 1930s. The Protecting the Right to Organize (PRO) Act, which I co-sponsored, has passed the House and is now before the Senate. It will help level a playing field that is currently tilted steeply in favor of rich, anti-union employers like Amazon.
The Stand (March 18) — Six ways the PRO Act restores workers' bargaining power
The Stand (Feb. 11) — Washington Democrats step up for workers on PRO Act
---
THAT WASHINGTON
► From the AFL-CIO — Workplace Violence Prevention Act will save lives — "Working people's lives are on the line, sais AFL-CIO Secretary-Treasurer Liz Shuler on the House passage of the Workplace Violence Prevention for Health Care and Social Service Workers Act (H.R. 1195), directing OSHA to issue a federal workplace violence prevention standard to protect workers in health care and social services from injury and death. "There is an epidemic of violence against health care and social service workers, and it must be stopped. Workplace violence is not "just part of the job." It is a worsening problem, but it is preventable."
► From Politico — Biden prepares tax hikes on high-income Americans — Biden is weighing a new slate of tax hikes aimed at wealthy households to finance the second phase of his multitrillion-dollar infrastructure plans after laying out a range of proposed levies last month on corporations to fund his first proposal. Republicans who have already drawn a hard line against corporate tax hikes are poised to dig in even deeper to fight higher taxes on wealthy families.
---
NATIONAL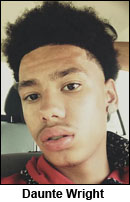 ► From the AFL-CIO — Labor movement will not rest in the fight for full equality — Union members live and work in every state and in every community. When a deadly injustice occurs, it happens in our backyards and to our families. So all of us—as one united labor movement — have a responsibility to stop it. America's labor movement will not rest until this nation can finally wake up to equality and justice for all. Today, we are grieving again after the killing of another Black man, Daunte Wright, at the hands of a police officer. Daunte was just 20 years old. He was shot less than 10 miles from the ongoing trial into George Floyd's death.
► From the NY Times — 'God knows what's going to happen': Minneapolis braces for verdict in Floyd's death — Businesses boarded up and residents held their breath, fearing a repeat of last year's unrest if the jury brings back a decision that the public sees as unjust.
► From the AP — Attorneys at Chauvin trial in Floyd death make final pitch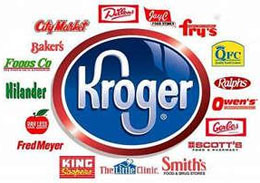 ► From Bloomberg — Kroger is amassing a robot army to battle Amazon, Walmart — The owner of the Fred Meyer and QFC chains is focusing on a shift to e-commerce, which became even more pressing during the pandemic as online grocery sales boomed. The retailer was late to embrace the web's potential. But under pressure from Amazon's arrival in the category and Walmart's massive investments, Kroger CEO Rodney McMullen is now overseeing a bold wager on robotics.
EDITOR'S NOTE — Kroger has reaped record profits amid the pandemic and is investing that money in robotics rather than its existing workforce who made those profits happen. A few months into the pandemic, Kroger eliminated hazard pay. When cities began approving hazard-pay ordinances for grocery workers, Kroger retaliated by shutting down stores in those communities. Meanwhile, CEO McMullen raked in more than $20 million in 2020, which is 789 times the median Kroger employee's pay.
---
The Stand posts links to Washington state and national news of interest every weekday morning by 10 a.m.
Short URL: https://www.thestand.org/?p=97507
Posted by
David Groves
on Apr 19 2021. Filed under
DAILY LINKS
. You can follow any responses to this entry through the
RSS 2.0
. Both comments and pings are currently closed.