King Conservation District staff ratifies first union contract
The following is from the Washington Federation of State Employees, AFSCME Council 28:
RENTON (May 28, 2021) — From helping farmers to protect water quality to funding environmental justice projects in King County communities, King Conservation District (KCD) staff find creative approaches to conservation. That's why they formed a union.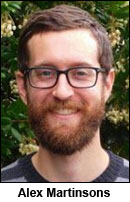 "We wanted a bigger role and voice in shaping where our conservation district is going, and we couldn't do that individually," said Alex Martinsons, a Monitoring Data & Evaluation Coordinator who's been with KCD for four and a half years. "Forming a union was our way of coming to the table with a unified voice."
After several years of organizing and building relationships, KCD employees ratified their first union contract in March 2021. KCD staff negotiated increased funds to cover health care, a subsidy for public transit, a predictable schedule for pay increases, and a voice at the table for employees. Staff also say the new contract has created avenues to collaborate with management and conservation district boards to make the agency work better for everyone, from staff to the public.
Everyone is downstream of someone
Washington's 45 conservation districts (CDs) are each unique. Meant to be responsive to each county's needs, CDs are non-regulatory. That means landowners, farmers, and community members are voluntary partners in helping to conserve the natural resources that are a keystone of the state's economy, identity, and culture.
"Each CD knows its local population and local problems," Martinsons said. "That means we can hone in on that county's problems and be perceptive to what the local residents need."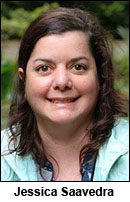 Jessica Saavedra, Senior Program Manager of the Member Jurisdiction Grant Program, is in her 14th year with KCD. She partners with the City of Seattle to manage grants to community-led organizations who connect environmental projects with equity and social justice.
"The work that I do helps maintain those healthy environmental places for the community to enjoy," Saavedra said. "Our conservation district's work raises awareness of our daily potential impacts on the environment and how that affects other communities and resources 'downstream'."
Jacobus Saperstein is a Senior Resource Specialist at KCD, working directly with landowners to improve water quality by bringing native plants to stream-side corridors on their property, removing invasive species like blackberries, and more.
"I work with private landowners to help them be good stewards on their land," he said. Helping farmers and landowners improve water quality on their own properties benefits not only individual farms but the ecological health of the entire region.
"Protecting the water quality at any point is good for your downstream neighbors—and also for wildlife and salmon," Saperstein said. "Everyone is downstream of somebody."
Bargaining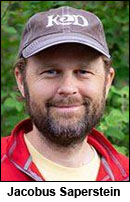 Saperstein joined Saavedra and Martinsons in serving on the new unit's first bargaining team.
"Every worker should have a say and an avenue to speak up and make changes in working conditions," Saperstein said. "I think most people that unionize do it in the spirit of not only making their jobs better, but making a better organization as a whole."
At KCD, frequent changes in leadership and outdated policies created a lack of consistency that affected staff and their work.
"We needed the clarity of a union contract to represent our staff interest," said Saavedra. "We struggled with retention and some great people left because they didn't feel valued."
Bargaining the contract has led to increased peace of mind for staff—as well as better communication with management.
"I wouldn't have expected that this process would create more harmony [with management]," said Saavedra. "But it has."
The new contract offers immediate benefits, and the opportunity to bargain future contracts means KCD staff can continue to improve working conditions and agency outcomes.
"We have more stability," Saavedra said. "It feels very empowering. When questions come up, if management doesn't know the answers, we know. It feels really powerful to be quoting the collective bargaining agreement."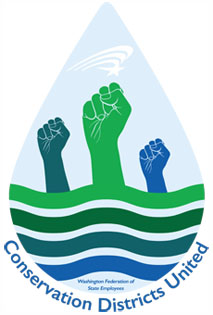 Saperstein agreed.
"Every worker should have a say and an avenue to speak up and make changes in working conditions," he said.
---
Curious about forming a union? Public employees make Washington happen. You deserve a voice at work. With WFSE, nearly 47,000 fellow public employees have your back. Get in touch with us.
Not a public employee?  Get more information about how you can join together with co-workers and negotiate a fair return for your hard work. Or go ahead and contact a union organizer today!
WASHINGTON IS A UNION STATE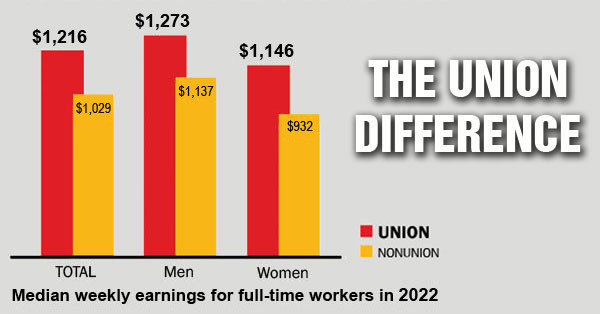 CHECK OUT THE UNION DIFFERENCE in Washington state: higher wages, affordable health and dental care, job and retirement security.
FIND OUT HOW TO JOIN TOGETHER with your co-workers to negotiate for better working conditions and respect on the job. Or go ahead and contact a union organizer today!