Support BCS strikers | Ferry staffing woes | You pay taxes, they don't
Wednesday, July 7, 2021
---
LOCAL
► From the Bellingham Herald — Bellingham Cold Storage strike in second week — With Bellingham Cold Storage workers closing in on their first week on strike, the company says it has hired replacement workers to keep the two Bellingham facilities operating. Around 115 workers went on strike on Thursday, July 1, protesting what they say is the company's unwillingness to negotiate a new contract. The striking workers, mainly forklift operators, have remained outside both facilities with picket signs and are waiting to hear back from the company about coming back to the negotiating table, said Rich Ewing, secretary-treasurer of the Teamsters Local 231.
TAKE A STAND — Show your support for striking BCS workers by joining them on the picket lines at 600 Orchard Dr. and 2825 Roeder Ave. in Bellingham. Also, contact BCS President/ CEO Doug Thomas at 360-733-1640 or doug.thomas@bellcold.com or JGC Chairman Joshua (Jay) Green III at 206-622-0420 or using this web form. Tell them to negotiate in good faith for a fair contract that shows respect for their hard-working employees.
EDITOR'S NOTE — As for "replacement workers"…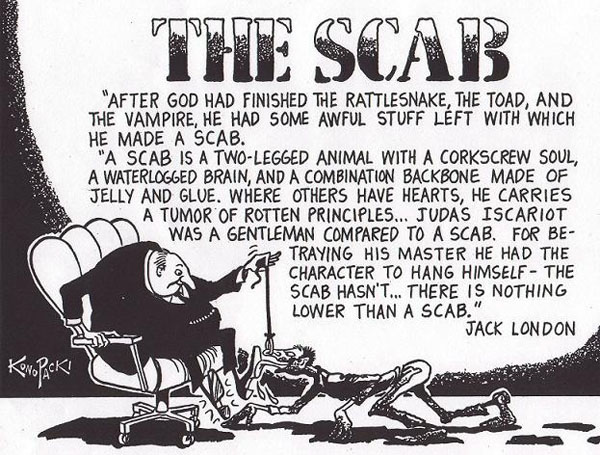 ► From the (Everett) Herald — County employees in military may get extra pay, if deployed
► From the Seattle Times — King County ordered to pay $900K after retaliating against Metro transit employee who claimed discrimination
► From the Bellingham Herald — City Attorney's Office disqualified as lawsuits on well-being of these employees continue
► From Crosscut — Seattle police union pushes back on Jan. 6 investigation — Seattle's largest police union has been working behind the scenes to limit the city's investigation into six officers who were in Washington, D.C., on Jan. 6, the day a mob breached the Capitol building. The Seattle Police Officers Guild filed a grievance against the city, alleging that investigators' demands for travel receipts, photos, text messages and other documentation of the officers' attendance violated the nondiscrimination clause in the union's contract with the city.
EDITOR'S NOTE — The Seattle Police Guild is not affiliated with MLK Labor or the Washington State Labor Council, AFL-CIO.
---
CLIMATE
► From the Seattle Times — Washington bans most outdoor and agricultural burning through September — Gov. Jay Inslee on Tuesday declared a state of emergency in response to the "growing risk" of wildfires in the region and has banned most outdoor and agricultural burning in Washington until the end of September. The order comes as the state continues to face high temperatures, dry conditions, drought and fire dangers — environmental concerns exacerbated by an extreme heat wave at the end of June, according to the emergency proclamation.
► From the Oregonian — Gov. Kate Brown directs Oregon workplace safety agency to adopt emergency heat rules after farmworker death
The Stand (July 6) — We've been warned: Act now on climate (by Sarah Tucker)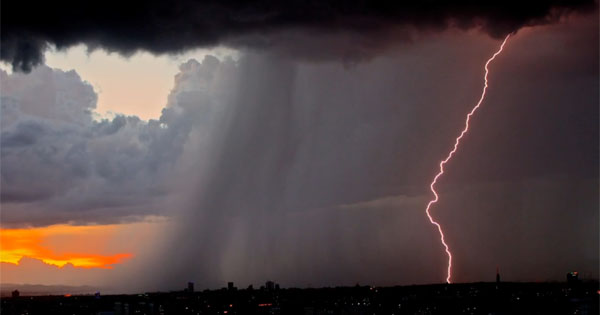 ► From the Tri-City Herald — Lightning threat puts Tri-Cities fire crews on high alert in 'extreme drought' — Firefighters are on high alert as a chance of thunderstorms across Eastern Washington and Oregon is possible Tuesday night and Wednesday morning and continuing hotter than normal weather. Any lightning strikes would come at a time when the fire danger is rated as "extreme" by the Benton County fire marshal.
► From the Seattle Times — Communities of color are the 'first and worst' hurt by climate change; urgent action needed to change course (by Naomi Ishisaka) — We all felt the impacts of the scorching heat, but it was not felt equally. According to research published in Nature Communications, people of color are disproportionately exposed to urban heat. Landlocked areas with high amounts of concrete and low numbers of trees and shade are known as "heat islands." The researchers found that in nearly all urban areas, the average person of color — regardless of income — lived in an area with higher heat island intensity… Many of these disparities can be traced back to the legacy of housing segregation, neighborhood redlining and environmental racism, such as placing polluting businesses in communities of color.
► From the Washington Post — Another intense heat wave to roast Western U.S., southwest Canada — Temperatures 20 degrees above normal could bring record-challenging heat to the West once again.
► From The Hill — GOP Sen. Ron Johnson: Climate change is 'bulls—'
---
THIS WASHINGTON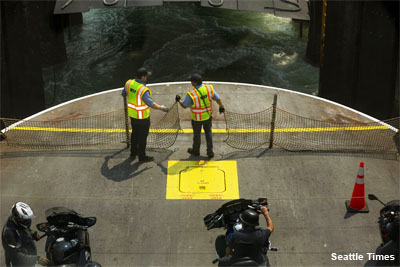 ► From the Seattle Times — Why your ferry might be late — or canceled — this summer — A shortage of boats and crew at Washington State Ferries is subjecting travelers to a summer of cancellations. For every cancellation, a WSF spokesperson said there are 10 more that were almost canceled. Dispatch scrambled and employees, scheduled to be off, volunteered to come in. It's resulting in burnout among staff, said Jay Ubelhart, president of the Inlandboatmen's Union… Work schedules are unpredictable both on a day-to-day and season-to-season basis, especially for new employees without seniority or a steady shift, he said. New employees usually start out on call, and wait for a dispatcher to call with work. While working for WSF offers an upward career trajectory and a pension, the agency has a hard time attracting young adults.
► From the (Aberdeen) Daily World — Inslee orders flags to be flown at half-mast in honor of fallen corrections officer Forrest — Gov. Jay Inslee ordered the lowering of the State of Washington and United States flags to half-staff on Wednesday in observance of the death of Gabriel Forrest. The State Department of Corrections announced that Forrest, 42, died from complications of COVID-19. He had worked at Stafford Creek Corrections Center in Aberdeen since 2002.
---
THAT WASHINGTON



► From the Senior Voice — PRO Act will strengthen union retiree benefits (by Susan Reilly) — A strong and growing labor movement is good for workers and for all Americans. The labor movement has been and continues to be the leading force in the fight to strengthen Social Security, Medicare and Medicaid, ensuring a measure of retirement security for all Americans. Our country, our democracy, and our people benefit when workers have a strong voice at work and are able to join together to build a more secure future for their families and their communities.

► From the NY Times — A planned Biden order aims to tilt the job market toward workers — This week, the White House is planning to release an executive order focused on competition policy. It will encourage the FTC to ban or limit noncompete agreements and "unnecessary" occupational licensing restrictions, and to further restrict the ability of employers to share information on worker pay in ways that might amount to collusion. More broadly, the executive order encourages antitrust regulators to consider how mergers might contribute to so-called monopsony — conditions in which workers have few choices of where to work and therefore lack leverage to negotiate higher wages or better benefits.
► From The Hill — Biden to highlight jobs and families plan ahead of looming Senate fight — President Biden on Wednesday will highlight the need for investments in human infrastructure and clean energy, which are elements of a massive jobs and families plan that Democrats expect to pass through reconciliation.
► From the (Everett) Herald — Don't let compromise water down vital investments (editorial) — A deal among Congress and Biden still must make bold investments for our economy, jobs and climate.
► From Roll Call — GOP unity on spending bills holding, despite earmarks galore — House Republicans are staying unified thus far in opposition to Democrat-drafted spending bills, despite racking up hundreds of millions of dollars in home-district earmarks after a selection process many in the GOP acknowledge has been fair and transparent.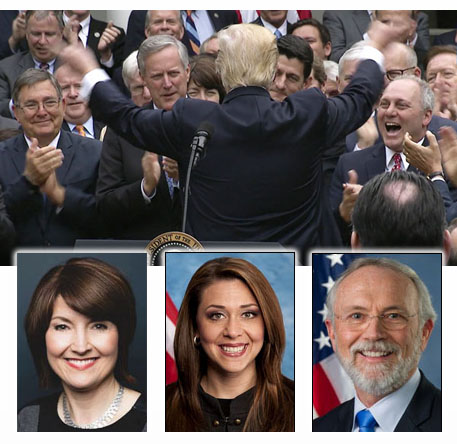 ► From the Washington Post — Most Republican officials are cowering, so it's up to voters to reject Trump's big lie (editorial) — Republican leaders have played footsie with dark forces on the far right under the mistaken impression that they could benefit from the enthusiasm of racists, conspiracy theorists and other extremists while maintaining control of the party, nominating traditional conservatives and promoting their long-standing policy goals. These forces have instead reshaped the party — not just on matters of policy, but also on the most basic question of whether Americans can trust their democratic institutions. It will be up to the voters to rebuke this moral failure.

► From HuffPost — Republican lawmaker sued over inciting insurrection: Trump White House made me do it — Rep. Mo Brooks (R-Ala.), who spoke at the Trump rally before the attack, claims he did it only because the White House asked him to.
► From NPR — Texas lawmakers return for a second shot at tighter voting laws — The special session starts less than a week after the Supreme Court gave a green light to an Arizona law that imposed some restrictions on how ballots may be cast and collected.
---
TAXES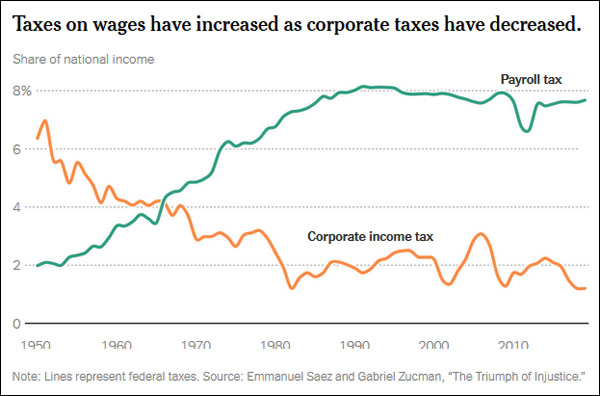 ► MUST-READ from the NY Times — This is tax evasion, plain and simple (by Gabriel Zucman and Gus Wezerek) — In the decades after World War II, close to 50 percent of American companies' earnings went to state and federal taxes. Economically, it was a golden period. Middle-class incomes grew at roughly the same rate as those of the richest Americans. But as globalization gave companies the ability to choose where they recorded profits, Congress scrambled to keep their business by lowering corporate taxes. In 2018, American companies were taxed at an average effective rate of less than 14 percent, by our calculations. Corporate tax breaks have helped business owners amass inconceivable amounts of money over the past few decades. Meanwhile, middle-class Americans have footed the bill, as Congress has propped up the budget by raising taxes on wages.
---
NATIONAL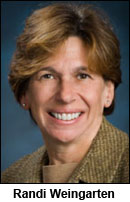 ► From the AP — Union will defend teachers in 'critical race theory' fights — One of the nation's largest teachers unions on Tuesday vowed to defend members who are punished for teaching an "honest history" of the United States, a measure that's intended to counter the wave of states seeking to limit classroom discussion on race and discrimination. In a virtual address to members of the American Federation of Teachers, president Randi Weingarten said the union is preparing litigation and has a legal defense fund "ready to go." She promised to fight "culture warriors" who attempt to limit lessons on racism and discrimination by labeling it as critical race theory.
► From the AP — Hundreds of workers on strike at Frito-Lay plant in Topeka — About 600 workers are on strike at the Frito-Lay plant in Topeka after union workers rejected a proposed contract that had been recommended by union leadership. Workers said the main points of contention are small pay increases and employees being forced to work hours of overtime.
---
INTERNATIONAL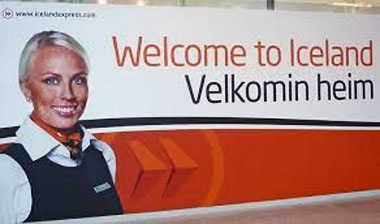 ► From Bloomberg — Iceland cuts working hours with no productivity loss, same pay — Iceland has achieved the holy grail for working stiffs: same pay for shorter hours. Results from two trials of reduced hours showed no productivity loss or decline in service levels, while employees reported less stress and an improved work-life balance, researchers at U.K.-based think tank Autonomy and Iceland's Association for Sustainable Democracy said in a report. Achieving shorter hours with sustained productivity and service levels involved rethinking how tasks were completed, according to the report. That included shortening meetings or replacing them with emails, cutting out unnecessary tasks, and rearranging shifts.
---
T.G.I.W.
► The Entire Staff of The Stand will be out for the rest of the week to go to Texas for the funeral of our Uncle Bill, a retired television producer who once got struck by a plane while filming its landing, and lived to tell about it! He was a great guy, always generous with his time and his jokes. About five years ago, Uncle Bill offered up selections from his meticulously maintained vinyl collection to family members. It was a treasure trove of jazz classics and we scored a few great ones, including one by pianist/big band leader Stan Kenton. So this one goes out to Uncle Bill… Kenton & Co. performing "Send In the Clowns" in 1976.  R.I.P.
---
The Stand posts links to Washington state and national news of interest every weekday morning by 10 a.m.
Short URL: https://www.thestand.org/?p=99894
Posted by
David Groves
on Jul 7 2021. Filed under
DAILY LINKS
. You can follow any responses to this entry through the
RSS 2.0
. Both comments and pings are currently closed.