Nightmare conditions | Get rid of toxic gear | Oh, Adele
Tuesday, January 25, 2022
---
COVID
► LIVE from the Seattle Times — Coronavirus daily news update, Jan. 25 — The latest count of COVID-19 cases in Washington totals 1,203,311 infections (14-day average of cases per day: 16,139) and 10,458 deaths.
► From the Bellingham Herald — COVID infection rates drop among Whatcom's fully vaccinated, but climbs among unvaccinated — While COVID-19 case rates continued to climb among Whatcom County's unvaccinated and partially vaccinated residents during the second week of January, the fully vaccinated population saw a drop in case rates.
► From the Yakima H-R — Strained amid COVID surge, Yakima Valley Memorial Hospital welcomes National Guard
MORE local coverage from the Olympian, Peninsula Daily News, Spokesman-Review, and the Tri-City Herald.
► From the Spokesman-Review — Crisis standards activated for southern Idaho health systems — It marks the second time amid the pandemic that Idaho officials have authorized health care rationing.
► From the Washington Post — Inside this Maryland ICU, a depleted staff struggles to keep going — Like hospitals across the country, Luminis Health Doctors Community Hospital is facing a two-pronged crisis in this surge, with thin staffing and more COVID-19 patients than ever before. Employees who remain have no choice but to shoulder bigger burdens. Among the heaviest, they say, is the emotional weight of so much preventable death. "I kind of feel like I failed him," nurse Angie Wheeler said of a COVID-19 patient who just died. "But I also wanted to say, 'If you'd only gotten the vaccine. I wish you had gotten the vaccine. We wouldn't be here.' "
► From HuffPost — I was an ER nurse for 10 years. These are the nightmare conditions that made me quit. — "I refuse to watch my patients die because of absolute chaos that could otherwise be avoided, while, sadly, we are told to keep quiet as the ship we're on sinks."
---
THIS WASHINGTON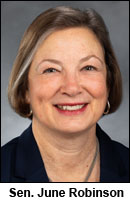 ► From the (Everett) Herald — Nurses, health care workers need better support (editorial) — Nurses and others in health care testified in support of HB 1868 / SB 5751 that would set minimum staffing levels and standards for hospitals, as well as make changes to state law adopted in 2019 that set standards for meal and rest breaks and overtime provisions. Those representing hospitals and health care facilities said they aren't likely to meet minimum staffing levels if there are not enough nurses available to be hired. State Sen. June Robinson (D-Everett), who sponsored SB 5751, acknowledges the opposition from hospitals and their administrators, but also pointed to a history of foot-dragging by hospitals on staffing and workplace issues, which COVID has now brought to a head:
"They don't like being regulated in that way. So I think we, as a Legislature, have held off sort of in deference to the hospitals, hoping, assuming they would do the right thing. Years and years go on and it just gets worse and worse."
If lawmakers can settle on a reasonable level of staffing regulation, it should also be matched by a commitment for expanding the availability for education and training in nursing and other health care fields, support and retention of existing workers and involvement of hospital and other facility employees in the decisions that concern their jobs.
PREVIOUSLY at The Stand:
Video: Why Washington needs safe staffing standards (Jan. 19)
Lawmakers introduce bipartisan healthcare safe staffing bills (Jan. 11)
Nurses to WA State Legislature: Address hospital staffing crisis (Dec. 14, 2021)
► From KNKX — Firefighters hope Washington bill will help remove toxic chemicals from protective gear — A new bill in the Washington Legislature could help speed the process for state regulators to restrict toxic chemicals in firefighting gear. "Something we didn't realize until it was too late is that the gear that was designed to keep us safe is actually poisoning us," said A.J. Johnson, legislative liaison for the Washington State Council of Fire Fighters and a firefighter in Edmonds.
► From the Seattle Times — Invest in the ferry service our communities need and deserve (by mayors Greg Wheeler and Joe Marine) — We've had a long time — too much time — to study the gaps in our ferry system to determine what we need to improve. From more reliable service, to alleviating the burden on WSF workers and keeping our communities connected, our ferry system is in need of significant investment. Now that we know what the solutions are and how much they cost, we just need one more piece of the puzzle — for our state legislators to act.
► From the Wash. State Wire — Sen. Mona Das' election-year tax cut could turn into a political hot potato — Sen. Mona Das' proposal to lop a full percentage point off the state sales and use tax is, on a philosophical level, consistent with majority Democrats' long-stated goal to make Washington's tax system less burdensome on the poor. But it's a $2 billion hit to the state budget. That's likely why there's just one Democratic co-sponsor on Das' measure. If the measure languishes in committee, expect some motions on the Senate floor to pull the bill as the session progresses, with Republicans looking to put Democrats — including Das — on the record as voting against it.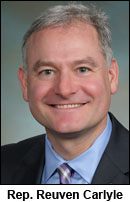 ► From the Seattle Times — State Sen. Reuven Carlyle will not seek reelection in 2022 — State Sen. Reuven Carlyle, a longtime Seattle legislator who has championed government transparency, digital privacy and key climate change legislation, including the new statewide carbon cap-and-invest law, announced Monday he won't seek reelection this year.
► From Crosscut — Polling shows a Republican surge in Washington and beyond — A growing number of Washingtonians identify as Republicans, closing the gap with Democrats and signaling a very different political landscape for the midterms.
---
AEROSPACE



► From the Seattle Times — All flights in and out of Paine Field canceled Monday as 5G bars regional jets — As fog shrouded Paine Field in Everett Monday, Alaska Air regional carrier Horizon Air was forced to cancel all commercial flights in and out of the airfield because of limitations on low visibility flying imposed to avoid 5G interference.
► From the PS Business Journal — Author of new book on Boeing's MAX crisis says recovery hinges on return to engineering culture — Bloomberg's Peter Robison covered The Boeing Co. for 15 years as a reporter and bureau chief at the news organization's Seattle office. He is the author of a New York Times bestselling business book, "Flying Blind: The 737 MAX Tragedy and the Fall of Boeing." He says:
"(Culture) is a word that seems so amorphous, but when you talk to people, it's amazing how specific they get. More recently, they talked about how if you ask them what the culture at Boeing was, it's schedule, it's cost, it's shareholder value, and that stems directly from the influence of some of the top leadership."
---
THAT WASHINGTON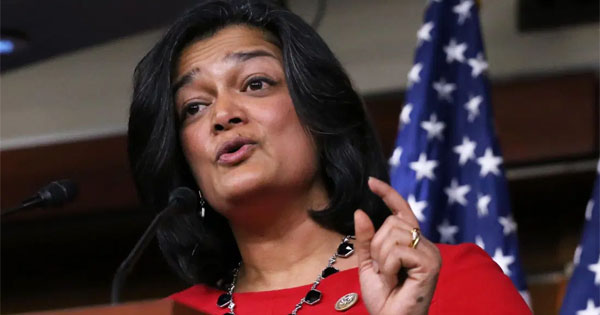 ► From the Seattle Times — Democrats must keep fighting to Build Back Better (editorial) — Democrats cannot allow intraparty squabbling to keep them from delivering on the sweeping bill, even if that sweep must be cut back. U.S. Rep. Pramila Jayapal, a Seattle Democratic representative in Congress and a key player in getting the bill passed in the House, said she is optimistic they can reach an agreement, but that time is running out. Even a slimmed down Build Back Better Act could still include vital funding to reduce greenhouse emissions and fight climate change, provide health care subsidies, and improve and expand the social safety net.
FROM THE CALENDAR at The Stand — "Have We Started Building Back Better?" a PSARA webinar featuring Congresswoman Pramila Jayapal, will be TODAY at 5 p.m. Jayapal has been a champion for Biden's Build Back Better agenda. Learn what's in the legislation, how it will address our needs, and what we can do to push it forward. Register here.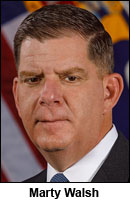 ► From Politico — How Marty Walsh plans to fix jobs — Labor Secretary Marty Walsh unveiled a new initiative Friday aimed at improving job quality by addressing discrimination and growing union membership, among other things. The effort will focus on collective bargaining; workforce development; discrimination; prevailing wages; harassment; and more to "coordinate work done since the beginning of this administration — and often for decades before — under one umbrella to promote good jobs," according to a Labor Department press release announcing the effort.
► From Reuters — Unions, Dems urge lower bar to unionize small groups of workers — Major labor unions and a group of Democrats in Congress are pushing the National Labor Relations Board to restore Obama-era precedent that made it easier for unions to organize small groups of a company's employees, over the objections of business groups.
► From Vox — Biden is defending key Trump immigration policies in court — The Justice Department is fighting to maintain Trump's border restrictions and against compensation for separated families.
---
NATIONAL
► From KVDR — King Soopers workers ratify new 'industry-leading' contract — King Soopers workers ratified what the union called an "industry-leading contract" with the grocer after months of contentious negotiations and a 10-day strike. UFCW Local 7 called the three-year agreement "the most significant wage increase ever secured by a UFCW local for grocery workers." The union said it ensures the essential workers are "respected and protected in the workplace and compensated with wages they deserve." The deal includes:
first-year wage increases for long standing employees
wage increases in excess of $5 per hour for some workers
better healthcare and protected pension benefits
more stringent safety measures in the workplace to protect employees and customers
new paths to full-time employment opportunities for King Soopers and City Market workers
EDITOR'S NOTE — How do wages and benefits like that sound to you? Find out more information about how you can join together with co-workers and negotiate a fair return for your hard work. Or go ahead and contact a union organizer today!
► From Bloomberg — Amazon activist's firing deemed illegal by labor board officials — The fledgling Amazon Labor Union alleged in November that Amazon illegally fired one of its organizers, Daequan Smith. The NLRB's Brooklyn-based regional director found merit in those allegations and "will issue a complaint if the case does not settle."
► From the Guardian — Alabama coal miners on strike for 10 months vow not to be 'starved out' — About 1,100 coal miners in Alabama have entered 2022 still on strike, more than 10 months since they walked out back in April last year, making it the longest strike in the U.S. since the Covid-19 pandemic began and the longest in Alabama's history. Rily Hughlett, a striking miner at Warrior Met Coal, believes that workers will win the strike. "We're not going anywhere. The scabs and the bosses are all humored but he who laughs last laughs loudest."
► From KPIX — Golden Gate Transit bus drivers vote to authorize strike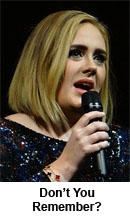 ► From Showbiz 411 — Exclusive: Adele was using non-union musicians in Las Vegas gig, opposite of pro-union Lady Gaga — Keith D. Nelson, secretary/treasurer of the Musicians Union in Las Vegas, Local 369, says that the band for Adele's now cancelled 13 "Weekends" gig — 26 shows– had gone outside the normal system to bring in musicians. According to sources, the band — even though they weren't part of the union — was rehearsing up to the moment Adele announced the "rescheduling" of the 13 weekends. Wait: isn't Adele supposed to be from working class roots?
---
TODAY'S MUST-READ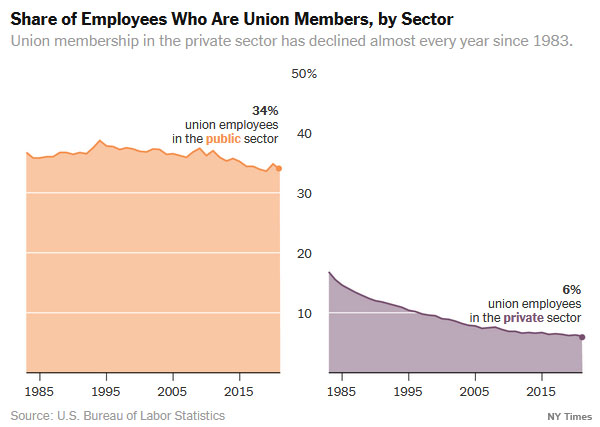 ► From the NY Times — The U.S. labor movement is popular, prominent and also shrinking — Unionization efforts involving some of the most recognizable names in business have dominated headlines across the United States in recent months… The prominence of these organizing efforts, however, obscures the steady downward trend of union membership in the United States for more than four decades. In 1983, about 20 percent of employees belonged to a union; by 2021, that number had dropped to just over 10 percent. Nearly all that decline has been in the private sector… Ruth Milkman, a professor at the City University of New York's Graduate Center and School of Labor and Urban Studies, said the stark difference in the public and private trends over the past four decades could be attributed to private employer opposition, along with labor laws that are strongly tilted in favor of employers.
The Stand (Jan. 20) — Unions post big gains in Washington state — The state's union membership rate increased to 19 percent of the total workforce in 2021, up from 17.4 percent in 2020, according to a new federal report. With an additional 72,000 workers joining the ranks last year, there are now an estimated 629,000 union members in Washington, making it the third most unionized state in the nation behind only Hawaii and New York.  WSLC President Larry Brown says:
"At a national level, these 2021 numbers are a wake-up call. Here in Washington state, despite these broken labor laws that create obstacles to unionization, working people are overcoming these undue barriers. But it shouldn't be so hard to join together and demand a better life. Congress must pass the PRO Act and the Biden administration must promote the right to union representation and collective bargaining if we truly want to rebuild our economy."
---
The Stand posts links to Washington state and national news of interest every weekday morning by 10 a.m.
WASHINGTON IS A UNION STATE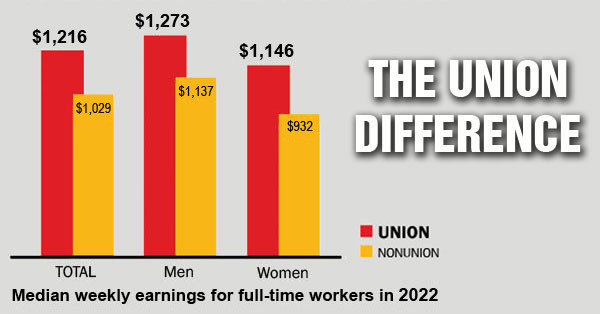 CHECK OUT THE UNION DIFFERENCE in Washington state: higher wages, affordable health and dental care, job and retirement security.
FIND OUT HOW TO JOIN TOGETHER with your co-workers to negotiate for better working conditions and respect on the job. Or go ahead and contact a union organizer today!