Safe staffing advances | Kroger workers left behind | Labor's new hope
♥ ♥ ♥
Monday, February 14, 2022

♥ ♥ ♥
---
COVID
► From the Tri-City Herald — COVID cases on decline, but 9 more people died
► From the union-busting Columbian — COVID-19 outbreak at Larch climbs on Friday
► From KIRO — Washington hospitals stuck in staffing crisis (video) — As case counts continue to drop, Washington hospitals remain stuck in a serious staffing crisis. Some nurses say administrators at local hospitals are putting their bottom lines before patient safety.
---
THIS WASHINGTON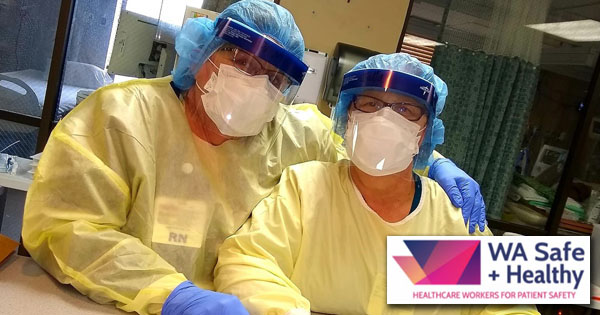 ► From the News Tribune — Don't listen to management posing as bedside nurses. WA hospitals need safe staffing law. (by Linda Burbank, RN) — Hospital executives are trotting out well-paid managers posing as frontline workers to fool you into opposing a bill that would establish safe staffing standards for Washington hospitals. But take it from actual beside nurses and healthcare workers: We urgently need legislators to pass safe staffing standards for Washington hospitals. Nurses like me are struggling with a staffing crisis across the state. The safe staffing standards bill proposed in the legislature — House Bill 1868 — would protect healthcare workers from dangerously high patient loads, ensuring we can do our jobs safely and give patients the care they deserve. It's also the only way to address the hospital staffing crisis in the long run.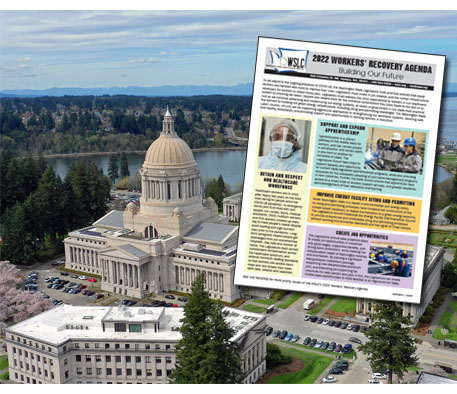 EDITOR'S NOTE — HB 1868 passed the House, 55-43, on Sunday. Thank you to all the State Representatives who voted to support Washington's nurses. Now on to the Senate!
The Stand (updated today) — Where pro-worker bills stand in Olympia — Also passed during the weekend were SB 5600 (Keiser) expanding capacity and opportunity for current state-registered apprenticeship programs, and HB 1812 (Fitzgibbon) improving energy facility citing and permitting processes.
► From the (Everett) Herald — Transportation package could bring $600M to Snohomish County — The proposal from transportation committee leaders Sen. Marko Liias (D-Everett) and Rep. Jake Fey (D-Tacoma) includes design and engineering work on the U.S. 2 trestle replacement, expanded bus services, fare-free transit for riders 18 and younger, state culvert replacements, an upgraded ferry terminal and widening part of Highway 522. Democrats plan to pay for it without a gas tax increase.
MORE local coverage from the Bellingham Herald, (Longview) Daily News, Seattle Times, and the (Tacoma) News Tribune.
The Stand (Feb. 9) — Coalition backs 'Move Ahead Washington' — Labor, business and environmental interests support Democrats' bold transportation package.
► From the (Everett) Herald — Transportation plan can move Washington ahead (editorial) — It wisely uses a range of revenue sources, including the federal infrastructure package, the state's healthy revenue projections, its bonding capacity and reasonable and relatively painless tax and fee increases. And it uses those funds for a balanced program of investments that begins to address a dire backlog of maintenance and preservation work on roads and bridges, provides funding for needed transportation projects throughout the state and refocuses attention on transit and other climate-friendly and healthier ways of getting to where we're going.
---
LOCAL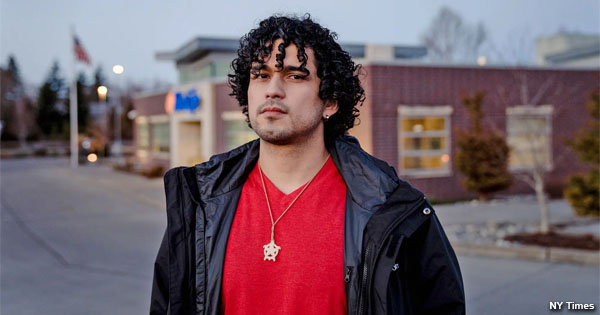 ► MUST-READ from the NY Times — Business booms at Kroger-owned grocery stores, but workers are left behind — When Enrique Romero Jr. finishes his shift fulfilling online orders at a Fred Meyer grocery store in Bellingham, Wash., he often walks to a nearby plasma donation center. There, he has his blood drained, and a hydrating solution is pumped into his veins, a process that leaves him tired and cold. Romero, 30, said selling his plasma made him feel "like cattle." But the income he earns from it — roughly $500 a month — is more reliable than his wages at Fred Meyer, which is owned by the grocery giant Kroger. His part-time hours often fluctuate, and he struggles to find enough money to cover his rent, his groceries and the regular repairs required to keep his 2007 Chevy Aveo on the road. "The economy we have is grueling," he said.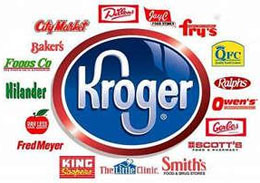 Business has boomed during the pandemic for Kroger, the biggest supermarket chain in the United States and the fourth-largest employer in the Fortune 500. It owns more than 2,700 locations, and its brands include Harris Teeter, Fred Meyer, Ralphs, Smith's, Pick 'n Save and even Murray's Cheese in New York City. The company, which is based in Cincinnati, said in December that it was expecting sales growth of at least 13.7 percent over two years. The company's stock has risen about 36 percent over the past year. But that success has not trickled down to its vast work force of nearly 500,000 employees, a number of whom have reported being homeless, receiving government food stamps or relying on food banks to feed their families.
► From the PS Business Journal — How much do the striking Teamsters make? The two sides don't agree on even that. — Concrete suppliers say the average annual "working hour compensation" is around $98,000 a year, and that the estimated average annual total "wage and fringe package" under their contract proposal is about $150,000. Teamsters 174 spokesperson Jamie Fleming said she has polled members since they've received their W-2 wage and tax statements, "and even accounting for a month missing due to the strike, they laughed … off at the notion of $150,000… Most said (they make) $80,000 to $90,000 on a good year," with a good year "meaning they were home so rarely their kids forgot their names."
TODAY at The Stand — Rep. Smith: Concrete employers must return to bargaining table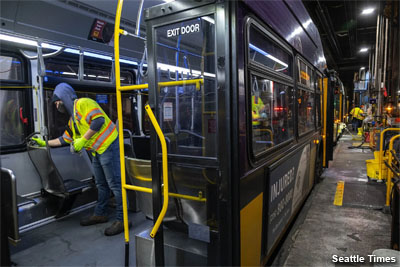 ► From the Seattle Times — Drugs on buses have become an everyday hazard, Seattle-area transit workers say — Bus and train operators say so many people are smoking drugs on Seattle-area transit that the fumes, and volatile behavior, create a hazardous work environment that discourages ridership. King County Metro Transit workers filed 44 security incident reports regarding drug use in 2019, then 73 in 2020 and an unprecedented 398 reports in 2021, by Metro's count. The database reflects both a real increase and more reporting, officials say. ATU Local 587, representing 4,305 active members, says stronger enforcement is needed, including more police and security guards, with greater authority to remove people.
► From the (Longview) Daily News — Schools in Cowlitz and Columbia counties face bus driver, teacher shortages — Districts are combining bus routes, canceling school days and placing substitutes in year-long positions to keep classroom learning in person.
The Stand (Feb. 10) — Urge Daily News in Longview to offer living wages to staff
► From the Seattle Times — Amazon shapes life for teens. Some high school activists are working on giving it up — After a tornado tore through Edwardsville, Ill., in December, resulting in the deaths of six workers at an Amazon warehouse, Lily Clark, Tessa Han and Jason Zhao — and many of their classmates at suburban Seattle high schools — were moved to try to hold Amazon accountable in its own backyard.
---
THAT WASHINGTON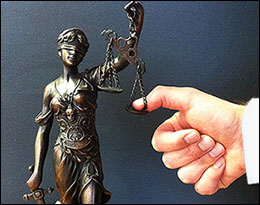 ► From NBC News — Forced arbitration in workplace sexual assault cases is ending. But what about other disputes? (by Terri Gerstein) — The Ending Forced Arbitration of Sexual Assault and Sexual Harassment Act passed in the Senate on Thursday and heads to President  Biden to be signed. The bill prevents employers from forcing their workers to bring sexual harassment or assault cases before secretive arbitrators paid by the boss, instead of before judges in open court. But it's also become clear, especially since the onset of the coronavirus pandemic, how vulnerable workers are to all kinds of mistreatment, from dangerous working conditions to wage theft to race discrimination. The passage of this bill is a tremendous victory for workers and for justice; at the same time, it's not the end of the battle. Thursday's genuine advance should be the first step toward ending forced arbitration for all kinds of workplace disputes.
► From The Nation — Congressional staffers are organizing a much-needed union — Members of Congress need to activate key provisions of the Congressional Accountability Act for the organizing effort to move forward.
► From the Washington Post — Activists who defended VP Harris now mobilizing for Supreme Court pick — Black activists and women's groups banded together when Harris was targeted by racist or sexist attacks. Now they are organizing in anticipation of Biden picking a Black woman to sit on the high court.
► From the Washington Post — Sen. Luján says he's 'doing well' as he recovers from stroke, estimates returning to Senate within weeks — The New Mexico Democrat vowed to return to the Senate in time to consider President Biden's Supreme Court nominee.
► From Roll Call — House competition bill packed with progressive policy goals — It remains unclear just how many of these liberal foreign policy provisions on such wide-ranging topics — including Afghanistan-related sanctions, combating anti-Asian racism, improving COVID-19 vaccine access in developing countries and boosting respect for indigenous peoples — might be included in any compromise measure that a House-Senate conference committee soon will begin working on. 
► From the Seattle Times — Congress must unite behind China competitiveness bill (editorial)
---
NATIONAL
► From Jacobin — Starbucks workers need a national day of protest and solidarity (by Jonathan Rosenblum) — In response to Starbucks' union-busting in Memphis, firing seven workers who were organizing a union there, the American labor movement should organize protests at Starbucks locations throughout the country. The coffee giant can't get away with this.
TODAY at The Stand — Tell Starbucks: Reinstate fired workers, stop union-busting!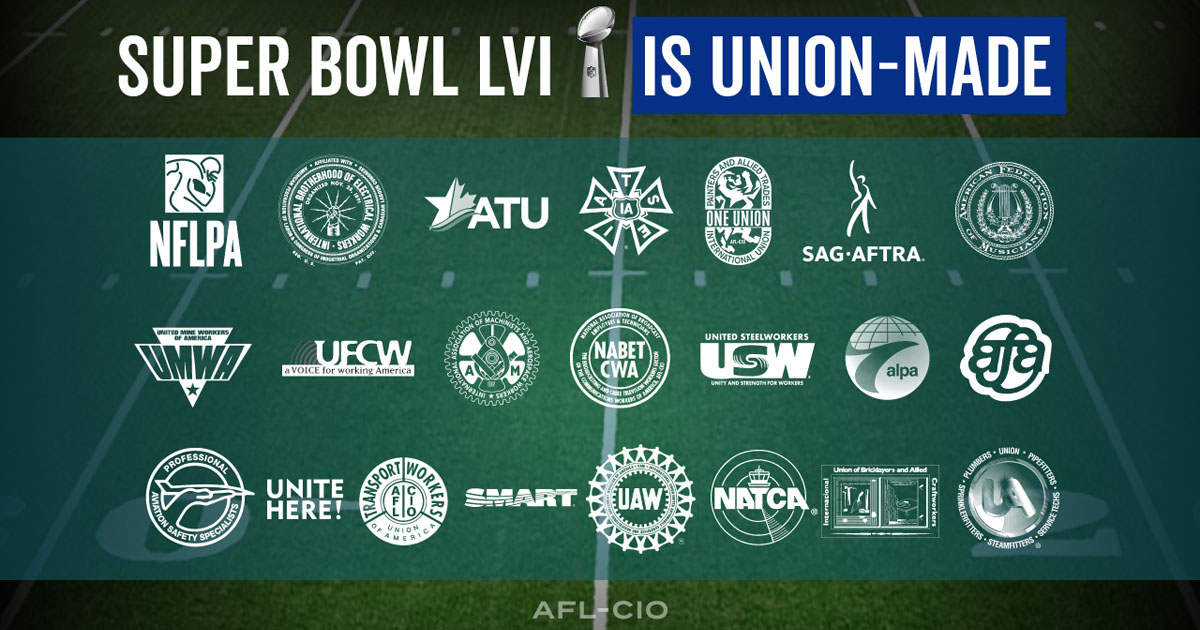 ► From the LA Times — For these L.A. fans, work, work, work is their ticket into the Super Bowl — Aaron Williams is one of thousands of workers who will descend on the stadium Sunday, some in the pre-dawn hours, to work as bartenders, dishwashers, janitors, servers and cooks. Unlike the more than 70,000 fans expected to attend, they'll catch a peek at the game during their shifts or while on break. Collectively, they're the engine that keeps the stadium running. As part of its development agreement, SoFi pledged to hire local workers, according to Inglewood city officials. More than 1,200 Inglewood residents helped build the stadium; SoFi staff did not release the number of Inglewood residents employed there.
► From the AP — Yakima's Cooper Kupp named MVP after TD catch wins Super Bowl for Rams
► From the Washington Post — Vital U.S.-Canada border crossing reopens, but 'Freedom Convoy' trucker protests continue in Ottawa
---
TODAY'S MUST-READ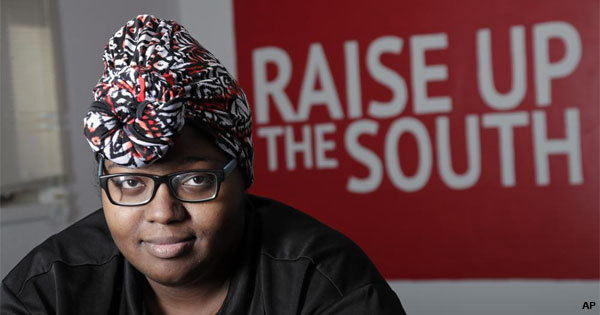 ► From the AP — Young workers give unions new hope — After decades of decline, U.S. unions have a new reason for hope: younger workers. Workers in their 20s — and even in their teens — are leading ongoing efforts to unionize companies large and small, from Starbucks and REI to local cannabis dispensaries. The Alphabet Workers Union, formed last year and now representing 800 Google employees, is run by five people who are under 35. Multiple polls show union approval is high — and growing — among the youngest workers. And U.S. union membership levels are even ticking upward for workers between 25 and 34, even as they decline among other age groups.
---
The Stand posts links to Washington state and national news of interest every weekday morning by 10 a.m.
Short URL: https://www.thestand.org/?p=105922
Posted by
David Groves
on Feb 14 2022. Filed under
DAILY LINKS
. You can follow any responses to this entry through the
RSS 2.0
. Both comments and pings are currently closed.