Stay masked, for now | One day longer | Random spite
Friday, February 18, 2022
---
COVID
► LIVE from the Seattle Times — Coronavirus daily news update, Feb. 18 — The latest count of COVID-19 cases in Washington totals 1,410,499 infections (14-day average of cases per day: 5,952) and 11,522 deaths.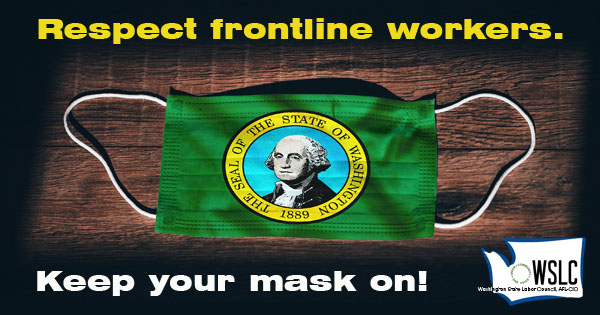 ► From the AP — Washington to lift indoor mask mandate March 21 — Washington's statewide indoor mask mandate, one of the few left in the country, will lift on March 21, including at schools and child care facilities, Gov. Jay Inslee said Thursday. And starting on March 1, vaccine verification or proof of a negative COVID-19 test will no longer be required for attendance at large events. Masks will still be required in health care settings, like hospitals and doctor's offices, and at long-term care facilities and prisons and jails. They will also still be required on public transit, taxis and ride shares and school buses. Private businesses and local governments that want to require masks for employees, customers or residents can still require them.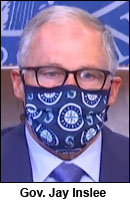 ► From Gov. Inslee — COVID-19 trends give leaders confidence to look towards next phase of pandemic response — With dropping hospitalization rates, improving vaccination rates, and broad access to masks and tests, Gov. Jay Inslee today announced the state can soon move into a less restrictive phase of the COVID-19 response. The lifting of statewide measures does not prohibit local governments from the ability to enact measures in response to COVID-19 activity in their communities.
► From the AP — Court: Pilot, attendant will suffer under vaccine mandate — A pilot and a flight attendant for United Airlines will suffer "irreparable harm" under the airline's COVID-19 policy that makes them choose between getting vaccinated in violation of their religious objections or going on unpaid leave, a divided federal appeals court panel in New Orleans ruled Thursday.
---
LOCAL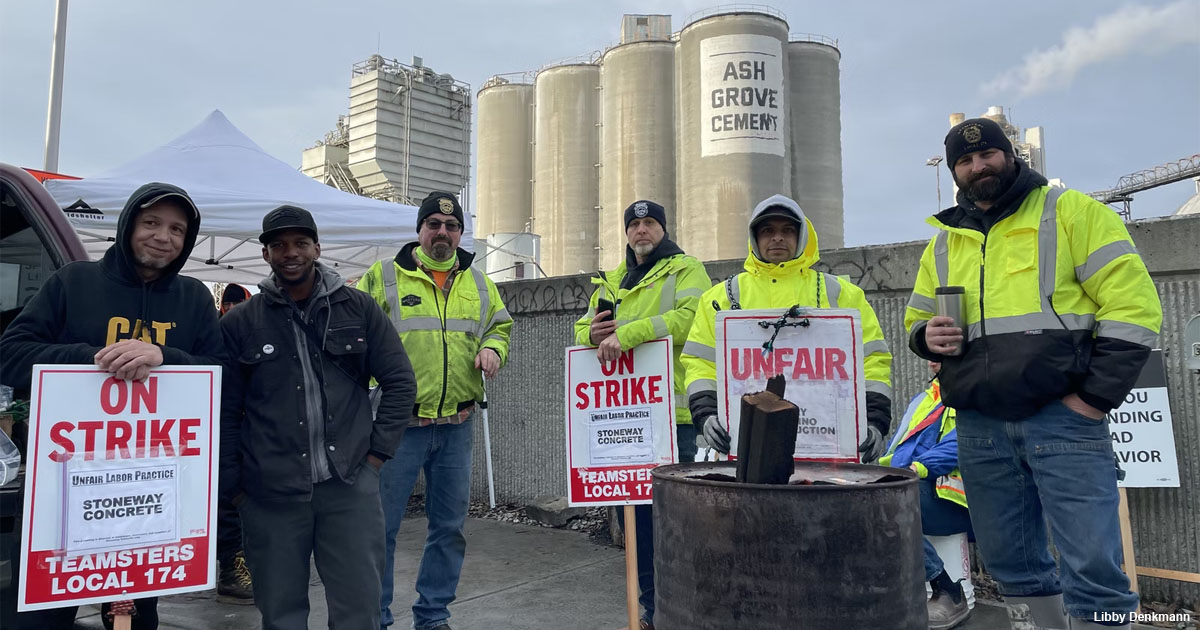 ► From KUOW — Major projects at a standstill as concrete workers strike across King County — Construction at work sites across King County has grinded to a halt as more than 300 cement workers have joined the picket line to strike against six of the largest cement suppliers in the region. Now, local officials are saying major infrastructure projects across the region could see significant delays, including the West Seattle Bridge Project. Teamsters Local 174, the union representing the cement workers, and workers themselves have made it clear the dispute won't end until cement companies provide a stronger offer. Cement worker Tim Davis said:
"We're all out here just fighting for what's been established in our industry as a base and we want to be met right there. Nothing below that. It's tough for everyone. I know that other people have been laid off, and I feel for them. We want this over as soon as possible. We're willing to negotiate, we just need the other end to do the same."
The Stand (Feb. 14) — Rep. Smith: Concrete employers must return to bargaining table
TAKE A STAND — Here's how you can support these striking workers and help them hold the line "one day longer." Make a contribution to the Teamsters Local 174 Merlino Heavy Highway and Sand & Gravel / Cement Industries Striking Workers Assistance Fund. Checks made out to "Teamsters 174 Worker Assistance Fund" can be mailed to: Teamsters Local 174, 14675 Interurban Ave. S. Suite 303, Tukwila, WA, 98168. You can also visit a picket line from 7 a.m. to 3 p.m. — donations of firewood for burn barrels, food, drinks are greatly appreciated — at the following locations:
Calportand: Seattle – 5900 W Marginal Way SW; Kenmore – 6425 NE 175th St; Snoqualmie – 5601 396th Dr SE; Cadman: Seattle – 5225 E Marginal Way S; Redmond – 18816 NE 80th St; Lehigh Cement: Seattle – 5225 E Marginal Way S; Stoneway: Seattle – 3803 E Marginal Way S; and Merlino: South Park – 9125 10th Ave S.
► From the Tri-City Herald — Richland workers exposed to radiation at nuclear power plant, says fed agency — Some workers at the Columbia Generating Station received unexpected and significant exposure to radiation during the spring maintenance and refueling outage, according to the Nuclear Regulatory Commission. Exposures could have been higher, had a problem not been discovered promptly by chance.
EDITOR'S NOTE — Meanwhile, the Biden administration is continuing to challenge to the Washington state law strengthening workers' compensation access for workers at the Hanford nuclear site.
► From the Bellingham Herald — Whatcom manufacturer fined nearly $100K after worker dies in confined space last summer — L&I levied $98,000 in fines against IKO Pacific in Sumas after a contractor in his 40s died July 17 when an agitator arm inside a tank he was cleaning turned on.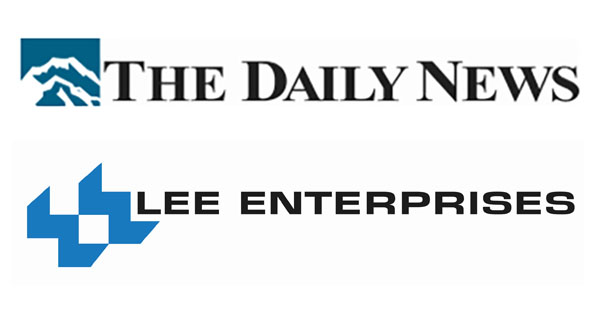 ► From the NW Labor Press — The Daily News offers a 13-cent raise — Union journalists at the The Daily News in Longview, Wash., are fighting for their first contract and they're facing resistance from management when it comes to wage increases. The Longview newsroom voted unanimously to unionize with NewsGuild-CWA last May. Since then, they've been working towards their first contract with Lee Enterprises, a media company that owns 77 newspapers across the country. The company's latest offer increases the base rate for new employees by just 13 cents, to $16.82 an hour (a 0.8% increase).
The Stand (Feb. 10) — Urge Daily News in Longview to offer living wages to staff
TAKE A STAND — Send a message to The Daily News and Lee Enterprises leadership that you value local journalism and support these workers' fight for good jobs in Cowlitz County.
► From the Walla Walla U-B — Columbia Pulp shuts down 'most operations' citing need to better develop customer base for alternative fiber — The majority of operations at the Dayton plant will shut down for an undetermined length of time starting Friday. Approximately 80 employees will be out of work.
► From the News Tribune — Tacoma school specialists worried about quality — Librarians, music teachers and physical education teachers are asking Tacoma Public Schools to fully staff elementary schools with the specialist teachers to prevent a decline in quality of learning.
---
SOUTH OF THE BORDER

► From the NW Labor Press — Amazon shuts out union workers in Woodburn, Ore. — When e-commerce giant Amazon promised that its massive Woodburn distribution center would create local jobs, it must have meant, "except in the building phase." For months, local building trade unions have been picketing the construction site to protest the use of out-of-state contractors paying below area standard wages. They worry Amazon will do the same at other local projects in the future.
---
THIS WASHINGTON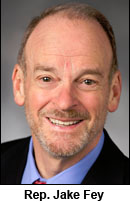 ► From the News Tribune — The $16 billion transportation package can transform WA — and Pierce County. Here's how (by Rep. Jake Fey) — Our blueprint for a more prosperous, sustainable and inclusive future—the future we deserve—begins with what we build today. Each of us has a role in shaping that. We can start by actively supporting Move Ahead Washington, the $16 billion, 16-year transportation package that will transform how we move people and goods around our state for years to come.
The Stand (Feb. 9) — Coalition backs 'Move Ahead Washington' package — Labor, business and environmental interests support Democrats' bold transportation effort.
► From the Seattle Times — WA Supreme Court hears case on whether transit fare enforcement is unconstitutional — The question of whether fare enforcement on public transit is unconstitutional went before the Washington Supreme Court on Thursday, as attorneys for the state and Zachery Meredith, a man whose missing proof of payment on a Snohomish County bus led to his eventual detainment, staked out their opposing positions.
► From the Wash. State Wire — Beth Doglio running to return to Legislature — Former state Rep. Beth Doglio is seeking a return to the state House. Doglio, an Olympia Democrat, gave up her seat in 2020 to run for the 10th District seat in the U.S. House. Doglio's former seatmate in the House, Laurie Dolan, announced this week that she will not seek reelection.
---
AEROSPACE



► From Reuters — Norwegian Air CEO considers Airbus jets amid drawn-out Boeing litigation — Norwegian Air may order jets from Airbus in the future unless ongoing litigation with Boeing over previous aircraft cancellations is resolved in a timely fashion, the carrier's chief executive said Friday.
---
THAT WASHINGTON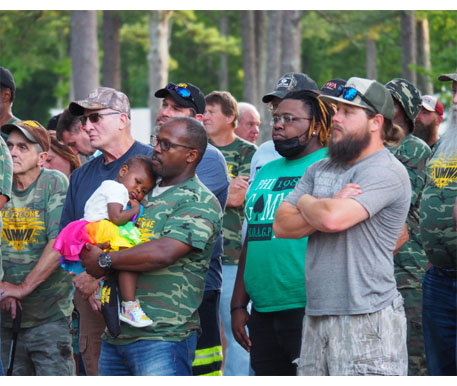 ► From AL.com — Warrior Met Coal strikers 'keep this company profitable,' union president tells U.S. Senate — The ongoing Warrior Met Coal strike has been hard for Braxton Wright, a miner who has been part of the picket line and demonstrations for the last 10 months in Tuscaloosa County. Today, Wright, a miner at Brookwood for the last 17 years, testified before a Senate committee this morning that the strike has taken a toll on him and his family. Today is the 323rd day of the strike, and Wright, along with Cecil Roberts, president of the United Mine Workers of America, was in Washington to bring attention through the hearing.
► From the Washington Post — Senate passes bill to avert shutdown, fund government through March 11 — The measure now heads to President Biden's desk, where his signature will give lawmakers about three more weeks to reach the sort of longer-term deal that has eluded them for months — a tricky debate that some hope will pave the way for billions of dollars in new coronavirus aid.
► From Roll Call — Proposed rule nixes Trump interpretation of 'public charge' — Immigrants' use of non-cash government benefits would not threaten their eligibility for green cards under a proposed change to the so-called public charge rule unveiled Thursday by the Department of Homeland Security.
---
NATIONAL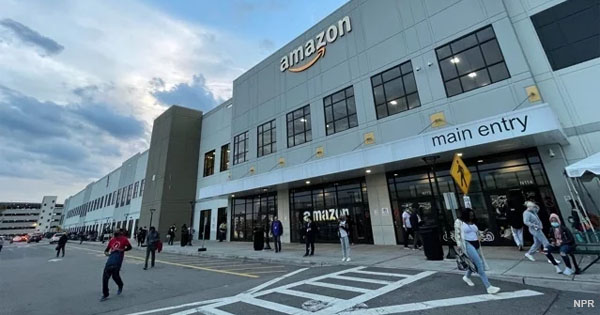 ► From NPR — Amazon labor push escalates as workers at New York warehouse win a union vote — Amazon workers in New York will vote on unionization next month, as the company now faces two potentially groundbreaking union elections at once. Federal labor officials on Thursday officially set a union vote for thousands of Amazon workers at a Staten Island warehouse. The in-person election is set to run between March 25-30. Meanwhile, workers at another warehouse in Bessemer, Ala., are voting by mail for the second time on whether to unionize. The results of the two election are likely to come within days of each other.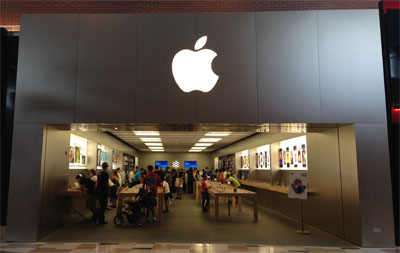 ► From the Washington Post — Some U.S. Apple Store employees are working to unionize, part of a growing worker backlash — Employees at several Apple Stores across the country are quietly working to unionize, according to people familiar with the efforts, as growing dissent among hourly workers threatens to disrupt one of the most stolid tech giants. Spurred by wages that have stagnated below the rate of inflation, and encouraged by successful efforts by Starbucks employees to form unions, retail workers say they hope they can push the world's most valuable company to share more of its record-setting profits with the workers who sell, repair and troubleshoot the products it sells.
EDITOR'S NOTE — Tired of being disrespected? Get more information about how you can join together with co-workers and negotiate a fair return for your hard work. Or go ahead and contact a union organizer today!
► From the Providence Journal — R.I. unions kick off a campaign to make wage theft a felony — In a renewed campaign to make wage theft a felony in Rhode Island, union leaders are pointing to new research that says more than 9% of the state's employers misclassify workers as independent contractors.
► From the Washington Post — Ottawa arrests two 'Freedom Convoy' protest organizers as police chief vows to 'take back' city
---
T.G.I.F.
► The Entire Staff of The Stand didn't have a song queued up for this morning's TGIF video, so we let the "random selection" feature on our music library choose for us. Up popped this song — the most real love song ever written — which we first heard played at a wedding reception. It's written by the late, great singer-songwriter John Prine and features folk/country singer Iris Dement. And if you haven't heard it before, you're in for a treat. Enjoy!
---
The Stand posts links to Washington state and national news of interest every weekday morning by 10 a.m.
WASHINGTON IS A UNION STATE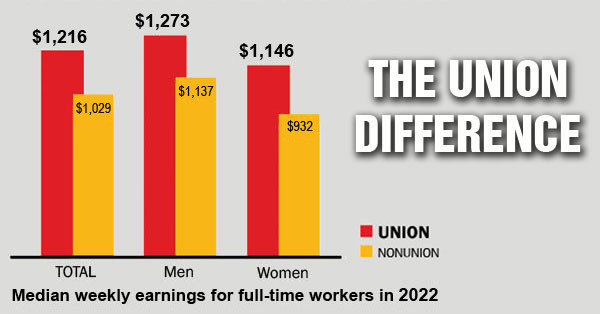 CHECK OUT THE UNION DIFFERENCE in Washington state: higher wages, affordable health and dental care, job and retirement security.
FIND OUT HOW TO JOIN TOGETHER with your co-workers to negotiate for better working conditions and respect on the job. Or go ahead and contact a union organizer today!