Sen. Cantwell: "Mr. Vekich knows the ports, he knows the shipping communities, and has spent more than 40 years working on the waterfront."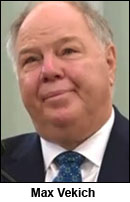 WASHINGTON, D.C. (Feb. 11, 2022) — Aberdeen native Max Vekich, President Biden's nominee for Commissioner of the Federal Maritime Commission, was confirmed by the Senate with a vote of 51-43 on Thursday. The FMC is the independent federal agency responsible for regulating the U.S. international ocean transportation system for the benefit of U.S. exporters, importers, and the U.S. consumer.
Vekich brings more than four decades of experience as a longshore worker in Grays Harbor and in Seattle. He is former President of ILWU Local 52 and served on the ILWU's International Executive Board. Vekich's long career in the maritime industry has given him first-hand knowledge and experience about the challenges faced by the maritime and intermodal transportation system.
Vekich also served four consecutive terms as Washington state representative for the 35th Legislative District from 1983-1991. During his tenure, he served as chair of three committees: Agriculture, Trade & Economic Development, and Commerce & Labor.
Prior to Thursday's vote, U.S. Sen. Maria Cantwell (D-Wash.), Chair of the Commerce, Science, and Transportation Committee, spoke on the floor of the Senate in support of his nomination.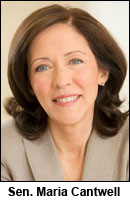 "Mr. Vekich knows the ports, he knows the shipping communities, and has spent more than 40 years working on the waterfront," Cantwell said. "He spent his life working in the maritime industry and knows the challenges that we face in maritime and intermodal transportation, in congestion, and continuing to move forward on how we advance our ports. Mr. Vekich knows what it takes to move product from the heartland. He knows that in our Washington ports we are helping U.S. farmers get their products to market. So I know whether that's wheat or soybeans, or other ag products, he knows what it takes to move them and what it takes for us to continue to improve the efficiency of our ports."
The COVID-19 pandemic has caused unprecedented port congestion and supply chain disruptions. Businesses and Americans are feeling the pinch of rising prices and shortages on everyday products. At this critical time in our country, the Commission plays an important role in oversight, investigations and regulation of detention and demurrage, information flow, and enforcement of unfair practices by foreign shipping companies.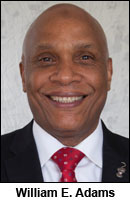 "Max Vekich is the FMC Commissioner that America needs right now," said ILWU International President Willie Adams. "Our ports are a critical part of our nation's infrastructure and economy, and Mr. Vekich solves problems with domestic benefit in mind. He has the right mix of industry knowledge, excellent problem-solving abilities, and an internal compass that points to doing right by America's workers, businesses, consumers and farmers. We applaud President Biden for making an excellent pick, and the U.S. Senate for their confirmation."