Amazon, here we come | Should captivity be illegal? | Hey Hey Rise Up
Friday, April 8, 2022
---
LOCAL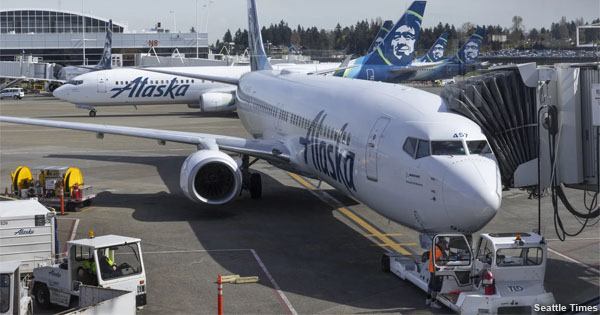 ► From the Seattle Times — Alaska still calling off flights, a week into cancellation wave driven by pilot shortage — The airline, Sea-Tac Airport's largest carrier, announced five new cancellations as of 6:50 a.m. Friday, bringing the total number of Friday flights canceled to 36… While pilots are in short supply across the airline industry, Alaska has been hit harder by the pilot shortage than most of its competitors. The airline, in an increasingly bitter standoff with the union representing its pilots over a new contract, has lost dozens of pilots this year to other major carriers.
► From KING — Alaska Airlines reducing flights until June due to pilot shortage — Alaska Airlines said it is reducing "about 2% of our total flights through the end of June to match our current pilot capacity."
► From the (Everett) Herald — Funko to lay off 258 people when Washington warehouses close — The company, still headquartered in downtown Everett, is moving distribution operations to Arizona. Funko chose to move its distribution center to Buckeye, a suburb of Phoenix, "because of Arizona's strategic location and strong talent pool," the company said.
---
AMAZON
► From CNBC — 'Amazon, here we come': Biden boosts warehouse unionization efforts — President Joe Biden on Wednesday expressed support for efforts to unionize Amazon workers, after one of the company's warehouses voted to join a union last week. "The choice to join a union belongs to workers alone," Biden said in remarks at the national conference of North America's Building Trades Unions. "By the way, Amazon, here we come. Watch."
► From CNBC — Amazon illegally interfered in Alabama warehouse vote, union alleges — The RWDSU on Thursday filed objections with National Labor Relations Board to the recent union election at an Alabama warehouse, claiming Amazon "created an atmosphere of confusion, coercion and/or fear of reprisals and thus interfered with the employees' freedom of choice" to join or reject a union.
► From CNBC — Amazon hired an influential Democratic pollster to fight Staten Island union drive — Global Strategy Group, which served as a polling partner for a pro-Biden super PAC ahead of the 2020 election, has been working for Amazon since at least late last year to produce anti-union materials.
EDITOR'S NOTE — No wonder Amazon lost.
OH! Thank you very much. It's great to be here. Please tip your servers and bartenders.
► From Reuters — Amazon faces shareholder vote on treatment of warehouse workers — Amazon, the world's biggest retailer, will face a shareholder vote calling for an independent audit of its treatment of warehouse workers after the top U.S. securities regulator turned down the company's request to skip the resolution.
---
THAT WASHINGTON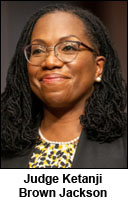 ► From the AFL-CIO — Judge Ketanji Brown Jackson's confirmation is a victory for working people⁠ — and democracy — AFL-CIO President Liz Shuler: "Judge Jackson's confirmation is a victory for our democracy and our nation, and we look forward to her serving on the bench for a very long time. "
TODAY at The Stand — The beauty and burden of being first (by April Sims) — Organized labor celebrates Justice Ketanji Brown Jackson and the many other Black women leading us forward and giving us hope.
► From the NALC — President Biden signs Postal Service Reform Act into law — "With this bill, we're repealing the pre-funding mandate and setting the Postal Service on a more sustainable and stable financial footing," President Biden said. "We're guaranteeing that the mail will continue to be delivered six days a week. And the bill increases transparency by requiring the Postal Service to develop an online public dashboard updated weekly with local and national service performance data. Today, we enshrine in law our recognition that the Postal Service is fundamental to our economy, to our democracy, to our health, and the very sense of who we are as a nation."
The Stand (March 9) — U.S. Senate passes Postal Service Reform Act — In a "monumental victory" for USPS workers, the bill heads to President Biden to become law.
► From NPR — The child tax credit was a lifeline. Now some families are falling back into poverty. — The payments from the child tax credit were closing the gaps on child hunger and poverty across America. And in the months since they ended, there's evidence that the families who needed the money the most have already slipped back into financial trouble.
► From the AP — Biden's federal employee vaccine mandate upheld in Appeals Court — The administration argued that the Constitution gives the president, as the head of the federal workforce, the same authority as the CEO of a private corporation.
► From The Hill — Senators to restart bipartisan immigration reform talks
---
NATIONAL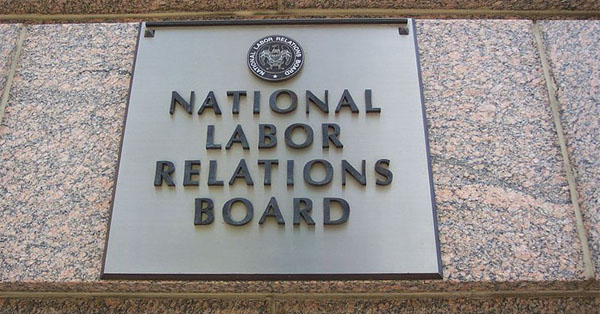 ► From the U.S. News & World Report — NLRB lawyer seeks to toss out mandatory company meetings on unions — NLRB General Counsel Jennifer Abruzzo said in a memo to the agency's field offices Thursday that she believes these meetings, sometimes referred to as "captive audience meetings," are at odds with the National Labor Relations Act. She argues the law allows workers to refrain from listening to employer speech about collective bargaining. The meetings are routinely held by companies such as Amazon and Starbucks during union drives.
► From WBUR — AFL-CIO president Liz Shuler on the future of America's labor movement — An NPR interview with Liz Shuler:
"Workers coming together collectively is exactly what we're seeing in so many different forms. Because people are fed up, they are fired up, especially coming out of this pandemic, knowing that they've put their health and safety on the line and often are being treated as expendable or disposable. And the economy is broken because we're seeing more and more inequality with folks at the top doing better. And most other people struggling to get by. And they just haven't connected the dots at scale, I would say, that the labor movement or unions are a solution to that."
► From Vox — How a bunch of Starbucks baristas built a labor movement — Since the first corporate Starbucks location voted to unionize late last year, 13 others have voted. Only one store has voted against unionizing. Just today, three more Starbucks, one in Buffalo and two in Rochester, voted yes on unionizing. They're hoping to use collective bargaining to get a number of improvements, including higher pay, more hours, and better safety protections, a more necessary change since the erstwhile latte makers became front-line workers during the pandemic. They want more say in what their working lives are like, and they want to hold a company that talks of progressive values accountable.
The Stand (March 30) — Starbucks workers 'burnt out, sick and tired'
EDITOR'S NOTE — Ready for a voice at work? Get more information about how you can join together with co-workers and negotiate a fair return for your hard work. Or go ahead and contact a union organizer today!
► From AL.com — Unions rally for striking Alabama miners — Representatives of labor unions from around the country rallied at Tannehill State Park in support of striking coal miners with the United Mine Workers of America. The miners began a strike more than a year ago against Warrior Met Coal in Brookwood. The UMWA organized a caravan to show support for the miners, who union leadership said last week now number around 900.
The Stand (April 1) — Warrior Met Coal strike hits one-year mark
► From the Guardian — Airport workers ramp up pressure for a living wage and union rights — Many airport workers around the U.S. took part in protest actions last month to pressure government officials at local, state and federal levels, and the CEOs of large airlines to sign on to a Good Airports pledge, committing to ensuring airport workers are paid living wages, provided affordable health care and have the right to organize a union.
► From the Chicago Sun-Times — WTTW, striking workers agree on a contract
► From the New Republic — Your house makes more money than you do (by Timothy Noah) — In 2021, houses earned more money than people. In 2021 the median rise in home values was $52,667; the median wage for a full-time worker was about $50,000. This is an appalling development. Barring a bust in the housing market, the trend will likely continue until workers acquire meaningful power in this economy. That's yet one more reason to pass the Protecting the Right to Organize Act, which would remove various obstacles to labor organizing.
► From the Seattle Times — Did your house earn more than you did in 2021? — The 10 markets with the widest gap between home price appreciation and median salaries include San Jose; San Francisco; San Diego; Honolulu; Los Angeles; Boise, Idaho; Seattle; Salt Lake City; Phoenix; and Riverside, California.
---
T.G.I.F.
► Today, Pink Floyd released its first new music in 28 years, the single "Hey Hey Rise Up," the proceeds of which will go to Ukrainian humanitarian relief. With David Gilmour on guitar, Nick Mason on drums, Guy Pratt on bass, and Nitin Sawhney on keyboard, these legendary rockers used audio of Andriy Khlyvnyuk from the band Boombox singing a Ukrainian protest song in central Kyiv. Pink Floyd said the Ukrainian singer, who left his band to join the army, is in the hospital after being hit by shrapnel.
---
The Stand posts links to Washington state and national news of interest every weekday morning by 10 a.m.
Short URL: https://www.thestand.org/?p=107546
Posted by
David Groves
on Apr 8 2022. Filed under
DAILY LINKS
. You can follow any responses to this entry through the
RSS 2.0
. Both comments and pings are currently closed.