Moon-Ho Jung is new Harry Bridges Chair in Labor Studies
The following is from the Harry Bridges Center for Labor Studies at the University of Washington:
SEATTLE (Sept. 15, 2022) — The Harry Bridges Center for Labor Studies is proud to welcome Moon-Ho Jung, Professor of History, as the latest holder of the Harry Bridges Endowed Chair in Labor Studies at the University of Washington. Created in 1992 by members of the International Longshore and Warehouse Union, the Harry Bridges Chair recognizes a distinguished scholar in the field of Labor Studies. The chair also serves as the director of the Harry Bridges Center, overseeing the center's mission to advance the study of working people and their organizations through research, teaching, and community outreach.
Professor Jung is the 10th University of Washington professor to hold the Harry Bridges Chair, now celebrating its 30th anniversary. To the Harry Bridges Chair, Professor Jung brings two decades of experience as a highly accomplished scholar and teacher. A historian of race, labor, and politics in the United States, with a particular emphasis on Asian American history, Jung's work focuses on the struggles of working peoples.
He is the author and editor of four books, including Coolies and Cane: Race, Labor, and Sugar in the Age of Emancipation (2006), which tells the story of how thousands of Chinese workers were recruited to work alongside African American workers in Louisiana after the Civil War. Professor Jung also edited The Rising Tide of Color: Race, State Violence, and Radical Movements across the Pacific (2015), a volume of essays by scholars on grassroots struggles against racial capitalism and state violence, collected and selected from a major conference organized by Jung in spring 2011.
As past President of Washington State's Korean American Historical Society, Jung oversaw the research and publication of Han in the Upper Left: A Brief History of Korean Americans in the Pacific Northwest (2015). His most recent book, Menace to Empire: Anticolonial Solidarities and the Transpacific Origins of the US Security State (2022), excavates the entwined history of anti-Asian racism and US government repression of labor and political radicals.
In addition to being an accomplished scholar, Professor Jung is an award-winning teacher. As in his scholarship, his courses on American history, race, and Asian American studies are designed to train students to "understand, critique, and challenge hierarchical relations of power." He was recognized with the University of Washington's Distinguished Teaching Award in 2014. On the University of Washington campus, he has worked with student activists and helped to organize events around various causes, especially in calls for racial justice. He has also been an active voice in faculty unionization efforts.
Since first joining the University of Washington faculty in 2001, Jung has played a major role in the Harry Bridges Center's development. In 2003, working with former ILWU Education Director Eugene Vrana and ILWU Local 52 member Joseph Wenzl, Professor Jung co-chaired a strategic planning committee that laid much of the groundwork for the Harry Bridges Center's growth over the next 20 years. From 2005 to 2011, he played a leading role in the Bridges Center's Race, Radicalism and Labor Working Group, and received funding from the Bridges Center for several of his books. He has also served for many years on the faculty Standing Committee, the governing body of the Bridges Center. "We are living through a seemingly endless wave of crises, with an immense toll especially on the most vulnerable among us," Professor Jung writes of our current moment. "That is why Labor Studies matters now more than ever. To me, Labor Studies is ultimately about framing, understanding, and highlighting the struggles of those who confront the horrors of racial capitalism, state violence, and gendered exploitation every single day. I believe it is in studying those struggles that we can find hope and creativity in our own strivings for collective justice."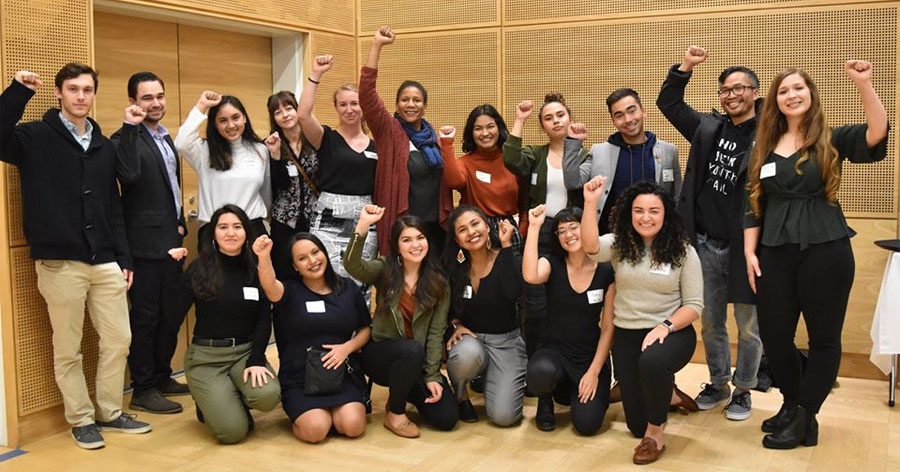 Through the continued support of ILWU members and other activists in the labor movement, the Harry Bridges Center has grown into the premier Labor Studies program in Washington state, enrolling hundreds of students each year in classes on labor topics, offering student internships in the labor movement, and annually awarding over $100,000 in scholarships and research funding. In 2010, the Washington State labor movement, the ILWU, and the Harry Bridges Center founded the Labor Archives of Washington, dedicated to preserving and promoting the history of working people.
The Harry Bridges Center will celebrate these achievements and more on Sunday, Nov. 13 with a special 30th anniversary celebration banquet to be held on the UW campus in Seattle. The event will double as a release party for a new book by the late historian Ronald Magden on the history of Seattle's waterfront workers. More information about the event, including registration and sponsorship information, is available at labor.uw.edu/celebration.
Short URL: https://www.thestand.org/?p=111294
Posted by
David Groves
on Sep 15 2022. Filed under
LOCAL
. You can follow any responses to this entry through the
RSS 2.0
. Both comments and pings are currently closed.