Happy Cesar Chavez Day | Cruelty in Idaho | Partridges defeat MAGA
Friday, March 31, 2023
---
LOCAL
► ICYMI in The Stand — Will the TAM Board do the right thing? — During the Tacoma Art Museum Board of Trustees meeting last week, elected officials and other supporters of TAM Workers United — a union with more than 80% support among union-eligible voters at the museum — rallied and called on the Board to either voluntarily recognize the union or agree to an independent election that will allow all workers to stay together in one union. They finally listened. It took five months for the Board to agree to meet with TAM Workers United, but that will now happen TODAY (Friday, March 31) from 3 to 5 p.m. TAM Workers United will announce the result of the Board's vote outside the museum at 5 p.m.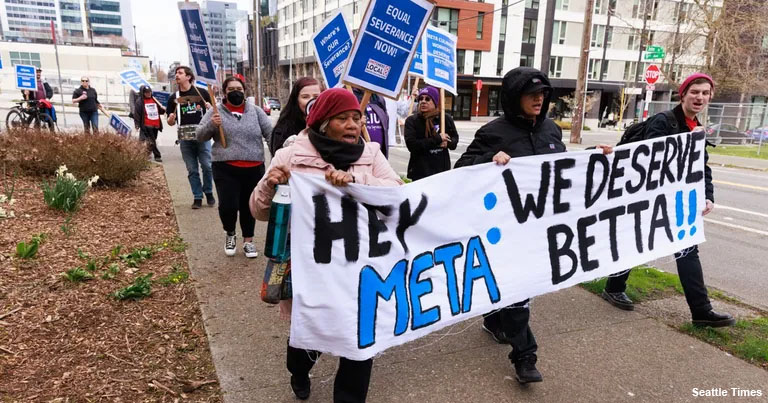 ► From the Seattle Times — Rally faults Meta's treatment of nontech workers during cutbacks — Dozens of food service employees working at Facebook parent company Meta's Seattle offices took to the streets Thursday to protest threatened layoffs and lackluster severance payments. Cooks and other workers employed by contractor Flagship who served employees at Meta's South Lake Union buildings joined a national day of action highlighting what they describe as uncertainty, layoffs and planned wage cuts in the wake of massive layoffs at Meta.
The Stand (March 30) — Ahead of closure, Meta café workers protest layoffs — "We were told that as culinary workers we were part of what made Facebook great," said Lead Cook Doug Lawson. "Now I am being asked to take a wage cut. That's not something I can afford to do."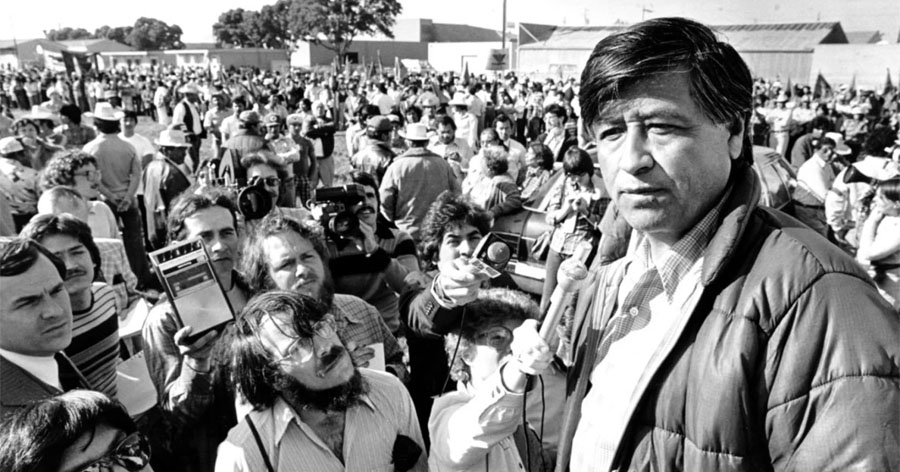 ► From KNKX — March 31: Cesar Chavez Day — Cesar Chavez was born Cesario Estrada Chavez in Yuma, Ariz. on this day in 1927. Spanish speaking was not allowed in the school he attended so he became "Cesar." In 2014, President Barack Obama proclaimed March 31 as a federal commemorative holiday but, so far, only a few states recognize the holiday. On this day in 2018, Gov. Jay Inslee made Washington one of those states, joining Arizona, California, Colorado, Minnesota, New Mexico, Texas and Utah, all of which observe the day to one degree or another.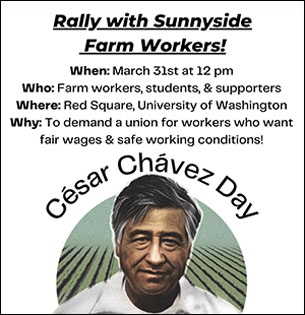 TODAY at The Stand — Farm workers join students for Cesar Chavez Day rally at UW — Farm workers at Greenwood Mushrooms Sunnyside — formerly known as Ostrom Mushroom Farms — will lead a demonstration today at the University of Washington on Cesar Chavez Day (Friday, March 31st) alongside the University of Washington's UFW Support Group, Students For Farm Workers.
► From the News Tribune — MultiCare to close longstanding Tacoma urgent care clinic — MultiCare Indigo Urgent Care, 1812 S. Mildred St., is closing after April 22 in response to what the company calls "unique circumstance." A company spokesperson says employees will be transferring to nearby Indigo Urgent Care centers, primarily Point Ruston, University Place, or Stadium district, which opens April 24… Indigo clinics have faced a number of challenges since their inception nearly seven years ago, including the COVID-19 pandemic. Those issues included a protracted contract battle with the union representing clinic workers.
► From the News Tribune — The Puyallup hospital where I work wants a new tower. Who will care for the patients? (by nurse Ashley Eubank) — Last year, executives with MultiCare and Good Samaritan Hospital in Puyallup petitioned the state Department of Health to permit a new tower. It's a great idea to serve more patients, but who's going to take care of them? Already, nurses are being stretched to the limit, and they're leaving at an alarming rate. We don't have a shortage of nurses. Really, what we're experiencing is a shortage of nurses who are willing to work in these conditions. If the hospital wants to stop nurses from leaving, it needs to give nurses better working conditions and competitive pay.
► From the Bellingham Herald — Petitions circulating for pair of Bellingham ballot measures on pay and rent — Community First Whatcom began circulating petitions last weekend for the proposed measures, which would raise the minimum wage and offer protections against the immediate effects of rent gouging.
---
AEROSPACE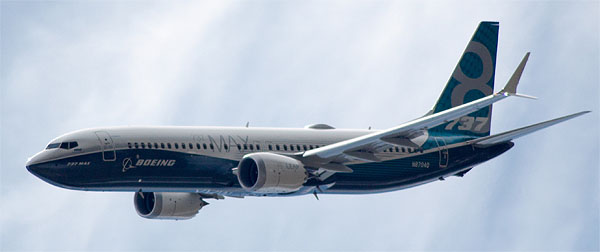 ► From Reuters — Boeing will increase 737 MAX production rates 'very soon' — Boeing will increase 737 MAX production rates above the current rate of 31 jets per month "very soon," the head of its commercial airplanes business said on Thursday. Boeing continues to grapple with supply chain headaches as it pushes to ramp up production of the bestselling MAX narrowbody jet as well as its widebody 787 Dreamliner. On Thursday, Stan Deal said the situation is "getting better" but that aerospace companies are still working to train fresh hires to handle the influx of post-pandemic aircraft orders. Boeing plans to increase monthly MAX production to 50 planes per month by the end of 2026, while ramping 787 production to 10 aircraft per month during the same period.
► From the Guardian — Virgin Orbit cuts 85% of workforce — Virgin Orbit, the California-based satellite launch company founded by the billionaire Sir Richard Branson, is cutting 85% of its workforce after failing to secure fresh funding, raising fears that the firm may be on the brink of collapse.
---
THIS WASHINGTON

► From the Olympian — Traffic safety, ferries, State Patrol targeted in proposed transportation budgets — Lawmakers for House and Senate Transportation committees each released budget proposals this week for the 2023-25 biennium, with a focus on similar priorities such as traffic safety and keeping current transportation projects on track for completion.
► From the (Everett) Herald — Drive to build new AquaSox ballpark gets $7.4M boost from state — The proposed Senate capital budget contains critical seed money for the city-led project likely to get matched by the House.
---
FORCED PREGNANCY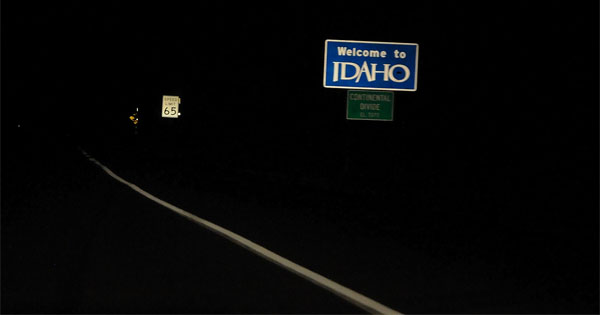 ► From NPR — Idaho lawmakers pass a bill to prevent minors from leaving the state for abortion — After clearing both legislative chambers, Idaho could become the first state in the country, according to Planned Parenthood, to criminally charge those who help pregnant minors get an abortion across state lines without parental consent. If convicted, the penalty could be two to five years in prison under the bill passed by the Idaho Senate Thursday.
The Stand (June 27, 2022) — Amid attacks on abortion rights, unions must fight back (by Shaunie Wheeler James and Cherika Carter) — We have the tools to transform protests into concrete actions defending bodily autonomy.
► From the Guardian — Idaho's abortion travel ban is incredibly cruel (by Moira Donegan) — Idaho Republicans' law specifically seeks the prosecutions of those who lend help and support to girls with unintended pregnancies – the people they trust, and who they go to, often in desperation and fear, to help them regain control over their own bodies and lives.
---
THAT WASHINGTON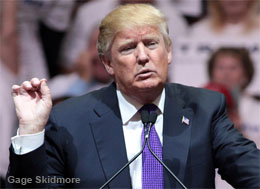 ► From the Washington Post — Trump indicted by N.Y. grand jury, first ex-president charged with crime — A Manhattan grand jury has voted to indict former president Donald Trump, making him the first person in U.S. history to serve as commander in chief and then be charged with a crime, and setting the stage for a 2024 presidential contest unlike any other. The indictment was sealed, which means the specific charge or charges are not publicly known. But the grand jury had been hearing evidence about money paid to adult-film actress Stormy Daniels during Trump's 2016 presidential campaign, allegedly to keep her from saying she'd had a sexual encounter with Trump years earlier. Trump is expected to turn himself in and appear in court on Tuesday.
► From the NY Times — A president faces prosecution, and a democracy is tested — For more than two centuries, American presidents were effectively shielded from indictment. But the case against former President Trump breaks that taboo and sets a new precedent.
► From Politico — 'O.J. Simpson on steroids': Team Trump preps for a post-indictment frenzy — For most people, getting indicted is a setback. From Donald Trump's team, it's viewed as an opportunity.
► From the NY Times — Even Donald Trump should be held accountable (editorial)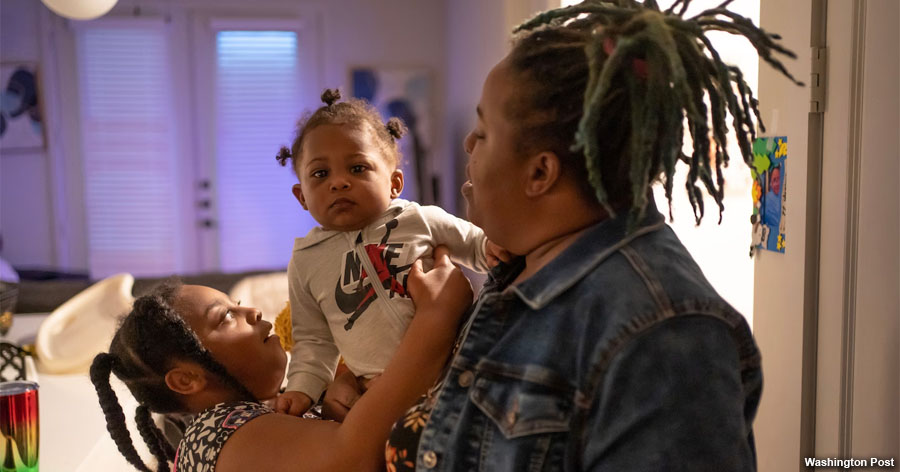 ► From the Washington Post — Millions poised to lose Medicaid as pandemic coverage protections end — At the end of this week, states will begin to sever an anticipated 15 million low-income Americans from Medicaid rolls that ballooned to record heights because of a pandemic-era promise that people with the health insurance could keep it — a federal promise that is going away. The end to the temporary guarantee that preserved the safety-net health coverage for the past three years saddles every state with an immense undertaking: sorting out which Medicaid beneficiaries actually belong.
EDITOR'S NOTE — Of course, all Americans belong among the ranks of those with healthcare coverage. The fact that many don't is a public policy choice by our elected officials.
► From The Hill — Republicans divided over tackling Medicare Advantage overpayments — Hard-pressed to come up with significant savings to reduce the deficit, some Senate Republicans are taking a closer look at reforms to Medicare Advantage in light of reports that insurance companies are collecting billions of dollars in extra profits by over-diagnosing older patients. But the idea of cracking down on Medicare Advantage overpayments to insurance companies divides Republicans, who have traditionally championed the program insurance companies.
EDITOR'S NOTE — Fixed it.
The Stand (Feb. 23) — PSARA aims to stop Medicare privatization (by Jeff Johnson)
► From FiveThirtyEight — The Fed's fight against inflation could cost Black workers the most — The racial gap in unemployment persists at least in part because Fed policymakers have long tolerated lower Black employment as an intractable fixture of the economy, justified by Black Americans' lower educational attainment and skill levels — even though there's little evidence for that explanation, according to William Spriggs, a professor of economics at Howard University and chief economist for the AFL-CIO.
► From the AP — Justice Department sues Norfolk Southern over derailment — The federal government filed a lawsuit against railroad Norfolk Southern over environmental damage caused by a train derailment on the Ohio-Pennsylvania border that spilled hazardous chemicals into nearby creeks and rivers. The U.S. Department of Justice said it's seeking to hold the company accountable for "unlawfully polluting the nation's waterways and to ensure it pays the full cost of the environmental cleanup," in the lawsuit filed Thursday.
---
NATIONAL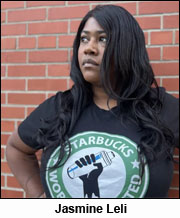 ► From Fortune — I am a Starbucks barista who doesn't qualify for all the wonderful benefits you keep hearing about (by Jasmine Lili) — This union gives us hope. I don't believe that former Starbucks CEO Howard Schultz knows what it's like to make impossible decisions about which utility he can live without until he gets paid again, or which family member or friend he can borrow money from to feed his family. If he knew how any of this felt, he would never set us up to be perpetually broken–mentally and physically. Our new CEO Laxman Narasimhan has an opportunity to chart a different course, to truly make Starbucks the "different kind of company" that Schultz failed to produce. The transition in the executive suite is a chance for Starbucks to stop its unprecedented campaign of union-busting and instead partner with us, its so-called "partners", and our union to build a company that lives up to its stated progressive values.
The Stand (March 29) — WSLC's Sims: Howard Schultz is 'an embarrassment' to Washington — Leader of state's largest labor organization says the former Starbucks CEO's legacy has been "permanently stained" by illegal – and unsuccessful – efforts to prevent his employees from unionizing.
► From Jacobin — In Los Angeles, 60,000 education workers just went on strike and won big — Two major education worker unions just walked off the job for three days in Los Angeles, grinding the school district to a halt. Their actions resulted in a 30 percent raise.
► From NPR — Google's 'Ghost Workers' are demanding to be seen by the tech giant — Their job is to make sure the results people see are accurate and not spam or scams. Google calls these workers "quality raters," but they call themselves "ghost workers." But now they want to be seen. They've written letters to Google executives, held a rally outside the company's Silicon Valley headquarters and created a petition to demand benefits and better pay.
EDITOR'S NOTE — Are you ready to be seen — and paid? Get more information about how you can join together with co-workers and negotiate a fair return for your hard work. Or go ahead and contact a union organizer today!
---
T.G.I.F.
► The Entire Staff of The Stand wishes a very happy 89th birthday to Shirley Jones, the American movie actress/singer who played one of the most iconic TV moms in history: Shirley Partridge. In The Partridge Family, Jones co-stars with her real-life stepson David Cassidy (Keith Partridge) and plays a widowed bank teller whose kids convince her to help sing a song they're recording in their garage. It becomes a hit and the rest is history. In this fan remix, the Partridge Family performs a song — one that became a real-life Billboard No. 1 hit — at a women's liberation rally being protested by a right-wing conservative group. Among their signs: "The Stove Is An Eternal Flame!" But in the end, this 1970-era MAGA group is won over by the Power of the Partridges. Enjoy! (Shirley is the one in the Austin Powers costume.)
---
The Stand posts links to Washington state and national news of interest every weekday morning by 10 a.m.
Short URL: https://www.thestand.org/?p=115615
Posted by
David Groves
on Mar 31 2023. Filed under
DAILY LINKS
. You can follow any responses to this entry through the
RSS 2.0
. Both comments and pings are currently closed.