Stop raiding our Medicare | Kamala on climate | UAW strike vote
Wednesday, August 16, 2023
---
LOCAL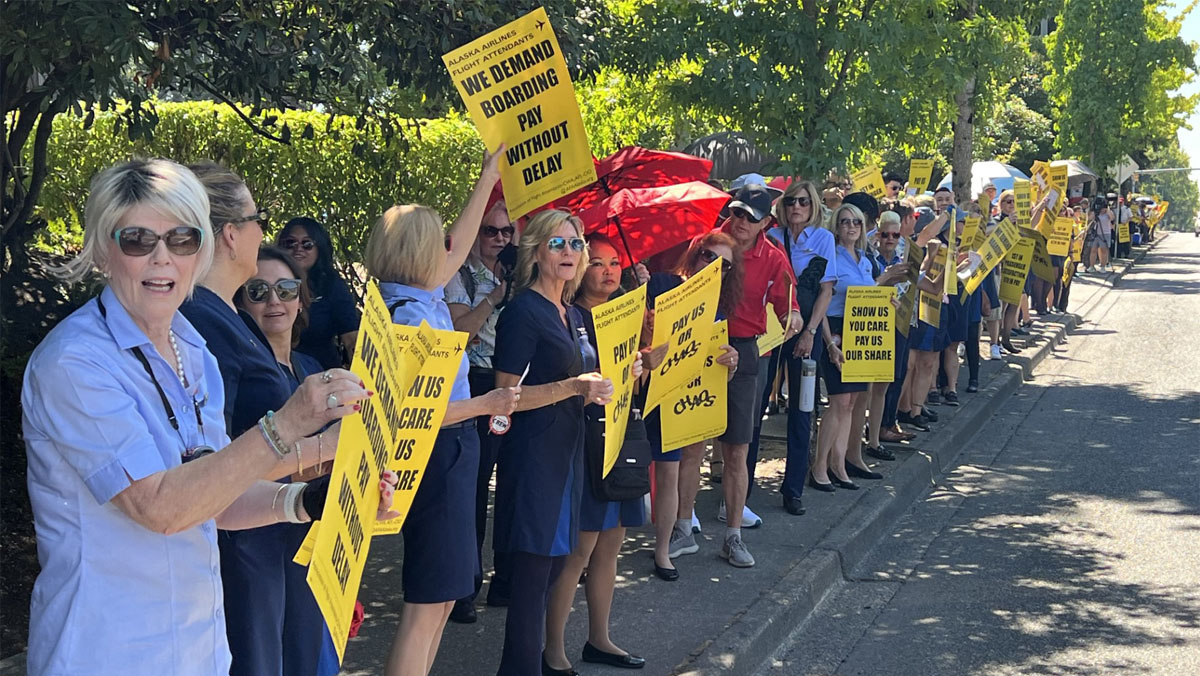 ► From KIRO — Hundreds of Alaska Airlines flight attendants join picket line to demand fair wages — We followed a massive display of frustration outside Alaska Airlines headquarters, near Sea-Tac Airport, Tuesday afternoon. Hundreds of Alaska Airlines flight attendants joined the picket line, demanding fair wages. You could see a slew of yellow signs with slogans like "Pay Us or Chaos" and "First in Passenger Satisfaction and Sixth in Pay."
TODAY at The Stand — Alaska Air flight attendants: Pay Us or Chaos! — Union solidarity brings hundreds to rally and picket outside company HQ in SeaTac.
► From the South Seattle Emerald — APALA Awards recognize local labor union leaders — During the convention, APALA also recognized two local organizers with national awards for their dedication to the Asian and Pacific American labor movement, which has a long and storied history in the Seattle area. The Philip Vera Cruz Lifetime Achievement Award was presented to Tracy Lai, who is a Seattle Central College professor, past president of Seattle's APALA chapter, and member of the American Federation of Teachers (AFT). The APALA's Art Takei Leadership Award went to Jason Chan, chief of staff of IAM District 751.
The Stand (Aug. 9) — APALA builds AAPI solidarity, strength — At Seattle convention, Washington's own Ligaya Domingo elected to serve as APALA President.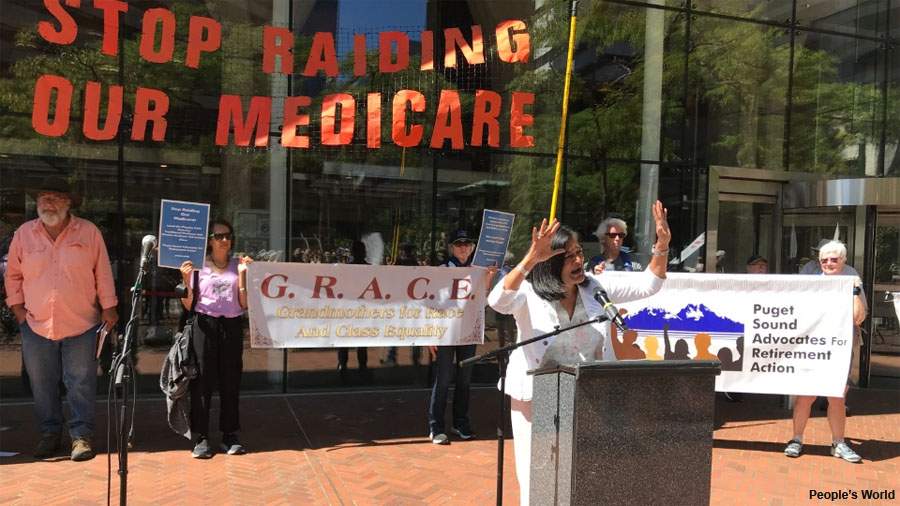 ► From the People's World — Seattle crowd: 'Medicare for All! Everybody in, nobody out!' — A big crowd at the Federal Building on Aug. 1 cheered and applauded as Rep. Pramila Jayapal (D-Wash.), and others blasted medical insurance companies for reaping billions from fraudulent overcharges to the Medicare Trust Fund while denying urgently-needed care for millions of patients. The rally sponsored by PSARA (Puget Sound Advocates for Retirement Action) and their allies celebrated the 58th birthday of Medicare and Medicaid.
► From the Seattle Times — New report details dozens of uses of force at Northwest ICE center — At least 30 men detained in the Northwest Immigration and Customs Enforcement Processing Center in February were exposed to chemicals and told to "deal with it," after detention officers deployed chemical agents at detainees in a unit directly below them, described one of the men.
► Meanwhile, from NPR — Government's own experts found 'barbaric' and 'negligent' conditions in ICE detention — In examining more than two dozen facilities across 16 states from 2017 to 2019, these expert inspectors hired by Homeland Security found "negligent" medical care (including mental health care), "unsafe and filthy" conditions, racist abuse of detainees, inappropriate pepper-spraying of mentally ill detainees and other problems that, in some cases, contributed to detainee deaths.
---
CLIMATE CHANGE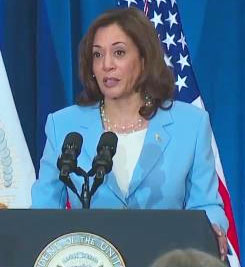 ► From the Seattle Times — Kamala Harris, in Seattle, says climate crisis impact is 'stark,' 'vivid' — Vice President Kamala Harris, in Seattle on Tuesday, said we are seeing the effects of climate change "in real time," while touting the massive investments the Biden administration has made in clean energy to combat its most severe impacts. Harris' speech, at South Seattle design and construction firm McKinstry, was timed to mark the anniversary of the administration's landmark climate legislation. She said:
"Every day around the world the impact of the climate crisis is stark and it is vivid. Here in Washington state you have endured deadly heat waves and devastating wildfires."
The Stand (July 31) — Unions launch Climate Jobs Washington — Labor-led coalition releases comprehensive report from Cornell University with policy recommendations to advance equitable, pro-worker climate action in Washington.
► From the AFL-CIO — The Inflation Reduction Act is a game changer for working people — AFL-CIO President Liz Shuler:
"One year ago today, President Biden signed into law legislation that revolutionized our economy and put us on the path to a worker-centered clean energy future. The Inflation Reduction Act has already proven to be a massive victory for the clean energy transition, growing the U.S. workforce and enhancing our nation's energy security. This transformative legislation that puts working people first has already had an outsized impact on manufacturing and construction investments across the country."
The Stand (June 29) — 'Biden is making good on his promises to workers' — Washington's Building Trades unions gather in Seattle, spotlight job creation under President Biden.
► From the LA Times — 113 degrees at work, failing AC at home: Farmworkers can't escape life-threatening heat — Grapes, dates and other crops have been made to flourish in the dry, searing heat of the eastern Coachella Valley. But farmers and civic leaders never built the basic infrastructure needed to shelter the workers who live in such a harsh region. So as climate change pushes temperatures to increasing extremes, many workers are being exposed to dangerous heat for hours during the day only to return home and struggle to find any respite in trailer parks where the power supply is unstable, air conditioning is minimal and water is often unclean.
---
THIS WASHINGTON




► From L&I — Outdoor workers required to take breaks, have access to shade and water under high heat rules — As temperatures soar this week in Washington, industries whose workers do their jobs outdoors must give workers frequent breaks, access to shade, and water cool enough to drink, among other steps. Updated rules from the Department of Labor & Industries took effect June 27 requiring employers to take both proactive and responsive action to keep their workers safe.
► From the Washington State Standard — Washington awards $150M contract to convert ferries to hybrid-electric power — Washington State Ferries announced Tuesday it has awarded a roughly $150 million contract to ship builder Vigor to convert up to three of the state's largest vessels to hybrid-electric power.
---
THAT WASHINGTON
► From AFGE — AFGE, Veterans Affairs sign new contract — After six years of negotiations, AFGE's National VA Council and the Department of Veterans Affairs signed a collective bargaining agreement that defends critical protections for VA workers while modernizing the hiring process.
► From Roll Call — McCarthy eyes a short-term funding bill to head off a shutdown — House Republicans are planning to take up a short-term stopgap funding measure next month to avoid a partial government shutdown before the Sept. 30 deadline, Speaker Kevin McCarthy (R-Calif.), told members of his conference.
---
NATIONAL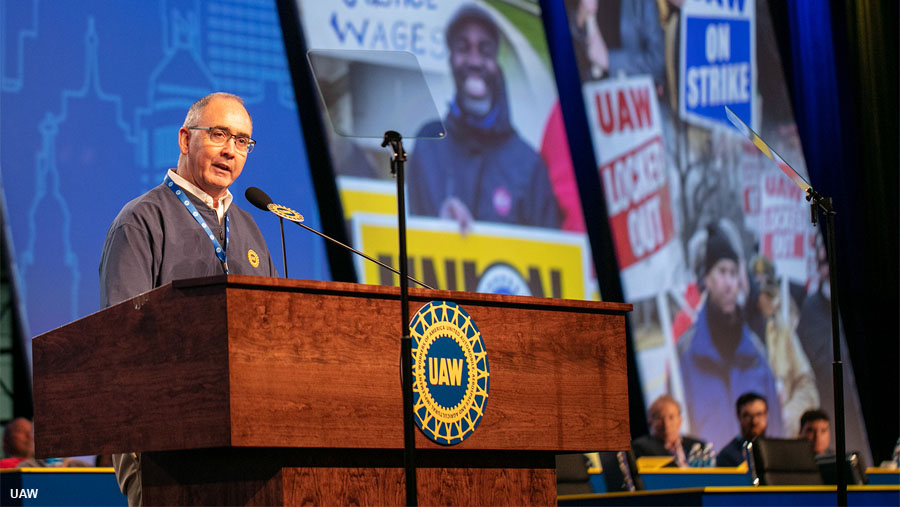 ► From Reuters — UAW presses for strike vote at Detroit Three automakers — United Auto Workers members have until Aug. 24 to vote to authorize strikes at the Detroit Three automakers if they don't have a new contract deal in hand by the time the current agreement expires in about 30 days, the union said on Tuesday. The UAW's move comes as the union and General Motors, Ford Motor and Stellantis have made little headway with their negotiations, UAW President Shawn Fain said Tuesday.
► From Deadline — SAG-AFTRA 'remains very eager' to return to bargaining table with AMPTP — Duncan Crabtree-Ireland, SAG-AFTRA's national executive director and chief negotiator, said that "we remain very eager to get back to the table with the AMPTP, as we've said every day" since the actors' strike began 33 days ago.
► From the Hollywood Reporter — Marvel VFX workers move toward unionization; vote set for next week — IATSE's idea is to create a new, national VFX union. If successful, this would be the first group to certify union participation amid a wider call for unionization in the VFX community.
► From the Art Newspaper — Employees at the Art Institute of Chicago museum and school ratify their first union contract — The new agreement gives the more than 500 union members salary increases of at least 12.25% and up to 16.25%, with lower-paid employees receiving larger pay bumps. It also immediately raises the required minimum wage to $17 an hour and includes provisions for career support and affordable health care.
The Stand (May 16) — Tacoma Art Museum board opts for more union-busting
► From KSL News…
► From The Hill — School bus driver shortage plagues first week back to class — From California to New York, school districts struggled their first week back as parents and students tried to navigate delays and cancellations caused by school bus driver shortages. The problems are endless, according to experts, who say the industry is facing a changing workforce, licensing issues, trouble with student behavior and obstacles with pay and scheduling.
EDITOR'S NOTE — "Obstacles with pay." Pay them and they will come.
---
The Stand posts links to Washington state and national news of interest every weekday morning by 10 a.m.
Short URL: https://www.thestand.org/?p=119031
Posted by
admin
on Aug 16 2023. Filed under
DAILY LINKS
. You can follow any responses to this entry through the
RSS 2.0
. Both comments and pings are currently closed.