Indigo docs are blue | Amazon cited (again) | Cornell dumps Starbucks
Thursday, August 17, 2023
---
LOCAL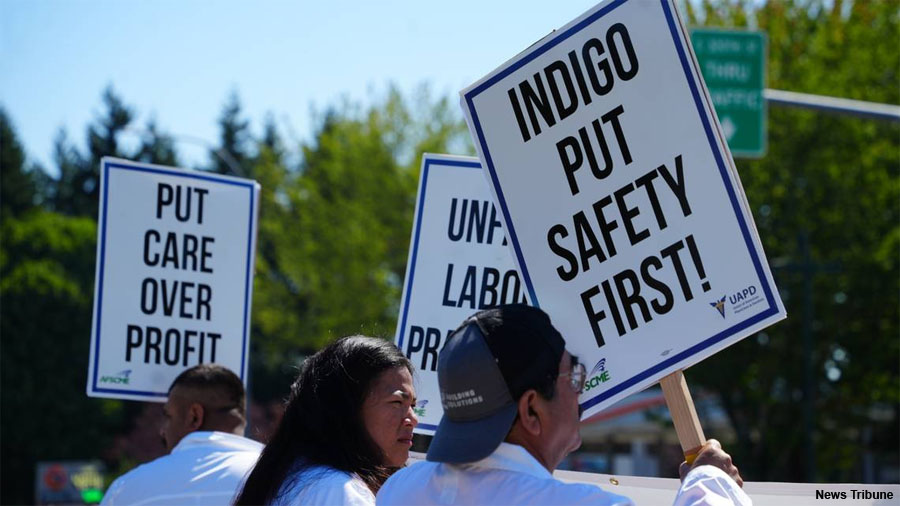 ► From the News Tribune — Pickets this week at MultiCare Indigo clinics over surge of patients vs. quality of care — Eight Indigo Urgent Care clinics operated by Tacoma-based MultiCare are seeing informational pickets this week organized by a union representing some of the medical staff. The Union of American Physicians and Dentists contends that "the demands for speed have caused many providers to quit, creating a 27 percent turnover rate at Indigo Urgent Care within the last 12 months."
The Stand (Aug. 11) — UAPD to picket multiple Indigo Urgent Care clinics Aug. 15-18 — Pickets continue today from 11 a.m. to 1 p.m. at the Kirkland Clinic, 12423 Totem Lake Blvd. NE, and from 4 to 6 p.m. at the Wallingford Clinic, 118 NE 45th St., Ste. A, Seattle.
► From the PS Business Journal — Alaska Airlines flight attendants picket again ahead of contact talks — More than 2,000 Alaska Airlines flight attendants picketed locally and elsewhere across the U.S. Tuesday amid contract talks with the SeaTac-based airline. The flight attendants aim to change wage rules that they say often result in unpaid labor.
The Stand (Aug. 15) — Alaska's flight attendants: Pay Us or Chaos! — Union solidarity brings hundreds to rally, picket outside company HQ in SeaTac
► From the Seattle Times — Look in mirror spurs Tacoma Housing Authority to set $32 minimum wage — The whole point of April Black's organization is to combat poverty. That's why the Tacoma Housing Authority executive director was troubled when she faced the reality that some of her own employees weren't making enough money to get by, she said, recalling the hard look in the mirror that led Tacoma Housing to adopt a $32-an-hour minimum wage this summer.
EDITOR'S NOTE — It helped that OPEIU Local 8, which represents Tacoma Housing office workers, held that mirror up to management. Get more information about how you can join together with co-workers and negotiate a fair return for your hard work. Or go ahead and contact a union organizer today!
► From the Seattle Times — Trucking giant Yellow's collapse hits hundreds of WA employees — Over 400 Washington workers are expected to lose their jobs with Yellow Corp., as the trucking company contracts under financial struggles and looming bankruptcy proceedings. Yellow CEO Darren Hawkins blamed union bargaining efforts for the company's closure, but Teamsters President Sean O'Brien said:
"Yellow has historically proven that it could not manage itself despite billions of dollars in worker concessions and hundreds of millions in bailout funding from the federal government. This is a sad day for workers and the American freight industry."
► From the KNKX — Lyft, Uber drivers in Seattle push for additional safety measures — After several drivers have been killed in recent months in King County, including one just last week, advocates are calling for more to be done to keep Uber and Lyft workers safe. Kerry Harwin is with the statewide Drivers Union that represents app-based workers in Washington state. He said his organization is helping raise funds for the family of Amare Geda.
EDITOR'S NOTE — Contribute to the GoFundMe page for Amare Geda's family.
---
THIS WASHINGTON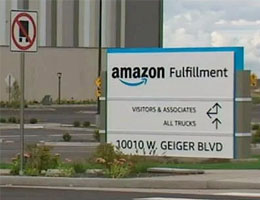 ► From L&I — Another Amazon fulfillment center warehouse cited for unsafe conditions — Amazon is facing $85,800 in fines for knowingly putting workers at risk of injury at its fulfillment center warehouse in Spokane. An L&I inspection of the e-commerce company found that Amazon requires workers to execute repetitive motions, lifting, and other physical work at such a fast pace that it puts workers at risk for developing Work-Related Musculoskeletal Disorders. Because L&I has cited Amazon for similar violations at three other Washington locations, the company is aware of these hazards. That's why the most recent violation is considered willful and carries a higher penalty.
► From the Seattle Times — WA AG sues O'Reilly Auto Parts, says pregnant workers faced discrimination — Washington Attorney General Bob Ferguson announced Wednesday he was suing O'Reilly Auto Parts, the car parts and accessories chain, for discriminating and retaliating against pregnant workers, alleging that at least 22 women were harmed as a result.
► From the Kitsap Sun — County commissioners weighing candidates for next 23rd District Senator — Chris Cancialosi, Brynn Felix and current 23rd District Rep. Drew Hansen are candidates, nominated by Kitsap County Democrats for selection by the commissioners. All three are residents of Bainbridge Island.
---
THAT WASHINGTON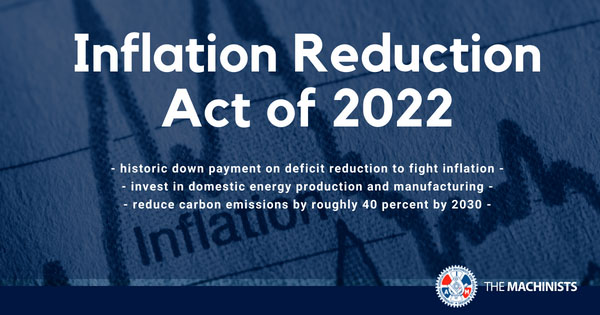 ► From NPR — A year in, landmark U.S. climate policy drives energy transition but hurdles remain — The Inflation Reduction Act (IRA) may have a bureaucratic name, but it sets expansive goals. The policy aims to dramatically decrease the U.S. contribution to climate change, slashing greenhouse gas emissions by shifting the economy away from fossil fuels. The law directs at least $369 billion – and potentially much more – toward incentives for nearly every sector of the economy to adopt renewable energy and other low-carbon technologies.
► From the AFL-CIO — The Inflation Reduction Act is a game changer for working people — AFL-CIO President Liz Shuler:
"One year ago today, President Biden signed into law legislation that revolutionized our economy and put us on the path to a worker-centered clean energy future. The Inflation Reduction Act has already proven to be a massive victory for the clean energy transition, growing the U.S. workforce and enhancing our nation's energy security. This transformative legislation that puts working people first has already had an outsized impact on manufacturing and construction investments across the country."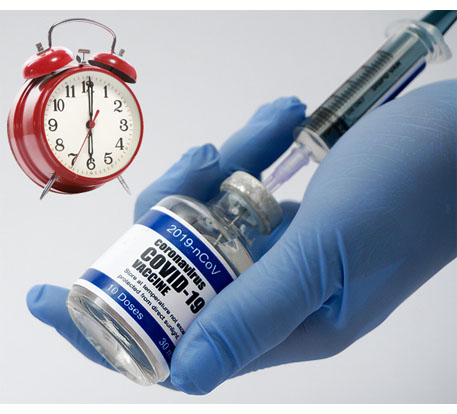 ► From Roll Call — COVID vaccine program for uninsured could be late to pharmacies — The Centers for Disease Control and Prevention's new program to get the next generation of COVID-19 vaccines to uninsured and underinsured Americans will likely not be ready in pharmacies by the time the new vaccines hit the market as early as this September, leaving millions of high-risk Americans in the lurch. The change comes during a post-pandemic transition. The government has paid for Americans' COVID-19 vaccines with every previous generation of COVID-19 vaccines, but with this next iteration of shots, the cost will switch to the commercial market.
EDITOR'S NOTE — America's for-profit health care system works its magic again.
► From the AP — Some abortion drug restrictions are upheld by an appeals court in a case bound for the Supreme Court — New restrictions on access to a drug used in the most common form of abortion in the U.S. would be imposed under a federal appeals court ruling issued Wednesday, but the Supreme Court will have the final say.
EDITOR'S NOTE — Sen. Patty Murray (D-Wash.) said: "It is absolutely infuriating that we have judges overruling medical experts and patient and doctor experience to impose outdated restrictions on mifepristone that fly in the face of medical science."
---
NATIONAL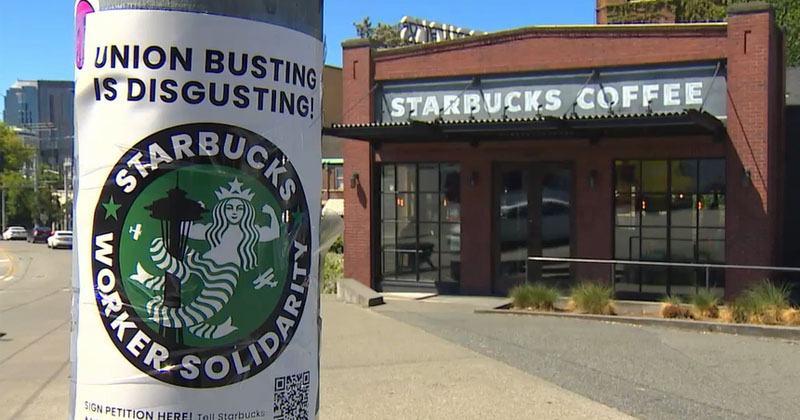 ► From the Cornell Daily Sun — Cornell to end partnership with Starbucks by June 2025 — The decision to end the partnership comes following a NLRB ruling that found Starbucks punished pro-unionization Cornell students who were Starbucks employees by denying them leave over Cornell's academic breaks during the unionization process at Ithaca's three locations, among other violations.
► From the LA Times — The WGA and AMPTP are talking again. Why the studios returned to the table. — Despite some studio executives balking at WGA's original demands, insiders say studios are now making concessions in a bid to end the strike. Will they be enough?
► From the NY Times (via Seattle Times) — From Detroit to Hollywood, new union leaders take a harder line — In addition to UAW President Shawn Fain, several prominent unions are now in the hands of outspoken leaders who have taken their membership to the brink of high-stakes labor stoppages — or beyond.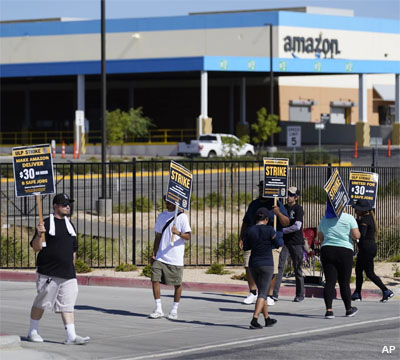 ► From the AP — Teamsters add their heft to dozens of Amazon delivery drivers picketing around the country — Since late June, dozens of Amazon drivers and dispatchers who work for a California-based delivery firm that the Teamsters unionized in April have been picketing company warehouses as far out as Michigan and Massachusetts, calling on the e-commerce behemoth to come to the table and bargain over pay and working conditions. Amazon has essentially said no. Teamsters say the strike will continue until Amazon reinstates the employees and comes to the bargaining table.
► From the NY Times — The shortage of school bus drivers is getting worse — Looking for an alternative, a school district in Louisville, Ky., turned to a software program. It led to chaos.
EDITOR'S NOTE — Pay them, and they will come.
► ► From the Wall Street Journal — Why child-care prices are rising at nearly twice the overall inflation rate — Providers are boosting tuition as their costs rise and federal aid ends, straining some families' finances.
► From the LA Times — Lisa Vanderpump questions push to unionize reality TV stars 'plucked from obscurity' — "One of the great things about reality shows is that they've always been able to be produced for less money than scripted shows," Vanderpump said. "And I don't really understand how you can have a union for people that are normally plucked out of obscurity."
EDITOR'S NOTE — All workers — even you — deserve fair wages and respect on the job. The main difference is, you are also an Executive Producer of a show, so you make more money if cast members don't.
---
TODAY'S MUST-READ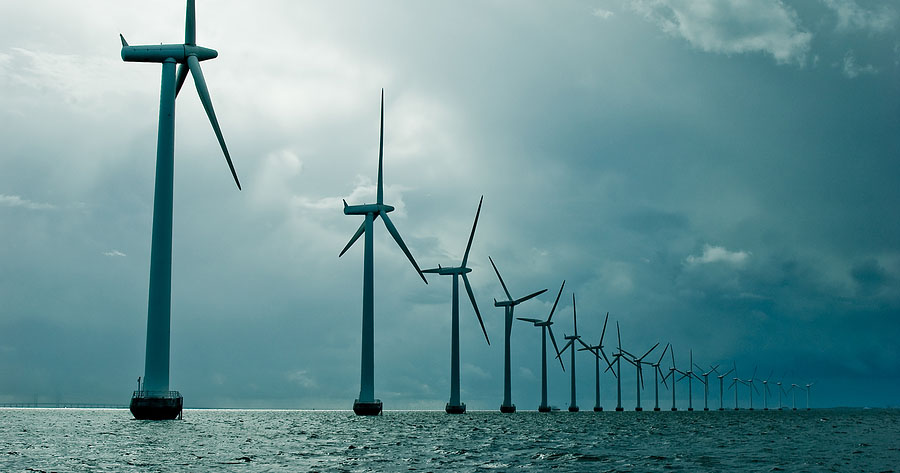 ► From Politico — California's planning a renewable energy project at a scale never before attempted in the world — A 300-foot tall smokestack from a defunct paper mill looms over the port in Humboldt Bay, a relic of the timber industry that once defined the northwestern corner of California along with the struggling salmon fishing industry and sputtering marijuana trade. But a gust of optimism has arrived in Humboldt County over plans to develop offshore wind at a depth and scale never before attempted in the world – sparking hope and anxiety in a region that has lived through repeated boom-and-bust cycles and ended up with one of the lower per-capita incomes in the state. "This is a generational project," said Jeff Hunerlach, secretary-treasurer of a council of construction unions for Humboldt and neighboring Del Norte County. "I could work 20 years on this project and my kid could work 20 years on this project."
The Stand (July 31) — Unions launch Climate Jobs Washington — Labor-led coalition releases comprehensive report from Cornell University with policy recommendations to advance equitable, pro-worker climate action in Washington.
---
The Stand posts links to Washington state and national news of interest every weekday morning by 10 a.m.
Short URL: https://www.thestand.org/?p=119076
Posted by
David Groves
on Aug 17 2023. Filed under
DAILY LINKS
. You can follow any responses to this entry through the
RSS 2.0
. Both comments and pings are currently closed.