Strike limited | Is $16.28 enough? | Actors' talks to resume
Monday, October 23, 2023
---
LOCAL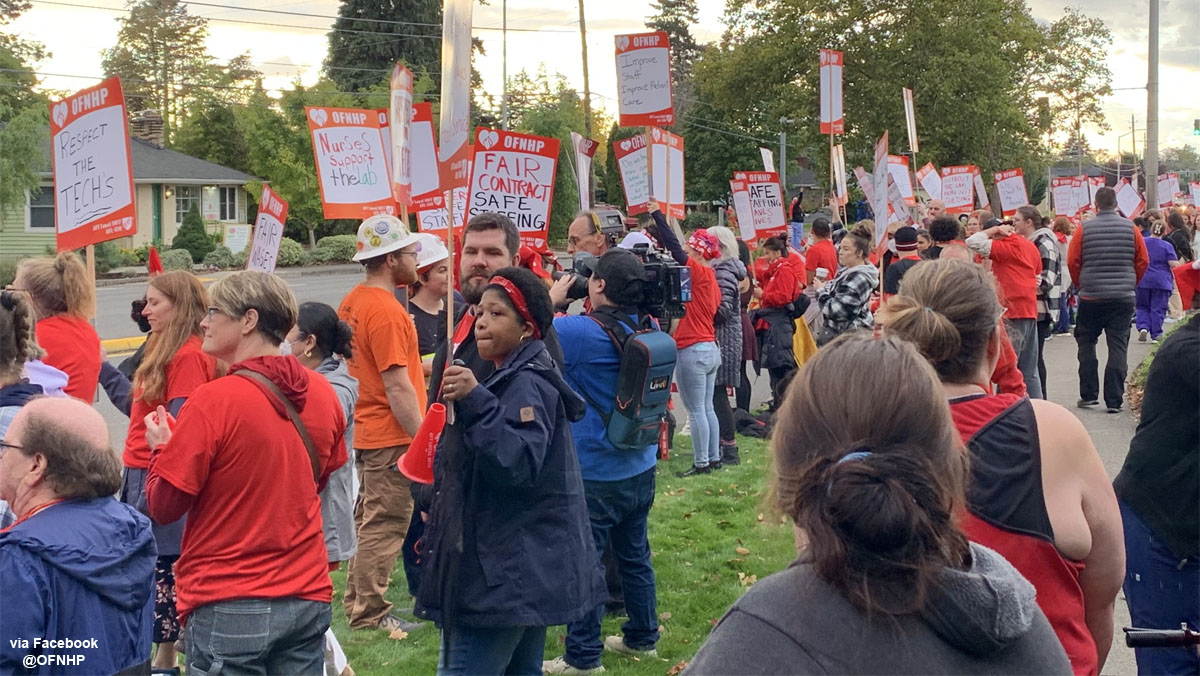 ► From the Oregonian — PeaceHealth workers in SW Washington to limit strike to retain health insurance — The day before more than 1,300 healthcare workers in southwest Washington are expected to go on strike, the workers have decided on a major strategic shift. Rather than an open-ended walkout, the workers at PeaceHealth Southwest Medical Center in Vancouver and St. John Medical Center in Longview have decided to stay out just five days. They did so to neutralize the threat from PeaceHealth management to eliminate their health insurance.
TODAY at The Stand — Strike begins today at PeaceHealth hospitals
TAKE A STAND — The strike will begin at 6:30 a.m. on Monday, Oct. 23. All union members and community supporters are invited to join the picket lines at both PeaceHealth Southwest (400 NE Mother Joseph Pl. in Vancouver) and PeaceHealth St. John (1615 Delaware St. in Longview). Workers will be prepared to return to work on Saturday, Oct. 28.
► From Vice — Starbucks and its workers' union are suing each other in legal showdown — Starbucks and the union organizing the company's baristas filed lawsuits against each other on after the union rejected the company's demand to stop using its name and logo. Starbucks is suing the union for trademark infringement, while the union is suing Starbucks for defamation.
---
AEROSPACE

► From Reuters — Production woes plague earnings for Boeing, RTX and Spirit Aero — After a succession of production snafus, investors will question whether U.S. aerospace's "problem children" — Boeing, RTX and Spirit AeroSystems — can stem financial losses and hit year-end targets. All three companies are expected to report losses in their third-quarter results as they struggle to resolve manufacturing defects on their most profitable aircraft and engine products.
---
THIS WASHINGTON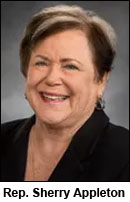 BREAKING — Former Sen. Christine Rolfes reported via Facebook on Sunday that former Rep. Sherry Appleton (D-Poulsbo) died last week while on a cruise. Appleton served as a State Representative in the 23rd District from 2005-2020, and had a career 100% voting record with the Washington State Labor Council, AFL-CIO. Prior to becoming a state legislator, she served as the ATU Legislative Council's lobbyist.
► From the Washington State Standard — Sparring on WA initiatives begins as signature-gathering continues — SEIU 775 and Washington Conservation Action paid for polling earlier this month on three of the measures – those seeking to repeal the state's carbon pricing program, capital gains tax and long term care tax. Support for each hovered at 40% based solely on a reading of the ballot title. When the likely voters participating in the poll learned of the potential financial impact of each one, opposition grew.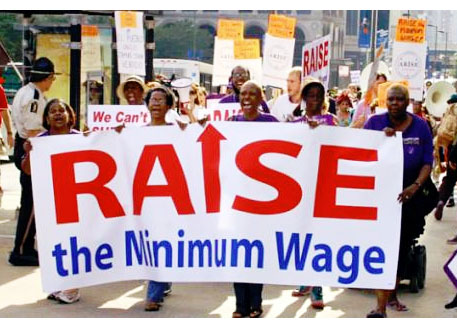 ► From the Spokesman-Review — Washington's minimum wage to increase to $16.28 next year. Is it enough to offset a statewide cost of living crisis? — Minimum wage in Washington will rise to $16.28 an hour next year, a 54-cent increase. But as rent, gas and other day-to-day expenses skyrocket across the Evergreen State, questions abound whether the half-dollar increase will make much of a difference. Eric Williams, a spokesperson for Second Harvest, a Spokane-based food security nonprofit:
"Inflation is taking a real bite out of people. Food inflation has been higher than the overall rate. While inflation has gone down, that doesn't mean prices have gone down. They're just not going up as fast as they were three months ago."
The Stand (Oct. 2) — State minimum wage will increase to $16.28/hour in 2024
► From Crosscut — Why are gas prices rising at stations unaffected by cap-and-trade? — Even oil companies not participating in the state's new carbon auction system are pumping up the cost to the consumer.
The Stand (July 12, 2023) — Big Oil, not state's climate efforts, is gouging your wallet (by Rep. Alex Ramel) — You, your family and your wallet should be aware of what's truly at stake here — corporations that stand to profit would prefer to blame Olympia when gas prices go up.
---
THAT WASHINGTON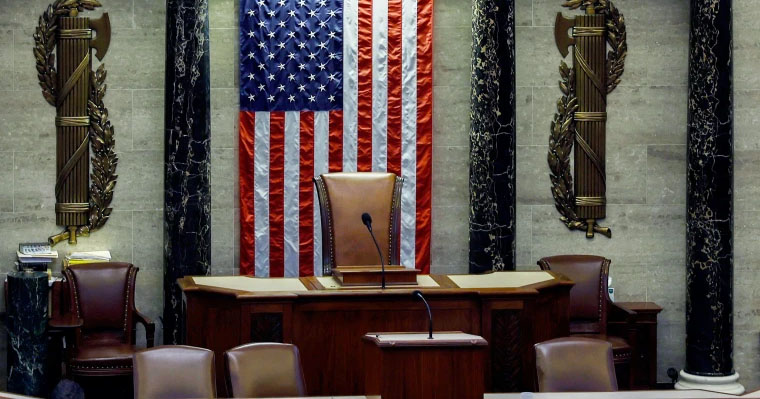 ► From the Hill — GOP launches third attempt to break Speaker stalemate — Tuesday marks exactly three weeks since eight Republicans and Democrats voted to oust former Speaker Kevin McCarthy (R-Calif.) from his post, leaving the House without a Speaker. Now, nine Republicans are vying for the top spot.
► From the AP — Republicans are facing death threats as the election for Speaker gets mired in personal feuds — As Rep. Jim Jordan's pressure campaign devolved into death threats against lawmakers and their families, something unexpected happened: Positions hardened, and a ragtag coalition of roughly 20 House Republicans rose up to deny Jordan the speakership.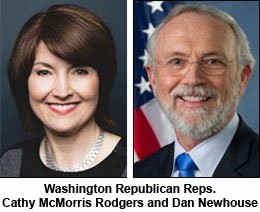 EDITOR'S NOTE — Washington Republican Reps. Cathy McMorris Rodgers and Dan Newhouse stood by Rep. Jim Jordan, voting to approve him as Speaker on all three of his failed attempts, even amid the death threats to their GOP colleagues.
► From The Hill — IRS crackdown on wealthy taxpayers brings in $160M in back taxes — The 100 taxpayers resulting in the latest haul are just a portion of the 1,600 individuals that the IRS is currently contacting for hundreds of millions of dollars in back taxes, according to the agency.
► From WTOP — Feds OK natural gas pipeline expansion in Pacific Northwest over environmentalist protests — The project, known as GTN Xpress, aims to expand the capacity of the Gas Transmission Northwest pipeline, which runs through Idaho, Washington and Oregon, by about 150 million cubic feet of natural gas per day. The Federal Energy Regulatory Commission gave it the green light in a vote on Thursday.
EDITOR'S NOTE — The UA tweets… Great news: @POTUS approves new pipeline expansions in the Pacific Northwest. Together, we are building the future of America's energy infrastructure.
---
NATIONAL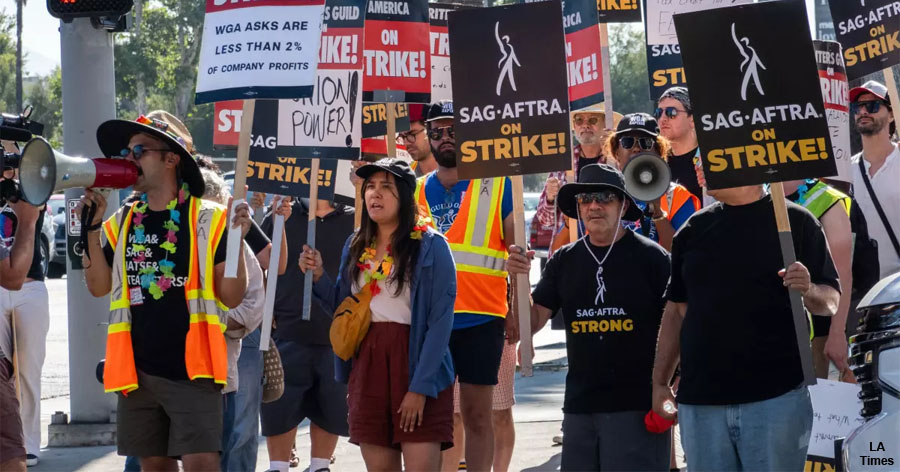 ► From the LA Times — SAG-AFTRA and AMPTP to resume talks Tuesday as strike reaches 100 days — SAG-AFTRA and the alliance representing major studios are scheduled to resume negotiations Tuesday, as the Hollywood actors' strike reaches the 100-day milestone. The two sides said in a joint statement they would meet at SAG-AFTRA Plaza in Los Angeles with "several executives" from the major studios in attendance. The meeting will mark the first formal talks since discussions broke down management walked out of negotiations on Oct. 11.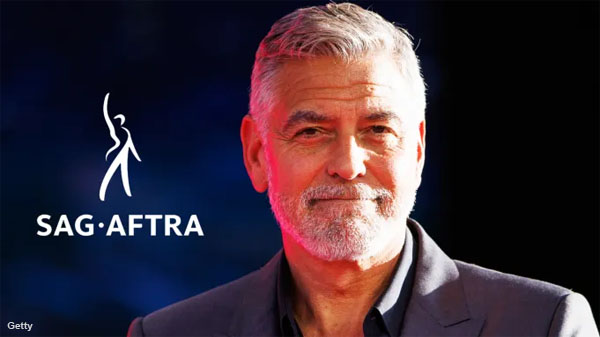 ► From Deadline — Hollywood's biggest stars offer to kick in $150 million over three years in dues to help end actors strike stalemate — After meeting on a Zoom call to figure out how to end an actors strike, a group of Hollywood's biggest stars — including George Clooney, Emma Stone, Ben Affleck, Tyler Perry and Scarlett Johansson — laid out to SAG-AFTRA leaders a groundbreaking proposal that amounts to the town's biggest earners defraying the costs to AMPTP signatories by eliminating the cap on membership dues, to be used to bolster health benefits and other areas that SAG-AFTRA is trying to shore up.
► From the LA Times — Fran Drescher is SAG-AFTRA's 'Norma Rae.' But the 100-day actors' strike poses new challenges
EDITOR'S NOTE — You can support striking SAG-AFTRA members by donating to the SAG-AFTRA Foundation, an emergency assistance program available to SAG-AFTRA members in urgent financial need due to the strike. Also, consider making a contribution to the Entertainment Community Fund, which supports all workers in the entertainment industries and gives living expense grants to those in need.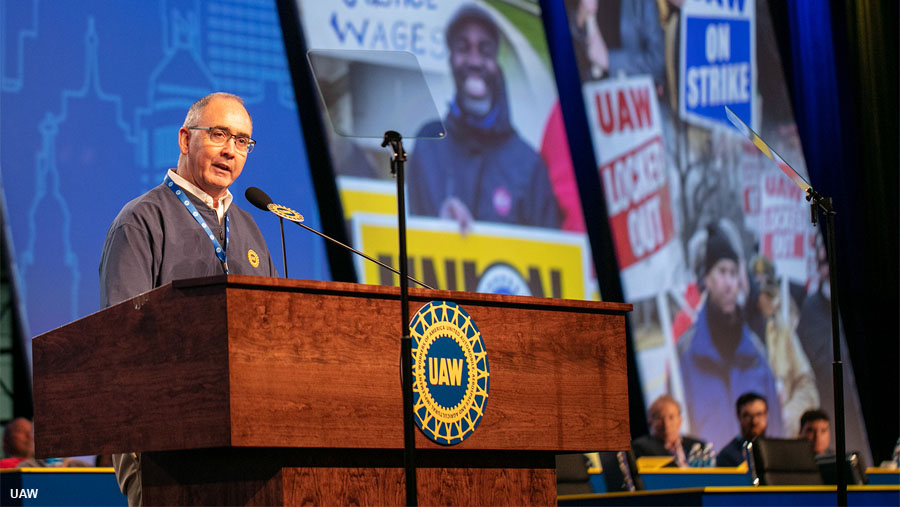 ► From NPR — The Big 3 automakers now have record offers on the table. UAW says they can do more. — In the five weeks since autoworkers first walked out at Ford, General Motors and Stellantis, the offers on the table have gotten dramatically richer. Proposed wage increases over the 4.5-year contract began at 9% but they are now at 23% at all Big Three automakers, UAW president Shawn Fain said on Friday. But he said there's still room to move:
"One thing we've been hearing over and over from these companies is how they've offered us record contracts. You know what? We agree. These are already record contracts, but they come at the end of decades of record decline. So it's not enough."
► From CNBC — UAW expands strike to Stellantis pickup truck plant in Michigan — The UAW announced Monday that it is expanding its strike to a Stellantis plant in Michigan that produces Ram 1500 full-size pickup trucks, dealing another blow to the major automakers as negotiations drag on.
EDITOR'S NOTE — The historic UAW Stand Up Strike began on Sept. 14. You can help support these striking workers and their families to stay out "one day longer" by contributing to the UAW Strike Support & Hardship Fund.
► From Reuters — UAW reaches tentative deal with General Dynamics, preventing strike — The UAW and General Dynamics have reached a tentative agreement over a new labor contract covering hundreds of workers at some of the U.S. defense contractor's facilities, the company said on Monday, staving off a potential strike.
► From the AP — Philadelphia Orchestra and musicians agree to 3-year labor deal with 15.8% salary increase
EDITOR'S NOTE — Ready for a raise? Get more information about how you can join together with co-workers and negotiate for better wages and working conditions. Or go ahead and contact a union organizer today!
---
INTERNATIONAL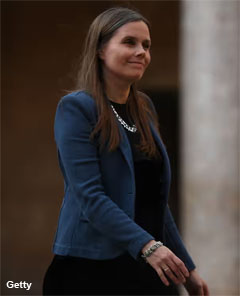 ► From the Guardian — Iceland's first full-day women's strike in 48 years aims to close pay gap — Tens of thousands of women and non-binary people across Iceland, including the prime minister, are expected to stop work – both paid and unpaid – on Tuesday in the first strike of its kind in nearly half a century. Organisers hope the women's strike – whose confirmed participants include fishing industry workers, teachers, nurses and the PM, Katrín Jakobsdóttir – will bring society to a standstill to draw attention to the country's ongoing gender pay gap and widespread gender-based and sexual violence.
---
The Stand posts links to Washington state and national news of interest every weekday morning by 10 a.m.
WASHINGTON IS A UNION STATE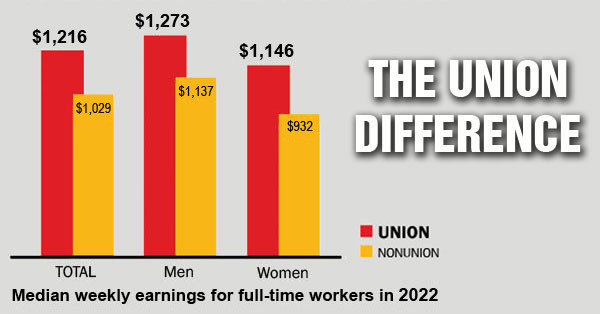 CHECK OUT THE UNION DIFFERENCE in Washington state: higher wages, affordable health and dental care, job and retirement security.
FIND OUT HOW TO JOIN TOGETHER with your co-workers to negotiate for better working conditions and respect on the job. Or go ahead and contact a union organizer today!