News experts will share their secrets on June 9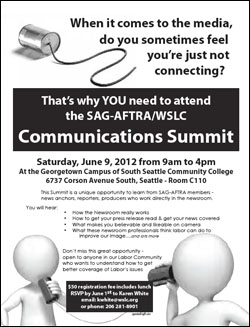 SEATTLE — Union communicators, staff members and officers are invited to attend a one-day Communications Summit, co-sponsored by the Washington State Labor Council and members from the newly merged SAG-AFTRA union, this Saturday, June 9 from 9 a.m. to 4 p.m. at the Georgetown Campus of the South Seattle Community College.
This unique, one-day summit featuring SAG-AFTRA union members who work in the commercial media will explain how a newsroom really works. They will include Jim Forman of KING 5 TV, Karen O'Leary of KIRO 7 TV, Adam Gehrke of Q-13 FOX, and others. Steve Reeder and John Patrick Lowrie, co-presidents of SAG-AFTRA Seattle, will help moderate the discussions.
"Labor has been under attack from all quarters for years," said WSLC President Jeff Johnson. "Given the corporate control of the media in our country, we have been fighting a losing battle over labor's public image. Enough is enough, it's now time to fight back and define who we are."
"We are grateful to our brothers and sisters in SAG-AFTRA who reached out to us to offer this amazing opportunity," Johnson added. "They have enlisted news anchors, reporters and editors, as well as actors and performance artists, who are volunteering to share their unique perspective with their fellow union members."
Here is the tentative agenda for Saturday's Communications Summit:
De-mystifying the News Room — SAG-AFTRA members will present a peek inside the newsroom: Who are the players? When are the meetings? Why are some stories covered and some are not? What are the different departments that might be interested in your stories. (Moderator: Steve Reeder. Northwest Public Radio. Participants: Jim Forman, KING 5; Karen O'Leary, KIRO TV; Adam Gehrke, Q-13; and others)
Writing Challenges — How to make sure your release gets noticed. What makes editors take notice? How do you write a great op-ed? (Laura Kenny and Steve Kruger)
Public Presentation — Being believable and likable on camera. How your presentation can dispel the myth of the "labor boss." (John Lowrie, Laura Kenny, and others)
Radio and TV Campaigns for Unions — Some good examples, why should we consider this and how costly is advertising?  (Rick Chase of UFCW Local 1439)
Film and Video — Style, storytelling and presentation for your union. (John Jacobsen, Executive Director of The Seattle Film School)
New Dimensions in Social Media — Effective use of Facebook, Twitter and other social media. (Linda Myers)
How the Media Views Unions, a general discussion with SAG-AFTRA members, and what we can do to polish our image. (Moderator: John Lowrie, plus Jim Forman, Karen O'Leary, and others)
How to Reach Deeper into Our Membership, a general discussion about improving internal communications. (WSLC President Jeff Johnson, Communications Director Kathy Cummings and Publications Director David Groves)
Participants are asked to contribute $50 each to cover the cost of lunch and the use of the facility. Please RSVP by June 1 to Karen White via email at kwhite@wslc.org, or by phone at 206-281-8901 ext. 14.
For more information, download the event flier or call WSLC Communications Director Kathy Cummings at 206-281-8901 ext. 28.
Short URL: https://www.thestand.org/?p=14174
Posted by
David Groves
on Jun 4 2012. Filed under
W.S.L.C.
. You can follow any responses to this entry through the
RSS 2.0
. Both comments and pings are currently closed.