Grocery talks, Hanjin bolts Portland, labor warns Obama…
Monday, October 21, 2013
---
GROCERY STRIKE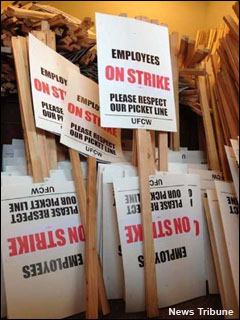 ► In today's News Tribune — Negotiations ongoing between grocery worker union, store owners — Negotiations between grocery store owners and the union representing 21,000 of their workers across the state were ongoing Sunday, the spokesman for the grocery workers said. Workers for Albertsons, Fred Meyer, Safeway and QFC stores in King, Snohomish, Pierce, Kitsap, Thurston and Mason counties would take part in the strike if it proceeds. The workers issued a 72-hour strike notice Friday night after weeks of negotiation. That notice expires tonight (Monday) at 7 p.m.
ALSO see coverage in today's (Longview) Daily News, The Olympian, and The Oregonian.
Meanwhile, The Seattle Times is polling the question: Will you cross a picket line to buy your groceries?
---
LOCAL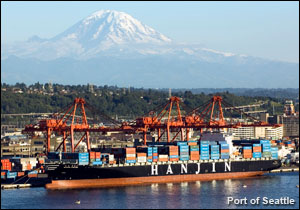 ► In the Oregonian — Hanjin Shipping plans to stop calling on Port of Portland, stranding Northwest importers, exporters — Hanjin Shipping Co. Ltd., the Port of Portland's biggest trans-Pacific container carrier, confirmed Friday the shipping line intends to pull out of Portland, ending two decades of service to exporters and importers. Ending weekly service would be a major blow to the Northwest economy, hurting some big importers and exporters that would have to pay more to truck containers to the Port of Seattle. The pullout in January would also end a $250,000 weekly payroll for longshore workers who load and unload the vessels at Terminal 6 in North Portland.
► In the PS Business Journal — Legislative task force crafts incentives to win Boeing 777X assembly — A task force of 12 legislative leaders, which is seeking ways to persuade Boeing Co. to build the 777X in Everett, plans to meet for the third time in Seattle Monday. The bipartisan 777X Legislative Task Force, announced by Gov. Jay Inslee Oct. 2 at the Governor's Aerospace Summit in Everett, is trying to develop tangible actions that can be taken by the Legislature to persuade Boeing to assemble the plane in Everett.
---
ELECTION
► From AP — Big money pouring into State Senate race — The 26th District race between Democrat Nathan Schlicher and Republican challenger Jan Angel has already seen a combined spending of $1.9 million, with about half of that money being spent by third-party groups.  Schlicher, an emergency room doctor from Gig Harbor, was appointed to the Senate seat in January to replace Democrat Derek Kilmer, who was elected to Congress. Angel, of Port Orchard, has served in the House since 2009.
ALSO at The Stand — Check out the Washington State Labor Council's 2013 election endorsements
► In the Columbian — Washington's GMO vote will be scrutinized nationally — Supporters and opponents of labeling genetically engineered food will watch the Evergreen State closely Nov. 5, when Washington voters decide whether many genetically modified organisms, or GMOs, sold here should include such information on their packaging. It's the only initiative of its kind to go before voters in a U.S. state this fall, and opponents of GMO labeling have raised a record-breaking amount of money in attempts to defeat it.
ALSO at The Stand — Here's why the WSLC supports Initiative 522 (by Nicole Grant)
---
OBAMACARE

► In today's Yakima H-R — Health care enrollment unit visits Yakima; dozens sign up for coverage — Some 45 individuals and families signed up for coverage under the new federal health care law Sunday when experts in a mobile unit rolled into Yakima to help guide people through the system. In doing so, the new enrollees joined the more than 25,000 people statewide who have already signed up for health plans through Healthplanfinder, the state's new online insurance marketplace, where people can browse through dozens of qualified health plans and find out if they're eligible for subsidized coverage or expanded Medicaid.
► At Politico — White House employs 'tech surge' to address federal Obamacare website — The Obama administration Sunday said it's called on "the best and brightest" tech experts from both government and the private sector to help fix the troubled website at the root of the Obamacare enrollment problems.
EDITOR'S NOTE — Good thing we didn't listen to the Republicans in the minority of our State Legislature. They fought against (and voted against) against establishing our own Washington Health Benefits Exchange, in favor of accepting whatever the feds set up.
---
NATIONAL



► At Salon — Unions warn Obama against benefit cut fetish — With the immediate government shutdown and debt ceiling showdown now past, the nation's largest union federation is warning of dire consequences if the president and his party once again push so-called entitlement reforms. "The labor movement is going to fight to the death to stop cuts to Social Security and Medicare and Medicaid," AFL-CIO policy director Damon Silvers said. "Not 'unreasonable cuts.' Not 'cuts without tax increases.' Cuts period. We're against all of them, we will fight them ferociously, and we will give no cover to any Democrat who supports them."
► In the LA Times — CNBC goes to school on Social Security, flunks out (by Michael Hiltzik) — A couple of well-heeled anchor-reporters for CNBC — the type of people who need never beg for lunch dates among Wall Street bankers — Friday batted around the supposed threat to the republic posed by hordes of seniors collecting Social Security benefits. Unfortunately for them, their interviewee was Damon Silvers, policy director for the AFL-CIO and one of the best informed and fiercest defenders of Social Security in Washington. If they listened, they learned something. The evidence is they didn't listen.
► In today's NY Times — Questions surround deaths of 2 Bay Area transit workers as strike continues — The two workers, a contractor and an employee of the transit system, known as BART, were inspecting a section of track in the East Bay when an out-of-service train under computer control struck them.
► At Huffington Post — Majority of Americans think 'it's bad for America' that Republicans control the U.S. House — Fifty-four percent think it's bad that Republicans control the House, the CNN poll found. That's up from 43% in December 2012, during the last fiscal standoff. The figure is the first time a majority thought Republican control was bad for the country since CNN started asking in December 2010.
---
TODAY'S MUST-READ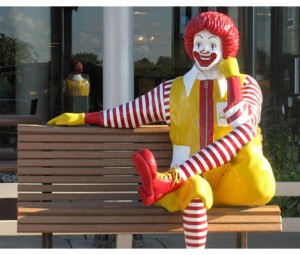 ► In Sunday's (Everett) Herald — The $7 billion public cost of low-wage jobs (by Sylvia Allegretto and Marc Doussard) — After two years working at a St. Louis Wendy's, Alisha Snider still cannot afford basics like rent, food, clothes and daycare for her three daughters. The 26-year-old earns only $7.50 an hour and works just 20 hours a week. So how does Alisha make ends meet? She puts her kids in a taxpayer-funded daycare program and uses $398 a month in food stamps to feed them.
New research shows Alisha is far from alone. It might come as a surprise that most Americans on public assistance programs work. In fast food, workers rely on public assistance programs in particularly large numbers because jobs in the industry just don't pay them enough. Fast-food jobs pay so little that 52 percent of the families of front-line fast food workers need to rely on public assistance programs, costing taxpayers nearly $7 billion a year. The cost is highest in California, at $717 million each year.
ALSO at The Stand — Low fast-food wages cost state's taxpayers
---
The Stand posts links to Washington state and national news of interest every weekday morning by 10 a.m.
Short URL: https://www.thestand.org/?p=27483
Posted by
David Groves
on Oct 21 2013. Filed under
DAILY LINKS
. You can follow any responses to this entry through the
RSS 2.0
. Both comments and pings are currently closed.