Safe-bertsons, health care mobsters, private plunder, 'I Do'…
Friday, March 7, 2014
---
BOEING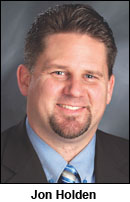 ► In today's Seattle Times — Machinists choose Holden to represent 33,000 at Boeing — Holden now has the tough job of trying to heal the internal wounds opened up by negotiations with Boeing that in January sealed the 777X project for Everett while freezing the traditional pensions of 33,000 union members.
ALSO at The Stand — Jon Holden elected to lead IAM District 751
MORE coverage from AP, (Everett) Herald and the P.S. Business Journal.
► In today's Seattle Times — Boeing will freeze pensions for 68,000 nonunion employees — Boeing will freeze the traditional defined-benefit pensions of some 68,000 nonunion salaried staff — including managers and executives — starting in 2016. That leaves SPEEA members as the last major employee group to retain a traditional pension. In last year's contract negotiations with Boeing, SPEEA agreed to switch new hires from the traditional pension to a defined-contribution plan, but retained the current pension for existing employees. Union leaders expect Boeing to push hard for an end to that pension in the next negotiations in 2016.
---
LOCAL



► In today's Seattle Times — Safeway, Albertsons announce merger — Albertsons and Safeway, the nation's second-largest grocery chain, said Thursday that they will merge under the control of the company that owns Albertsons. The $9 billion deal will create a chain with more than 2,400 stores, 27 distribution centers and 20 manufacturing plants. The combined workforce will exceed 250,000. The companies said no stores are expected to close as a result of the merger.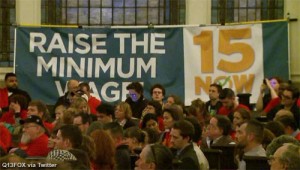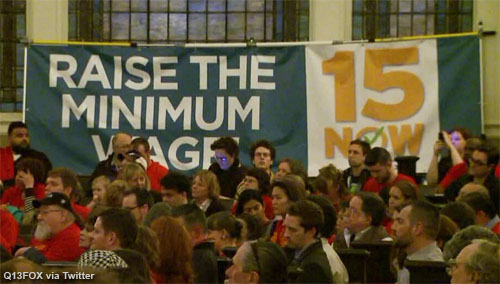 ► At Slog — After minimum wage town hall, where do we go from here? — "15 Now" is a rallying cry that makes sense: It's what they want plus when they want it, all in just five characters. And while there was a steady contingent of beloved local business owners last night pleading for mercy, the side of the debate they offered doesn't work… A representative of Dick's said they'd have to raise prices to accommodate a dramatic wage hike — so what? The people around them testified about not being able to afford food and medication and clothing, about their whole tax credit going straight to pay creditors, about struggling to raise healthy kids on a single income. Anyone but a sociopath would pay a quarter more per burger to fix that.
ALSO at The Stand — WSLC urges $15 minimum wage in Seattle
► At KUOW — Why Northwest mills want China to buy lumber instead of logs — The Northwest timber industry's export story of late hasn't been about finished lumber, though. It's been about raw logs. The surge in raw-log exports coincided with a dramatic drop in demand for lumber for home-building in the U.S. — a drop that was devastating to Northwest lumber mills.
---
TODAY'S MUST READ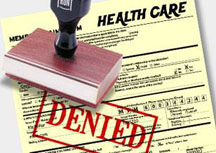 ► At Truth Out — Worse than the mob: The insurance industry is organized crime (by William Rivers Pitt) — Nothing so thoroughly dominated the American political landscape over the last year more than the Republican assault on the Affordable Care Act, colloquially known now as "Obamacare." The GOP's eternal refrain that "Government is the problem" was used as a battering ram against the law, and House Republicans have voted to repeal or denude it exactly 50 times as of today… Amusing as all this was, the dark underbelly of it all is dangerously wrong. Yes, the ACA exchange website rollout was a train wreck, and yes, a small segment of the population has had problems with the new law. This is not in dispute. Websites can be fixed, however, and problems can be solved. None of this holds a candle to the awesome misery and financial pain inflicted upon the populace by the holy and sainted world of private business, known in this instance as the insurance industry.
Abandoning the concept of single-payer health care is the Original Sin of the Affordable Care Act. While I and the half of the country dealing with pre-existing conditions are grateful for the ACA's prohibition against denying coverage to people thus afflicted, that protection is next to useless when dealing with the shark tank that is the insurance industry. They have less morality than a Mafia leg-breaker, but far more power, and someone decided to keep them in charge of the process anyway.
EDITOR'S NOTE — This one's a long read, but is worth the time. It should be shared with all of your friends and family who continue to blame government for our nation's health care problems.
Which brings us to…
---
STATE GOVERNMENT



► In the P.S. Business Journal — State insurance chief blasts Premera on transparency issue — Washington state Insurance Commissioner Mike Kreidler is accusing Premera Blue Cross of using its political influence to gut a bill designed to protect the public from Ponzi schemes and financial meltdowns.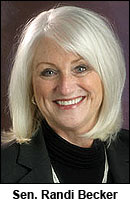 ► In today's Seattle Times — Premera shrouds transparency (editorial) — Where can insurance buyers — including the state — find the lowest cost and highest quality care? Apparently, Senate Health Care Committee Chairwoman Randi Becker (R-Eatonville) and the State Senate are unwilling to help consumers and providers find the answer.
► In today's Olympian — Inslee to keep pushing teacher-evaluation bill — Gov. Jay Inslee said Thursday he hopes lawmakers can come to an agreement on the state's teacher-evaluation system before the Legislature adjourns next week.
► In today's Olympian — Inslee thinks McCleary agreement may not happen until after session — Gov. Jay Inslee said Thursday it looks less likely that factions in the House and Senate can agree on a unified plan for funding K-12 schools before adjourning their 60-day session next Thursday.
► In today's Seattle Times — Public-private partnership gives the jobless new skill, prospects — A federally funded welding class at Seattle's Vigor Shipyards is training long-unemployed workers for a career change — and a blue-collar dream of a steady living wage.
---
NATIONAL



► At AFL-CIO Now — Economy adds 175,000 jobs, buts jobless rate ticks up to 6.7% — AFL-CIO Deputy Chief of Staff: "The economy added only 175,000 jobs last month — not nearly enough to dig us out of the jobs hole left by the Great Recession. Meanwhile, there are 203,000 more long-term unemployed people in the last month—reinforcing the desperate need for Congress to renew unemployment insurance."
► At Politico — Senate unemployment debate returns — A group of deal-seeking Republicans introduced legislation Thursday evening that would extend expired unemployment benefits for five months, serving as a counteroffer to a Democratic bill that revives long-term jobless aid for six months.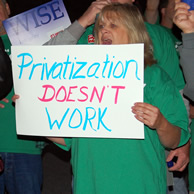 ► In Newsweek — Bringing home big bucks in the public sector — Average teacher pay last school year was under $57,000, but the highest-paid educator the taxpayers support earned $9.5 million last year. Those big bucks went to Nathaniel A. Davis, the chief executive officer and chairman of the board of K12 Inc., which runs virtual privatized schools for taxpayers… The privatization of local and state government services makes a few employees wildly rich. It is a very different set of facts from the meme that justified laws restricting the rights and pay of public sector workers in Michigan, Ohio, North Carolina, Wisconsin and other states where governors ran on a platform that public sector workers make too much money. Research by many scholars has shown that privatization does not save taxpayer money. The total cost for federal contract employees averages twice that of what civil service workers cost; for military contractors, the figure is three times as much.
► At Huffington Post — Save the Postal Service (by U.S. Rep. Bernie Sanders) — The U.S. Postal Service is under constant and vicious attack. Why? The answer is simple. There are very powerful and wealthy special interests who want to privatize or dismember virtually every function that government now performs, whether it is Social Security, Medicare, public education or the Postal Service. They see an opportunity for Wall Street and corporate America to make billions in profits out of these services, and couldn't care less how privatization or a degradation of services affects ordinary Americans.
---
INTERNATIONAL TRADE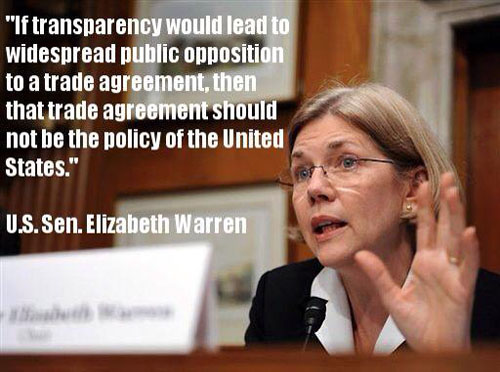 ► In today's Minneapolis S-T — Don't repeat NAFTA's mistakes (op-ed) — The new Trans-Pacific Partnership is being negotiated in secret, and secrecy is no friend to good public policy. We only know what we know about TPP from leaks out of closed-door sessions no member of Congress or the news media are permitted to attend. And if NAFTA is truly the model for these secret TPP negotiations, the results can only be another string of costly broken promises and destructive, job-killing policies.
---
T.G.I.F.



► Today, The Entire Staff of The Stand™ celebrates the birthday of another rocker from our youth: Peter Wolf, lead singer for The J. Geils Band. Known by casual fans for hits like "Centerfold," "Freeze Frame" and "Love Stinks," this Boston/Detroit band was legendary for its energetic, interactive live performances, as depicted here. (Fun Fact: Wolf was married to actress Faye Dunaway from 1974 to 1979, a period when she appeared in such classics as Chinatown, The Towering Inferno, and Network.)
---
The Stand posts links to Washington state and national news of interest every weekday morning by 10 a.m.
WASHINGTON IS A UNION STATE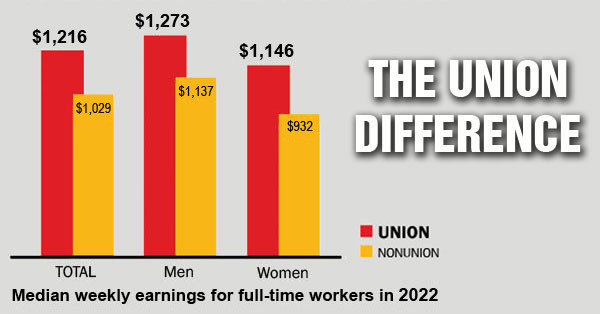 CHECK OUT THE UNION DIFFERENCE in Washington state: higher wages, affordable health and dental care, job and retirement security.
FIND OUT HOW TO JOIN TOGETHER with your co-workers to negotiate for better working conditions and respect on the job. Or go ahead and contact a union organizer today!