GOP's blockade, IAM=$$$ at Boeing, working-class millennials…
Thursday, March 17, 2016
---
SUPREME COURT
♣  In today's NY Times — GOP leaders refuse to budge on nominee — Judge Garland has been praised by members of both parties, but Senate Republicans reiterated that they would not consider him. Senate Majority Leader Mitch McConnell (R-Ky.) appeared on the Senate floor shortly after the president's announcement to declare an end to Judge Garland's nomination, no matter his qualifications. In case there was any doubt, McConnell later called Judge Garland personally to say he would not be receiving him in his Capitol office, nor taking any action on his nomination.
ALSO TODAY at The Stand — 'Consensus nominee' faces GOP blockade (editorial)

EDITOR'S NOTE — Other than the GOP's reliable parrots at the Wall Street Journal, who confoundingly joined McConnell in accusing President Obama of playing "politics" by endorsing a centrist instead of a liberal (?!), The Entire Staff of The Stand struggled to find a daily newspaper editorial — local or national, right leaning or far-right leaning — in support of the GOP's Supreme Court blockade. Instead this morning, they face a storm of criticism from, among many others, the Columbian, (Everett) Herald, New York Times, Seattle Times, and the Washington Post. Now the question is, will our local media ask the Republicans from our state's congressional delegation to defend their party's blockade, or will they continue to give them a pass on their party's obstruction in the other Washington?
♣ From TPM — How Obama threw a curveball with the safest SCOTUS pick imaginable — Rather than provoke Republicans to a reactionary position with a bold choice, Obama offered them someone so boring, they're stuck tying themselves in knots.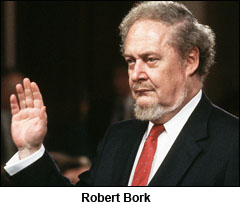 ♣ In today's NY Times — Bring it on (by Linda Greenhouse) — The battle over the 1987 nomination of President Reagan's choice of Judge Robert Bork is the memory Republican politicians and conservative commentators and interest groups reach for to justify the decision to block any Obama Supreme Court nominee… The president might say: Remember Robert Bork? Treat my nominee in the same way. Have a conversation and let the public in on it. Of course the president and his allies know that's exactly the public conversation that the Republicans fear, because it was clear from the first moment that any Obama nominee would inhabit the constitutional mainstream much more securely than either Judge Bork or Justice Scalia ever did. Now with the nomination of Merrick Garland, there is not the shadow of a doubt. The only way the Republicans can come out ahead in a public conversation about this particular nominee is by not having it. The Bork Battle all over again? Be my guest.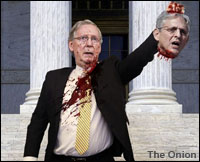 ♣ From The Onion — Defiant Mitch McConnell holds Merrick Garland's head aloft in front of Capitol Building — "We vowed that no nominees would be considered," said McConnell, his suit splattered with blood as he flung the centrist appeals court judge's bespectacled head aside and kicked it down the Capitol steps. "There shall be no hearing. Do not attempt to silence the voice of the American people."
---
BOEING
♣  In the Charlotte Post and Courier — Wage comparisons between Boeing's non-union and union shops depend on where you're looking — Boeing's roughly 3,175 union-eligible production and maintenance workers in North Charleston have seen their paychecks rise to an average of $23 per hour, according to the company. That rate is about 35 percent less than $31.04 an hour that workers represented by the IAM make at Boeing's other Dreamliner plant in Everett, Wash. Even with Everett's higher cost of living, workers there are making more money doing similar jobs.
---
STATE GOVERNMENT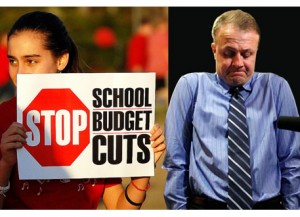 ♣  In today's News Tribune — I-1366 threat is too big for court to abide (editorial) — Tim Eyman is correct that voters have spoken, multiple times, and more than 51 percent of them supported I-1366. But voters have also spoken for expensive concerns — smaller class sizes is the most recent example — that are incompatible with Eyman's world. The Supreme Court should leave no doubt that I-1366 is unconstitutional. The sooner, the better.
♣  In today's (Everett) Herald — Loose ends in Olympia: Corrections scandal, state budget — House Democrats say that if the Senate republicans had brought the proposal they released to the press on March 11 to them privately in negotiations three days earlier, a deal might have been reached in time to avert special session. But now, a week later, there's still no deal.
♣  In today's Spokesman-Review — Demoted corrections official says he was 'scapegoated' — David Dunnington, an information technology manager, said he believes investigators for Gov. Jay Inslee unfairly targeted him.
♣  In today's Peninsula Daily News — Vacancy coming with state Sen. Jim Hargrove's retirement prompts political ambitions — Rep. Kevin Van De Wege (D-Sequim): "I'm considering it." Rep. Steve Tharinger (D-Sequim): "I don't know what Kevin's going to do, but he's the first choice." 
♣  In the Oregonian — Already, Democrats are discussing changes to Oregon's new minimum wage law — Two Democratic leaders in the Oregon Legislature said they'll propose changes to the state's new minimum wage law next year, including lower rates for younger workers and trainees.
---
LOCAL
♣  In the P.S. Business Journal — Seattle-area Teamsters back off St. Patrick's Day strike — Teamsters Local 174 has called off a strike apparently planned to disrupt St. Patrick's Day. Talks between the union, which represents 360 drivers and warehouse workers at Columbia Distributing in Kent, and the company broke down last week because of issues involving health care costs. Teamster leaders said the union decided to "postpone" any strikes after talking with suppliers and retailers.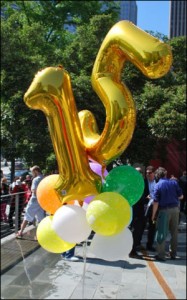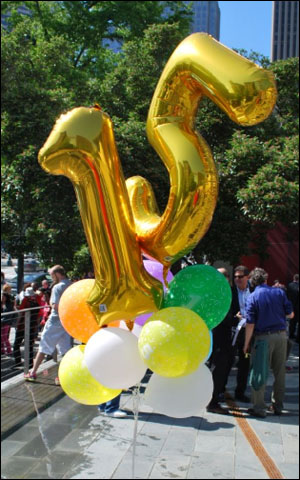 ♣  In today's Seattle Times — Doomsaying Seattle's minimum wage just got harder (by Jon Talton) — No, Seattle's rising minimum wage isn't producing a measurable loss of jobs. Not only that, but two other factors will make it difficult to pinpoint a negative effect from the step-up toward $15-an-hour. First, the extra-wet winter tamped down traffic for at least some restaurants. Second, plenty of new restaurants have opened over the past few months. A city can only support so many eateries, so when some close will it be because of higher wages, or cannibalization from the new crop of competitors?
♣  In the NW Labor Press — Union drive begins at DirecTV — Organizers with the International Brotherhood of Electrical Workers (IBEW) has begun contacting workers in Washington who install and repair satellite TV dishes for DirecTV. They'll launch a similar effort in Oregon in the coming weeks. Last year, nonunion DirecTV was acquired by AT&T, a heavily unionized company which has neutrality agreements with IBEW and Communications Workers of America.
♣  In today's Bellingham Herald — Army Corps: No Cherry Point coal terminal decision this month — Montana's Rep. Ryan Zinke, a supporter of a proposed coal export terminal planned for Cherry Point, expects the U.S. Army Corps of Engineers will deny a permit for the project, ruling in favor of Lummi Nation.
♣  In today's Yakima H-R — Yakima wastewater workers want director ousted — A majority of Yakima's Wastewater Division employees (AFSCME) say they have "no confidence" in the leadership of city Utilities and Engineering Director Debbie Cook.
---
CAMPAIGN 2016



♣  From Huffington Post — Violence, arrests at Trump rallies are way more common than you may think — More than 50 people, mostly protesters, have been charged in connection with GOP presidential front-runner Donald Trump's campaign rallies since Feb. 29. During the same period, more than 20 separate physical altercations were reported at Trump events.
---
FEDERAL GOVERNMENT
♣  From Think Progress — Lawmakers want to crack down on bosses who steal money from their workers — Democratic Sens. Patty Murray (WA) and Sherrod Brown (OH) with Rep. Rosa DeLauro (CT) will unveil the Wage Theft Prevention and Wage Recovery Act, a bill that would beef up existing protections and add some new provisions to make it less appealing for the country's bosses to stiff workers on wages by refusing to pay at least the minimum wage, denying overtime pay, making people work off the clock, stealing tips, or illegally misclassifying them.
ALSO TODAY at The Stand — New Murray legislation aims to crack down on wage theft
---
NATIONAL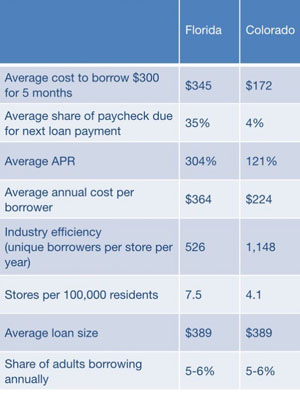 ♣  From Think Progress — One chart destroys the talking point lawmakers are using to protect their payday lender buddies — Florida's payday loan law, which was reportedly written with heavy input from the industry itself, has allowed lenders to sell products in Florida that gobble up more than one third of a borrower's next paycheck on average. As this chart from Pew Charitable Trusts' extensive payday lending research illustrates, Florida's law has delivered a worse outcome for consumers than Colorado's approach. Even in Colorado, payday loans remain an extremely expensive way to patch a temporary hole in the family budget. 121% APR is a usurious interest rate by any standard. But it is dwarfed by Florida's 304% average.
---
TODAY'S MUST-READ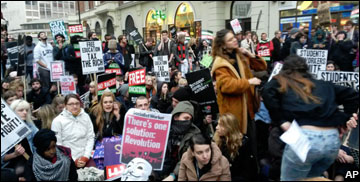 ♣  From The Guardian — U.S. millennials feel more working class than any other generation — Analyzing social survey data spanning 34 years reveals that only about a third of adults aged 18-35 think they are part of the U.S. middle class. Meanwhile 56.5% of this age group describe themselves as working class. The number of millennials — who are also known as Generation Y and number about 80 million in the U.S. — describing themselves as middle class has fallen in almost every survey conducted every other year, dropping from 45.6% in 2002 to a record low of 34.8% in 2014. The large downshift in class identity among young adults may have helped explain the surprisingly strong performance in Democratic primaries of the insurgent presidential candidate Bernie Sanders, who has promised to scrap college tuition fees and raise minimum wages.
---
The Stand posts links to Washington state and national news of interest every weekday morning by 10 a.m.
WASHINGTON IS A UNION STATE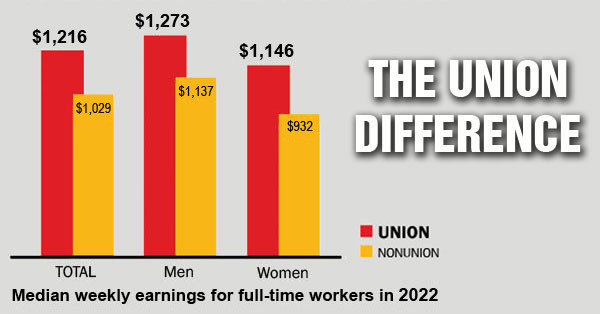 CHECK OUT THE UNION DIFFERENCE in Washington state: higher wages, affordable health and dental care, job and retirement security.
FIND OUT HOW TO JOIN TOGETHER with your co-workers to negotiate for better working conditions and respect on the job. Or go ahead and contact a union organizer today!