Urge Columbia Bank to cut ties to anti-union Freedom Foundation
Take action on June 28 outside Columbia Bank's Tacoma HQ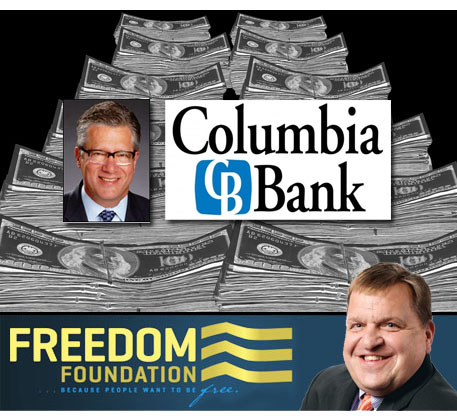 TACOMA — The Washington-based Freedom Foundation, a right-wing tax exempt organization with the mission of defunding and destroying unions, refuses to disclose its donors. But over the years, it has leaked out that the group's biggest funders are national foundations set up by Republican billionaires like Harry Bradley, Thomas Roe, the Scaife and Walton families.
These billionaires are unaccountable to the public for their attacks on the freedom to join together in unions and negotiate fair returns for our work. But their foundations' boards are often populated by corporate executives who prefer to keep their support for funding groups like the Freedom Foundation at arm's length.
One of those people is Jeff Pinneo. He is a Trustee for the M.J. Murdock Charitable Trust, where he plays a key role in funding the Freedom Foundation and National Right to Work Foundation, plus a range of anti-LGBTQ, anti-choice, and anti-environment groups. Pinneo also sits on the Board of Directors for Pacific Continental Bank, which is in the process of merging with the Tacoma-based Columbia Bank. That merger presents the banks' leadership teams with the perfect opportunity to evaluate how they want to be seen by their community.
The Northwest Accountability Project is going to make sure Jeff Pinneo's employers and colleagues know that the labor community and its supporters will hold Pacific Continental/Columbia Bank accountable for their board member's role in funding anti-working family efforts. And you can help.
TAKE A STAND — Join advocates for unions, women's rights and the LGBTQ community on Wednesday, June 28 at noon at Columbia Bank headquarters, 1301 A Street in Tacoma, to urge the banks' leadership to distance themselves from the Murdock Trust. Also please use the Northwest Accountability Project's tool to send a message directly to the inbox of Hadley Robbins, the interim CEO of Columbia Bank, urging him to distance the new Columbia Bank from Pinneo's work with the Murdock Trust.
Source Watch reports that the billionaire-funded Freedom Foundation has close ties to ALEC. The Center for Media and Democracy also explains how funding for the FF and its fellow members of the State Policy Network can be traced back to the notorious billionaire Koch brothers. That money funds a continuous legal assault on labor unions, plus a campaign that includes canvassing, mailing, and phone banking union members to try to convince them to opt out of their unions. They even hired a Santa Claus to leaflet state workers as they walked in and out of their workplace, encouraging them to stop paying full union dues.
The Freedom Foundation, like its billionaire-foundation benefactors, is a tax-exempt organization that is not supposed to engage in partisan politics. However, the group has run afoul of state authorities for doing exactly that with its campaign to oppose Initiative 1, a ballot measure in Olympia that sought to adopt an income tax on high earners to fund college tuition for city residents.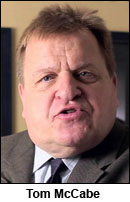 The group's CEO is longtime Republican operative and campaign consultant Tom McCabe, who previously ran the Building Industry Association of Washington. At the BIAW, McCabe spent heavily to try to elect Republicans via a scheme that siphoned millions of dollars from the state-run workers' compensation system.
But his tenure at the BIAW netted few victories and his abrasive rhetoric — BIAW once declared that former Gov. Chris Gregoire was a "heartless, power-hungry she-wolf who would eat her own young to get ahead" — alienated elected officials and some of BIAW's own members. McCabe's final straw at BIAW was his decision to spend more than $6 million in 2008 in a failed attempt to get Republican Dino Rossi elected as governor amid a housing crunch that was devastating most home builders. The internal BIAW acrimony that ensued led to McCabe's ouster, but not before he negotiated a $1.25 million buyout and a year of health-care coverage as severance.
Short URL: https://www.thestand.org/?p=58887
Posted by
David Groves
on Jun 27 2017. Filed under
LOCAL
. You can follow any responses to this entry through the
RSS 2.0
. Both comments and pings are currently closed.