DOC Teamsters vote NO! ● Teachers weigh strikes ● We are winning
Tuesday, August 21, 2018
---
LOCAL
► BREAKING from the Seattle Times — Construction engineers, crane operators strike after union rejects labor deal — Operating Engineers Local 302 representing Washington state construction engineers and heavy equipment operators has gone on strike after its members rejected a new contract proposal on Monday.
ALSO TODAY at The Stand — IUOE Local 302 on STRIKE in Western Wash.
► From AP — Smoke blots out mountains, poses health risk for next few days — Smoke from wildfires clogged the sky across the U.S. West, blotting out mountains and city skylines from Oregon to Colorado, delaying flights and forcing authorities to tell even healthy adults in the Seattle area to stay indoors. The National Weather Service in Seattle issued an air quality alert through 5 p.m. Wednesday for all of Western Washington because of smoke from large wildfires in British Columbia and on the east slopes of the north Cascades.
► In today's Tri-City Herald — Amid smoke, workers sent home — At the Hanford vitrification plant, union construction workers assigned to outdoor jobs or to jobs in indoor areas without filtered air were sent home Monday morning. Workers at the Hanford nuclear reservation's environmental cleanup contractor, CH2M Hill Plateau Remediation Co., were being assigned to work indoors, if possible.
---
THIS WASHINGTON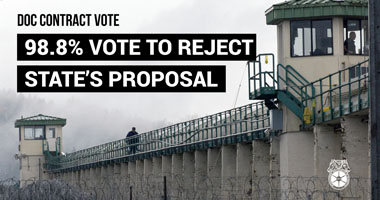 ► From Teamsters 117 — A resounding NO: DOC Teamsters vote to reject state's contract proposal — The final vote results: 98.8% (2,886) voted to REJECT the state's offer and 1.2% (34) voted to accept it. Clearly, the membership found the state's proposal to increase wages by 2% in year one and 2% in year two insultingly low. With a strong economy and higher than expected revenues, the state needs to do more to recognize the work and sacrifices Corrections employees make every day to serve and protect our communities.
► In today's Seattle Times — State lawmaker on public-records task force calls journalists 'those dirty, godless, hateful people' — State Rep. Matt Shea (R-Spokane Valley) has long had a contentious relationship with the news organizations that report on him. But this time the situation is unique: Shea is one of eight lawmakers appointed to a task force to figure out how the Washington Legislature should keep and disclose public records.
PREVIOUSLY at The Stand — It's up to Republicans to hold Rep. Matt Shea accountable (March 2016) — Now that there are reports that Rep. Matt Shea aided and abetted domestic terrorists, one wonders if any Republicans in Washington state will muster the courage to call him out.
---
PAY OUR TEACHERS!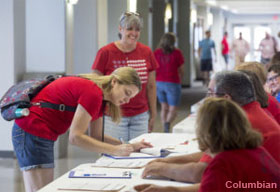 ► In today's Columbian — Vancouver Public Schools teachers vote to approve work stoppage — Monday was another tense day of negotiations between school districts and teacher unions, as Vancouver teachers voted to approve a work stoppage and Battle Ground's union expressed disappointment days away from its own strike vote. Teachers in Vancouver Public Schools approved a potential work stoppage if a new contract is not on the table by Aug. 27.
► In today's (Longview) Daily News — Longview teachers consider strike — The Longview teacher's union is prepared to take a strike vote Wednesday pending Tuesday's negotiations with the Longview School District. The union is asking for a 12 percent base pay raise, while the district's latest offer is 4 percent.
► In today's Yakima H-R — Yakima School District employees may hold vote to strike Tuesday afternoon — Yakima School District employees could vote Tuesday afternoon to go on strike if they're not happy with the result of this morning's scheduled contract negotiation session between administrators and union representatives, said Steve McKenna, president of the Yakima Education Association, which represents the district's workers.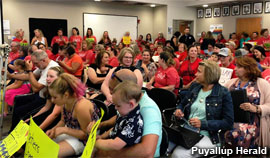 ► From the Puyallup Herald — 'That money is ours — we're not asking … we're telling you,' staff tells school district — The board meeting at Sumner School District was standing room only as teachers, bus drivers and food service employees rallied to advocate for increased wages. Dressed in red Sumner Education Association "SEA is Red for Ed" T-shirts, a handful of staff members spoke during public comments, asking the school board to put extra funds given by the state Legislature where they said they're supposed to go — staff salary increases.
► In today's Tri-City Herald — Kennewick teachers approve pay their raises. Richland teachers reach possible deal. — Kennewick teachers approved a new salary deal Monday night. Teachers will get a raise of 8 percent or more, some in to the double-digits, depending on where they land on the salary schedule. Richland appears headed toward a similar resolution. The district and its teachers union reached a tentative contract agreement over the weekend. Teachers will vote on the three-year pact at a meeting Wednesday.
---
THAT WASHINGTON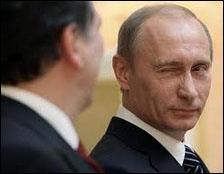 ► In today's NY Times — Russian hackers now targeting anti-Trump think tanks — The Russian military intelligence unit that sought to influence the 2016 election appears to have a new target: conservative U.S. think tanks that have broken with President Trump, a report by Microsoft found.
► In today's Washington Post — Microsoft says it has found a Russian operation targeting U.S. political institutions — The effort by the notorious APT28 hacking group, which has been publicly linked to a Russian intelligence agency and actively interfered in the 2016 presidential election, underscores the aggressive role that Russian operatives are playing ahead of the midterm elections in the United States.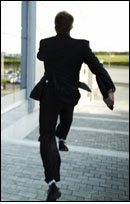 ► From Politico — Lawmakers ditch town halls: 'They want to avoid those gotcha moments' — So far, the August recess is quiet. Very quiet. And lawmakers on both sides of the aisle seem to prefer it that way. Members have scheduled only about 180 in-person events this recess, a nearly 70 percent decrease from the same time last year.
---
NATIONAL
► In today's Charleston Post and Courier — Union, Boeing at odds over whether North Charleston workers are being targeted — Boeing Co. is warning employees that union organizers are "working in the shadows" to recruit workers at the 787 Dreamliner campus in North Charleston, but the International Association of Machinists says the claim is not true.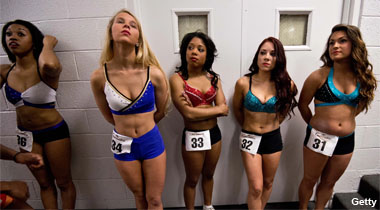 ► From Vice — NFL cheerleaders need a union — The league's underappreciated performers are suing the league and speaking out about underpayment and harassment—but they may need to organize to get respect. The Buffalo Bills' cheerleaders were the first NFL cheerleaders to form a union. In 2014, five of them sued the team, alleging they were not being paid for hours they worked, and management responded by literally getting rid of the cheer team. No other cheerleaders have attempted to form a union. So perhaps the answer isn't individual cheer teams unionizing, but a league-wide union, which is the same model professional athletes have used to great success.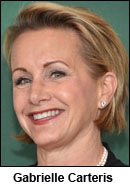 ► From Bloomberg — SAG-AFTRA labor contract curbs private auditions — A recently ratified labor agreement between SAG-AFTRA and the ABC, CBS, NBC, and Fox TV networks seeks to curb harassment by limiting private auditions and meetings. SAG-AFTRA President Gabrielle Carteris said she's "gratified" by the members' approval of the agreement.
► From Rewire.News — Planned Parenthood drops its fight against unionizing workers in Colorado — The health-care organization had appealed to President Trump's NLRB to halt a unionization effort by its workers.
► From The Onion — Emotional Elon Musk recalls spending entire birthday working on concepts for mistreating employees — "When you're the CEO, the responsibility of developing innovative new ways of underpaying the workers falls to you, as does compromising their safety or punishing them for not meeting unrealistically high unit quotas, and sometimes that means sacrificing your personal life—even your own birthday," said Musk.
---
TODAY'S MUST-SEE
Click here to contact a union organizer today!
---
The Stand posts links to Washington state and national news of interest every weekday morning by 10 a.m.
Short URL: https://www.thestand.org/?p=69131
Posted by
David Groves
on Aug 21 2018. Filed under
DAILY LINKS
. You can follow any responses to this entry through the
RSS 2.0
. Both comments and pings are currently closed.