MAGA for felons ● IUOE strike ● Pay our teachers! ● Shea vs. media
Wednesday, August 22, 2018
---
ARE WE GREAT AGAIN YET?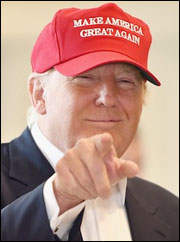 ► In today's NY Times — Michael Cohen says he arranged payments to women at Trump's direction — Cohen, President Trump's former lawyer, acknowledged the illegal payments while pleading guilty to breaking campaign finance laws and other charges, a litany of crimes that revealed both his shadowy involvement in Trump's circle and his own corrupt business dealings. He told the judge that the payments to the women were made "in coordination with and at the direction of a candidate for federal office," implicating the president in a federal crime. "I participated in this conduct, which on my part took place in Manhattan, for the principal purpose of influencing the election" for president in 2016, Cohen said.

► In today's Washington Post — Manafort convicted on 8 counts — A jury found former Trump campaign chairman Paul Manafort guilty Tuesday on tax- and bank-fraud charges. His possible prison sentence wasn't immediately clear, but legal experts said he is likely to face about seven to 10 years in prison.
► In today's NY Times — What the Paul Manafort verdict means (by Noah Bookbinder, Barry Berke and Norman Eisen) — It's Robert Mueller's biggest victory yet, in one of the most successful special counsel investigations in history.
► In today's Washington Post — After two convictions, pressure mounts on Trump — No day during President Trump's 19 months in office could prove as dangerous or debilitating as Tuesday. The day's convictions could send two people who have had close relationships with Trump to prison for several years, while one of them brought the investigation to the doorstep of the White House.
► In today's NY Times — All the president's crooks (editorial) — Trump's own lawyer has now accused him, under oath, of committing a felony. Only a complete fantasist — that is, only President Trump and his cult — could continue to claim that this investigation of foreign subversion of an American election, which has already yielded dozens of other indictments and several guilty pleas, is a "hoax" or "scam" or "rigged witch hunt."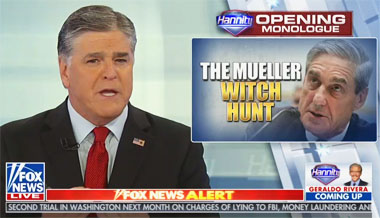 ► In today's Washington Post — In Trump's right-wing media universe, it was a day like any other — Tuesday offered vivid evidence of the way in which right-wing media insulates Trump, and his most devoted supporters, from blunt assessments of his administration. There were examples across social media, television, talk radio and conservative websites. Sean Hannity of Fox News dismissed Tuesday's news as a bloodthirsty campaign against the president: "The media is once again beside themselves with false reporting, speculation and hysteria." Trump echoed Hannity's verdict: "It doesn't involve me… this is a witch hunt, and it's a disgrace." Given his media diet, he hardly could have concluded differently.
► And some truth from The Onion — Hundreds of people exactly like Manafort, Cohen enjoy another day without any consequences whatsoever
► Meanwhile, from Capital and Main — Top Republican on tax subcommittee received yacht loan from foreign bank lobbying on 2017 tax bill — As Republicans were finalizing tax cut legislation in late 2017, a foreign-owned bank seeking to shape the bill gave a seven-figure yacht loan to a top GOP lawmaker on the committee writing the measure. Rep. Vern Buchanan (R-FL), who sits on the House Ways and Means Committee and leads its tax policy subcommittee, has been under fire in recent weeks for purchasing a yacht on the same day he voted for the GOP tax package.
► From HuffPost — The first 2 congressmen to endorse Trump have been indicted — The first two members of Congress to publicly support Donald Trump for president, Reps. Chris Collins (R-N.Y.) and Duncan Hunter (R-Calif.), are now in hot water over allegations of insider trading and campaign finance violations.
---
LOCAL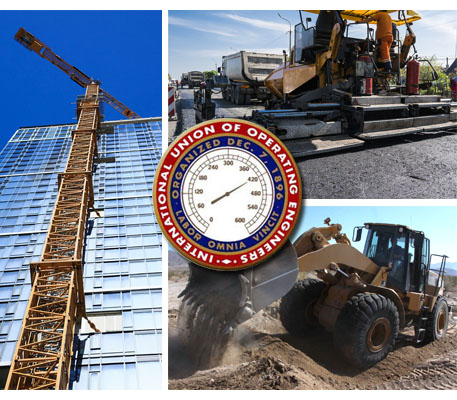 ► In today's Seattle Times — Western Washington crane operators strike after union members reject labor deal — The Seattle area's construction frenzy slowed Tuesday as crane operators and some other workers walked off the job after rejecting a new union contract. Western Washington members of the International Union of Operating Engineers (IUOE) Local 302 started the strike at 6 a.m. Tuesday. Projects throughout Western Washington faced potential delays because some of the workers involved in the strike have integral jobs. The crane operators, in particular, are pivotal.
ALSO at The Stand — IUOE Local 302 on STRIKE in Western Washington — UPDATE: "We appreciate the public interest and support of our efforts," said IUOE 302's Daren Konopaski. "The dispute over this agreement is between our members and the contractors signatory to it. We have a long standing relationship with the AGC and our contractors and we are hopeful a resolution will be reached soon."
► In the PSBJ — Strike halts work on Amazon towers in downtown Seattle
► In today's Peninsula Daily News — Union strike stops North Olympic Peninsula public works projects — An estimated $4.8 million in public works projects in Clallam and Jefferson counties came to a halt Tuesday in the first day of a strike by IUOE Local 302. Most of the impact was felt in Port Angeles and unincorporated Clallam County.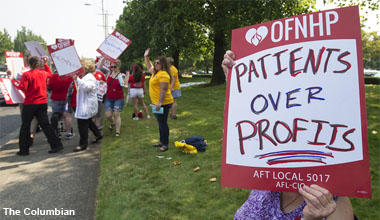 ► In today's Columbian — Health professionals picket Kaiser Permanente in Vancouver — Drivers signaled support with their horns to the nearly 50 people gathered at an informational picket Tuesday outside the Kaiser Permanente Cascade Park Medical Office in east Vancouver. The demonstration was in support of the more than 4,000 nurses, techs, and health professionals represented by the Oregon Federation of Nurses and Health Professionals (AFT 5017), who are currently in contract negotiations with Kaiser Permanente.
► From KIMA — Farm workers still have to pick fruit in unhealthy air conditions — The air quality is getting worse across the valley but some in our community still have to work outside in it. Local farm workers say they can't just skip picking fruit on days when the air quality is poor because the crops will go bad.
---
PAY OUR TEACHERS!



► In today's Yakima H-R — Yakima School District employees vote to strike as pay impasse continues — Hundreds of Yakima School District employees may not be in schools when classes start on Monday. That's because members of the Yakima Education Association, the district's largest employee union, voted Tuesday to go on strike unless administrators offer them a better pay increase for the upcoming school year. More than 800 union members voted almost unanimously to strike for the first time in more than 25 years.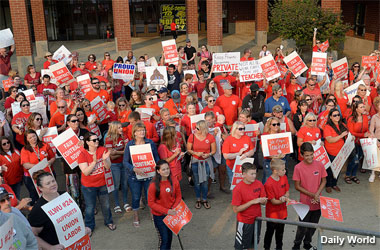 ► In today's (Aberdeen) Daily World — Hundreds show up to teacher-support rally; negotiations still at stalemate — More than 150 teachers, union and community members stood near the entrance to Aberdeen High School on Monday afternoon as part of a rally to support teachers as contract negotiations continue with the district's officials. Along with teachers in the Aberdeen Education Association, the local teacher union, members of nine different teacher unions from Grays Harbor County, Olympia and Kent showed up to support Aberdeen teachers, as well as representatives from labor unions and the Aberdeen Fire and Police departments. "I'm proud to be a union member, to call you my union brothers and sisters, and proud of the solidarity of this community," said Michelle Reed, president of the AEA.
► In today's Columbian — Washougal, Hockinson teachers vote to approve strikes
► In today's Daily News — Longview teachers take district's latest offer to union members
► In today's Daily News — Kalama teachers, district report progress in contract talks
---
THIS WASHINGTON

► In today's Seattle Times — Gov. Inslee condemns state lawmaker's remarks calling journalists 'dirty, godless, hateful people' — Gov. Jay Inslee said Tuesday that state Rep. Matt Shea's remarks calling journalists "those dirty, godless, hateful people" should disqualify him from the public-records task force.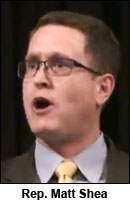 ► In today's Seattle Times — Remove press-bashing Rep. Matt Shea from public-records task force (editorial) — Shea's weekend comments, which also suggested members of the news media were guilty of "defending tyranny," demonstrate that he is not the right person to try to reach common ground with the press on this critical issue.
PREVIOUSLY at The Stand — It's up to Republicans to hold Rep. Matt Shea accountable (March 2016) — Now that there are reports that Rep. Matt Shea aided and abetted domestic terrorists, one wonders if any Republicans in Washington state will muster the courage to call him out.
► In the PSBJ — Eight more fast-food chains agree to drop no-poaching clauses that hold down pay (subscription required) — "Businesses can't rig the system to avoid competition," Washington state Attorney General Bob Ferguson said after securing deals with 15 restaurant chains. He said he may sue others under investigation.
► In today's Spokesman-Review — Cathy McMorris Rodgers schedules town hall Thursday in downtown Spokane — Rep. Cathy McMorris Rodgers will hold a town hall Thursday evening at the Spokane Convention Center. Tickets for the event were made available last week and had sold out as of Monday morning. The congresswoman's office said they would let people in to the event at the doors without a ticket if there's room. But there's no guarantee of entry.
---
THAT WASHINGTON
► From Politico — NAFTA 'handshake' deal with Mexico targeted for Thursday — The Trump administration is planning to formally announce on Thursday that it has reached a breakthrough in NAFTA talks with Mexico, clearing the way for Canada to rejoin negotiations to modernize the free trade pact, three sources close to the talks told Politico.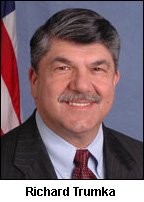 ► From Politico — Trump to discuss NAFTA with union leaders — Trump and his son-in-law, Jared Kushner, will meet with AFL-CIO President Richard Trumka, Teamsters President James P. Hoffa, UAW President Gary Jones, IAM President Robert Martinez, and USW President Leo Gerard. "We are meeting with the president to reaffirm what a good deal for working people really looks like," Trumka said in a written statement, "starting with strong workers' rights backed up by effective enforcement tools unlike those that have failed in that past and led to the unrelenting outsourcing of work to Mexico, eliminating corporate courts and new rules of origin that are fair to America's workers. There should be a sunset provision to ensure that these changes work for working people."
► In today's NY Times — Cost of new coal rules: Up to 1,400 more deaths a year — The Trump administration unveiled its rewrite of pollution rules for coal-fired power plants, and in the fine print is an analysis showing an increase in premature deaths.
---
NATIONAL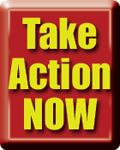 ► From the AFL-CIO — Tell American Airlines to stop offshoring jobs and put safety first (action) — American Airlines has been killing U.S. jobs by outsourcing airline maintenance to countries with weak security, inspection and safety protocols. The mechanics who repair, troubleshoot, and maintain the airlines fleet have been rallying to stop the company from putting safety at risk and offshoring any more of their jobs.
► In the St. Louis Post-Dispatch — Study: CEOs who think they're underpaid are more likely to order layoffs to give themselves a raise — A new study, led by researchers at the Rutgers School of Management and Labor Relations, finds that CEOs who are paid less than their peers are significantly more likely to order layoffs. Among firms that engaged in layoffs during the study period, the average CEO eliminated 1,200 jobs and received $600,000 in additional compensation the next year, the study found.
---
TODAY'S MUST-READ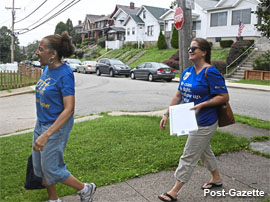 ► In the Pittsburgh Post-Gazette — Following high court ruling on public sector union fees, battle for members escalates on many fronts — It was one of the union's first tests of a texting platform called Hustle, an effort by the Washington, D.C.-based American Federation of Teachers to help local chapters reach members. Traditional tools such as physical mailers and notices on union bulletin boards are increasingly viewed as outdated and passive. The platform is also a powerful mobilization tool in a world where union workers in the public sector can now decide to withhold fees if they feel the union isn't working for them… The decision has set off a kind of arms race in messaging between labor unions and the conservative groups now trying to break unions' grip on workplaces. A survey conducted in April found nearly half of American teachers had heard nothing about the Janus case, leaving an opening for competing messages.
---
The Stand posts links to Washington state and national news of interest every weekday morning by 10 a.m.
Short URL: https://www.thestand.org/?p=69170
Posted by
David Groves
on Aug 22 2018. Filed under
DAILY LINKS
. You can follow any responses to this entry through the
RSS 2.0
. Both comments and pings are currently closed.