Morgan in the muck ● This is 'mob rule' ● The Hack Gap
Wednesday, October 24, 2018
---
ELECTION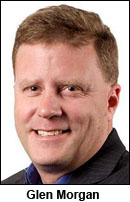 ► MUST-READ in today's Spokesman-Review — Dirty-tricks mailer is the season's deepest plunge into the muck (by Shawn Vestal) — Glen Morgan just became the season's stinkiest cannonballer. Morgan, a conservative gadfly from Olympia who paints himself as a transparency activist, has produced a series of incredibly dishonest mailers intended to trick Democrats into writing in other candidates – an effort to drain away liberal votes to benefit Republican candidates. In doing so, he lied outright about the endorsements of Fuse Washington and several other progressive groups (including the Washington State Labor Council, AFL-CIO).
ALSO TODAY at The Stand — GOP doubles down with more phony mail — This time, they are targeting Democratic House candidate Debra Entenman who is in a close race to unseat Rep. Mark Hargrove (R-Covington) in the 47th District. Fewer than 300 votes separated the two in August's primary election.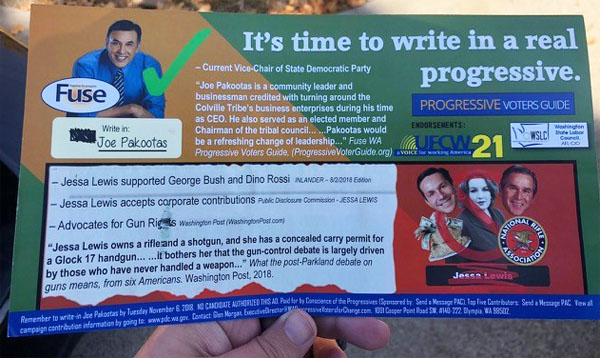 ► In today's Spokesman-Review — Progressive groups file complaint over phony write-in ads — Several groups supporting Democratic candidates filed a complaint Monday against a Republican activist who sent out ads urging voters to cast write-in ballots for candidates who aren't actually running. But the complaint is unlikely to be resolved before the Nov. 6 election.
ALSO at The Stand — Complaint filed regarding GOP mailings
► From The Stranger — Labor Council files complaint against voter suppression effort in Washington state — The Washington State Labor Council also sent a cease-and-desist letter directly to Morgan, urging him to stop using WSLC's logo.
MORE coverage today from the (Aberdeen) Daily World, Chinook Observer, (Longview) Daily News, The Olympian, and from KNKX.

► In today's Spokesman-Review — Spokane County reports unprecedented early returns of ballots — Monday's mail delivery brought some 7,500 ballots – far more than the first Mondays in last two midterm elections or the the 2012 and 2016 presidential election.
EDITOR'S NOTE — Don't wait! Fill out and send in your ballot TODAY! No postage is necessary.
---
LOCAL
► In the (Aberdeen) Daily World — Hoquiam teacher pay increases range from 17 to 21 percent — Hoquiam teachers will get pay raises ranging from 17.6 percent to 21.3 percent under their new two-year contract, approved by the school board at a special meeting Tuesday morning.
EDITOR'S NOTE — You, too, can join together with your co-workers to negotiate a fair return for your work! Contact a union organizer today.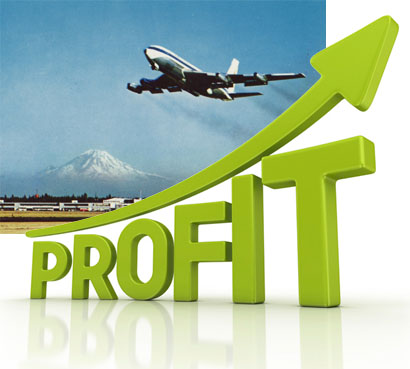 ► From CNBC — Boeing shares surge after reporting blowout results and raising 2018 forecast — Boeing shares rose 4.7 percent in premarket trading Wednesday as the company reported strong third-quarter earnings on the back of a robust defense business and more efficient commercial aircraft production. The company also raised its 2018 earnings forecast, in what looks to be a record year for revenue.
► In today's Seattle Times — Activist groups file First Amendment lawsuit in Seattle over ICE arrests — Two Washingtonians, including well-known activist Maru Mora-Villalpando, are among those targeted for speaking out about immigration policies and arrests, according to the lawsuit. The intent, it says, is to "stifle dissent."
► In today's Olympian — About 80 jobs at stake as Providence announces Lacey distribution center will close — A distribution center in Hawks Prairie that delivered medical supplies for Providence St. Joseph Health — the parent organization to Providence St. Peter Hospital — will close, the health system announced Tuesday.
---
THIS WASHINGTON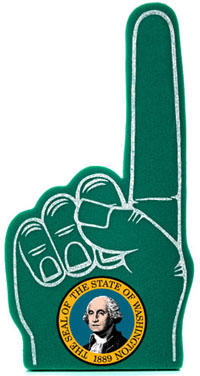 ► In today's Seattle Times — Washington's paradox: Progressive politics but regressive tax system (by Jon Talton) — Washington is at the top of "the terrible 10" states with the most regressive state and local tax systems, according to a report released this month by the Institute on Taxation and Economic Policy. It's a striking paradox for a state that is known for its progressive politics and liberal activism. Yet this is the outcome of a wealthy state with no income tax, with property taxes inflated by the real-estate boom and sales taxes disproportionately falling on lower earners.
► In today's Seattle Times — Women struggling to catch up with men's pay, and Washington isn't doing so well — The pay gap has closed by less than a nickel since since 2001, according to the report by the American Association of University Women. At this rate, gender equality is many years away.
FROM The WSLC's 2018 Legislative Report — Victory on equal pay — In 2018, the Legislature moved to close the gap between what women and men are paid with the passage of HB 1506, the Equal Pay Opportunity Act sponsored by Rep. Tana Senn (D-Mercer Island).
---
THAT WASHINGTON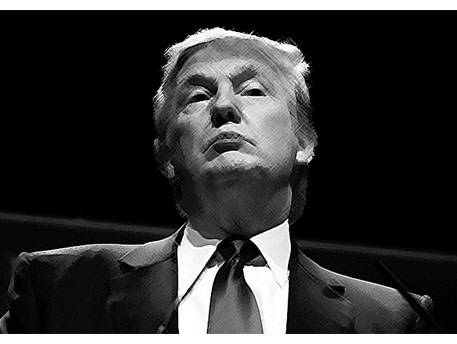 ► BREAKING from the AP — Explosive devices sent to Obama, Clintons; CNN evacuated — The U.S. Secret Service intercepted a bomb that was addressed to Hillary Clinton and a possible explosive that was sent to former President Barack Obama. Also Wednesday, a police bomb squad was sent to CNN's offices in New York City and the newsroom was evacuated because of a suspicious package. A U.S. official told The Associated Press that investigators believe the explosive that was discovered near the Clintons' home in Chappaqua, N.Y., is linked to one found Monday at the compound of liberal billionaire George Soros.
► BREAKING FROM CNN — Debbie Wasserman Schultz's Florida office evacuated after suspicious package
EDITOR'S NOTE — Meanwhile, President Donald Trump, who has repeatedly condoned, excused and even encouraged violence during his campaign stops in 2016 and again this year on behalf of Republican candidates, accuses Democrats of "mob rule" because so many people peacefully protested the confirmation of Brett Kavanaugh to the Supreme Court.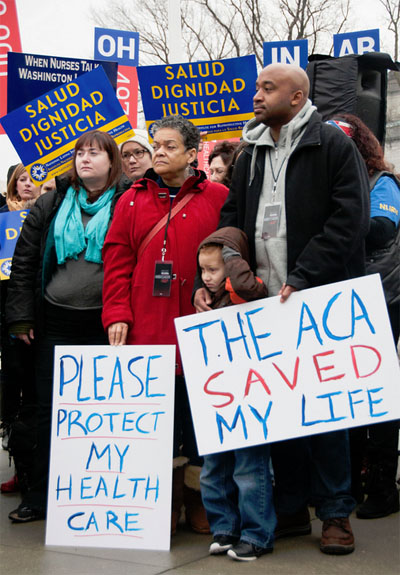 ► From The Hill — Trump insists GOP will 'totally' protect pre-existing conditions, despite ObamaCare repeal efforts — Republicans in tough races have been scrambling to say that they will protect people with pre-existing conditions despite their repeated votes to repeal the Affordable Care Act known as ObamaCare. Trump last year supported GOP ObamaCare repeal bills that would have weakened protections for pre-existing conditions. The House GOP bill, for example, allowed states to get waivers to allow insurers to spike premiums for people with pre-existing conditions.
► From the Pulitzer Prize-winning independent fact-checking service Politifact — Pre-existing conditions: Does any GOP proposal match the ACA? — The answer is no. Republican proposals are not as air tight as Obamacare. We'll walk you through why.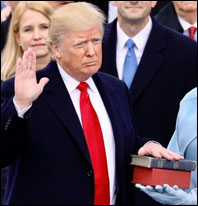 ► A related story in today's Washington Post — 'In the service of whim': Officials scramble to make Trump's false assertions real — When President Trump abruptly told reporters over the weekend that middle-income Americans would receive a 10 percent tax cut before the midterm elections, neither officials on Capitol Hill nor in his administration knew anything about such a tax cut. The White House released no substantive information. And although cutting taxes requires legislation, Congress is not scheduled to be back in session until after the Nov. 6 elections. Yet Washington's bureaucratic machinery whirred into action nonetheless — working to produce a policy that could be seen as supporting Trump's whim.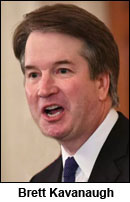 ► In today's Washington Post — Trump officials aggressively bypass appeals process to get issues before conservative Supreme Court — Attorney General Jeff Sessions and Solicitor General Noel J. Francisco have repeatedly gone outside the usual appellate process to get issues such as the travel ban, immigration and greater authority for top officials before the justices.
► From The Hill — Majority of Americans say their financial situation hasn't improved since Trump election — A majority of Americans say that their financial situation has not improved since the 2016 election, according to a Bankrate survey.
► In today's NY Times — The best way to keep Democrats from blowing this election (by Timothy Egan) — The two biggest political thrusts of the Party of Trump — a tax cut for the rich that opened a tsunami of debt, and trying to take away health care from millions — are widely unpopular. It's as simple as that.
---
NATIONAL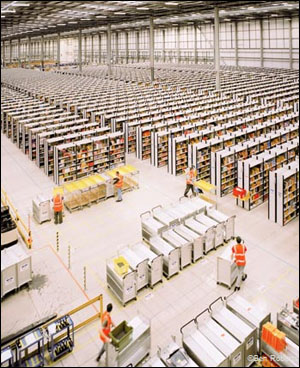 ► In today's NY Times — When Sears flourished, so did workers. At Amazon, it's more complicated. — Half a century ago, a typical Sears salesman could walk out of the store at retirement with a nest egg worth well over a million in today's dollars, feathered with company stock. A warehouse worker hired now at Amazon who stays until retirement would leave with a fraction of that. Much as Sears has declined in the intervening decades, so has the willingness of corporate America to share the rewards of success. Shareholders now come first and employees have been pushed to the back of the line.
► From AP — Report: Half of all women in engineering schools experience sexual harassment — Half of women faculty and staff in academia experience sexual harassment and almost half of all engineering students experience sexual harassment from faculty or staff, according to a report released at the Society of Women Engineers conference.
---
TODAY'S MUST-READ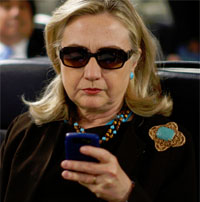 ► From Vox — The hack gap: how and why conservative nonsense dominates American politics (by Matthew Iglesias) — Why was Sarah Sanders being refused service at a restaurant treated as a bigger civility scandal than a literal bomb in George Soros' mailbox or a GOP-affiliated white supremacist gang assaulting people in New York? Meet the Hack Gap… It explains why Clinton's email server received more television news coverage than all policy issues combined in the 2016 election. It explains why Republicans can hope to get away with dishonest spin about preexisting conditions. It's why Democrats are terrified that Elizabeth Warren's past statements about Native American heritage could be general election poison in 2020, and it's why an internecine debate about civility has been roiling progressive circles for nearly two years even while the president of the United States openly praises assaulting journalists.
The hack gap has two core pillars. One is the constellation of conservative media outlets — led by Fox News and other Rupert Murdoch properties like the Wall Street Journal editorial page, but also including Sinclair Broadcasting in local television, much of AM talk radio, and new media offerings such as Breitbart and the Daily Caller — that simply abjure anything resembling journalism in favor of propaganda. The other is that the self-consciousness journalists at legacy outlets have about accusations of liberal bias leads them to bend over backward to allow the leading conservative gripes of the day to dominate the news agenda. Television producers who would never dream of assigning segments where talking heads debate whether it's bad that the richest country on earth also has millions of children growing up in dire poverty think nothing of chasing random conservative shiny objects, from "Fast & Furious" (remember that one?) to Benghazi to the migrant caravan.
---
The Stand posts links to Washington state and national news of interest every weekday morning by 10 a.m.
Short URL: https://www.thestand.org/?p=70822
Posted by
David Groves
on Oct 24 2018. Filed under
DAILY LINKS
. You can follow any responses to this entry through the
RSS 2.0
. Both comments and pings are currently closed.