(Nov. 14, 2018) — The 10 days following Thanksgiving are designated by the AFL-CIO as "Buy Union" week to encourage all union members to look for union-made goods and services when they buy for the Holiday Season. When you buy union, you're supporting good jobs in American communities, jobs that provide living wages and benefits, safe working conditions and dignity and respect for work.
Holiday shopping traditionally kicks off on "Black Friday" — designated as such because it's the timeframe when many retailers move from red ink to black on their balance sheets. Shoppers will find plenty of "bargains," but union family shoppers will want to look beyond foreign-made electronics, trendy toys and gadgets to find enduring goods that are union made, or perhaps gift cards for union-productions, such as movies or sporting events, or union made food stuff — there are still many union-made candies, baked goods, spirits and specialty items.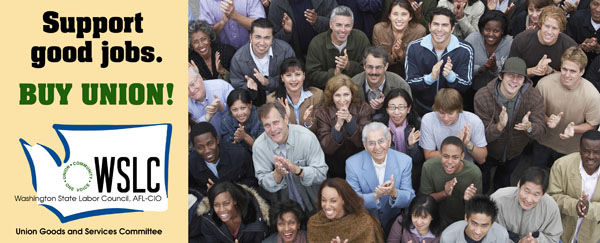 The Washington State Labor Council's Union Goods and Services Committee has posted Buy Union, Washington! providing links to various resources — both in the state and nationally — to identify union-made goods and services.
With the holidays approaching, one of the best such resources is Labor 411, which regularly updates lists of union-made food, beverages and gifts for various specific occasions. For example, check out it's union-made shopping lists for general holiday gifts, gifts for her, and gifts for kids.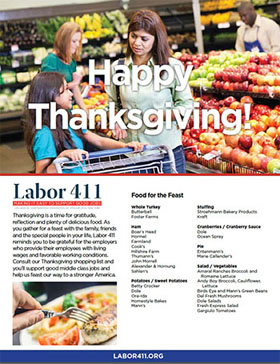 With Thanksgiving just one week away, Labor 411 notes, "As you gather for a feast with the family, friends and the special people in your life, Labor 411 reminds you to be grateful for the employers who provide their employees with living wages and favorable working conditions. Consult our Thanksgiving shopping list and you'll support good middle class jobs and help us feast our way to a stronger America."
Whole Turkey
Butterball
Foster Farms
Ham
Boar's Head
Hormel
Farmland
Cook's
Hillshire Farm
Thumann's
John Morrell
Alexander & Hornung
Sahlen's
Potatoes / Sweet Potatoes
Betty Crocker
Dole
Ore-Ida
Homestyle Bakes
Mann's
Stuffing
Stroehmann Bakery Products
Kraft
Cranberries / Cranberry Sauce
Dole
Ocean Spray
Pie
Entenmann's
Marie Callender's
Salad / Vegetables
Amaral Ranches Broccoli and Romaine Lettuce
Andy Boy Broccoli, Cauliflower, Lettuce
Birds Eye and Mann's Green Beans
Del Fresh Mushrooms
Dole Salads
Fresh Express Salad
Gargiulo Tomatoes