Ag workers 'in harm's way' ● Postal sabotage ● Earth on fire
Monday, August 17, 2020
---
COVID-19
► LIVE from the Seattle Times — Coronavirus daily news update, Aug. 17 — The latest count of COVID-19 cases in Washington totals 67,461 infections (7-day average of new infections per day: 663) and 1,781 deaths (7-day average of deaths per day: 13)
► From the Tri-City Herald — 'In harm's way': Tri-Cities agricultural workers bearing heavy COVID-19 burden — Agricultural work in particular is designed for efficiency and seasonality — not public health. Many seasonal workers live in close proximity in work camps, often sleeping in bunk beds. They travel to work together in tightly packed buses. And many agricultural laborers move around, following the harvest and potentially spreading COVID unknowingly as they go.
► From the Yakima H-R — Mexican workers who left mid-harvest describe a COVID-ridden cherry season in Okanogan: 'It was like we were disposable'
► From CBS News — EMTs are quitting their jobs — COVID-19 makes it too dangerous — Veteran emergency medical technicians and paramedics have spent decades intubating patients and performing many other medical procedures in cramped ambulances. Now, a growing number of EMS workers are exiting the field for good. The reason: COVID-19 makes the job too dangerous.
► From the Seattle Times — Seattle firefighters make giving COVID tests part of their job
---
EDUCATION

► From KIRO 7 — Bus drivers for Edmonds School District notified of layoffs — Because there will be no in-person learning, no students will be riding on school buses, causing a reduction in transportation funding to pay for drivers. In a statement from the district, it says in part, "When ridership falls, funding falls. And unfortunately, until we can transport students again, funding to pay drivers is not an option."
► From HuffPost — Arizona school district cancels classes after mass sickout over virus concerns — Teachers put in absences en masse after the district announced it would resume in-person learning, despite falling short of benchmarks to do so safely.
► From the Detroit News — Detroit teachers to hold strike vote over reopening schools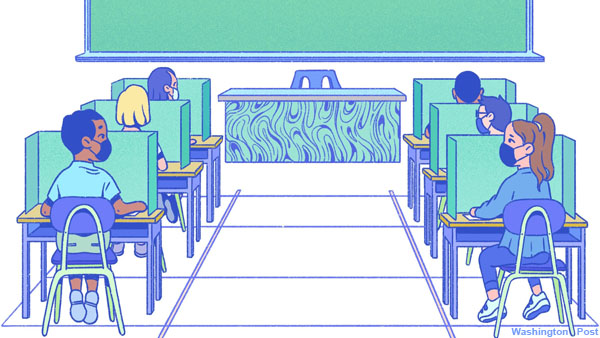 ► From the NY Times — Get ready for a teacher shortage like we've never seen before (by Kelly Treleaven, a middle school teacher) — Americans who care about teachers can't just tweet platitudes during Teacher Appreciation Week. They have to back policy changes that would make teaching an honorable, attractive profession, as it is in the many countries that outshine us in academic performance in math, science and reading. We must commit to funding that goes past school supplies and includes things like mental health support for our students and great health care and retirement for teachers. And it is urgent that we include current teachers in all of the conversations about reopening schools during COVID-19. If we force teachers to return to schools at their own peril, I don't know how many will stick around. The politicians know they can't replace us. But they'll lower teaching qualifications until they do.
► From the Washington Post — As coronavirus forces many schools online this fall, millions of disconnected students are being left behind — For all the talk of Generation Z's Internet savvy, a stunning number of young people are locked out of virtual classes because they lack high-speed Internet service at home.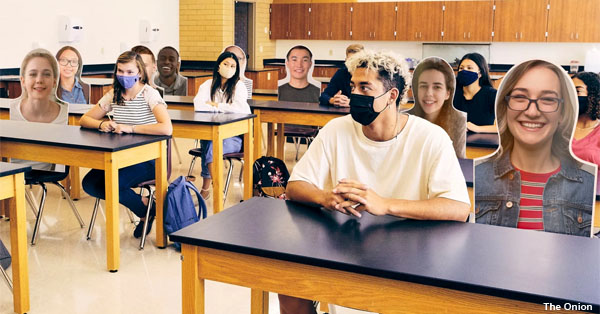 ► From The Onion — High school adds cardboard students between distanced desks to maintain normal feeling of oversized classes
---
POSTAL SABOTAGE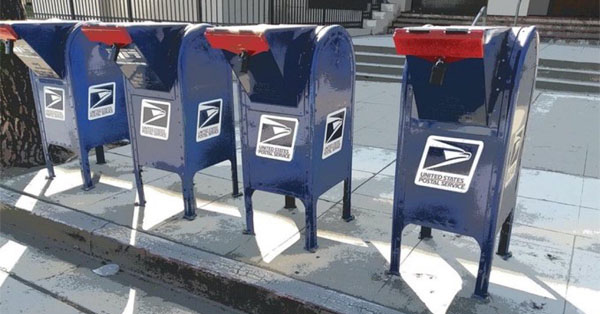 ► From TPM — APWU president accuses Trump of holding USPS 'hostage' to suppress votes — President of the American Postal Workers Union Mark Dimondstein on Thursday called it "truly shameful" that Trump would "hold the post office hostage," amid the coronavirus pandemic in an attempt to suppress and discourage Americans from voting.
ALSO TODAY at The Stand — USPS sabotage is 'a crisis for democracy' — Contact Congress TODAY and tell them approve emergency funding for the USPS.
► From the Seattle Times — Postal crisis ripples across nation as election looms
► From KUOW — Mail machines removed from Washington state post offices. Workers worry about November ballots — The U.S. Postal Service is removing 15 high-speed letter-sorting machines from facilities in Washington state, according to internal documents obtained by KUOW. The machines are to be removed from major mail-processing facilities in Olympia, Redmond, Tacoma, Tukwila, Wenatchee and Yakima by Aug. 22. Postmaster General Louis DeJoy — a major Republican campaign donor who owns millions in stocks of post office competitors — said the postal service maintains "ample capacity" to handle unprecedented numbers of mail-in ballots this fall.
► From the AP — Crowd protests outside U.S. Postmaster's North Carolina home
► From the (Everett) Herald — Protect U.S. Postal Service's role in our elections (editorial)
► From The Columbian — Trump undermining U.S. Postal Service (editorial)
► From the Washington Post — Trump is actively working to undermine the Postal Service — and every major U.S. institution (by William McRaven, a retired Navy admiral who was commander of the U.S. Special Operations Command from 2011 to 2014) — As Trump seeks to undermine the U.S. Postal Service and stop mail-in voting, he is taking away our voice to decide who will lead America. It is not hyperbole to say that the future of the country could depend on those remarkable men and women who brave the elements to bring us our mail and deliver our vote. Let us ensure they have every resource possible to provide the citizens of this country the information they need, the ballots that they request and the Postal Service they deserve.
► From Politico — Pelosi calls back House over Postal Service upheaval — The House is expected to vote as early as Saturday, Aug. 22, on a proposal to block the Trump administration's plan for overhauling the Postal Service. Some Democrats said (Postmaster Louis) DeJoy should be arrested if he ignores a congressional subpoena to testify. Democratic leaders reportedly would not pursue that option, but the suggestion signals how angry lawmakers are about what's unfolding at the Postal Service.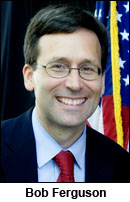 ► From The Hill — States huddling on Postal Service lawsuit — Attorneys general from Virginia, Pennsylvania, Minnesota, Massachusetts, Washington and North Carolina are among the Democratic state officials discussing a lawsuit against the administration over the series of recent moves made at the agency.
► From the Washington Post — Here's one way Trump could try to steal the election, voting experts say — On election night, initial returns based on in-person voting could show Trump winning, even though large numbers of mailed ballots remain uncounted. At that point, the experts warn, Trump could declare himself the victor, saying the mailed ballots should be ignored because of the (baseless) risk of significant fraud. In states where Republicans control the voting process, he might get away with it.
► From the Spokesman-Review — As battle over mail-in voting heats up, Washington offers example of how to avoid the disaster many states fear
► From HuffPost — Latest Postal Service blow: Higher rates on packages — The USPS, snarled in Trump's war against mail-in voting, cited a lack of taxpayer funds for a temporary increase in rates for commercial packages.
---
THAT WASHINGTON
► From Salon — Trump's decision to block coronavirus aid to hard-hit states will cost 4 million jobs: analysis — Trump's refusal to provide federal aid to states hit hard by the economic crisis sparked by the coronavirus pandemic would cost the country 4 million jobs, according to an analysis by Moody's Analytics. The budget shortfall facing state and local governments is predicted to shrink the economy by 3% and cost the country more than 4 million jobs.
► From the NY Times — A private security company is detaining migrant children at hotels — Under emergency coronavirus orders, the Trump administration is using hotels across the country to hold migrant children and families before expelling them. Children as young as a year old are being put in hotels under the supervision of transportation workers who are not licensed to provide child care.
► From the Washington Post — Violent clashes erupt between far-right groups and racial justice protesters in Portland and other cities — Far-right extremists and continued clashes between Black Lives Matter protesters and police this weekend renewed tensions in Portland, Minneapolis and other cities, pushing the country into its 80th day of consecutive demonstrations in some places.
---
NATIONAL
► From In These Times — Agricultural workers lose millions of dollars each year to employer wage theft — It's against U.S. labor laws, but that hasn't stopped employers from withholding more than $65 million in worker wages over the last two decades.
► From the LA Times — Wage theft plagues L.A. garment workers. Why aren't fashion retailers held responsible?
---
OH… AND THEN, THERE'S THIS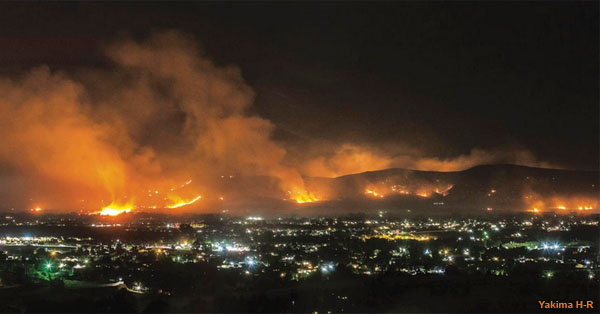 ► From the Yakima H-R — Evacuations issued for fire on Ahtanum Ridge; crews also fighting other blazes — Anyone south of Ahtanum Road between 16th and 69th avenues was asked to evacuate Sunday night as a brush fire that started on Ahtanum Ridge increasingly threatened homes. "We're about to go to Level 3," Yakima County Emergency Management operations manager Horace Ward said at 9 p.m. "That means 'Get out now.'"
► From the Washington Post — Death Valley soars to 130 degrees, potentially Earth's highest temperature ever — In the midst of a historic heat wave in the West, the mercury in Death Valley, Calif., surged to a searing 130 degrees on Sunday afternoon, possibly setting a world record for the highest temperature ever observed during the month of August. If the temperature is valid, it would also rank among the top-three highest temperatures ever reliably measured on the planet at any time and may, in fact, be the highest.
---
The Stand posts links to Washington state and national news of interest every weekday morning by 10 a.m.
Short URL: https://www.thestand.org/?p=90836
Posted by
David Groves
on Aug 17 2020. Filed under
DAILY LINKS
. You can follow any responses to this entry through the
RSS 2.0
. Both comments and pings are currently closed.