Darigold faces strike over healthcare cuts
UPDATE (Nov. 16, 2020) — Darigold delivery drivers voted overwhelmingly to ratify a new 4-year contract agreement on Sunday. The vote took place after an update meeting at the Teamsters Union hall in Tukwila. The group of 68 drivers had been working without a contract since August. Drivers voted unanimously to authorize a strike in September, but talks late last week with the company resulted in a fair contract proposal with wage and pension increases as well as good family medical benefits. Read more.

---
The following is from Teamsters Local 117:
SEATTLE (Nov. 11, 2020) — When Ray Brubaker went to the doctor with a sore gut, he got the shock of his life. Imaging showed a tumor the size of a baseball lodged in his stomach. After emergency surgery, results of the biopsy came back positive for lymphoma.
"I didn't know whether to scream or punch the walls," recalls Brubaker, a Teamster delivery driver for Darigold. "My wife burst into tears and left the room."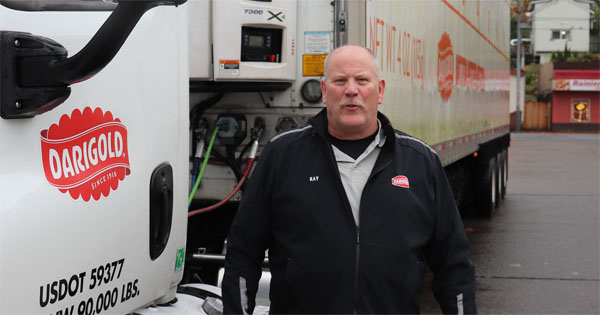 Luckily, after a brutal chemo treatment and five months off work, Brubaker is cancer-free and back behind the wheel of his truck delivering Darigold milk, butter, and cheese to Walmarts and Costcos across the Pacific Northwest. But the cancer scare gave him a new perspective on Darigold's treatment of its workers. He is especially concerned about the company's refusal in bargaining to protect drivers and their families from the rising cost of health care.
"When I was diagnosed with cancer, we were able to just squeak by financially," he said. "If it weren't for my Teamsters medical coverage and support from my co-workers, we would have had to file for bankruptcy."
Despite the financial uncertainty of workers like Brubaker, Darigold appears more interested in disparaging the union and bullying its employees than bargaining in good faith. Before an important contract vote, Darigold sent letters to the drivers' homes, then tried to intimidate them at a mandatory meeting into accepting a proposal that would have left them vulnerable to higher out-of-pocket health care costs.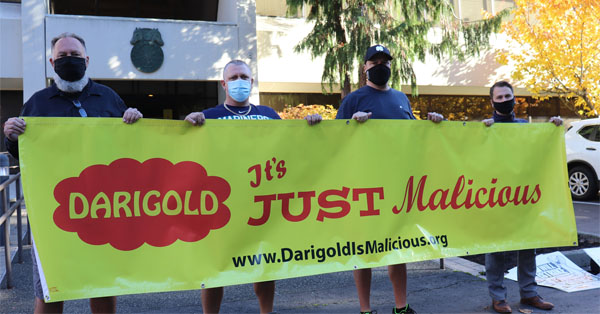 "I think it pissed everybody off," Brubaker said. "I had a very bad taste in my mouth when I left that meeting."
Throughout negotiations, the 68 drivers have held strong. The group voted unanimously to authorize a strike in September. In October, after enduring captive audience meetings conducted by Darigold management, the drivers voted unanimously to reject the company's last, best, and final offer. An attempt to resolve their dispute through federal mediation earlier this month was fruitless.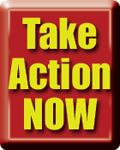 TAKE A STAND — Darigold delivery drivers, many of whom have serious health conditions, put their health at risk every day to make sure milk, butter, and cheese get delivered to our tables. Instead of recognizing these essential workers, Darigold wants to expose them and their families to higher medical costs during the pandemic. Darigold is even trying to intimidate workers during contract negotiations and violating their union rights. Click here to tell Darigold to protect the health and safety of essential workers during the pandemic.
Brubaker and the other drivers have been working without a contract since August. They hoped Darigold would honor their commitment to the company, their customers, and the communities that need dairy products delivered safely during the pandemic.
"We have health issues, yet we show up every day during the pandemic," said Scott Wheeler, a shop steward with 34 years at Darigold. "We come to work and do our jobs. Our exposure out there is tremendous. The company needs to respect that."
But the respect just isn't there. As a result, Darigold could be looking at a strike just before the holidays.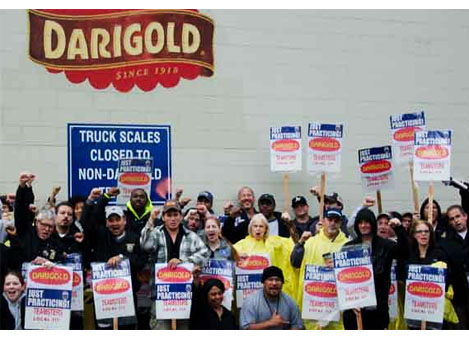 This wouldn't be the first time Darigold was at the center of a labor dispute. Back in 2003, the company locked out its workers at their milk processing plant in Seattle for 9 months. In 2018, dairy workers held a hunger strike at Darigold's corporate offices demanding safer working conditions.
"Darigold has its priorities mixed up," said John Scearcy, Secretary-Treasurer of Teamsters 117. "Instead of recognizing the sacrifice of essential workers during the pandemic, the company continues to subvert the bargaining process and refuses to protect workers from the rising cost of health care. No one wants a strike, especially during the holidays, but our members are ready to defend their legal rights, livelihoods and families if necessary."
Short URL: https://www.thestand.org/?p=93164
Posted by
David Groves
on Nov 11 2020. Filed under
LOCAL
. You can follow any responses to this entry through the
RSS 2.0
. Both comments and pings are currently closed.